Remember back when Rick Perry wanted us all to know how seriously he takes his Religion? So seriously that Perry "jumps into action" by writing his prayers into the state record.
Guess he needed to write it down, just in case God failed to get the Perry memo the first time around ...

Gov. Perry Issues Proclamation for Days of Prayer for Rain in Texas
governor.state.tx.us, Austin, Texas -- April 21, 2011

[...]
WHEREAS, the state of Texas is in the midst of an exceptional drought, with some parts of the state receiving no significant rainfall for almost three months, matching rainfall deficit records dating back to the 1930s; and

WHEREAS, a combination of higher than normal temperatures, low precipitation and low relative humidity has caused an extreme fire danger over most of the State, sparking more than 8,000 wildfires which have cost several lives, engulfed more than 1.8 million acres of land and destroyed almost 400 homes, causing me to issue an ongoing disaster declaration since December of last year; and
[...]

NOW, THEREFORE, I, RICK PERRY, Governor of Texas, under the authority vested in me by the Constitution and Statutes of the State of Texas, do hereby proclaim the three-day period from Friday, April 22, 2011, to Sunday, April 24, 2011, as Days of Prayer for Rain in the State of Texas. I urge Texans of all faiths and traditions to offer prayers on those days for the healing of our land, the rebuilding of our communities and the restoration of our normal way of life.

IN TESTIMONY WHEREOF, I have hereunto signed my name and have officially caused the Seal of State to be affixed at my Office in the City of Austin, Texas, this the 21st day of April, 2011.

RICK PERRY
Governor of Texas
Maybe he should have prayed for 'a flood' instead ...

Texas Fire Situation Is of "Historic Proportions"
accuweather.com -- April 21, 2011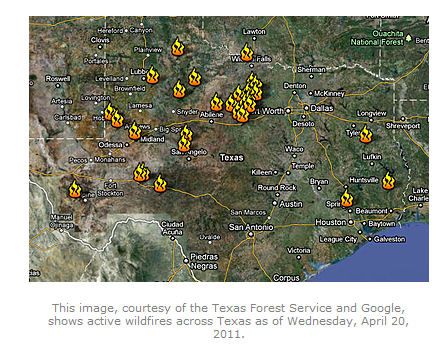 Good thing Rick finally realized it was a Weather Emergency, eh ... and threw some 'serious firepower' at it?
Well maybe not a 'good thing' for folks living in the path of one of those Firestorms ...

Texas Wildfires 2011 (Worst in TX history)



link to video -- warning some graphic images.
Uploaded on Sep 7, 2011
"In 2011 almost 4 million acres have burned.

Nearly 2000 Homes were destroyed;

And hundreds dead or injured."
Meanwhile back on the Rick Perry ranch -- er I mean, Perry's
Austerity-on-Steroids
Texas state budget ...

In Rick Perry's Texas, Firefighters Forced To Pay For Gear, Engine Fuel
by Jason Cherkis, huffingtonpost.com -- 09/09/11

WASHINGTON -- In Texas, firefighters aren't just battling the wild fires raging around Austin and Houston. The state's first responders have also had to deal with budget cuts affecting everything from fuel purchases to hoses and air tanks.

In some cases, fire officials say, firefighters have had to pay out of pocket for basic necessities like proper protective gear and fuel to get them to the scene. One fire department that battled the blazes in Bastrop County had to pay for a hose, recalled Bastrop City Fire Chief Henry Perry, speaking to The Huffington Post during a break from working the wild fires.

"That fire department has been on this fire every day," he said. "Before this fire, they were having to buy stuff out of their own pocket." Perry said he knows of at least one other department whose firemen had to pay for equipment maintenance and engine fuel.
[...]
Maybe those Fire Fighters should have 'prayed for' more "hoses and air tanks"?
But hey who needs "air" when you're fighting a raging fire for days on end?
That's why "God invented" 'holding your breath' -- doncha know?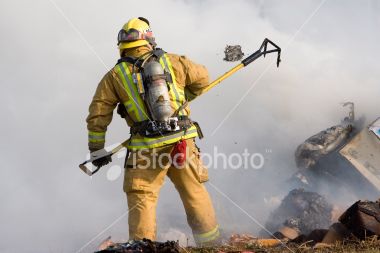 [ Source -- www.istockphoto.com ]




No worries though for Rick, the Feds can make up the difference for that Texas-sized austerity-shortfall -- right after candidate Perry ...
eliminates the Depts of Commerce, Education ... EPA maybe ... and ah, ah -- ALL of them!
The Feds will be rolling in handouts for Texas then ...

Rick Perry's Texas cuts firefighting budget while wildfires burn
But don't worry, they'll demand federal money to make up the difference
by Alex Pareene, salon.com -- Sep 7, 2011
[... Rick] Perry and the Republicans who control all three branches of Texas government have severely slashed the budget of the Texas Forest Service.

Perry's fanatical opposition to raising revenue to close Texas' budget gap meant that his allies in the Legislature had to find creative ways to cut costs, like cutting $34 million over the next two years from the agency that fights wildfires. The Forest Service is mostly volunteer-based, and the cuts will largely affect the state's assistance grants to buy volunteer departments the tools they need to fight fires.

The Forest Service was appropriated $117.7 million for the 2010-2011 fiscal year. That is not enough to cover the expense of fighting the fires currently burning across the state. For the 2012-2013 fiscal year, which began this month, the agency was appropriated $83 million.
Fast-forward to the Perry pre-destined Future, er I mean,
the current month of ongoing drought emergency
, in the Climate-hoaxed state of Texas.
Rick Perry has finally learned his Texas CEO-ing lessons, from under-supplying those over-worked Fire-fighters back in 2011 ...
If at first you don't succeed, try, try again ... maybe God was busy and missed Perry's first Proclamation, eh? But Rick is apparently making room for a fall-back plan this time:

Gov. Perry Renews Proclamation Extending Drought Emergency
governor.state.tx.us, Austin, Texas -- June 17, 2013
I, RICK PERRY, Governor of the State of Texas, issued an Emergency Disaster Proclamation on July 5, 2011, certifying that exceptional drought conditions posed a threat of imminent disaster in specified counties in Texas.
[...]
WHEREAS, this state of disaster includes the counties of Anderson, Andrews, Aransas, Archer, Armstrong, Atascosa, Austin, Bailey, Bandera, Bastrop, Baylor, Bee, Bell, Bexar, Blanco, Borden, Bosque, Bowie, Brazoria, Brazos, Briscoe, Brooks, Brown, Burleson, Burnet, Caldwell, Calhoun, Callahan, Cameron, Carson, Castro, Childress, Clay, Cochran, Coke, Coleman, Collin, Collingsworth, Colorado, Comal, Comanche, Concho, Cooke, Coryell, Cottle, Crane, Crockett, Crosby, Culberson, Dallam, Dallas, Dawson, Deaf Smith, Delta, Denton, DeWitt, Dickens, Dimmit, Donley, Duval, Eastland, Ector, Edwards, Ellis, El Paso, Erath, Falls, Fannin, Fayette, Fisher, Floyd, Foard, Fort Bend, Franklin, Freestone, Frio, Gaines, Garza, Gillespie, Glasscock, Goliad, Gonzales, Gray, Grayson, Grimes, Guadalupe, Hale, Hall, Hamilton, Hansford, Hardeman, Harris, Hartley, Haskell, Hays, Hemphill, Hidalgo, Hill, Hockley, Hood, Hopkins, Houston, Howard, Hudspeth, Hunt, Hutchinson, Irion, Jack, Jackson, Jeff Davis, Jim Hogg, Jim Wells, Johnson, Jones, Karnes, Kaufman, Kendall, Kenedy, Kent, Kerr, Kimble, King, Kinney, Kleberg, Knox, La Salle, Lamar, Lamb, Lampasas, Lavaca, Leon, Liberty, Limestone, Lipscomb, Live Oak, Llano, Loving, Lubbock, Lynn, Madison, Martin, Mason, Matagorda, Maverick, McCulloch, McLennan, McMullen, Medina, Menard, Midland, Milam, Mills, Mitchell, Montague, Montgomery, Moore, Motley, Navarro, Nolan, Nueces, Ochiltree, Oldham, Palo Pinto, Parker, Parmer, Pecos, Potter, Presidio, Rains, Randall, Reagan, Real, Red River, Reeves, Refugio, Roberts, Robertson, Rockwall, Runnels, San Jacinto, San Patricio, San Saba, Schleicher, Scurry, Shackelford, Sherman, Somervell, Starr, Stephens, Sterling, Stonewall, Sutton, Swisher, Tarrant, Taylor, Terrell, Terry, Throckmorton, Tom Green, Travis, Upton, Uvalde, Val Verde, Victoria, Waller, Washington, Webb, Wharton, Wheeler, Wichita, Wilbarger, Willacy, Williamson, Wilson, Winkler, Wise, Yoakum, Young, Zapata and Zavala.

THEREFORE, in accordance with the authority vested in me by Section 418.014 of the Texas Government Code, I do hereby renew the disaster proclamation and direct that all necessary measures, both public and private as authorized under Section 418.017 of the code, be implemented to meet that threat.

As provided in Section 418.016 of the code, all rules and regulations that may inhibit or prevent prompt response to this threat are suspended for the duration of the state of disaster.
[...]

RICK PERRY
Governor of Texas
Maybe this time
emergency workers
will get the
emergency gear
necessary to fight the
emergency fires
,
in a state of emergency
-- instead of just the Perry Prayers and well-wishes, this time around, eh?
What a novel idea.

I'm sure the volunteer fighter-fighters of the state of Texas will appreciate this Rick Perry conversion, deciding to give them some "fresh air" when foisted into the bowels of the inferno, this next go around. And even put it the Texas Emergency tab. It's a Republican Miracle!
No worries though, they'll no doubt find some other place to cut it from, because that's just the way 'the services crumble' -- in the Republican state of emergency, otherwise known as Rick Perry's Texas-sized Austerity.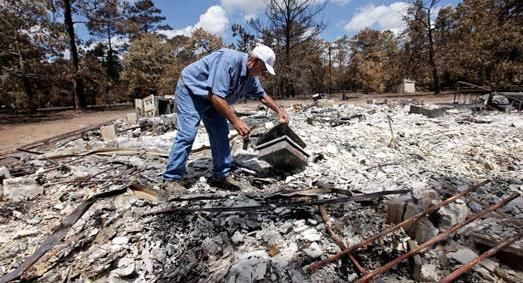 [ Source -- Emergency funds available | POLITICO 44www.politico.com ]