Every day is a new day and with that, a new opportunity.
EVERYONE is welcome and please join us each morning at 7:30 AM PACIFIC
to tell us what you're working on, share your show & tell, vent, whatever you want...
...this is an open thread. Nothing is off topic.
It's the Magpie Family Reunion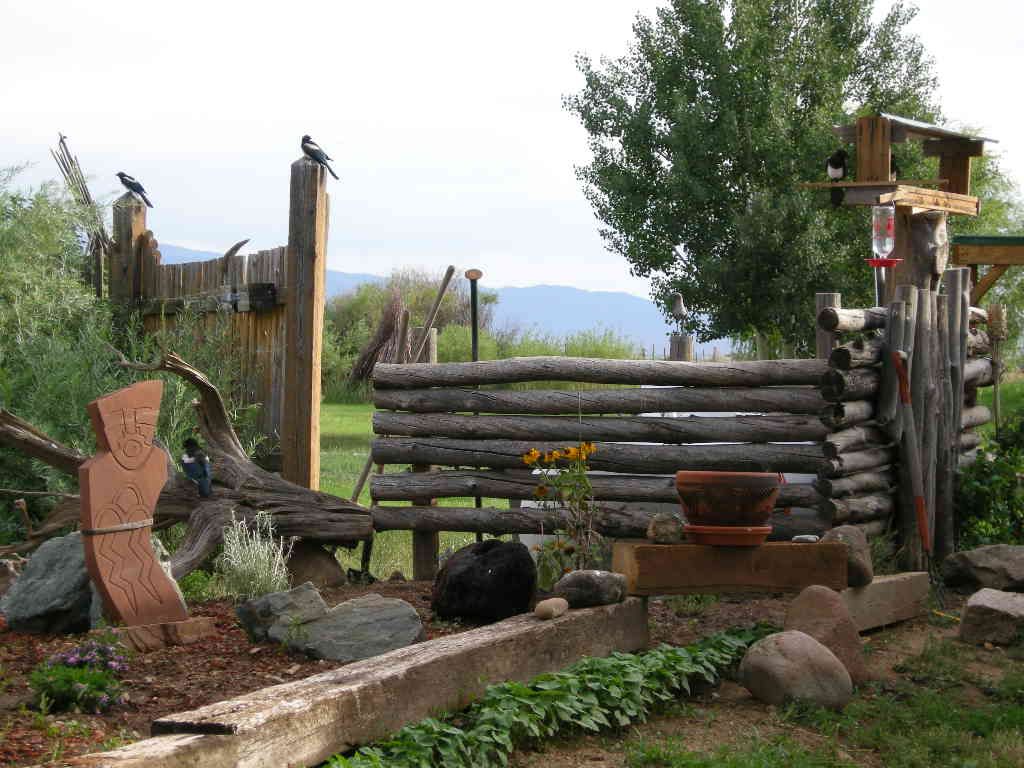 As you no doubt know, navajo just returned from her family reunion on the Navajo Rez. There will be photos later, and I heard a rumor that there will even be video eventually.
For now, we had a family reunion of sorts here yesterday. No, not our families of two-leggeds. Feathered ones: Magpie Clan. The equivalent of six families or so, camping out in the treetops, flying overhead, letting the younger generation get to know each other, exploring the culinary options on offer here.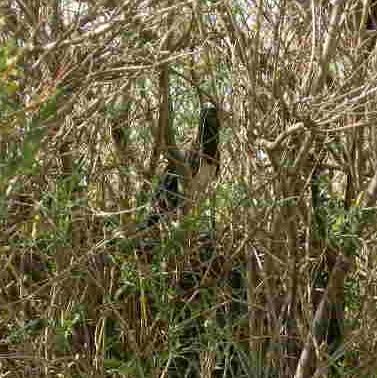 I've mentioned in comment threads that we had three separate magpie nests this summer, one unusually close to us. A month or so ago, the first round of hatchlings had turned into fledglings, and I passed by their nest every day on my way out to the round pen to feed Miskwaki. One morning, both parents were yammering at me nonstop from the weeping willows at the pond; oddly, they weren't trying to chase me away, which, when it happens, can't be misinterpreted. They wanted something.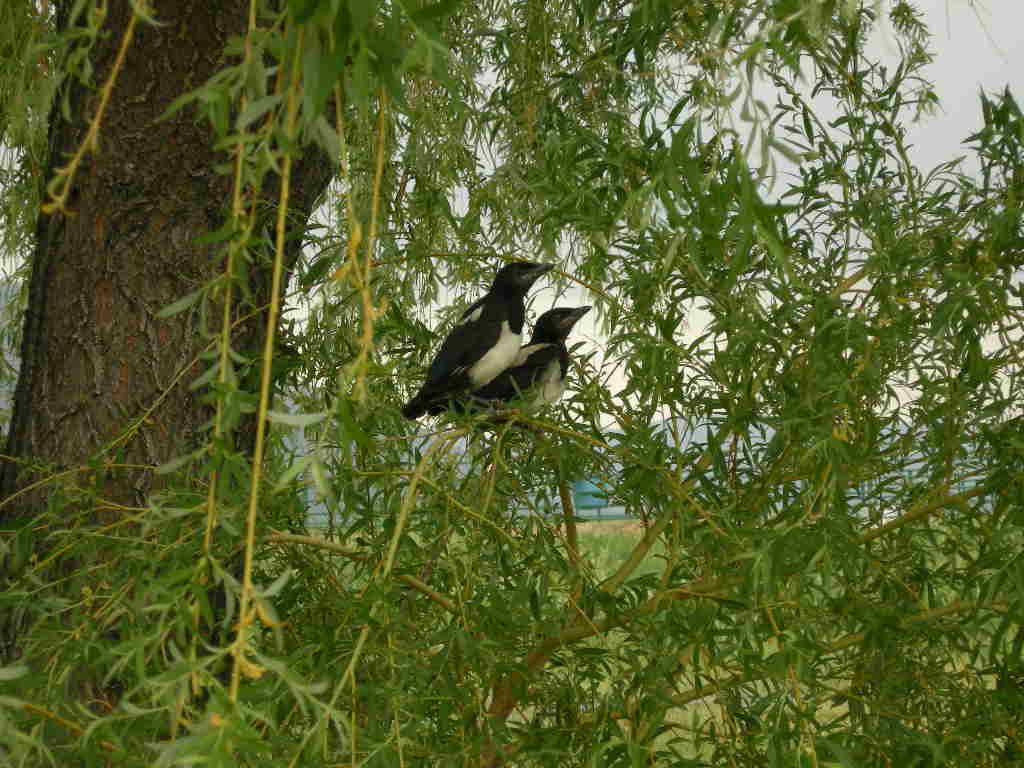 On my way back, I heard a ruckus at the base of the red willows. A fledgling had fallen out of the nest, and with no tailfeathers yet, he had no rudder. He kept trying to fly upward, and kept crashing back down into the branches. So I went and grabbed some gloves, came back, picked him up, and put him in the nest. He was fine; his three siblings were fine; and I checked on them twice daily from then on to make sure we didn't have a repeat.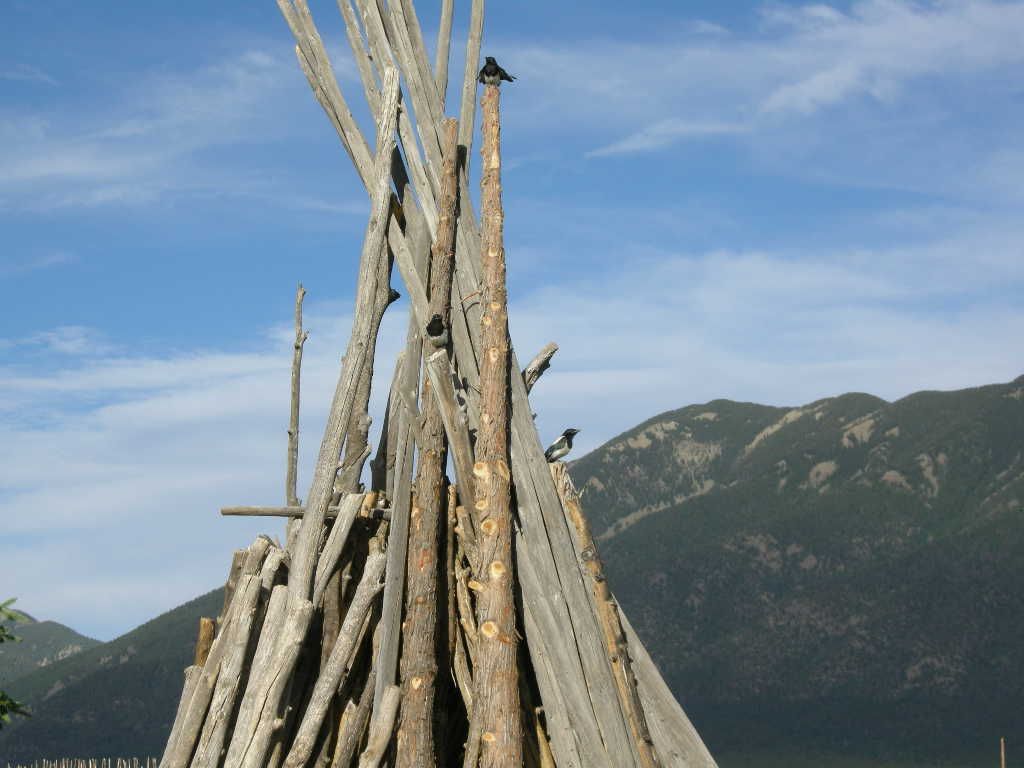 About ten days later, they were flying well enough for everyone to abandon the nest until next year. A few days after that, there was a ruckus in the horses' pens when I was out feeding the animals. Two young ones swooped down over Harmony's head to land on the ProPanel fence. Two more lined up next to them, then two more. Two adults, four young ones. They proceeded to chatter and squawk at me until I came to the opposite side of the fence to say hello. After talking to them for a minute or so - and letting them chatter back - they seemed satisfied, and jointly went on their way.
In the week or so after they left the nest, the next round hatched. These were right outside the window in the juniper tree, no more than two or three yards away.
I discovered them by accident (that they had hatched, I mean): I was headed out to the carport, and I heard a faint mewling sound, much like "screamer" fireworks make at a great distance. Being July, I at first thought that was what it was, and was ready to curse the moron who thought it appropriate to set those suckers off in 98-degree heat amid a massive drought.
Then I realized the sound was right behind me.
They'd just hatched. I wasn't able to see them until the next day, when Mom ran back and forth like a feeding assembly line. She let me take the photo above.
And then she let me take these, with the camera held blindly right over the nest.
Mouth wide open already. Eyes? Not so much.
Then the little guy in the photo settled calmly back in to wait. Camera hounds at one day old.
I checked on them every day, too. They got used to me coming around, sticking the camera up at them, letting it make that funny clicking noise. They also got used to the dogs lying beneath the tree.
More of "The Magpie Diaries" and Latest Updates on Kossack Regional Meet-Up News Below the New Day sunrise cloud
Two weeks ago, they began to venture out. Mom and Dad suddenly got much more protective, occasionally buzzing us or the dogs just to let us know they were keeping watch. By last week, the fledglings had grown very small little tailfeathers, and were busy learning to perch (well, like Weebles) and fly (well, if you call something that looks like drunken zig-zagging "flying"). And then, disaster struck.
Wings went to move the truck. He didn't know that one of the fledges was behind a tire. It was, mercifully, instantaneous.
He was devastated. One of the parents buzzed him, brushing her talons through his hair. The whole family sat shiva, mourning aloud. But they allowed him to pick up the broken little body and give it a proper burial, watching intently all the while.
That evening, as we sat outside grilling dinner, something wonderful happened.
Under the aspens, mere feet from the grill, is a picnic table, a birdbath, and a low metal tub for Griffin to wet his paws. Slowly, the parents brought the four remaining fledges over and let them drink and learn to bathe. Three yards from us. The dogs lay off to the side, watching with interest, but showing no inclination to disturb the playing bird children. Every so often, the parents would turn and look at us, and say something softly in their language, as if to let us know that they knew that morning's tragedy was an accident, and that they trusted us with their children.
It felt like a blessing. Like grace.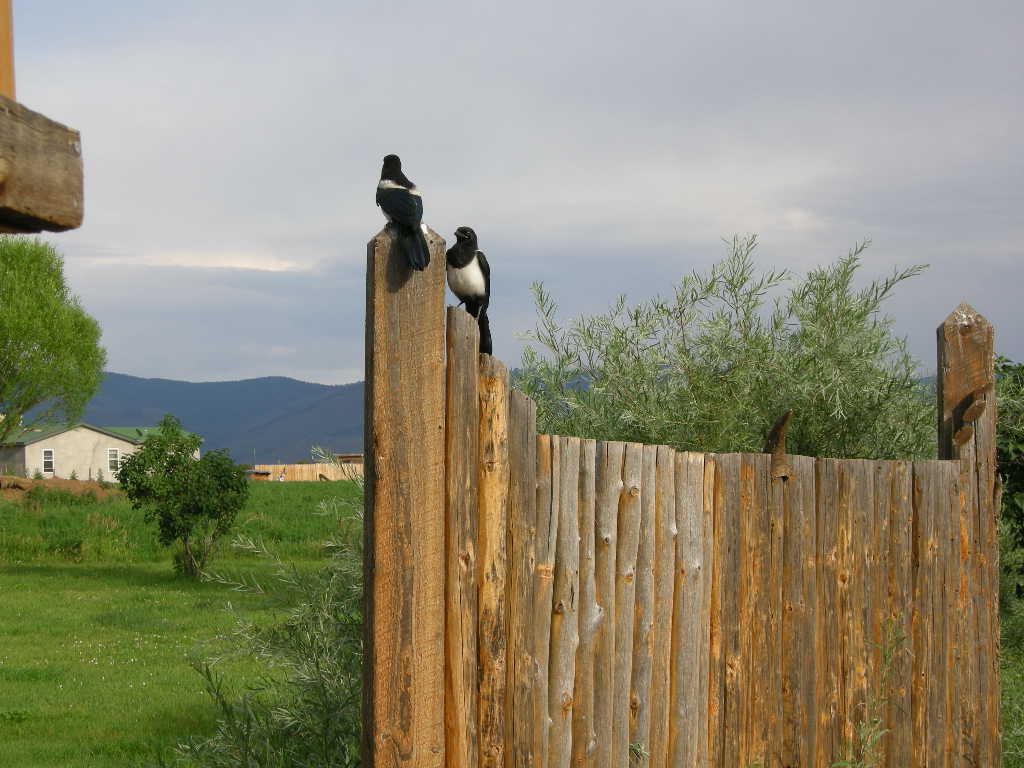 Today, the adolescent fledges are learning to fend for themselves. They're not liking it; they spend their days chasing after their parents, squawking with pink mouths wide open, demanding to be fed like infants. Now that the parents are forcing them to learn to eat on their own, they're turning to their cousins, older by two weeks, who have shouldered some of the burden of feeding the younger ones.
One evening last week, as I sat at the picnic table, a wobbly little fledgling hopped around the tabletop, her feathers brushing my fingertips as she danced on the edge, trying to find balance. Now, they routinely let me get within inches before putting a little more distance between us. And they willingly mug for the camera.
Yesterday afternoon, the whole clan gathered in the weeping willows. Suddenly, they took off overhead, swooping over us at the start of a little family outing.
They'll be back tomorrow, still trying to teach us to speak their language.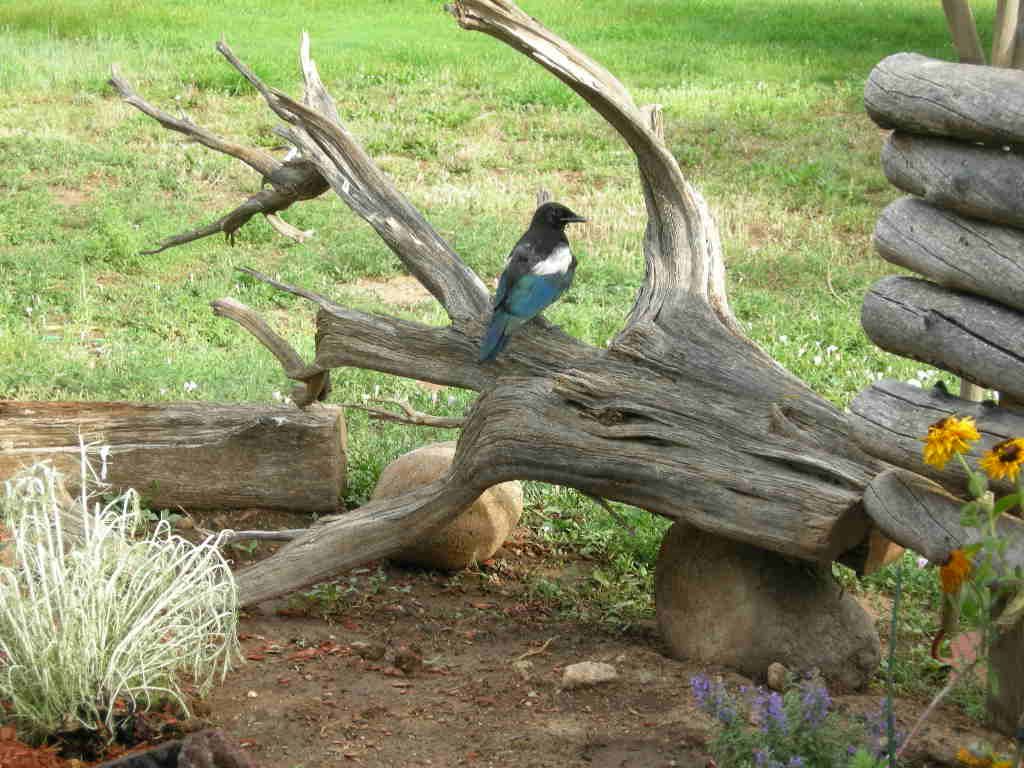 So who's in your extended clan?

:: COMMUNITY BUILDING UPDATES ::
Let's build communities!

Every region needs a meatspace community like SFKossacks.
We take care of each other in real life.
I urge YOU to take the lead and organize one in your region.
Please tell us about it if you do and we're here for advice.
•
THINK GLOBALLY, ACT LOCALLY
>>>Instructions on
HOW TO FORM A NEW DAILY KOS GROUP
NEW GROUPS IN THE PROCESS OF ORGANIZING:


Send a Kosmail to the organizers and ask for an invitation to the group.

• Northern Indiana Area: Kosmail Tim Delaney

• Long Island: Kosmail grannycarol

• Northern Michigan: Kosmail JillS

• Nebraska: Kosmail Nebraska68847Dem

• Westburbia Chicago Kossacks: Kosmail Majordomo

• New York Hudson Valley Kossacks: Kosmail boran2

• North Carolina Triangle Kossacks: Kosmail highacidity

• Caprock Kossacks (Panhandle/Caprock/Lubbock/Amarillo area) : Kosmail shesaid

• West Texas Kossacks (including Big Bend Region and El Paso) : Kosmail Yo Bubba

Note to the above new leaders: Feel free to leave a comment any day reminding readers about your new group. Also, tell us about your progress in gathering members. Kosmail me when you've chosen a good name for your group and have created a the group. Then I'll move you to the NEW GROUPS LIST. When you've planned a date for your first event I'll make a banner for you to highlight your event in our diaries and your diaries.
These are the groups that have started since * NEW DAY * began. Please Kosmail navajo if you have started a group before that.
NEW GROUPS LIST:

• California Central Valley Kossacks - Formed: Jul 29, 2012, Organizer: tgypsy

• New England Kossacks - Formed: Aug 6, 2012, Organizers:
Clytemnestra for Lower New England (Conneticut, Massachusetts, Rhode Island)
nhox42 for Upper New England (Maine, New Hampshire, Vermont)

• Houston Area Kossacks - Formed: Aug 7, 2012, Organizer: Chrislove

• Kossacks in India - Formed: Aug 14, 2012, Organizer: chandu

• CenTex Kossacks - Formed: Sep 9, 2012, Organizer: papa monzano

• Central Ohio Kossacks - Formed: Sep 26, 2012, Organizer: VetGrl

• Kansas City Kossacks - Formed Oct 15, 2012, Organizer: [Founder stepped down]

• Phoenix Kossacks - Formed Oct 16, 2012, Organizer: arizonablue

• Chicago Kossacks - Formed: Oct 31, 2012, Organizer: figbash

• Koscadia the Pacific Northwest coast from Northern California to Alaska
- Formed Oct 17, 2012, Oganizer: Horace Boothroyd III based in Portland, OR

• Boston Kossacks - Formed: Nov 7, 2012, Organizer: GreyHawk

• Motor City Kossacks South East Michigan (Detroit) Area - Formed: Nov 10, 2012, Organizer: peregrine kate

• Pittsburgh Area Kossacks - Formed: Nov 12, 2012, Organizer: dweb8231

• Salt Lake City Kossacks - Formed: Nov 17, 2012, Organizer: War on Error

• Twin Cities Kossacks - Formed: Nov 17, 2012, Organizer: imonlylurking

• Dallas Kossacks North Texas - Formed: Nov 21, 2012, Admins: Catte Nappe and dalfireplug. Please contact them to join the group. An Event Organizer needed.

• The Southern California Inland Empire Kossacks - Formed: Dec 3, 2012, Organizer: SoCaliana

• Los Angeles Kossacks - Formed: Dec 17, 2012, Organizer: Dave in Northridge

• Northeast Ohio Kossacks - Formed: Jan 16, 2013, Organizer: GenXangster

• Kansas & Missouri Kossacks - Formed: Jan 17, 2013, Organizer: tmservo433

• I-77 Carolina Kossacks who live from Columbia, SC to north of Winston-Salem, NC. - Formed: Jan 30, 2013, Organizers: gulfgal98 and eeff

• Indianapolis Kossacks - Formed: Feb 6, 2013, Organizer: CityLightsLover

• Southwest Ohio Kossacks - Formed: May 10, 2013, Organizer: Dr Erich Bloodaxe RN

• Northern Arizona Kossacks - Formed: Jul 5, 2013, Organizer: Sam Sara
ESTABLISHED GROUPS LIST: (List will grow as we discover them)

• SFKossacks Founded by navajo, Formed: May 2, 2005

• Maryland Kos Founded by timmyc, Formed: Feb 23, 2011. Contact: JamieG from Md for a group invite.

• New York City Founded by Eddie C - Contact the group organizer for meet-up events: sidnora

• Baja Arizona Kossacks, Event Organizer: Azazello

• Three Star Kossacks Tennessee, Founded by maryKK, Formed: Apr 8, 2011

• Nashville KosKats, Founded by ZenTrainer Formed: Jan 30, 2012

• Virginia Kos Founded by JamieG from Md, Formed: May 3, 2011

• Kos Georgia Founded by pat208, Formed: Feb 13, 2011

• Colorado COmmunity Founded by Leftcandid, Formed: Feb 13, 2011

• New Mexico Kossaks Founded by claude

• Philly Kos Founded by mconvente Formed: Aug 29, 2011

• DKos Florida Founded by ThirstyGator, Formed: Feb 14, 2011, Currently organizing: Kosmail Vetwife to be included in next event.

• Oklahoma Roundup Founded by BigOkie, Formed: Feb 13, 2011, Currently organizing: Kosmail peacearena to be included.

• DKos Asheville Founded by davehouck, Formed: Feb 13, 2011 - Organizing Assist by: randallt
:: Events Currently on the Books for ALL Kossacks ::

Sunday, July 28th

New Mexico Kossacks Meet-up

TIME: 2:00 PM
LOCATION: Kelly's Brew Pub
3222 Central SE • Albuquerque

ORGANIZER: Send claude a kosmail to attend.

RSVPs:
1. claude
2. Dallasdoc
3. Land of Enchantment
4. jnhobbs
5. emobile
6. fbihop
7. divineorder
8. Jakkalbessie
9. native

Maybees:
Wendy's Wink
jan4insight
congenitalefty
native's BIL


Latest diary: New Mexico Kossaks meet-up!


Sunday, August 4th

SFKossacks Meet BeadLady and the Okiciyap Quilt!

TIME: 1:00 PM
LOCATION: Saul's Restaurant & Delicatessen
1475 Shattuck Ave (at Vine) • Berkeley

ORGANIZER: Send navajo a kosmail to attend.

RSVPs:
1. BeadLady
2. navajo
3. Catilinus
4. dharmasyd
5. norm
6. Lorikeet

Maybees:

Sunday, August 4th

NYC Kossacks Meet-up

TIME: Noon
LOCATION: Spitzer's Corner
101 Rivington Street (Ludlow) • NYC

ORGANIZER: Send Sidnora a kosmail to RSVP.

RSVPs:
1. joanbrooker
2. mconvente
3. belinda ridgewood
4. Yasuragi
5. sidnora
6. Its the Supreme Court Stupid
7. blue jersey mom
8. kathny
9. ask
10. rubyr
11. plf515
12. thankgodforairamerica
13. No Exit
14. gchaucer2

15. MBNYC
16. andgarden

Maybees:
Ollie Garkey
Ian Reifowitz
wader
nyceve
aoeu


Latest diary: NYC Meetup 8/4: Beat the Dog Days!

Saturday, November 2nd

SFKossacks BBQ in the Wine Country

TIME: TBD
LOCATION: Andrew McGuire's home in the Wine Country
Address to be given privately to RSVPs • Windsor

ORGANIZER: Send navajo a kosmail to attend.


Andrew McGuire is Executive Director of California One Care

RSVPs:
1. Andrew McGuire
2. navajo
3. Shockwave
4. Hunter
5. elfing
6. Hunter/elfling offspring
7. smileycreek
8. paradise50
9. dharmasyd
10. maggiejean
11. norm
12. Lusty
13. dksbook
14. Mr. dksbook

15. kimoconnor
16. jpmassar
17. side pocket
18. Mrs. side pocket

Maybees:
Glen The Plumber
remembrance
TLO™

Send navajo a kosmail if you post a diary about an event so we can update our round-up.

Okay. Floor's open.
Tell us what you are doing on this NEW DAY?