Do you find yourself tired of DailyKos lately? Are you sick of the pie fights, the meta wars, the HR abuse, the endless Rox vs. Sux conflict, and all the different packs, cliques, and factions? Do you find yourself wondering why the f*ck you hang out here? I mean, really, don't you sometimes ask yourself why you spend time on this site? With all of the aforementioned problems, why, why, why do you still bother?
I'll tell you why. Or at least I'll tell you why I do. It's because for all of its nastiness, cranky behaviors, rude commentary, vulgar remarks, and occasional boneheaded stupidity, this site has allowed me to come to know some pretty wonderful people.
Some time ago, I wrote a diary about an exceptionally kind Kossack who goes by the name anotherdemocrat. And if you follow me beyond the orange nimbus, I'll tell you about another one.
I live in San Francisco, and I've been a member of the local DK group, the SFKossacks, for a good while. My attendance at their gatherings is hardly regular, but I've gone often enough to get to know some of the Bay Area's other DK denizens. The events are always fun, which is only to be expected, since they're organized by DK's ultimate diva, navajo.
At one of my first SFKossack meet-ups, I met a tall, lanky gentleman with a greying beard and an infectious smile. He calls himself side pocket here on the site. (You may recall his popular diary on the subject of -- get this -- Mosquito Control.) Anyway, side pocket is retired and lives with his wife on some land north of San Francisco.
When he's not controlling mosquitoes, or chopping wood for the stove that is the sole heat source for the farm house in which he lives, side pocket grows tomatoes. Mind you, I don't mean just any tomatoes. I mean tomatoes that are, as we say in my native New Orleans, "slap your momma good." There's no exaggerating about these tomatoes. If there were tomatoes in the Garden of Eden, they must have tasted like these. (And if the fruit of the Tree of Knowledge was actually a tomato and not an apple, then I can totally forgive Adam and Eve for giving in to the temptation to try one.)
At some point during one of our gatherings, I mentioned to side pocket what a fan of tomatoes I am. Well, I'll be damned if he didn't bring a bag of his home-grown, hand-picked tomatoes to the next SFKossacks event just to give to me. I took them home, and it was love at first bite.
So anyway, there I was at my office a couple days ago, when I saw that side pocket had sent me a Kosmail. He said he was going to drive down to San Francisco and wanted to meet up with me (and some other SFKossacks) so he could share some of his tomatoes, which, he assured me, were at the peak of their flavorfulness. Needless to say, I immediately agreed, and on Thursday morning, I met side pocket in Civic Center Plaza where I became the happy recipient of a bag of delicious, gorgeously red tomatoes.
Side pocket photographed me with one fine specimen: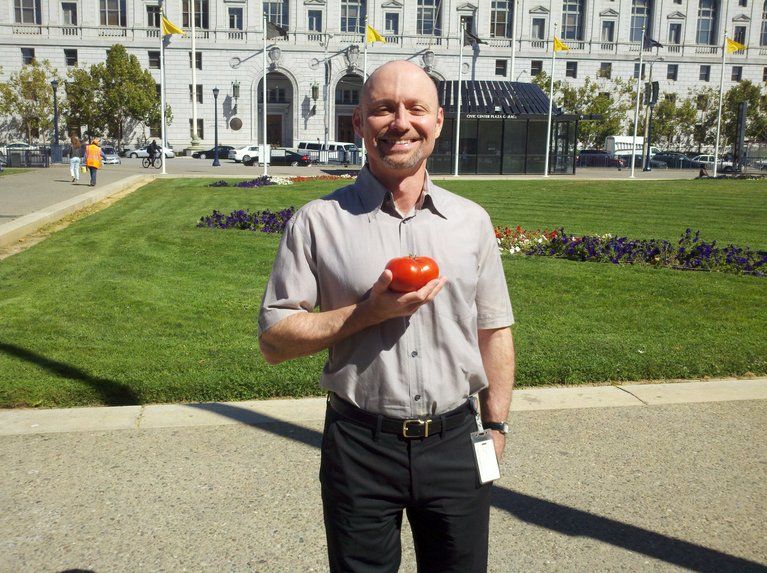 Now stop and think about the kind of generosity it takes to do something like that. I can't claim to know side pocket well, but he drove hours just so he could share some of his garden's bounty with me and a couple of other lucky Kossacks. He went out of his way, even braving the hellacious traffic and parking in downtown San Francisco, all so that he could perform a simple act of kindness.
Folks, THAT is one of the main reasons I stay here at DailyKos. And I'm not talking about the free tomatoes, either. I'm talking about the way this site has enabled me to meet generous, giving people like side pocket. Personally, I think it's that kind of generosity that makes us progressives. To me, the chance to know individuals of such character more than compensates for the occasional flame war and all those nasty, petty comments. (Not to mention the fact that DK allows me to enjoy stuff like Hunter's delicious sarcasm, Laura Clawson's much-needed posts about the importance and dignity of labor, and Meteor Blades's excellent writing about, well, pretty much everything.)
My parents raised me to understand the importance of saying thank you. So with this diary, I'm saying thanks to side pocket, anotherdemocrat, and to all the rest of you who do good things for those you hardly know.
Side pocket's display of generosity inspired me to fight my inclination to keep all his tomatoes for myself. I gave some of them to a friend of mine who's fallen on hard times and who deserves all the breaks he can get. Plus, he sampled the previous batch of side pocket's tomatoes, and he appreciates just how superlative they are, so I know they won't be wasted on him.
I wish I could share some of them with the rest of you, but they haven't yet figured out how to send produce over the Intertoobz. Instead, I'll share with you my favorite recipe for tomato bisque.
This recipe comes from Myriam Guidroz who, as many older New Orleanians will remember, was for many years the food columnist for the New Orleans Times Picayune. Her column Pot au Feu ran until her death in 1994. Ms. Guidroz was a friend of my mother's, and I got this recipe from one of my mom's vast file of clippings. Hope y'all enjoy it as much as I do.
Bisque de Tomates Fraîches

2 lbs. fresh, very ripe tomatoes
4 Tbs. butter
4 Tbs. flour
1 stalk celery with leaves
1 lge. yellow onion
2 cups (approx.) stong beef stock
1 cup heavy cream
Pinch of thyme
Large pinch of tarragon
1/4 cup dry sherry or madeira
Salt and pepper
Worcestershire sauce

First, decide whether you will puree the soup in the blender or food processor or put it through a food mill. The food mill will mean a little more work, but will not let the peel of the tomatoes through. With blender or food processor, you have to peel them first. In any case, peel and reserve 1 medium size tomato. Chop the rest. Also chop the onion and celery, including the tender leaves.

Melt the butter in a nice heavy pot, add the flour and cook, stirring, until frothy but not browned. Add the onion and celery, cook a few minutes, then add the chopped tomatoes. Stir well. It will get quite thick. Cook until the tomatoes begin to render some juice. Then stir in the beef stock, a dark rich one if possible, and season with the thyme and tarragon, little salt and plenty of pepper. Cover and simmer for about 35 to 40 minutes. You should have about 4 cups of rather thick fragrant soup.

Press through a food mill or puree in the blender until very smooth. Return to the pot and stir in the cream and the sherry. Taste: bisques are always very highly seasoned. (In fact a poem written by Francis the II's chaplain mentions how vexing it is to get a fever as one is then not allowed to eat bisque.) A good dash of Worcestershire sauce and/or hot sauce, if you like things really hot, is required.

The soup is delicious served hot at the beginning of an otherwise cold meal. Or, try it cold, thinned down with a little milk or more sherry, garnished with the reserved raw tomato, peeled and finely chopped and sprinkled on top of the soup just before serving.
Thanks for reading. Maybe in the comments you could share your stories of some of our other exceptional community members.