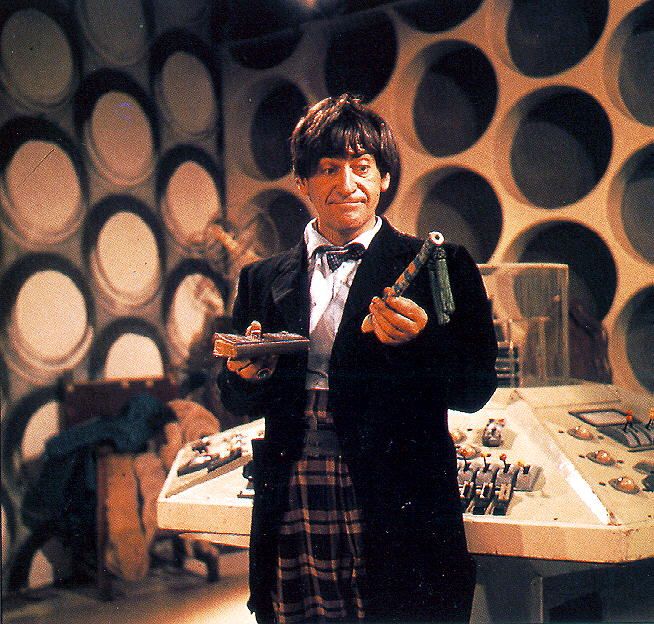 "What?!!" Well, knock me down with a bunch of seaweed, wrap me in a old fishing net, and cast me as a Sea Devil ! Lost episodes of Doctor Who have surfaced...in ETHIOPIA?!
This is the biggest Dr Who news since...since....well, since the Peter Capaldi launch, anyway. We all know that 106 episodes, mostly from the early William Hartnell and Patrick Troughton period (Doctors No 1 and 2, respectively) have been missing for around 40 years, and that there has been a concerted campaign to organize a worldwide search for these 'jewels' from the earlier days of The Doctor. Fan sites have been encouraging adherents to look everywhere - storage cabinets, attics, even wine bars (well, that's where I concentrated MY searches, anyway - it was a dirty job, but somebody had to do it!) Sometimes episodes turned up in the strangest fashion (see Guardian story, below)
http://www.theguardian.com/...
The reason for this is simple. Back in the 1950's when the American company Ampex solved the problem of capturing enough bandwidth on magnetic tape from a TV signal, which allowed TV stations to edit and re-transmit programs, they were onto a commercial goldmine. Their system used FOUR recording heads, scanning across a 2 inch wide ribbon of polymer tape which was coated with ferric oxide bound in a substrate, and moving at 15 feet per second! This Ampex Quad system worked, whilst the BBC's own VERA system didn't do too well. A reel of tape for an Ampex machine contained 4,800 feet of tape, gave you 60 minutes of playback, and cost you around $300 in the early 1960s (that's approaching $2,200, at today's prices). As you might expect, RCA, another American audio-visual giant, were not long behind Ampex in entering the videotape field with their own machine.
Athough the BBC took delivery of the necessary recording/editing machines from Ampex Inc., they found that the cost of tape was rather more than they had bargained for. So, despite the fact that these early Dr Who series were recorded, the limited number of tapes the BBC had bought were reused, and other programs recorded over the top of these classic shows! Shows made by the BBC were not routinely archived until 1978.
How have any survived then, you say? Simple, the BBC have never been slow at selling their shows ANYWHERE (just tune into any PBS station, and see what I mean) as, until recently, this was their only means of supplementing the annual 'licence fee', (that all British owners of TV sets are charged). Since video tape was very expensive, a film copy was produced, and these were sold to stations and networks in New Zealand, South Africa, Tanganyika, etc. It is these forgotten cans of film that are sometimes found in odd places - for example, in 1991, all four episodes of the story 'The Tomb of the Cybermen', turned up in Hong Kong. Another reason that film was supplied to foreign customers was because the early videotape could only be used about 30 times before the ferric oxide was worn away from the tape base, and it became unusable.
However, this latest story - confirmed by the BBC - is an absolute bombshell. The discovery of some lost episodes - 'dozens' according to sources - is to be announced at a press conference later this week. Few details are forthcoming, but, as you can imagine, speculation in the 'Whoniverse' is rife. It is being said by some fans that these episodes were found in an old TV/radio station in Ethiopia!!
Listen folks, I am probably one of the few Kossacks who has BEEN to Ethiopia. It was at the height of the great famine, in 1983, and Her Majesty decided that 'Operation Bushel', involving RAF C-130 aircraft dropping palletized loads of grain over DZs in Tigre Province (the one with the civil war going on) from 20 feet agl, was a 'good idea'; I was one of the lunatics hanging on a strop, down the back, pushing grain out, furiously! (That's a story for another day...) The idea that a) someone at the BBC thought to sell 'Dr Who' to Ethiopia is fairly extreme - next-door Kenya, YES, part of the 'old Empire', but Ethiopia? and b) that these films have somehow survived, is rather, well, amazing.
The message boards are buzzing with stories of 'other episodes' being 'held to ransom by people in Ethiopia' unless extremely large sums of money are handed over by the BBC. Or the fact that the BBC night be planning to release them on iTunes ONLY, for a hefty fee per episode (to raise cash for the ransom?) rather than releasing them as DVDs.
Also, there is HUGE speculation as to the rather convenient timing of all this. JUST in time to lead-in to the '50th Anniversary' celebrations - ideally placed to dominate the Holiday gift market! Mmmmm....I know that 'Aunty' BBC has become commercialized of late, but this does rather smell like a freshly-beached Sea Devil, what?
Still, I for one can hardly wait to see these early episodes -again - wherever they have come from. However many of them will be released, in which format, and whatever their old-time 'production values' are, I am sure that they will gladden the hearts of Whovians, everywhere.
Fri Oct 11, 2013 at 6:12 AM PT: Well, well! As always with Dr Who speculation (and the news items on the BBC itself), it isn't Ethiopia (which I doubted) but the other side of the continent in the Nigerian city of Jos! And there weren't 'dozens' (as per the BBC News story) but just 11 - two of which were already 'to hand'. Still we now have two 'whole' classic Patrick Troughton series from 1968, the evil mastermind-style 'Enemy of the World', and the sorely missed 'Web of Fear' (I really liked the robotic Yeti in the London Underground!). The 'Web of Fear' is the better of the two series, and Episodes # 2,4,5 and 6 have been recovered. Episode # 1 was already held, and since # 3 has now been reconstructed from 'stills', the whole story is now available. There is a problem, however, in that the BBC is selling these via iTunes, rather than releasing them on DVD. I think I shall WAIT, thank you, Beeb!