I just came home from AIDS Walk Austin & it was fantastic. I got to meet Cleve Jones, the man who started the Quilt - what an inspiration! And I wore a crown - people who raised over $1,000 were given crowns. There aren't many of us who have done the Walk all 26 years, but 2 of us carried the Walk banner in the last 2 blocks. Come below the fancy longhorns to see pictures.
It was a gorgeous day here - I had to wear sunscreen because it was so sunny. They had a photo background set up: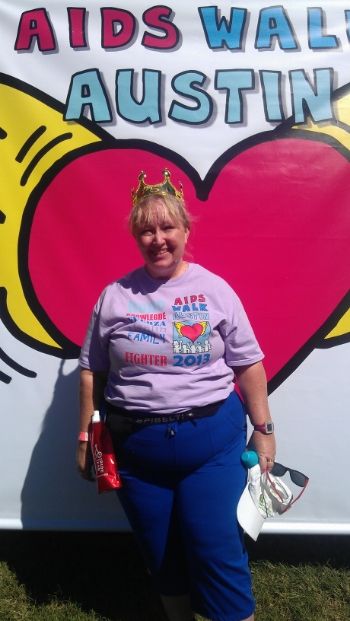 Here's me with the best congressman ever, Lloyd Doggett. He & his wife have done the Walk several times, and they are always generous supporters:
Here's me with my friend David. He was the director of the AIDS Ride for several years, and is the reason I got involved in it. The Walk is sort of our anniversary -- it was at the Walk that David handed me a flyer for the Ride. There I was, an overweight, mid-30s woman, out of breath & redfaced from doing a 5K stroll. David looked me in the eye & handed me a flyer for what was then a 2 day, 125 mile ride & said "You can do this". So of course I've done the Ride every year since.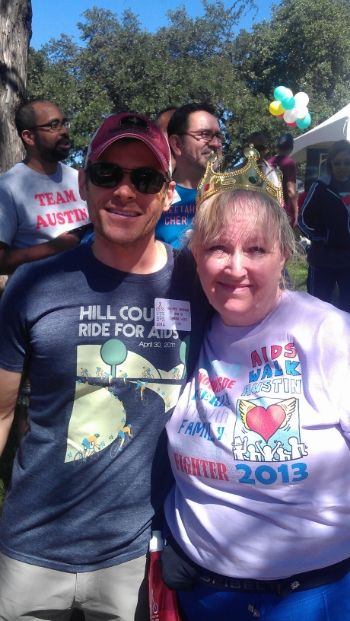 The t-shirt & logo this year are Keith Haring artwork, and we got the portion of the Quilt with his block: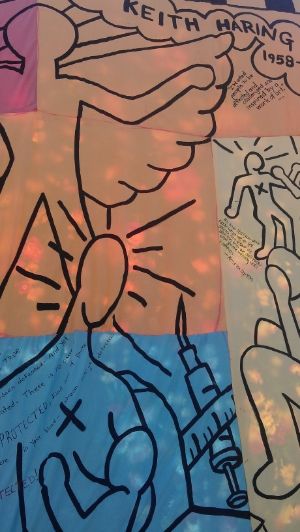 and here's me with the quilt: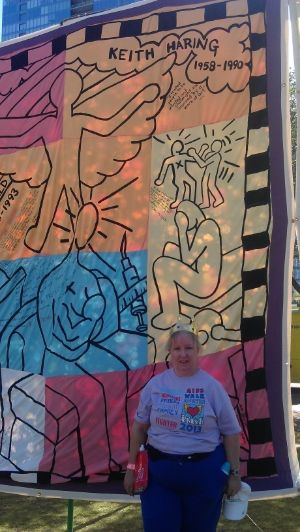 here's us with the banner, after we walked into the park, we took it to the stage:
The website hasn't been updated, but I think they may have met their goal. But just in case, here's my AIDS Walk Austin page in case you want to make a donation
4:59 PM PT: so, they've only raised 89% of their goal - so please, please donate if you can!