Every week Daily Kos diarists write dozens of environmentally related posts. Many don't get the readership they deserve. Helping improve the odds is the motivation behind the Green Diary Rescue. In the past seven years, there have been 253 of these spotlighting more than 15,402 eco-diaries. Below are categorized links and excerpts to 65 more that appeared in the past seven days. That makes for lots of good reading during the spare moments of your weekend. [Disclaimer: Inclusion of a diary in the rescue does not necessarily indicate my agreement with or endorsement of it.]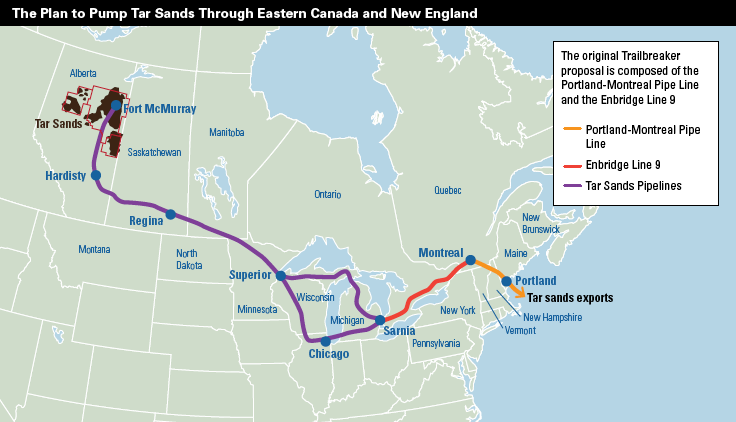 Largest private sector union in Canada: No to Northern Gateway pipeline
—by
Roger Fox
: "
'When on dangerous ground maneuver, when on deadly ground fight.'
Some of you may recognize the Sun Tzu quote, it applies to all of the tar sand pipeline fights. With the Keystone XL in the center and the Northern Gateway to the west, in the past the effort to stop the tar sands development can be thought of a 2 front war. With the west and central fronts stalled, the tar sands partners are maneuvering to the east, resurrecting 2 previously shelved pipeline proposals. One of those proposals are shown on the map below. They have opened up a 3rd front. The Tar Sands are land locked, if the tar sands partners want to export the majority of the proposed 8 million bpd of tar sands production, then their goal will be to build 8 million bpd of pipeline capacity. Opposition groups have stalled nearly 4 mbp of pipeline proposals. this puts tremendous pressure on the tar sands developers, who have built only 2 pipelines over 50 years. Even shipping by rail car doesn't relieve the pressure, tar sands removal projects are stalled at current production. To make matters worse the tar sands project consumes tremendous amounts of energy, the Mackenzie Valley gas pipeline proposal is an idea that dates to the 1970s and still hasn't been built. Significant trillions of cubic feet of natural gas sits undeveloped in Alaska with no way to move it."
Due to the space limitations inside many
volunteers rode on the roof or holding
on to the back of the Jeepney.
All Hands Volunteers Project Bohol at work in earthquake devastated Antiquera on Bohol Island
—by
Lefty Coaster
: "I finished my three weeks of working with All Hands Volunteers' Project Bohol in the area around Antequera on Bohol Island yesterday. It was an unforgettable experience for me and all of the other volunteers who came to Bohol from all over the world to help earthquake victims directly with our own labor. [...] We worked to de-construct wrecked homes, schools, and chapels, while salvaging as much of the materials as possible for reconstruction. Building materials are expensive commodities for these rural people. It is very hard work. It wasn't unusual for me to drink a gallon of water during a day's work. It was essential to take breaks in some shade periodically during the work exposed to the blazing tropical sun and high humidity."
Rescue of a sea bird from my garage
—by
surfermom
: "I live in Hawaii, about 2 blocks from the beach on the windward side of Oahu. Today we left our garage door open, and tonight we found a disoriented sea bird waddling around inside the garage. He seemed to be sick because he didn't fly away when we approached. We wrapped him in a towel and took him to the local vet, who has nighttime hours for emergency walk ins. She identified him as a shearwater. She said sometimes shearwaters get dehydrated and end up on driveways and yards.We live about two blocks from 2 islands called "the Mokes", which are a nesting site for shearwaters. I guess the little guy was trying to fly there, but he got dehydrated and pooped out. Our garage looked like the nearest shelter. The vet determined that no wings were broken and he was just dehydrated. She placed a feeding tube in his stomach and gave him a 60 cc bolus of water and glucose. She asked us to take him to Sea Life Park, where they have a Sea Bird Recovery Center. She said that even though it was night and the park was closed, there would be a security guard who could guide us to the Rescue Center where we could drop off the bird."
Climate Chaos
Hansen: sea level rise will be disastrous if we exceed 1 degree C—by VL Baker: "Climate Scientist James Hansen: we have to keep additional warming to less than about 1 degree C if we want to keep ice sheets close to their present size. New research is showing that climate change and its impacts have been vastly underestimated and that the major ice sheets are showing instability faster than we ever could have anticipated. 'We still are potentially underestimating the instability of the ice sheets," Stefan Rahmstorf of Potsdam University in Germany cautions. While scientific consensus had set goal of 2 degree C as a safe goal to maintain stable conditions for Earth inhabitants; that goal now is seen as not sufficient to produce global stability."
Stranded Carbon Assets: Wall St. Asking Questions—by maggid: "Climate scientists have calculated that if the planet is to have some chance at recovering, we will have to leave at least 80% of existing fossil fuel deposits in the ground forever. These deposits are booked as assets on the financial statements of energy companies across the globe. The value of these assets will become zero if humanity moves toward climate sanity. This will have major consequences for markets and investors. [...] If Wall Street investors are recognizing strictly from a financial viewpoint that carbon curbs of various kinds are necessary and inevitable, and intend to disinvest in overvalued dinosaur energy companies, this may signal that the tipping point in the fight against carbon fuels may be much closer. I'm not trying to be overly optimistic here."
How to Make People Wake Up on Climate Change—by alexwire: "Republicans hate government spending, but the skyrocketing costs of disaster management can easily be prevented by passing substantial environmental reforms. Instead of attacking the EPA, the money-centric Tea Partiers should work with America's leading scientists to ensure that we do whatever we can to prevent disasters before they occur. This means an acceptance of reality, tougher regulations, and a pledge to leave the divisive politics behinds and begin working with scientists across the spectrum."
Food, Agriculture & Gardening
FDA to curb use of antibiotics in meat—by Christian Dem in NC: "The FDA announced earlier today that over the next three years, it will phase in the first curbs in years on the use of antibiotics in animals raised for meat. A provision in the rules would allow the use of low-dose antibiotics to prevent animals from getting sick. Still, this is a pretty big change. In the past, ranchers could simply buy antibiotics over the counter at the feed store. Now, they'd have to convince a veterinarian that these drugs are necessary. I'd have also liked it if the FDA made the label changes mandatory rather than voluntary. The FDA must have twisted enough arms behind the scenes that it felt it didn't need to do so. According to Congresswoman Louise Slaughter, however, when the EU urged similar restrictions in 2006, overall usage remained the same except in countries that enacted limits on use and fines for noncompliance."
New FDA guidelines on reducing antibiotic misuse in livestock industry is a bunch of bologna—by VL Baker: "The U.S. Food and Drug Administration (FDA) has finally issued its long-awaited guidelines to reduce misuse of antibiotics in livestock production. This is a voluntary guidance for the pharmaceutical and livestock industries on appropriate antibiotic use and avoiding antibiotic resistance. The National Resources Defense Council (NRDC), which is involved in legal action against the FDA to stop the non-therapeutic use of penicillin and tetracyclines in livestock unless drug manufacturers prove the safety of such use, has it right: It doesn't do much: It's voluntary ... the guidance is voluntary. It asks drug manufacturers to voluntarily stop selling antibiotics to speed up animal growth. The livestock industry accounts for 80% of their antibiotic sales. Do we really think the pharmaceutical industry is going to voluntarily walk away from such a big chunk of its customer base? I don't see that happening. It pretends to do more: It would allow much of the problematic use to continue under a different name."
Possible elimination of country of origin labeling on meats to lead to big problems—by VL Baker: "The American Legislative Exchange Council (ALEC) has been pushing crazy anti-environmental bills benefiting corporations and deregulation so much so that it can be considered an environmental train wreck. I'm just going to focus on the damage it has done and wants to continue to do to our agriculture system, primarily factory farms. Yes, ALEC and its supporters, including the Koch brothers are one of the major reasons that we have a factory farm system that breeds disease, toxic food, and is a major contributor to climate change. One of its latest debacles is the introduction of legislation which would eliminate country of origin labels on our meat. There is a new law called COOL which mandates country of origin labeling and of course the meat industry is not happy and is using ALEC to try to eliminate COOL. Meat labeling is a public health issue as the danger is that if there should be a pathogen outbreak from meat ingestion its very difficult to trace the origin or even the country of the suppliers if it's not labeled."

Saturday Morning Garden Blogging, Vol. 9.43
—by
rb137
: "Oh, winter. One of the reasons I like vegetable gardening is for the food. It isn't just that it's homegrown, or inexpensive, or that I can choose what to have and how much—it's the genuine freshness of the stuff. It's living food. Nothing in a grocery store tastes as good as it does when it's freshly picked and full of life. I really miss this during the cold season, so to keep up my spirits, I sprout and grow microgreens. Okay—maybe some of you made an icky face because you remember eating alfalfa sprout sandwiches at hippy vegetarian coffeehouses back in the day—but sprouts can be good. In fact, my kids eat them like popcorn. Voluntarily. Some of my microgreen habits are a little weirder, but you can grow just about any green you like in a tray if you have a source of light. They are really delicious when they're just a few inches tall..."
I need help to eat for the planet—by Former Chicagoan Now Angeleno: "I have numerous food allergies. Soy, all other legumes (garbanzo beans, peas, beans, peanuts, etc.) gluten (wheat, barley, etc), bell & chili peppers, eggplant, and all nuts except almonds and pecans (and I need to limit those lest they kick in an allergy too) are all off limits to me. In addition, I have a BMI of 28 (weight problem) and type 2 diabetes runs in my family, so I try to eat higher protein/fat and very low carbs—it is one of the only ways I don't feel hungry all the time and then end up gaining weight. Using the Atkins program, I have been slowly losing some weight, which is essential for my health, but that and 'Paleo' diets of course end up being animal-product heavy. I know that eating meat is not good for the planet and that most meat also means animal suffering, but I feel like I have so few other options for proteins (and I'm really sick of scrambled eggs) that I end up eating it, though I try to eat only organic free range meats."
The cheapest fast food is the healthiest—by catwho: "Fast food is not inherently unhealthy. It comes down to making informed choices and knowing you can go outside the standard 1-10 combo list."
Restoring The Oceans: Inter-relatedness Of Environmental Problems—by Save the Environment: "A potential problem with a fishing ban: If people eat less fished seafood, they have to eat more of something else to get enough calories. More fish-farm capacity would have to come online. Or less non-fish food would have to be wasted or more would have to be produced."
Energy
Very Large Floating LNG Terminal & Pipeline on Mississippi Delta, Venice, LA—by LakeSuperior: "I've been trying to graft the outputs of my daily Federal Register reading habits onto the DK Greenroots group in recent weeks with notice of pertinent FR listings that merit attention. In today's FR though, I found one notice which stands out as interesting in particular and worthy of a larger audience being aware of this project—a 'Floating LNG terminal' and associated pipeline project, planned for the Mississippi Delta near Venice, LA. CE FLNG plans to construct and operate a LNG export terminal, and approximately 37 miles of 42-inch-diameter natural gas transmission pipeline in Plaquemines Parish, Louisiana. The LNG terminal would be located along the east bank of the Mississippi River at approximately mile marker 12.5, northeast of the community of Venice. CE FLNG plans to moor two self-propelled, natural gas liquefaction, storage, and offloading vessels at the terminal. The floating LNG (FLNG) vessels would each be about 1,100 feet long, 180 feet wide, and extend up to 80 feet above the waterline. The FLNG vessels would be capable of producing up to 8 million tons per annum of LNG and storing 250,000
cubic meters of LNG. Comments on the scoping of the EIS and related issues are due JANUARY 6, 2014."
More Trouble at Arkansas Nuclear One—by Joieau: "The regulations on fires at nuclear plants are pretty strong, in that any fire in any system that lasts more than 15 minutes must be immediately reported as a serious incident for response. Yet this fire was allowed to 'burn itself out' over more than an hour and a half, and it took another hour to notify the NRC. Even though there's an NRC 'resident inspector' on site. This is something that isn't SOP for nukes, or at least, it shouldn't be."
6 reasons we're winning the battle of the tar sands, & Major Labor Union joins the fight—by Roger Fox: "If you can't bring in more energy needed to expand tar sands production and you can't build pipelines from the landlocked tar sands to the ocean, then you have a production bottleneck. 'The pipeline capacity story is complex, but it is clear that Keystone XL and Enbridge Northern Gateway are critical to support the proposed level of expansion industry wants,' From: Pipeline bottleneck may force slowdown of Tar Sands. So oil companies have pulled 2 pipeline proposals off the shelf, one goes to New Brunswick, the other to Portland Maine."
What Controls Levels of Fukushima Radioisotopes in Marine Organisms?—by MarineChemist: "Beginning in the new year we can expect seawater affected by the Fukushima disaster to arrive at our coast in the Pacific northwest. Peak concentrations in the heart of the plume of affected seawater are expected to be on the order of 0.001 to 0.020 Bq/L based on measurements and physical models of ocean circulation. The much lower radionuclide concentrations are the result of mixing and the decay of shorter lived isotopes. Given known CFs for marine organisms these seawater concentrations will result in much lower concentrations of radionuclides in organisms residing on the west coast compared to their Japanese cousins. The radioactive dose to these organisms or consumers of these organisms will be dominated by the naturally occurring radionuclide Po-210. It will be prudent and responsible to actively monitor the concentrations of radionuclides in our waters and in the marine biota to assess the risk to environmental and human health. This would be especially true in the event that conditions at the disaster site deteriorate and isotope release rates increase over time."
Measuring Fukushima Radioactivity in the Ocean: Why does it take so long?—by MarineChemist: "This post is part of an ongoing effort to communicate the risks to people living on the west coast of North America resulting from the ongoing release of radionuclides from the Fukushima-Daiichi nuclear power plant after the Tohoku earthquake in March 2011. The purpose of this post is to explain how the concentration of radionuclides in seawater impacts the amount of radioactive elements taken up by the marine biota. The goal is to answer questions like: How high can we expect radioactive element concentrations to get in marine organisms? What might be the exposure of marine organisms and human consumers of these organisms to Fukushima sourced radionuclides?"
Fukushima: Oceanographers Model Impact on Pacific—by joieau: "In the months since Japan's new nuclear regulatory agency came into being and power, TEPCO has been forced to report a bit more regularly and honestly about conditions at Daiichi. In a press release on August 19 of this year detailing the water leak from the tank farm [follow-up 2], they did finally report that nuclear fuel material (not in the form of gas) was in that leakage from the tank[s]. It's in ALL the tanks. Which means that whatever filtration they may have said they've been using to remove cesium somehow missed filtering these actual chunks of reactor fuel. Surprise, surprise. It's going out to sea. Now we have the above really nice models generated by serious oceanographers to predict the movement of everything from suspended light radionuclides (like tritium, cesium, strontium, etc.) as well as heavy particles of fuel material that will for awhile during transit be hovering in much deeper currents. These do not bode well for the amazing amount of 'reassurance' we are getting from the nuclear industry's current big-push propaganda campaign, about how it's all over, no harm done, everything's fine and dandy."
Fracking
Mexico: We're fracked!—by roberb7. If you can survive the accent lol:
Fracking subsidies cut in budget deal—by Willinois: "I read at Think Progress how the federal budget deal isn't great news for clean energy, but it does eliminate funding for a fossil fuel subsidy program, the Ultra-Deepwater and Unconventional Natural Gas and Other Petroleum Resources Research Program. None of the articles I read provided details so I did a little googling. It turns out that a focus of this program, created by the Bush administration, is to promote fracking. It sought to advance extraction with new methods in new areas, including gas shales, and coalbed methane."

Time to #UnFrackCal
—by
dturnbull
: "Last night, dozens of concerned Californians descended on the Oakland convention center for a "scoping meeting" regarding the California Division of Oil, Gas, and Geothermal Resources "environmental impact report" process that is kicking off to study the impacts of fracking in the state. By my count, every comment that was delivered expressed concern over fracking the state, with a vast majority calling for an outright moratorium or ban. It was a heartening show of strength for the fast-growing anti-fracking movement in California. And what's more, about 100 or so protestors gathered outside of the hearing."
Keystone and Other Fossil Fuel Transportation
Grijalva and 23 colleagues seek delay in Keystone decision until conflict of interest probe is done—by Meteor Blades: "Democratic Rep. Raúl Grijalva of Arizona, co-chair of the Congressional Progressive Caucus, and 23 of his colleagues, have sent a letter to President Barack Obama asking that he delay any decision on the fate of Keystone XL tar sands pipeline until completion of an investigation by the Department of State's Office of Inspector General into conflicts of interest by the company that conducted the environmental impact statement on the proposed project. [...] It was thought that State would announce its findings this month, but that now seems out of the question, according to a spokesperson for the Natural Resources Defense Council. For the president to announce a decision in the first quarter of 2014, the department's review would have to be released in the next two weeks because another 90 days of public comment is required once that happens. So Grijalva's letter may turn out to be redundant."
Video: Experts Answer Question, "Can Keystone Pass the President's Climate Test?"—by lowkell: "On December 2 at Georgetown University, NextGen Climate Action, along with the Center for American Progress Action Fund, held a conference aimed at answering the question, 'can Keystone pass the President's climate test?' The key findings, according to Keystone Truth, were: *'Despite claims to the contrary, Keystone XL is the key enabling infrastructure that the Canadian tar sands industry needs to ramp up production.' *'The carbon footprint of the tar sands development enabled by Keystone XL is equivalent to 35-40 million cars.' *Offsetting the increased carbon pollution would be extremely difficult if not impossible, require new government agencies that do not exist, and would need to be done at a scale unprecedented in history.'"
TransCanada Begins Injecting Oil Into Keystone XL Southern Half—by Steve Horn: "Keystone XL's southern half is one step closer to opening for business. TransCanada announced that 'on Saturday, December 7, 2013, the company began to inject oil into the Gulf Coast Project pipeline as it moves closer to the start of commercial service.' The Sierra Club's legal challenge to stop the pipeline was recently denied by the U.S. Court of Appeals for the Tenth Circuit, so the southern half, battled over for years between the industry and environmentalists, will soon become a reality. According to a statement provided to DeSmog by TransCanada, 'Over the coming weeks, TransCanada will inject about three million of [sic] barrels of oil into the system, beginning in Cushing, Oklahoma and moving down to the company's facilities in the Houston refining area.'"
XL Pipeline lobby leaks Jan. PR strategy—by doctor o: "Yesterday I might have accidentally gotten an inside view of the strategy the XL pipeline lobby/PR organization is is planning for January. We received a call Sunday from the Canadian market research firm Opinion Search asking for the woman of the house. My, wife, being a long-time leader in the opinion and market research world, was glad to take it, although she figured she would be screened out. She wasn't and it became obvious why. They didn't really care what she thought."
Eco-Related DC & State Politics
The California Frack Wars : Episode 1 The Fracking Menace—by FractivistForce: "With unanimous support, the California Democratic Party passed a resolution at the state convention earlier this year, calling for a moratorium on Fracking. As summer approached, our optimism grew. With overwhelming support from environmental groups, 58% of California voters, the democratic party's resolution, and three moratorium bills up for consideration, the environmental community was infused with a sense of preordained accomplishment. By summer's end, however, the once optimistic anti-fracking coalition was united once again in humiliating defeat. We sent him ~250,000 petitions, made ~50,000 phone calls, and sent ~30,000 emails and letters. Unfortunately, OXY, WSPA, and Chevron were able to masquerade our demands with exaggerated jobs numbers and millions of dollars in campaign contributions. 'SB4 could be viewed as a pro-fracking bill dressed up as an anti-fracking piece of legislation.' So, while SB 4 'sounds as if it is regulating fracking, it is actually putting fracking on a fast track.'"
John Podesta to Help WH on Climate Change...But Not Keystone XL?—by Liberty Equality Fraternity and Trees: "John Podesta, prominent Democratic strategist and former chief of staff to Bill Clinton, will now be formally joining the White House, as was announced yesterday. According to the Washington Post, Podesta's portfolio in this new role would be 'broad' and would include climate change, executive actions, and the implementation of the health care law. Podesta is well known for his role as founder of the Center for American Progress, which recently celebrated its ten year anniversary. CAP has very close ties with the Obama administration, and there's a considerable interchange of staff. Over the past few years, CAP has tended to toe the White House line on economic and foreign policy issues while often criticizing the administration from the left on social issues and environmental issues. John Podesta has been an outspoken opponent of the Keystone XL pipeline. Yesterday, Ryan Lizza of the New Yorker reported on Podesta's past statements on Keystone and the wider issue of climate change."
MA-Sen: You Can Help Ed Markey (D) Push Congress To Enact A National Renewable Electricity Standard—by poopdogcomedy: "Received this e-mail today from Senator Ed Markey (D. MA): Did you know that nearly half of all electrical capacity installed worldwide last year relies on renewable forms of energy? Clean energy innovation is the future. And the companies developing renewable energy technologies, like wind turbines and solar panels, are the new engines powering our global economy. But right now, America is lagging behind when it comes to producing the clean energy jobs that we need to be a leader in an increasingly green economy. That's why I'm calling on Congress to enact a national Renewable Electricity Standard (RES) to require our country to produce 25% of our electricity from renewable resources by 2025. Add your voice to mine—tell Congress it's time for a national Renewable Electricity Standard that will help produce jobs and protect our environment. Sign the petition today."
CO-Sen: Mark Udall (D) Pressures His GOP Opponents To Admit They Are Climate Change Deniers—by poopdogcomedy: "Received this e-mail from Senator Mark Udall (D. CO) today regarding his Republican opponents stance on climate change: The first step to fixing a problem is admitting you have a problem. And nearly every Coloradan knows the reality and harmful effects of climate change. This year alone we experienced the worst drought in nearly 50 years and one of the worst fire seasons on record. This year is also estimated to be the hottest on record, according to the World Meteorological Organization. But despite the very real consequences of global warming we're facing here in Colorado, my Tea Party opponents are siding with the radical wing of their party."
IA-Sen: Bruce Braley (D) To The EPA, "Don't Lower The Renewable Fuel Standard"—by poopdogcomedy: "Received this e-mail today from Congressman Bruce Braley's (D. IA-01) U.S. Senate campaign regarding the EPA and the Renewable Energy Standard: Cheaper gas, clean energy, reducing our dependence on foreign oil, and creating more jobs—these are issues that every American, Democrat and Republican, should be able to get behind.
So it's strange that the EPA would stand on the side of the Koch Brothers and Big Oil in their crusade against Renewable Resources with a new proposal calling for a 16 percent reduction in renewable fuels next year. Renewable Energy is one of the few bright spots in our national economy—In Iowa alone, investments and innovation in the renewable energy sector have helped create over 60,000 jobs and contributed significantly to our state economy."
OR-Sen: The Hill Names Jeff Merkley (D) Man Of The Year In Congress—by poopdogcomedy: "Juan Williams from The Hill wrote an excellent piece about one of our favorite Senators, Jeff Merkley (D. OR), naming him as 2013's top political player on Capitol Hill: Senator Merkley has introduced legislation to increase production and use of electric vehicles, and he's voted to end Big Oil's taxpayer-funded subsidies. He also fought for improved fuel efficiency standards, and introduced a bill to bring Oregon-based energy efficiency efforts to the national level, helping homeowners and business owners conserve energy and save money. He's also led efforts in the Senate to stand up for consumers and protect public health. Senator Merkley co-sponsored legislation that would ban so-called Frankenfish—genetically engineered, manufactured salmon—unless it was deemed safe by the National Oceanic and Atmospheric Administration. He's also helped lead efforts against legislation allowing special interests to ignore a court order on genetically-modified seeds that's designed to protect other farmers, the environment, and human health. Senator Merkley also supports the EPA's proposed limits on carbon pollution from new power plants, which would help combat the climate crisis and protect public health. Power plants are the largest individual sources of carbon pollution, the driving force behind changes in our climate that are worsening extreme weather. He is the only Senator to earn a 100% lifetime score on LCV's National Environmental Scorecard. "
PA-Gov: MoveOn.org Goes After Tom Corbett's (R) Climate Change Denying DEP Nominee—by poopdogcomedy: "Received this e-mail from Senator Mark Udall (D. CO) today regarding his Republican opponents stance on climate change: The first step to fixing a problem is admitting you have a problem. And nearly every Coloradan knows the reality and harmful effects of climate change. This year alone we experienced the worst drought in nearly 50 years and one of the worst fire seasons on record. This year is also estimated to be the hottest on record, according to the World Meteorological Organization. But despite the very real consequences of global warming we're facing here in Colorado, my Tea Party opponents are siding with the radical wing of their party."
The Great Outdoors

Bay to Bay in the Salish Sea (photodiary)
—by
OceanDiver
: "The Salish Sea is a beautiful maze of islands, rocks and currents. On a recent cold December morning we took our boat from its usual moorage buoy in Barlow Bay up to the marina in Fisherman Bay, at the other end of the island. We left around 9 am, shortly after sunrise. The low angle of sunlight and the layers of clouds muted the light most of the way. But the clouds, winter sun, water, mountains and wildlife made this a lovely quiet journey. Follow me below the fold as we wend our way through the channels and rocks of these inland Pacific Northwest waters on a December morning."
The Daily Bucket - Unsettled Weather Edition—by foresterbob: "While many of you have been enduring (or enjoying) cold and snowy weather in many parts of the country, the Southeast has been relatively tranquil. The sun has seldom appeared since the beginning of December, but the temperatures have ranged from mild to downright warm. [...] My recent photographic efforts have been limited. With no sweeping landscapes surrounding me (like I see in the western states) and only a few spots of fall color, I have not used the camera much. The Alabama Croton in my front yard puts on an extended show of bright colors. The leaves do not turn all at once. The oldest leaves turn orange first, with the colors gradually spreading to the branch tips as the older leaves drop off. They really brighten up the flower bed on a rainy day."
The Daily Bucket: beach storm hints—by OceanDiver: "We are just starting to come out of a cold snap in the Pacific Northwest. For us, that's subfreezing temperatures and gale winds out of the north. After the brunt of it, there are signs on the shore that belie the sunny calm setting of these pictures, taken yesterday. Imagine, if you will, the cold and wind and storm surge waves that left these on one of the most protected beaches on the island. Cold? How about frozen sea foam? It acts much like snow under my boot."
Critters

The Daily Bucket: gull vs. chiton
—by
OceanDiver
: "Gulls, like all birds, have no hands or fingers. Wings and flying are a higher priority. But pause a moment to think about all you do that requires use of your hands. And then imagine how difficult life would be without. Birds need to gather and eat food, groom themselves, carry things, turn eggs, defend themselves, interact with others, and all sorts of other essential survival requirements—without hands. They use their beak to do a lot of those things. Most birds have specialized beaks for specialized food sources. Gulls are opportunistic generalist feeders, with a beak that can make use of 'fish and marine and freshwater invertebrates, both alive and already dead, terrestrial arthropods and invertebrates such as insects and earthworms, rodents, eggs, carrion, offal, reptiles, amphibians, plant items such as seeds and fruit, human refuse, and even other birds.' I watched a gull dispatching a chiton the other day along a quiet beach. It was cruising along in the ebbing shallow water looking for newly exposed prey, and spotted it, in spite of its seaweedy camouflage. Though gulls have no problem snatching up prey from shallow water, it's even simpler on shore."
The Daily Buckets: Waterfowl Bonanza—by matching mole: "Took a short break from my end-of-semester madness this afternoon and walked down to the lake, with my scope on my shoulder, leaving behind the emails from students who have suddenly become desperately concerned about their grade and a grade that didn't get entered properly three months ago. Sunny and coolish (mid-60s). No one about at all—no fishermen, no dog-walkers. Just me. And I picked the right time to show up. Here's what was percolating birdwise at Lake Jackson. About sixty gulls in a flock—careful scanning revealed about half a dozen Bonaparte's Gulls mixed in with the ring bills. A Florida first for me. At least 50 Ruddy Ducks (probably more) scattered about. I don't think I have ever seen so many in one place before. Usually just see one or two, maybe half a dozen. In with the Ruddy's was a Red-breasted Merganser—a first for Lake Jackson for me. And a small flock (approx 10) of Buffleheads, one male and a bunch of females."
Dawn Chorus: Alien Invasion!!1!—by lineatus: "If this was Fox Noise, I could whip up a frenzy describing how our fine, native birds are under siege from alien hordes...but, nah. Although I might keep with their anti-elitist tone and curse Shakespeare (just this once). Few things illustrate the law of unintended consequences better than invasive species. A hundred-odd years ago, some genius got the idea to create a Shakespeare Garden in Central Park. It was planted with species mentioned in his works and populated with birds he'd included in his writings. [...] Well it seemed like a good idea at the time. Apparently, it seemed like such a good idea that they brought over a second batch after the first group died out. And a third group after the second died off... and that third group must have included a few very clever birds. They survived, and they bred. And... they spread. And they spread and they spread and they spread... Now they're found across the continent, where they've adapted to a wide range of conditions. Good for them to be so clever and find a way to make it in a brand new place... but bad news for the native birds they've displaced."
A Message From America's Hunters to President Obama—by ban nock: "Most of the major groups representing America's 20 million hunters wrote up a readable twenty page book of recomendations to President Obama available as a PDF. Wildlife for the twenty first century volume IV The umbrella group calls themselves American Wildlife Conservation Partners (I'll just call them the Conservation Partners) and includes most of the names associated with hunting in America today. The Conservation Partners have been sending these recommendations to every president on their inauguration since 01. The chances are pretty fair that President Obama reads it, he is after all a reader. To his credit the President has made every effort to reach out to the hunting community since before his first election. The Conservation Partners limited themselves to making only ten suggestions, they are listed in brief at the beginning of the booklet and expanded on later in the piece."

Why Hunting Is Seeing An Increase In Popularity
—by
ban nock
: "Ever since the last Census hunting groups, wildlife agencies, and industry groups have been trying to figure out why the sharp uptick after falling off for so many years. As with a lot of things it's not as simple as pointing your finger at one reason. Responsive Management is a polling company that does many polls for the outdoor industries. They conducted an exhaustive survey to determine the cause for the recent trends which were showing up on many state wildlife agency surveys. Their study can be found
here
and their overall report including figures from the Census is
here
."
Feds kill fall salmon eggs on Sacramento River—by Dan Bacher: "The U.S. Bureau of Reclamation is one of the biggest killers of salmon and salmon eggs in California every year—and this year is no exception. The Obama administration has continued and expanded the Bush administration war on salmon and other fish, as evidenced by the Bureau's sharp cut in reservoir releases that has left the eggs of recently spawned fall-run Chinook salmon high and dry in the upper section of the Sacramento River from Redding to Chico. As expected, an almost 35 percent reduction in water releases from Lake Shasta into the upper Sacramento River during the prime salmon spawning month of November has left many salmon nests, or redds, high and dry, according to a news release by the Golden Gate Salmon Association (GGSA). 'This likely killed millions of incubating salmon eggs which is certain to hurt salmon returns in future years.'"
Water
Winnemem Wintu Tribe, Fishermen Blast Bay Delta Conservation Plan—by Dan Bacher: "However, rather than being a 'rational, balanced plan' as Laird claimed it is, Caleen Sisk, Chief and Spiritual Leader of Winnemem Wintu Tribe, denounced the tunnel plan as 'a death sentence for salmon and a violation of indigenous rights.' Chief Sisk spoke at the press conference Monday to re-affirm the Tribe's opposition against the construction of Brown's water export tunnels under the BDCP – and will speak at another rally sponsored by Californians for a Fair Water Policy on the north steps of the State Capitol at 12:00 noon on Friday, December 13. Sisk said California's State Water Project and the federal Central Valley Water Project divert too water from the San Francisco Bay/Sacramento River Delta, the largest estuary on the Pacific Coast, to the state's water brokers to supply unsustainable industrial agriculture, destructive fracking for oil and municipal developments in the desert."
Farmers, Fishermen, Tribes Launch Campaign Against Tunnels—by Dan Bacher: "Californians for a Fair Water Policy, a statewide coalition opposing Gov. Brown's water export tunnels, on Monday launched a statewide campaign by their members. Coalition groups include Restore the Delta, Food & Water Watch, Environmental Water Caucus, AquAlliance, Friends of the River, California Water Impact Network, California Sportfishing Protection Alliance, and Southern California Watershed Alliance) and allies, including elected leaders, Sierra Club California, the Winnemem Wintu, the Planning and Conservation League, Earth Law Center, the Pacific Coast Federation of Fishermen's Associations, First Generation Farmers, California Striped Bass Association, Local Areas of the North Delta, the Butte Environmental Council, the South Delta Water Agency, and a dozen other groups to defeat the BDCP project. The groups rallied at the State Capitol as the Brown Administration released their proposed tunnels project. Opponents pointed out expected damage to water, the environment, fish, farming and water ratepayers."
Tunnel Plan: $240 million wasted is already too much—by Dan Bacher: "The public review copies of the Bay Delta Conservation Plan to build two giant water export tunnels and its companion Environmental Impact Report (EIR) will become available on-line Monday, December 9, 2013. The federal government will begin the 120-day public comment period on Friday, December 13, 2013. The Brown Administration already released the BDCP documents to participating agencies on December 6. The release of the documents takes place at a time when the enormous cost of the BDCP, estimated to total $54.1 billion, is coming under increasing scrutiny by water agencies, water ratepayers and the taxpayers who will pay for the tunnels."
Dark Links: the MLPA Initiative and Bay Delta Conservation Plan—by Dan Bacher: "The privately-funded Marine Life Protection Act (MLPA) Initiative and the Bay Delta Conservation Plan (BDCP) to build the peripheral tunnels at first may appear to be entirely different processes. [...] However, in spite of some superficial differences, the two processes are united by their leadership, funding, greenwashing goals, racism and denial of tribal rights, junk science and numerous conflicts of interest. When people educate themselves on the links between the two processes, I believe they can more effectively wage a successful campaign against the twin tunnels."
Eco-Activism & Eco-Justice
Fight Back Against ALEC: Petition to Protect Solar—by Im a frayed knot: "We got solar panels on our house over the summer. We did this for two reasons. One, I am no longer employed, and we felt that for the future, energy prices were going to go up to the point that we could no longer afford to heat and cool our home. Two, we are extremely concerned about the planet and climate change. So we tried to do our part. Now there is a move afoot to penalize people who get solar. [...] It is bad enough when there is no support for alternative energy when our climate is in so much trouble. It is worse when those who attempt to address the problem are penalized by those who support big oil and big business. I suspect, but I do not know, that this is part of the ALEC effort.
National Parks, Forests & Other Public Lands
Expanding the National Park System #8- Delaware—by MorrellWI1983 : "Here is the eighth diary in my Expanding the National Parks series. Last week I visited Connecticut, this week, I'm traveling to the first state of the union, Delaware. Delaware is the second smallest state, covering just under 2500 miles in area. 2 percent of Delaware is protected federally, which is tied with Indiana for 37th among the states in terms of federal ownership of land. in terms of percentage more land is protected in Delaware than in Texas, a state 130 times bigger. Delaware has one monument and two wildlife refuges, I will propose adding two monuments to that tally."
"Logging Jobs vs Environment" Is The Wrong Compromise—by Tuffy: "This is my first Diary at DKos in years (I'm always a lurker more than participant), but I'm kinda proud of what I wrote on my own blog, and since it isn't as off topic to DKos as my past Diaries have been, I decided to share it here, too. Senator Wyden has released a new plan for management of Oregon & California Railroad trust lands, a plan that I think is intended to replace, update, or supersede the Northwest Forest Plan that Bill Clinton signed into law in 1994 for O&C lands. I'm glad new science is being brought to bear on an old problem, but I think the approach is wrong. I disagree with its broader objectives, and thus with some of the specific things it tries to do."
A Monumental Time to Act—by Michael Brune: "Former Sierra Club president Edgar Wayburn once pointed out that, in at least one respect, wilderness was like any other natural resource: 'Once it is consumed, it is gone forever.' When that happens, we lose a lot more than scenery. We lose critical habitat for plants and animals that are already stressed by climate disruption. We lose recreational opportunities and the long-term economic benefits for neighboring communities that come with them. We lose an irreplaceable part of our natural heritage—not just for ourselves but also for generations to come. The good news is that we still have time to protect some of our finest public lands before it's too late. The bad news is that Congress has become a black hole from which no conservation legislation has been able to escape for several years."
Pollution, Hazardous Wastes & Trash
Treasure Island's Treasure? One Million Times EPA Radiation Limits—by Joieau: "There's this really quite nifty fake island in San Francisco Bay, just north of the more natural Yerba Buena Island that serves as anchor between the east and west spans of Interstate-80's San Francisco-Oakland Bay Bridge. It's called Treasure Island, built of dredged fill in 1936-37 as the site for the 1939/40 World's Fair The Golden Gate International Exposition. [...] A NBC Bay Area News investigative report details information provided by a Navy subcontracted health physicist hired to test various sites on the island for leftover radiation, that the mess is much bigger than the Navy has admitted. Under the concrete slab of one unoccupied building, the HP—identified in the report as Don Wadsworth of New World Environmental, Inc. of Livermorea previous Navy report showed radiation levels of 80,000 cpm, or 30 microrem per hour. Which, Wadsworth translates, is a million times what the EPA or California Dept. of Public Health would allow for human occupancy. There are problems all over the island, Wadsworth said, including in areas adjacent to occupied buildings."
China Solves Smog Problem—by FishOutofWater: "A new study funded by Greenpeace shows that a quarter of a million Chinese people died of air pollution from coal fired power plants in 2011. And the smog is worse this year. The analysis traced the chemicals which are made airborne from burning coal and found a number of health damages were caused as a result. It estimates that coal burning in China was responsible for reducing the lives of 260,000 people in 2011. It also found that in the same year it led to 320,000 children and 61,000 adults suffering from asthma, 36,000 babies being born with low weight and was responsible for 340,000 hospital visits and 141 million days of sick leave. 'This study provides an unprecedentedly detailed picture of the health fallout from China's coal burning,' said Dr Andrew Gray, a US-based expert on air pollution, who conducted the research. Using computer simulations, Gray said he was able to 'draw a clear map tracing the trail of health damages left by the coal fumes released by every power plant in China, untangling the contribution of individual companies, provinces and power stations to the air pollution crisis gripping the country." Smog levels in Shanghai this December have been the worst in China's long history. Many residents avoid going outside and many of those who do are wearing masks to try to filter out the dangerous small particulates in the air that came from coal fired power plants."
EPA plans to drastically reduce inspections at crucial time in climate fight—by VL Baker: "The LA Times is reporting that the Environmental Protection Agency (EPA) proposes to cut federal inspections by one-third and reduce civil enforcement cases 23% in order to focus on the biggest polluters. The EPA said the shift for fiscal years 2014 to 2018 is not a retreat from enforcement but a more effective allocation of resources. 'It is bewildering why the EPA would pull cops off the beat who've been protecting our air and water from big polluters,' said Michael Brune, executive director of the Sierra Club. 'We urge the EPA to reconsider these proposed cuts.'"
What's At Stake: Clean Air and Public Health in our Highest Courts on December 10—by Mary Anne Hitt : "This Tuesday, December 10, our nation's highest courts will hear two landmark Clean Air Act cases that have big implications for public health. First and foremost, the Supreme Court will hear arguments Tuesday on the Environmental Protection Agency's Cross-State Air Pollution Rule. Back in 2011, EPA unveiled this update of a critical public health protection that would reduce power plant emissions of sulfur dioxide and nitrogen oxides, dangerous pollutants that form soot and smog and contribute to poor air quality days and respiratory illnesses affecting millions of Americans. They call this the Cross State Air Pollution Rule because it curbs the millions of tons of air pollution that travel downwind and across state lines each year. Pollution doesn't stop at state lines. Unfortunately, the D.C. Circuit Court of Appeals handed down an extremely controversial divided ruling in August of 2012 that struck down this rule."
Mining
Rep. Rick Nolan backtracks on support for PolyMet permitting bill—by keewatinrose: "Northern Minnesota is known for its great fishing, so perhaps it's fitting that tracking 8th District Congressman Rick Nolan's position on a bill that deregulates the mining industry and fast tracks the permitting process for PolyMet is a bit like watching a fish flopping around on a dock: first he's against it, then he's for it and now he once again opposes it, this time promising to vote against the legislation if it 'comes anywhere near close to becoming law.' Nolan made that assurance while addressing the audience at the Climate Change Forum held at the University of Minnesota, Duluth on Nov. 16, 2013. We reported in September that Nolan stunned many by voting for National Strategic and Critical Minerals Production Act, mining industry-backed legislation that he blasted both Democrat Jeff Anderson and Republican Rep. Chip Cravaack for supporting and promised never to vote for if elected to Congress. Nolan's sudden reversal of his position that proposed mining projects must meet environmental rules as currently written in order to be permitted and subsequent vote to assist right-wing Republicans in their efforts to deregulate yet another industry was among the issues attendees wanted to discuss with their Congressman. But getting answers to their concerns proved to be difficult and when pressed Nolan often contradicted himself."
Transportation & Infrastructure
Tax Break For Mass-Transit Commutes May Soon Be Slashed—by WinterOfDiscontent: "According to the NPR the tax credit for mass transit will be cut nearly in half at the end of the year. This tax credit operates like the flexible medical spending accounts. People who use mass transit, may set aside pre-tax dollars to cover the cost of rail and bus tickets. Commuters who drive and use a similar tax credit will see their benefit increase. If one's desire is sell more gasoline and increase pollution, a more perfect way to achieve this goal could not have been found. If on the other hand, your goal is to reduce the number of cars on the road, reduce consumption and importation of petroleum, reduce pollution, reduce the number of uninsured drivers on the road, etc., the lapse of this bill will have disastrous consequences. Unfortunately for all concerned, fixing this problem requires getting a bill to extend or even increase the credit through the House. I think my chances are better if a buy a lottery ticket."
Sunday Train: Traveling to our deaths and the fatal Metro North derailment—by Bruce McF: "Last Sunday Morning, the 5:45am from Poughkeepsie was running through the Bronx with 100-150 passengers aboard, when it sped through a 30mph speed limit curve at 82mph, derailed, over-turning four cars and killing four people. This is a story with some differences in detail from the Spanish fatal derailment this summer, but one common feature: the lack of adequate Positive Train Control signaling on the corridor. In the Spanish case, project cost-shaving led to Positive Train Control signaling being installed on the new High Speed Rail corridor but not on connecting corridors that some hybrid services use to reach towns not directly on the HSR corridor. In the Spanish case, full PTC would not have been required to prevent the fatal accident: 'The Santiago Train Derailment Could Have Been Prevented with a Euro 6,000 beacon'. As later details emerged it became clear that if two analog "ATSFA' beacons had been replaced with three digital 'ATSFA' beacons, at a cost of €6,000 each, that would have prevented the fatal derailment."
Eco-Philosophy & Essays
Don't worry, be happy: "5 Reasons Why 2013 Was The Best Year In Human History"—by A Siegel: 'According to Think Progress blogger Zack Beauchamp, "2013 was the best year in human history.' As an institution with "Progress" in the title, we should expect that there should be serious discussions by the Center for American Progress (CAP) not just about problems requiring solutions but also on the reality that across a wide range of domains, humanity has made and is making serious progress. Beauchamp, however, takes this further (as per the title) to assert that this has been the best year that ever was and that essentially everything is rosy looking out into the future. [...] The core of Beauchamp's post is right—there are many things going right in the world and humans have/humanity has had a role in creating those positive trend, and humans have/humanity has the ability to make things better into the future. Too bad that value comes within a framing designed, it seems, primarily to create 'buzz' and capture eyeballs rather than enhanced honest and truthful discourse."
A Child's Paradise Lost—by BobboSphere: "I began following the political battles to save wilderness areas and national parks in the pages of the Washington Post that my dad brought home after work. I wanted to become a park ranger. A defender of wilderness. I never became that park ranger, but several enviro-groups now have my credit card number and if you shove a petition in front of me that says save whatever, I'll add my signature. I go to meetings and conferences. I sometimes hold hand-written signs at demonstrations. Small acts of resistance to be sure; acts of resistance that I can trace partially back to the sorrow I felt about my child's paradise lost. But only partially. I also recall the joy and wonder of a seven year old at the existence of trees and crayfish. Nearly 60 years later it is with both sorrow and joy that I think about our biosphere."
World Population: Is It The Most Important Issue Facing You—by Save the Environment: "Some effort should be made to slow down the world population growth rate. Over the decades, some estimates for future world population have been a lot more pessimistic than others, and it's turned out these estimates haven't come true. But, one thing can't be ignored: all else being equal, more population equal more resource use, and the environment is already pretty stressed as is."
Last shot to save the planet—by EarTo44: "We could, if we were to fully understand how serious the damage will be, and followed the recommendations from scientists, to either drastically reduce the damage we continue to cause, or to go even further, and pull out all the stops to reverse the damage, and allow the planet time to repair itself. Here is why we won't. Here is why our planet is pretty much going to continue to slide from what we now have to what scientists have predicted will happen with warmer oceans, and melted ice caps, flooded contents, cities flooded, populations forced to relocate, reduced capability to produce needed agriculture, way hot summers, cold, cold winters, more radical hurricanes, bigger tornadoes, and so on. We are getting a pretty good taste of climate change now. We are ahead of schedule from what the scientists have originally predicted. It's bad news. It's bad, and we have decided not to do anything about it. Why? Who is stopping this?"
I want a new Mt. Rushmore built.—by EarTo44: "We need to build a new Mt. Rushmore, and on this mountain, for everybody to see, is the most influential elected people in our government at this time, that could have made a difference to reverse climate change, but refused. The climate change deniers. Those in Religion that have refused to turn to science or to admit Science not god has the power to reverse the damage. Those that are running the corporations that are preventing our elected officials from doing anything substantial that could reverse the damage. Each country could create their own 'Monument of shame.' It's so late in the game, but really, these people are the most wealthy people on the planet, and they live like kings, knowing future generations are really going to suffer."
Displaced Caribou and the Loneliness of Believing—by Jet23: "At dinner, my dad would try to convince me that global warming was no different from star-bound Mayan prophecies—less credible, even—and I would passionately defend my opinions, believing I could convince him that they came from empathy, a broader perspective, and not a trendy conceit, as members of my generation have been broadly accused. This at a point when I still cared enough to bother. I remember how proud he seemed when I told him I would probably register independent. [...] Ever since I'd realized that we were stuck together on this crumbling heap of rock, I'd internalized an existential dread about the future of human society. I think that's happening to people younger and younger. I was probably about seven when I saw an aerial photo of clearcut rainforest in Brazil, extending endlessly into the horizon. Even still, I made it to my fourteenth birthday harboring a demonized perception of Al Gore from the way my dad talked about him. That phantom vanished with reading the news, and a keystone of my flimsy worldview was removed. At seventeen, my foundation crumbling, I wrote to [Rep. Buck McKeon], like a vindictive ex-lover, to mock his support for drilling in the Arctic Wildlife Refuge."
Miscellany
Ken Salazar's New Conservation PAC and the $$$ Behind It—by ban nock: "In a tricky way to leverage a lot of conservation dollars Ken Salazar has teamed up with mega gazillionaire Louis Bacon who if you don't remember gave the US Govt the largest gift of private land from an individual that we've ever received. The good part isn't just that the PAC has a generous person to finance it, after all ALEC and the Koch brothers also have lots of money, what's tricky is that Ken and Mr. Bacon are targeting the $20 billion dollars that has been 'borrowed' and diverted from the Land and Water Conservation Fund. In other words if you are a legislator, and you support full funding of the Land Water Fund, you get some moolah. As it now stands we'd be able to put $900 million per year back into the fund."
Bill McKibben's Basement of Hate and Love—by divineorder: "Bill Mckibben is a humble guy, but don't let that mild demeanor fool you. The founder of 350.org is also kossack, and his work to marshall action on climate change is by now legendary. We once were introduced to Bill Mckibben in front of the Lensic in Santa Fe, N.M. where he was giving a speech. We were costumed up to look like the female Governor of NM and the female head of the largest utility in an effort to publicize the need for their leadership in powering past coal. Though obviously dog tired from action outside the White House leading the civil disobedience which resulted in the arrest of many he had taken the time to stop off to give words of encouragement and solidarity to the cold weather Occupy Santa Fe. He got a giggle out of our costumes and then went in and wowed the crowd gathered together to celebrate local environmental activism and accomplishment. His speech was both thrilling and sobering, and the lengthy standing ovation was very heartening to experience the hundreds pleasant sending this humble guy their love."
"Oh Japan, How Could the Mauled Have Embraced the Beast!"—by Franklin Cincinnatus.