I've struggled for a week to somehow tie a single cigarette on the balcony of a Memphis hotel almost 46 years ago to today without it sounding vapid or dumb or callous or weird or misguided or dumb or worse. or something. Maybe someone at GUS has gone down this path before, and recounted these few tidbits of information. I don't know. I do know that although today is a commemoration of his birth, and life, these aspects are part of the story too.
He liked to smoke as did many of his contemporaries (more than 40% of US adults back then, both my parents included) The historical record speaks of that, although there are scant few photos of him doing so. He didn't want to be seen doing it, feeling it was a poor image to project to young people, although he himself was only 39 on that April evening. And I suppose "like" is as much a relative term as "young," for don't most of us believe we "liked" smoking while we were doing it?
He spent a couple summers as a teen in the 1940's working on a tobacco farm in Simsbury, CT. [1] [2]
Tom Houck, his driver, claims when Martin would return to Atlanta he'd buy a pack of cigarettes and was always trying to quit. "Coretta thought Martin had stopped lighting up, until the day she found a pack of his favorite Salems in his coat pocket. He blamed the cigarettes on me. Naturally I agreed, even though Coretta knew I didn't smoke at the time. From then on, he'd give me his cigarettes before we drove up to the house; but the next morning, he would always ask for them back…"[3]
There are photos of the cigarette on the balcony, if one is so inclined to look. I'm not linking to those although they came from Joseph Louw who was staying at the Lorraine Motel making a documentary of King, and who grabbed his camera when he heard the shot. This one is probably the most well known, published through TimeLife/Getty Images, and yes, I'm fair use-ing it for the purposes of this brief diary.

Louw asked Memphis resident Ernest Withers, a free lance photographer whose own work is iconic,[4] to help develop that photo and last year it was revealed that Withers had been a paid informant for the FBI from 1958 - 1972.
As for the actual cigarette, Reverend Samuel Billy Kyles took it and the pack out of King's pocket before the ambulance arrived.[5] He claims to still have the pack. Kyles was the only other person on the balcony when the shot occurred and is now one of the last eyewitnesses left alive.
It was partly through Kyles urging that King was in Memphis that day, to lend his support for the sanitation workers strike that had started in February after two men, Echol Cole and Robert Walker, were crushed to death because "city rules forbade black employees to seek shelter from rain anywhere but in the back of their compressor trucks, with the garbage."[6][7][8]
I've worked in industrial settings, with hydraulic and other heavy equipment and had my own brush with dismemberment,[9] and Cole & Walker's deaths are haunting. They really encapsulate where we as a nation were just a short time ago. And how far we've come. And how much we still have left to do. All of us. Collectively and individually.
Personal progress is a huge part of what we talk about here at GUS. We know that great change is usually accomplished with small steps, through trial and error, multiplied by time and repetition, and built on increasing layers/levels of success. It's one day at a time.
If you're still smoking, please, please think about quitting.
Even if it's just for a minute.
You are so worth it.
GUS (Gave Up Smoking) is a community support series for Kossacks in the midst of quitting smoking. Any supportive comments, suggestions or positive distractions are appreciated. We avoid discussion of political issues. If you are quitting or even thinking about quitting, please -- join us! You can add GUS to your stream by clicking on the ♥ next to the GUS tag. The GUS Library at dKosopedia is organically evolving, and stocked with free-range information, quit-smoking links, and helpful GUS writing tips.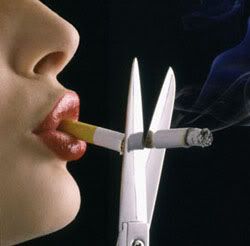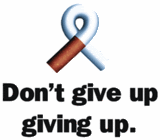 "A message to all quitters: you don't have to avoid GUS if your latest attempt to quit didn't work out. We won't give you a bad time and we consider the attempted quits as practice for the real quit."
(h/t to FG)
Have you had some experience with the effects of smoking, and want to write a GUS diary or host an open thread? Please sign up in the Butt Can (Tip Jar), and name the day and time that works for you (AM, PM, late-night, early-bird...) Regular diarists' names have been enhanced for your viewing pleasure. Click on the link to learn how to write a GUS diary the easy way. It's really easy. Did I say it's really easy? It is.
It's . really.

"Seriously, it doesn't have to include specific elements or require all sorts of fabulous diary formatting skills. The regulars will make sure stuff gets carried over from diary to diary, so if you want to just tell your story and host for a few hours, that's cool too." (h/t Vctnld)
The Current Schedule
Mon AM: anod
Mon PM: open
Tue AM: gchaucer2
Tue PM: open
Wed AM: open
Wed PM: Vacationland
Thu AM: nokkonwud
Thu PM: open
Fri AM: flumptytail
Fri PM: open
Sat AM: paulitics
Sat PM: The Technomancer
Sun AM: gchaucer2
Sun PM: open
The Buddy List
1BQ, 2thanks, 3rdGenFeminist, 417els, A Man Called Gloom, Abra Crabcakeya, Actbriniel, addisnana, AfroPonix, aishmael, Alise, Alpha99, also mom of 5, ambeeeant, American in Kathmandu, amk for obama, andsarahtoo, angry marmot, Anne933, anodnhajo, aoeu, AoT, aquarius2001, arcadesproject, Archie2227, arodb, Arthur Wolf (in memoriam), assyrian64, Aunt Acid, awkawk, b4uknowit, BadKitties, bamablue, BARAKABETH, barnowl, b barrie, bdizz, beatpanda, beefydaddy18, betterdemsonly, BFSkinner, bgblcklab1, BigAlinWashSt, Bike Crash, BirderWitch, BJKay, bleeding heart, blingbling65, blue husky, Blue Intrigue, bluedust, BluejayRN, BlueJessamine, BlueMississippi, Bluerall, bluestatedem84, BoiseBlue, boudi08, Brahman Colorado, breedlovinit, BrenP, BrianParker14, Bronxist, broths, BrowniesAreGood, bsmechanic, Buckeye Nut Schell, buddabelly, Bugsydarlin, bumbi, BusyinCA, cactusgal, cagernant, Carol in San Antonio, CathiefromCanada, CathodeRay, CDH in Brooklyn, Cedwyn, cee4, Cen Den, ChocolateChris, ChurchofBruce, ciganka, cinnamondog, citizenx, ClapClapSnap, claude, Cleante, Code Monkey, codobus, Coldblue Steele, Colorado is the Shiznit, coloradomomma, common green, commonmass, Common Sense Mainer, congenitalefty, coppercelt, CwV, dadanation, Damnit Janet, dangoch, DarienComp, dauber, Dauphin, Dave in AZ, Dave in Northridge, David54, deedogg, demkat620, Dexter, Diana in NoVa, Dickie, DiegoUK, Dingodude, dirtdude, distraught, djMikulec, docreed2003, dolfin66, donnamarie, Donna O, dotsright, Dr Teeth, Dreggas, DRo, droogie6655321, Dube, duckhunter, Eclectablog, Eddie C, EdgedInBlue, edr, effervescent, elbamash, El barragas, el vasco, electricgrendel, entrelac, ericlewis0, Everest42, Ex Con, exlrrp, ExpatGirl, ezdidit, fat old man, fauve, fhamme, Fineena, fiona2, fishhawk, Flea, flumptytail, Friend of the court, fritzi56, FrugalGranny, Garrett, Gator, gchaucer2, GDbot, Geiiga, GenXangster, glpaul, gooderservice, gooners, gravlax, GreenMountainBoy02 (in memoriam), greylox, grndrush (in memoriam), GrumpyWarriorPoet, GuerillaLiberal, GulfExpat, gzodik, Haole in Hawaii, HappyinNM, henlesloop, here4tehbeer, HeyMikey, hideinplainsight, High Tide, hiliner68, history first, hold tight, Hugh Jim Bissell, hulibow, I love OCD, I said GOOD DAY sir, Im a frayed knot, imisa, Indexer, indubitably, indyada, Interceptor7, Inventor, Isaacsdad, ItsaMathJoke, itsbenj, Jahiz, James Earl, JamesEB, janl1776, Janeo, jarbyus, JayinPortland, jayjaybear, jbalazs, JBL55, jbou, Jeffersonian Democrat, jillwklausen, jmadlc55, jmonch, Joes Steven (aka Steven), john keats, john07801, johngoes, johnny wurster, jsfox, just another vet, JVolvo's Mom (in memoriam), jwinIL14, Kai99, kailuacaton, Kamakhya, kat herder, katchen, Kelly of PA, khloemi, Khun David, Kitsap River, kittania, kos, KrazyKitten, Kristina40, Ksholl, labwitchy, ladypockt, Lahdee, langerdang, LarsThorwald, LA rupert, last starfighter, LaughingPlanet, Laurie Gator, Lava20, Leo in NJ, LiberalVol, Lipstick Liberal, litoralis, lmdonovan, lockewasright, Lonely Liberal in PA, Lonely Texan, longislandny, Lorinda Pike, LtdEdishn, lunacat, lunachickie, luvsathoroughbred, lying eyes, maggiemay, magicsister, mango, Marc in KS, MargaretPOA, Marjmar, Mark E Andersen (Kodiak54), marknspokane, marsanges, maryabein, Matf, Matt Esler, Maxiemax, maybeeso in michigan, MBNYC, mdemploi, Meteor Blades, Micburke, michael1104, MillieNeon, minerva1157, MinervainNH, Missys Brother, mjbleo, MnRaindog (in memoriam), mntleo2, mollyd, Morague, MotoGP, Mr Bojangles, mrsgoo, mskitty, msmacgyver, MsWings, Murphoney, nannyboyz, ncsuLAN, NearlyNormal, Nedsdag, Nespolo, Nick Zouroudis, nokkonwud, notgivingup, NY brit expat, oceanview, Ole Texan, OleHippieChick, Olkate, one pissed off democrat, One Pissed Off Liberal, Onomastic, operculum, OrangeMike, Ordvefa, Overseas, Over the Edge, Pager, paige, PaintyKat, palmer18, paradox, parryander, paulitics, peglyn, Pennsylvanian, peterfallow, phrogge prince, plok, Portia Elm, Positronicus, post rational, PowWowPollock, Proud Mom and Grandma, psycho liberal, ptolemynm, Purple Priestess, PvtJarHead, racheltracks, randallt, ray bob, real world chick, red mittens, Reepicheep, regis, relentless, revelwoodie, revsue, Rex Manning, rexymeteorite, RiaD (in memoriam), rickeagle, ridemybike, rightiswrong, Rileycat, rincewind, rkex, roadlion, RoCali, Roger Fox, Rosebuddear, roses, rscopes, Rudini, RumsfeldResign, Safina, SallyCat, Sanuk, Sark Svemes, sboucher, scooter in brooklyn, Scrapyard Ape, seenaymah, Senor Unoball, sewaneepat, sfbob, sgary, Shahryar, sheddhead, shesaid, Shifty18, shmuelman, shopkeeper, sidious666, sidnora, slksfca, slowbutsure, smartcookienyc, smeesq, Smoh, snoopydawg, snorwich, SnyperKitty, SoCalHobbit, SoCalSal, sofia, soonergrunt, sostos, sowsearsoup, SpecialKinFlag, spmozart, spotDawa, SpotTheCat, StateOfGrace, Statusquomustgo, stiffneck, stonekeeper, suesue, sunbro, Super Grover, susans, Syoho, tallmom, Tay, tdslf1, teknospaz, theatre goon, The Eyewitness Muse, The Technomancer, TheGeneral, TheStoopingRabbit, TigerMom, Tim DeLaney, tiredofcrap, TomP, tonyahky, Toyotabob7, TracieLynn, TreeFrog, triciawyse, tripodisblack, trs, trueblueliberal, TrueBlueMajority, ttanner, Tulsonian, Turn VABlue, Turtle Bay, Tyto Alba, uc booker, UncleCharlie, Unduna, Unforgiven, ursoklevar, USArmyParatrooper, VA02 femocrat, Vacationland, valadon, Vayle, vc2, Vetwife, vgranucci, Via Chicago, Village expects idiot home soon, viral, vulcangrrl, waytac, webranding, Wee Mama, weelzup, Wes Opinion, Whimsical Rapscallion, willy be frantic, willy mugobeer, Wood Dragon, wolfie1818, Wordsinthewind, Wreck Smurfy, x, xopher, yet another liberal, Zotz