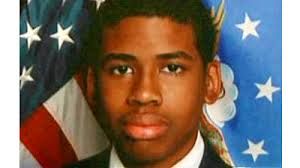 May I call your attention to Ta-Nehisi Coates' heart rending, angry, chilling, poignant, and poetic expression of his feelings in, On the Killing of Jordan Davis by Michael Dunn, in the Atlantic.

I wish I had something more to say about the fact that Michael Dunn was not convicted for killing a black boy. Except I said it after George Zimmerman was not convicted of killing a black boy. Except the parents of black boys already know this. Except the parents of black boys have long said this, and they have been answered with mockery.

Jordan Davis had a mother and a father. It did not save him. Trayvon Martin had a mother and a father. They could not save him. My son has a father and mother. We cannot protect him from our country, which is our aegis and our assailant. We cannot protect our children because racism in America is not merely a belief system but a heritage, and the inability of black parents to protect their children is an ancient tradition.

Fair use requires me to skip the whole midsection, which you should read in the original. To sum it up, as tracing back our cultural heritage still tinged by the values of the system of slavery, does not do it justice, but no greater effort on my part will bring me any closer to the power of Ta-Neshi Caotes' gripping vignette. His closing paragraph:

I insist that the irrelevance of black life has been drilled into this country since its infancy, and shall not be extricated through the latest innovations in Negro Finishing School. I insist that racism is our heritage, that Thomas Jefferson's genius is no more important than his plundering of the body of Sally Hemmings, that George Washington's abdication is no more significant than his wild pursuit of Oney Judge, that the G.I Bill's accolades are somehow inseparable from its racist heritage. I will not respect the lie. I insist that racism must be properly understood as an Intelligence, as a sentience, as a default setting to which, likely until the end of our days, we unerringly return.

Last night, when the mixed verdict was announced, in the trial of Micheal Dunn, I was in the middle of several other projects so I checked in briefly to Denise Oliver Velez' live blog, shared my immediate reaction, of shock and disbelief, but as I was fully immersed in several other projects, the news really only barely scratched the surface of my abstract mind.

I find this to be incredible. How can someone shoot four unarmed people in a car, with the fatal shot in the back of one kid who was apparently trying to lay down on the seat, flee the scene of the crime, and not be found guilty of first degree murder?
After this brief comment, I instinctually compartmentalized my feelings, so I could go back to some rather trivial projects that needed completion, so I put it out of my mind. Only this morning, does the full impact start to sink in. I recommend this article which helped me get my head and my heart into the same place, and I find myself at a loss for words. I need to reread Ta-Neheshi Coates' article, and reflect on it a bit.
This will be a wound for all of us that takes some time to heal. My condolences to Jordan Davis' family and loved ones, for whom this unsatisfactory verdict must be greatly painful.
7:26 AM PT: How can the parent of a child of color send them out not knowing if they could be shot for nothing other than being in the wrong place, at the wrong time?
These "stand-your-ground" laws need to be changed, so sick individuals like Micheal Dunn doesn't feel "threatened."
If a psychotic person feels "threatened" by his hallucinations inspired by people shopping in a store, and he thinks they are aliens, can he mow them all down in self-defense? Apparently, by the verdict of this jury. If Dunn had not shot at the car as it left, making him guilty of the 2nd degree attempted murder charges would be walking the street now?
Some are saying he will be in jail the rest of his life, but this is only so in the event the judge gives him the sentences sequentially, not consequentively. The symbolic meaning of hanging on the first degree murder charges this cut and dry means the prosecutors must retry the primary charges.