A daily series, Connect! Unite! Act! seeks to create face-to-face networks in each congressional district. Groups regularly socialize but also get out the vote, support candidates and engage in other local political actions that help our progressive movement grow and exert influence on the powers-that-be. Visit us every morning at 7:30 A.M. Pacific Time to see how you can get involved. The comment thread is fun and light-hearted, but we're serious about moving the progressive political agenda forward.
What do you like about your hometown that isn't common knowledge?
I was looking at the new interactive map for Connect! Unite! Act! and thought about all the places with Kossack groups. That made me think about our entire country, naturally. I then thought about a very recent New Day diary (oh, that's so two days ago!) about Route 66. This sparked me thinking about my hometown of Denver which isn't on Route 66. Then I thought about what I think is cool about my hometown that it isn't known for?
Denver is the "Mile High City." It's the "Queen City of the Plains." It is famous for Molly Brown, Jack Kerouac and John Evans. It's famous for the wall of the Rocky Mountains just to the west. The Continental Divide stretches as far as the eye can see north and south from Denver. Some of the best skiing in the world is found a measly one hour's drive west. Denver is famous for having more than 300 days of sunshine a year. It's now ground zero for the entire legalization of marijuana movement.
BUT, what I really love about Denver that you don't know about is Colfax Avenue. What's Colfax Avenue? Colfax Avenue is the longest continuous street in the USA that's what.
http://www.aplacecalledroam.com/...
Playboy magazine once called Colfax "the longest, wickedest street in America." However, such activities are actually isolated to short stretches of the 26-mile (42 km) length of the street. Periodically, Colfax undergoes redevelopment by the municipalities along its course that bring in new housing, businesses and restaurants. Some say that these new developments detract from the character of Colfax, while others worry that they cause gentrification and bring increased traffic to the area.
I spent tons of time on Colfax Avenue growing up. The miles of it that are "wicked" are just that. You can find just about any type of business you can think of on Colfax Avenue. You can get into any kind of trouble you want on Colfax Avenue. I've been nearly mugged. I've been offered every type of every thing you could ever be offered on Colfax Avenue. I've seen three Denver Broncos Cheerleaders pick pocket a passed out drunk on Colfax Avenue which caused the Broncos to stop having cheerleaders for years. I've been nearly stabbed on Colfax Avenue.
I got into Sid King's, the first strip club I ever dared to enter in my life at age 16. The legal age for that was 18, but they let it slide on Colfax Avenue.
I've had some of the best food in some of the smallest dive restaurants on Colfax Avenue.
My dad still drives all the way to Argonaut Liquors to buy his booze directly across the street from Kitty's Adult store, like my granddad did before on Colfax Avenue.
We went to movies as teenagers at the old Bluebird Theater where you could smoke pot and hash freely in the balcony in the 1970's on Colfax Avenue.
I've spent hours and hours in dive bars playing pool or table shuffle board and drinking beers on Colfax Avenue.
My dad went to East High school and was the quarterback of the football team. My oldest friend that I met in kindergarten also went to high school there on Colfax Avenue.
The capitol building of Colorado with it's pure gold leaf dome is on Colfax Avenue.
I hung out on that street when I was in Jr. High and High School, and it was so awesomely wicked on Colfax Avenue.
What is cool about your hometown that nobody knows about?

Latest Updates on Kossack Regional Meet-Up News Can Be Found Below the Orange Group Hug.
Let's Build Communities!

Our team is here to provide support and guidance to new and existing volunteer leaders of each regional and state group, helping them with recruiting, organizing and executing social and action events.
We invite you to join in this effort to build our community. There are many ways to pitch in.
If there isn't a group to join near you, please start one.

Instructions on HOW TO FORM A NEW DAILY KOS GROUP

List of All Existing Meatspace Groups




---


THINK GLOBALLY, ACT LOCALLY
Community Service Announcement:
Saturday Morning Garden Blogging is celebrating their Ninth anniversary soon with a focus on fundraising opportunities for local elections. All of Kossack Land is invited to present their local candidate and their campaign to the SMGB team for them to highlight.
From Frankenoid:



It is a mid-term election year and now — during the subdued primary process — is our chance to get not just Democrats, but more progressive Democrats, into our state, county or municipal offices.

Call it planting the seeds for a harvest next November.

Kosmail the group before Thursday, February 20th, with some information about your candidate, the position being sought, and a link to a donation page. I'd really appreciate it if you could put it in ready-to-plug-in format so I can just do a copy and paste into the diary — and you can encourage your candidate to come and participate.


So
submit the details
of your local candidate to the Saturday Morning Garden Blogging group and they'll help you promote within their long-running diary series. Readers should try to connect with others in their regions through the comments.
More from Frankenoid:

Many times newcomers to dKos can't quite figure out why we have all these groups for gardening and home repair and crafting and painting and books: this is a site for politics!

Let's show them why community matters: at the most basic level without community there is no purpose to politics and it becomes nothing more than a scrim behind which factions scramble in a zero-sum game for short-lived political advantage.
The goal of the New Day series is to connect Kossacks locally to each other to strengthen the progressive movement. Franky's excellent idea is right on the mark for this.
Thanks, Frankenoid!


by Dave in Northridge ♥ for Los Angeles Kossacks
About 20 Kossacks showed up by the time everyone arrived with two new Kossacks (since mid-November) and five people attending their first meet-up. L.A. is making progress!
Here's one photo:
L-R: gmats, Roman Smith, recoveringConservative, Brecht, Shockwave, Chiwere, Moody Loner, susans, Dave in Northridge, Floja Roja, joemarkowitz, 714Day & Gay CA Democrat
Next event will be the LAKossacks rolling out the red carpet for out-of-towner Shanikka on March 15th for lunch! Venue will be announced soon.
Please visit Dave in Northridge's diary for many MORE photos plus food pr0n! Enjoy! You can join Los Angeles Kossacks by sending a Kosmail to Dave in Northridge.


by roberb7 ♥ for Mexican Kossacks
roberb7, who is the organizer of the newly formed Daily Kos Group Mexican Kossacks, provides a well-written recap of the recent Democrats Abroad event in Puerto Vallarta. Tom Hayden, a member of the California State Assembly for 18 years, was the guest speaker.
Please visit roberb7's diary for his excellent photos and a nicely detailed summary of the event. Enjoy! You can join Mexican Kossacks by sending a Kosmail to roberb7.

by GreyHawk ♥ for BOSTON KOSSACKS
While GreyHawk had many Kossacks sign up to attend his lunch and museum event, some had to cancel at the last minute because of a large snow storm rolling in. Four intrepid souls managed to attend: GreyHawk, HawkWife, Knockbally and deltadoc. I've always said that even two Kossacks is a meet-up and a very worthwhile one.
GreyHawk and his attendees pulled together a terrific re-cap diary with each person's written perspective and all the photos each Kossacks took of the snow and food pr0n. It's a fun diary and a great example of one way to document these meatspace events.
There's only one photo of some of the Kossacks who attended. So I'm going to post one of mine I took of GreyHawk and HawkWife when I met them in Providence at NN12.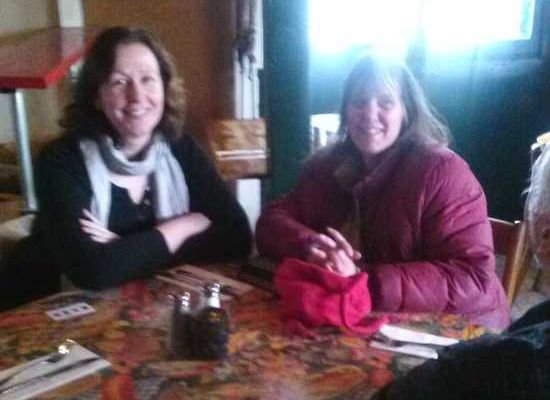 Left Photo: knockbally and HawkWife - Right Photo: GreyHawk, HawkWife & ember
Please visit GreyHawk's diary for many MORE photos plus food pr0n! Enjoy! You can join BOSTON KOSSACKS by sending a Kosmail to GreyHawk.

by EagleOfFreedom ♥ for Seattle and Puget Sound Kossacks
I'm so impressed with the Seattle Kossacks, right now. EagleOfFreedom offered to take up the reins of collecting local Kossacks for camaraderie and action. In a very short time he started the group, communicated with me, set the event and got almost a dozen folks to join the ranks in person. Kudos!
So, you Seattle Kossacks, you've got a group now and John Crapper has offered to be an admin of the group. How swell is that?
SEATTLE KOSSACKS! Look for each other in the comments and gather together, invite one another and let's see more folk show up at the next event. AND the next action event.
To quote one of the attendees:
Once again Kossacks prove they are for real.
L-R: N in Seattle, Regina in a Sears Kit House, bleeding blue, doingbusinessas
L-R: ?, John Crapper, EagleOfFreedom, mlharges
All photos courtesy of mlharges
Please visit EagleOfFreedom's diary for MORE photos! Enjoy! You can join Seattle and Puget Sound Kossacks by sending a Kosmail to EagleOfFreedom.

SFKossacks Welcome Matching Mole and bwren
with a Birding Event Plus Dinner
by navajo ♥ for SFKossacks
Last Sunday, matching mole, who flew in from the East Coast, and bwren, who flew in from Seattle, were picked up and chaffeured by the founder of Dawn Chorus, lineatus. She drove them to meet with other SFKossacks and Central Valley Kossacks to do some bird watching in the Grizzly Island Wildlife Area on San Francisco Bay. I'll leave the telling of that story up to lineatus in her Sunday morning series.
I'll be covering the dinner we had that evening to welcome our out-of-towners.
Please visit navajo's diary for descriptions of above photos and access to MORE photos! Enjoy! You can join SFKossacks by sending a Kosmail to navajo.


by randallt ♥ for DKos Asheville
Wow, the standard setters for Daily Kos group organizing just one-upped the bar again! Not only do they meet for socializing, they get themselves on radio shows to advertise the event, they invite local candidates and progressive causes to speak to our Kossacks and then fully cater an event to reward all attendees. Wow. Just wow.
More than 30 Kossacks got together amping up and organizing the Asheville atmosphere for getting out the vote. Here's one photo:
L-R: DKos Asheville Kossacks
Please visit randallt's diary for many MORE photos! Enjoy! You can join DKos Asheville by sending a Kosmail to randallt.


by Dave in Northridge ♥ for Los Angeles Kossacks
LAKossacks at it again, please see diary for food pr0n details.
L-R: DuckTape, Dave in Northridge, joemarkowitz, Shockwave and SanFernandoValleyMom
L-R: susans, Kathy, otoelbc, Jerico, Joe Bacon, mr. gmats and gmats
Please visit Dave in Northridge's diary for many MORE photos! Enjoy! You can join Los Angeles Kossacks by sending a Kosmail to Dave in Northridge.


by ericlewis0 ♥ for New York City
Wow. Boom! ericlewis0 blew us all away on Sunday. He provided a LIVE BLOG of the NYC event complete with photos and bonafide commentary from the attendees. Amazing!
Photo 1 L-R: In the orange, thankgodforairamerica, ghchaucer2, sidnora, joanbrooker, dave g & kathny Photo 2 L-R: Plf515, Laura Clawson, mets102, son of broccoli, Communitygis, no exit, designthefuture & mattc129
Please visit ericlewis0's diary for the live blog commentary from the attendees! Enjoy! You can join NYC Kossacks by sending a Kosmail to sidnora.
sidnora promises her faithful follow-up diary and she could likely have food pr0n. I hope so. I live for explicit photos of the fries at Spitzer's Corner.


Tuesday, February 25th

Kansas-Missouri Kossacks Attend State Rally at the Capital

Equality Kansas, the ACLU of Kansas, Americans United for Separation of Church and State, and MAINstream Coalition are hosting an Equality Rally

TIME: 1:00 PM (Stay for a Kossack dinner? Interested? Kosmail: tmservo433)
LOCATION: Kansas State Capitol
300 SW 10th Ave • Topeka

ORGANIZER: Send tmservo433 a kosmail to attend.

RSVPs:
1. tmservo433
2. RazzBari3

Maybees:

Latest diary: Kansas Democrats Rally at the Capital February 25. Kossacks should be there


Saturday, March 15th

Sacramento/Central Valley Kossacks Demonstrate at "Don't Frack California"

TIME: 1:00 PM
LOCATION: California State Capitol
1315 10th St. • Sacramento

RSVPs:
1. Anthony Page aka SecondComing
2.
3.

Maybees:

Latest diary: Quick re-mention of March 15 statewide "Don't Frack California" demonstrations

Saturday, April 5th

Seattle & Puget Sound Kossacks Meet-up

TIME: Noon - 3:00 PM
LOCATION: Pyramid Alehouse, Brewery & Restaurant
1201 First Avenue South • Seattle

ORGANIZER: Send EagleOfFreedom a kosmail to attend.

RSVPs:
1. EagleOfFreedom
2. Reetz
3.
4.
5.

Maybees:

Latest diary: Seattle & Puget Sound Kossacks Arrive




Saturday, May 3rd

DKos Asheville Kossacks Meet-up

TIME: 1:00 PM
LOCATION: The Bywater
796 Riverside Dr. • Asheville

ORGANIZER: Send randallt a kosmail to attend.

RSVPs:
1. randallt
2. davehouck
3. Joieau
4. Gordon20024
5. SteelerGrrl
6. SteelerGuy
7. GulfGal 98
8. Otteray Scribe
9. flwrightman
10. people power granny

Maybees:
Audri
Mr Audri


Latest diary: [Waiting for linked diary]

navajo maintains the above event list. Kosmail her if you have any diaries
about your event or if you have changes or additions.

EVERYONE is welcome, tell us what you're working on,
share your show and tell, vent, whatever you want.
This is an open thread. Nothing is off topic.