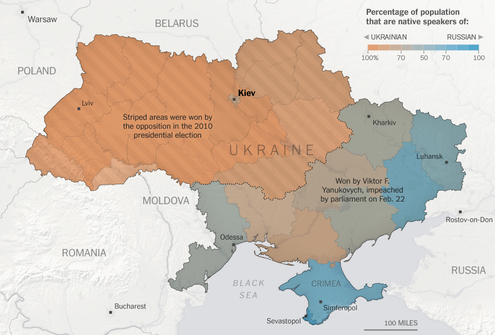 The Huffington Post reports that President Obama Calls Putin To Condemn Actions, Suspends U.S. Participation In G-8 Prep, in a 90 minute phone call. The White House release reports President Obama warned Putin that "continued violation of international law will lead to greater political and economic isolation.


The United States will suspend upcoming participation in preparatory meetings for the G-8. Going forward, Russia's continued violation of international law will lead to greater political and economic isolation.
Here is the full readout (via The White House) (via Huffington Post):

President Obama spoke for 90 minutes this afternoon with President Putin of Russia about the situation in Ukraine. President Obama expressed his deep concern over Russia's clear violation of Ukrainian sovereignty and territorial integrity, which is a breach of international law, including Russia's obligations under the UN Charter, and of its 1997 military basing agreement with Ukraine, and which is inconsistent with the 1994 Budapest Memorandum and the Helsinki Final Act. The United States condemns Russia's military intervention into Ukrainian territory.

The United States calls on Russia to de-escalate tensions by withdrawing its forces back to bases in Crimea and to refrain from any interference elsewhere in Ukraine. We have consistently said that we recognize Russia's deep historic and cultural ties to Ukraine and the need to protect the rights of ethnic Russian and minority populations within Ukraine. The Ukrainian government has made clear its commitment to protect the rights of all Ukrainians and to abide by Ukraine's international commitments, and we will continue to urge them to do so.

President Obama told President Putin that, if Russia has concerns about the treatment of ethnic Russian and minority populations in Ukraine, the appropriate way to address them is peacefully through direct engagement with the government of Ukraine and through the dispatch of international observers under the auspices of the United Nations Security Council or the Organization for Security and Cooperation in Europe (OSCE). As a member of both organizations, Russia would be able to participate. President Obama urged an immediate effort to initiate a dialogue between Russia and the Ukrainian government, with international facilitation, as appropriate. The United States is prepared to participate.

President Obama made clear that Russia's continued violation of Ukraine's sovereignty and territorial integrity would negatively impact Russia's standing in the international community. In the coming hours and days, the United States will urgently consult with allies and partners in the UN Security Council, the North Atlantic Council, the Organization for Security and Cooperation in Europe, and with the signatories of the Budapest Memorandum. The United States will suspend upcoming participation in preparatory meetings for the G-8. Going forward, Russia's continued violation of international law will lead to greater political and economic isolation.

The people of Ukraine have the right to determine their own future. President Obama has directed his Administration to continue working urgently with international partners to provide support for the Ukrainian government, including urgent technical and financial assistance. Going forward, we will continue consulting closely with allies and partners, the Ukrainian government and the International Monetary Fund, to provide the new government with significant assistance to secure financial stability, to support needed reforms, to allow Ukraine to conduct successful elections, and to support Ukraine as it pursues a democratic future.

One concern, reported late this afternoon on CNN, is the danger that if Ukrainian forces try to engage Russian forces such action might give Putin the pretext to invade the remaining western parts of Ukraine..
4:13 PM PT: As I think about it more, suspending "preparation" for the G8 may be one of these diplomatic phrases of deliberate ambiguity." What does it mean? Our diplomats have stopped packing their suitcases? Or, the dinner planners have stopped shopping for restaurants? It sounds like we may still go to the G8 meeting in Solchi, but we might wait until the last minute to make hotel reservations. Am I missing something here?
5:47 PM PT: Greenbird has recommended I use the UK Guardian's live update site which you can link to here, Obama: violation of Ukraine 'would be deeply destabilizing' – live updates



US president: 'there will be costs' for military intervention

Troops in unmarked uniforms seize airports in Crimea

Russian troop carriers, helicopters sighted in Crimea

Yanukovych in Russia: 'I am the legitimate president'

Read the latest summary

Thanks Greenbird.

10:27 PM PT: The New York Times offers this update as of four hours ago, in Kremlin Deploys Military in Ukraine, Prompting Protest by U.S.
SIMFEROPOL, Ukraine — Russian armed forces seized control of Ukraine's Crimean Peninsula on Saturday, as the Russian Parliament granted President Vladimir V. Putin broad authority to use military force in response to the political upheaval in Ukraine that dislodged a Kremlin ally and installed a new, staunchly pro-Western government. ...

Russian troops stripped of identifying insignia but using military vehicles bearing the license plates of Russia's Black Sea force swarmed the major thoroughfares of Crimea, encircled government buildings, closed the main airport and seized communication hubs, solidifying what began on Friday as a covert effort to control the largely pro-Russian region. ...

The Kremlin offered its own description of the call, in which it said Mr. Putin spoke of "a real threat to the lives and health of Russian citizens" in Ukraine, and warned that "in case of any further spread of violence to Eastern Ukraine and Crimea, Russia retains the right to protect its interests and the Russian-speaking population of those areas."

British Prime Minister David Cameron said "there can be no excuse for outside military intervention" in Ukraine, and Canada recalled its abassador from Moscow. Canada has also joined the U.S. in suspending preparations for the G-8 meeting in Solchi. All western powers are sending strong signals to Putin that escalation of this crisis will cost Russia dearly in terms of international cooperation and credibility, which is already in tatters.
10:32 PM PT: Article updated with cool NYT photo of Ukraine.