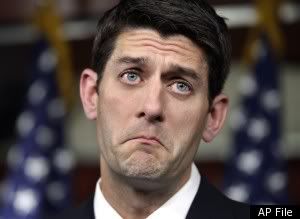 As Rep. Paul D. Ryan, R-Wisc. tries to reinvent math to solve the impossible problem of balancing the budget while not raising revenues and expanding military spending, with not enough programs for the poor he can slash, one big pot of money sits there before his eyes that he keeps trying to figure out how to steal. The perfectly adequately funded $3 trillion Social Security Trust Fund that our Federal Government has borrowed money from. Paul Ryan doesn't want to pay it back. Michael Hiltzik, of The LA Times tells us his latest scheme unveiled today in Paul Ryan rehashes an old Social Security lie--at your expense.
Hiltzik calls our atttention to this paragraph, on page 66, in Ryan's Pathway to Prosperity, released today:

"Any value in the balances in the Social Security Trust Fund is derived from dubious government accounting. The trust fund is not a real savings account. From 1983 to 2010, it collected more Social Security taxes than it paid out in Social Security benefits. But the government borrowed all of these surpluses and spent them on other government programs unrelated to Social Security. The Trust Fund holds Treasury securities, but the ability to redeem these securities is completely dependent on the Treasury's ability to raise money through taxes or borrowing."
This same deceptive language appeared in Ryan's 2012 budget. But the Social Security Trust Fund's $3 Trillion value is not "dubious" folks, it is a real saving account built up out of real deductions from worker's payrolls over the course of their working lives to pay for their retirement. The Bush administration borrowed against it pay for two expensive wars while at the same time giving enormous tax cuts to the most wealthy.
Now Paul Ryan doesn't want to have to pay this back.

But if Ryan has his way, yes, the money will be stolen. It's up to you and me to make sure that doesn't happen. ... So, to put all these pieces together, there's no "dubious government accounting" involved here--the dubious accounting is all Ryan's. The trust fund is indeed a real savings account, involving deposits and interest. Yes, the government borrowed the money, and it has paid interest on it every year (duly recorded and published, down to the last dollar, in the annual reports of the Social Security trustees). ...

The most important factor is the one that people like Ryan want you to forget: The money in the Social Security trust fund came directly or indirectly from the payroll taxes paid by millions of American workers--100% of it. It was paid by workers in the trust that the government would pay it back. Paul Ryan is hinting, pretty strongly, that he doesn't want to pay it back.
I'm trying to listen to Wee Mama's test question of "is it kind, is it true, is it necessary?" Perhaps, the last question would be better as "is it useful." In this case I can only meet two out of three so perhaps my closing should be short. We need to better communicate Ryan's larcenous intent to the American people.
If Americans understood what the Republicans are intending to accomplish with this treacherous budget proposal they would be lucky to receive 2% of the election vote, the way I see it. Am I wrong here fellow Kossacks? Can someone please explain what I am missing?