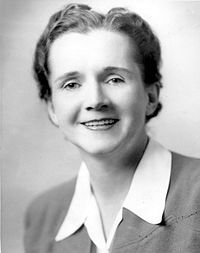 Rachel Carson, is considered by many to be one of the founders of the modern American environmentalism movement. With her publication of The Silent Spring in 1962, she called our attention to the role pesticides were playing in our ecological systems. Wikipedia's entry on Rachel Carson tells us:

Rachel Louise Carson (May 27, 1907 – April 14, 1964) was an American marine biologist and conservationist whose book Silent Spring and other writings are credited with advancing the global environmental movement.

Carson began her career as an aquatic biologist in the U.S. Bureau of Fisheries,[2] and became a full-time nature writer in the 1950s. Her widely praised 1951 bestseller The Sea Around Us won her a U.S. National Book Award,[3] recognition as a gifted writer, and financial security. Her next book, The Edge of the Sea, and the reissued version of her first book, Under the Sea Wind, were also bestsellers. This sea trilogy explores the whole of ocean life from the shores to the depths.

Late in the 1950s, Carson turned her attention to conservation, especially environmental problems that she believed were caused by synthetic pesticides. The result was Silent Spring (1962), which brought environmental concerns to an unprecedented share of the American people. Although Silent Spring was met with fierce opposition by chemical companies, it spurred a reversal in national pesticide policy, which led to a nationwide ban on DDT and other pesticides, and it inspired a grassroots environmental movement that led to the creation of the U.S. Environmental Protection Agency.[4] Carson was posthumously awarded the Presidential Medal of Freedom by Jimmy Carter.
We owe Rachel Carson a great debt of gratitude for raising our awareness to the insidious role pesticides were playing in our ecological systems and in many ways, she can be considered to be founders, if not the mother of the environmentalist movement in America.
To honor and commemorate Rachel Carson, and also call attention to the ongoing devastation of our environment due to excess use of pesticides, herbicides, and now genetically modified herbicide-resistant crops (that allow higher amounts of herbicides to be applied), The Make Way For ButterFlies Foundation has called for Monday, April 14 to be a "day of action and contemplation for monarch butterflies and other imperiled pollinators."
Environmentalist Ellen Moyer warns us that Monarch Butterflies: Industrial Agricultural Warfare Is Killing Them, Us

The nonprofit organization Make Way for Monarchs is calling for April 14, 2014, the 50th anniversary of Rachel Carson's death, to be a day of action and contemplation for monarch butterflies and other imperiled pollinators. As genetically modified (GM), herbicide-tolerant (HT) crops such as corn, soy and cotton overspread our agricultural lands, farmers spray the land with herbicides. Those herbicides kill the milkweeds that monarchs depend on.

Ellen Moyer informs us that three-quarters our worlds food supply depend on insect pollinators such as butterflies and bees, both of which are seeing dramatic declines in populations. She informs us that overspreading genetically modified (GM), and herbicide-tolerant (HT) crops are killing the milkweed plants monarch butterflies need for survival. Milkweeds contain a natural repellent for monarch predators.
Starting in March it takes five generations of monarch butterflies to make the 2,000 miles journey from Mexico o Canada, then in October, a single generation travels all the way back.

Last year was the worst year in recorded history for the number of monarch butterflies arriving in Mexico. The population of arriving monarchs plummeted 90 percent from the annual average population of the last 15 years, and the insects' annual migration is in danger of disappearing. This catastrophic decline is attributed to herbicide application and urban sprawl in their summer breeding grounds in the United States, combined with illegal logging in the butterflies' wintering grounds in Mexico. The logging has been curtailed. The herbicide problem continues unchecked.

The biggest problem seems to be that monarch lay their eggs on milkweeds which are being killed by excess application of herbicides which is drifting off of farmlands,
Industrial agriculture is killing Monarch butterflies says Ellen Moyer

Since their introduction in 1996, HT crops have been planted in increasing quantities. In 2007, U.S. farmers applied 185 million pounds of glyphosate herbicides, the most popular type, to their croplands. In recent years, land has been taken out of conservation restrictions and put into production to grow HT corn to produce the gasoline additive ethanol. Both of these developments have been deadly to milkweeds, which have been wiped out in large areas. The essence of HT crop culture is the engineering of the cash crop to withstand herbicides and then dousing herbicides on everything, essentially saying, "To hell with everything, except for my precious crop that can tolerate the poison."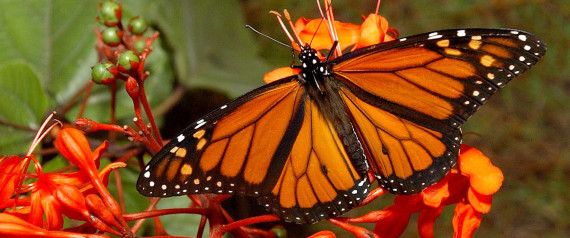 Moyer tells us that the "glyphosate herbicide Roundup is now implicated in a range of health problems and diseases, including Parkinson's, infertility and cancers." She advocates we all adopt a sustainable lifestyle as the long-term solution, and provides a detailed road-map.


The nonprofit organization Make Way for Monarchs is calling for April 14, 2014, the 50th anniversary of Rachel Carson's death, to be a day of action and contemplation for monarch butterflies and other imperiled pollinators.
In preparation for National Monarch Buttterfly Day, please read this article and join in this worthwhile effort.
1:33 PM PT: Improved writing in a few paragraphs after reading them in MBs Green Diary summary.