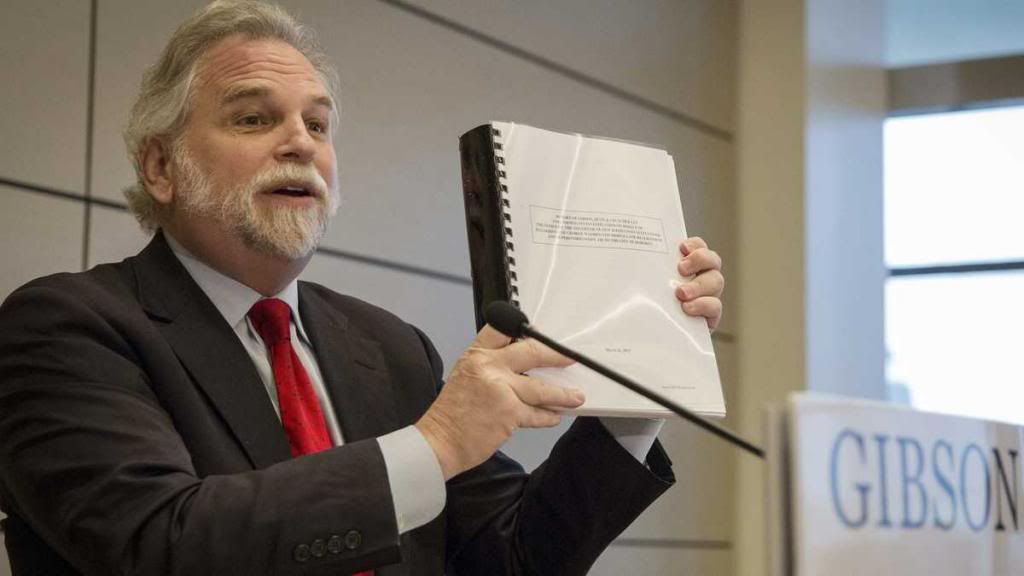 Mark J. Magyar, of NJ Spotlight, provides with an long and salacious reports of how and Why the Mastro report is becoming a nightmare for Gov Christie, that will bring a "BridgeGate Smiles to our Christie Watch addicts tonight. When you ask yourself tonight, "is it wrong that I am smiling," you will have many friends to reassure you, "no, it's absolutely normal, and even good, to see the wheels of justice turning.
Magyar starts out noting that polls show the majority of New Jerseyans view Mastro's report as a "whitewash." Now, an increasing number of legal experts are weighing in that to do such as report seems "crazy."


"It seemed crazy to me to do what they did," Robert Del Tufo, a former New Jersey Attorney General and U.S. Attorney, said of Christie's decision to commission an internal investigation. "They spent over a million dollars of taxpayer money. It's unusual in an internal investigation not to take down transcripts of what people said, and presumably they just summarized things so they could put a slant on what people said.

Del Tufo exclaims, that Mastro and team had to expect a demand for the documents, and "considering the legal, and political complication" he doesn't know if he would have done the report at all.
For example, the interview memos released Monday, have established that"
"Community Affairs Commissioner Richard Constable discussed both the controversial Rockefeller Group high-rise project and Sandy aid with Hoboken Mayor Dawn Zimmer at the time and place she said they did -- a fact that probably would not have come out until after the U.S. Attorney's Office finished its investigation a year from now, or perhaps not at all.

Interview memos with Constable, Lt. Gov. Kim Guadagno, and other officials contained numerous important details that they left out of their vehement public denunciations of Zimmer's allegations in January, bolstering the credibility of Zimmer's story that the Christie administration tied Sandy aid to the approval of a high-rise development represented by Christie ally David Samson.
Is it possible that Christie doesn't mind throwing Kim Gaudagno under the bus if he thinks she can not tie the Hoboken affair to him personally?
Some aspects of this photo have been edited to conform to imaginary alternative realities in the minds of many Christie Watch Readers. Do not adjust your computer settings: Cue Twilight Zone Music!
Magyar points out that the fact that Mastro's report leaves out these Hoboken details, and did not consider the implications that this evidence supports Zimmer's story raises questions about Mastro's credibility and impartiality, an issues raised, by my second article.
The documents also provide evidence that the "Governors office rewarded and punished" mayors on a routine basis, depending on their support, or lack of it.

The memos showed that Christie was fully aware that Bridgegate posed a serious threat to his presidential hopes a month before Deputy Chief of Staff Bridget Kelly's "time for some traffic problems in Fort Lee" email became public.

Also, now prosectors have a well defined roadmap to follow including many witness who were not on the original lists, and the exact information that they need to subpoena.

"The Mastro report raised more questions than it answered about what is going on in the Christie administration," Patrick Murray, director of the Monmouth University Polling Institute, noted. "Now, the release of the memos has raised even more questions, including questions about the credibility of the Mastro report itself."
The Bergen record continues:

Murray said he could not imagine what Christie and his top advisers were thinking when they settled on their current legal and political strategy. "Every time they put something out, they undercut their credibility," he said. "Everything they do provides fodder that keeps this investigation alive and keeps this story alive. The report was overly protective of the governor, and now everyone is looking through the memos to see what the report left out. Nothing gets settled, everything looks worse."
This article would be worth reading just for the substantial new information provided about the Mayor Dawn Zimmer case which I can not go into here as I'm past fair use.
And, in interesting second article, Rebecca Kaplan, of CBS brings us the news that the Law firm that exonerated Chris Christie donated to Christie-led group, the Republican Governors Association, raising eyebrows of some who might have expected a firm portraying itself as doing an "independent and neutral investigation would have disclosed such a contribution.
Although putting this matter in perspective,the Gibson, Dunn & Crutcher report was sloppy in so many other ways, and the reports conclusions such a stretch beyond the limited evidence they did collect and present, this seems like a relatively minor detail to criticize them on, when so many glaring substantive investigative matters of much greater substance need to be addressed.
Randy Mastro's reputation has already been questioned after he declared that his firm's investigation and report cleared Governor Chris Christie of any wrong doing, even without interviewing several of the most important players. Also, since Friday, when the summary reports of the 75 people the firm did interview were released, journalists are having time to analyze an increasing number of the details that raise many question, if not seem to lead many to suspicions in the opposite direction.

The law firm that cleared Gov. Chris Christie, R-N.J., of wrongdoing in the George Washington Bridge scandal donated $10,000 to the political group heleads, nine days before the firm's internal review of the scandal was released.

The firm, Gibson, Dunn & Crutcher, was hired by Christie to investigate and determine whether the governor had any involvement in planning or executing the lane closures that appear to have been ordered by his staff. Ultimately, the review concluded that the governor "had no knowledge beforehand."

On March 18, the firm donated $10,000 to the Republican Governors Association (RGA), a group that Christie chairs and done extensive fundraising for,the Bergen Record reported Wednesday.


The Bergen Record note that Gibson & Dunn is a regular contributor to the RPG, and that they did not contribute to the Democratic Governors Association in 2012, 2013, or 2014.
I'm not aware of any disclosure in the Mastro report of the firm's donation history, however, I also do not know whether his would typically be expected within the legal profession as it might be in academic, or some other communities. I can only image, though, how many lawyers must be embarrassed on behalf of their profession, that Randy Mastro, and the partners at Gibson, Dunn, & Crutcher have raised the image in the minds of the public that lawyers are the kinds of people that might be willing to prostitute their good names and reputations for a mere $1 million in billable hours.
All in all this Mastro report is turning out to be a disaster for Christie, Guadagno, Dunn and Gibson, Mastro, and nearly everyone connected to it. Hey, what a great poll question, who does it hurt most. Please come back in about 30 minutes so I have time to get it up. (so to speak.)
5:58 PM PT: Changed to Christie photo to Mastro photo because Christie was starting to freak me out. He's now smaller on the second page, but if my mood doesn't improve, I may replace it with a skull filled with gasoline set on fire (See Michael Drewniak quote) or something less offensive and more cheerful.