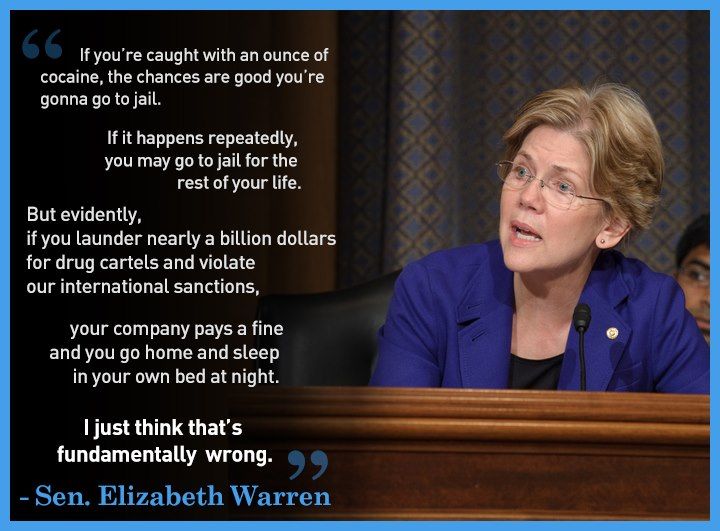 I know many here do not like to visit Huffington Post, but this article by Ryan Grim may be worth making an exception. Elizabeth Warren Simplifies Thomas Piketty: 'Trickle Down Doesn't Work. Never Did', describes the fun scene in a Harvard Square book store of Amazon's Number 2 best-selling author, Senator Elizabeth Warren, weighing in on America's Number 1 selling book, at a reading of her book "A Fighting Change."
With regard to Thomas Piketty's thesis in "Capital in the Twenty-First Century" that "trickle-down economics definitely do not work," Senator Warren chines in:

Warren cut in. "Can we say that part again? 'Definitely do not work,'" she repeated. "Not as in that's somebody else's opinion or this comes out of a long-held political opinion. The data don't lie on this. He's got good historical data, and boy, what it shows is trickle down doesn't work. Never did, doesn't work. Just so we're all clear on the baseline. I just saved you 1,100 pages of reading." (The book is shorter than that; Warren may have assumed the audience would also read the online technical index.) ...

"You can read his book and you just wanna say, 'Ugh.' Because it says over and over -- look, I'll tell you the basic theme: The rich get richer," Warren said. ..

"Here's the hopeful part in Piketty's book: Piketty makes the point that although the data keep documenting this happening, it's not like an act of nature. It's not like gravity and you can't fix it," Warren said. "Piketty's book makes the point that how much equality there is ... is a matter of the policies you choose to follow and that, for example, progressive taxation and investment in everyone's education helps to level the playing field." ...

"It is a time when we made those investments that built America's great middle class and we made those decisions -- not we in this room, but our parents, our grandparents, they made those decisions. They said, 'You put a cop on the beat so nobody steals your pension, you do that on Wall Street.' But they also said, 'You tax progressively and then you make those investments.' For those who made it big, God bless 'em, that's great, but they've gotta pay a piece of that forward so the next kid has a chance to make it big and the kid after that and the kid after that. That's what defines America."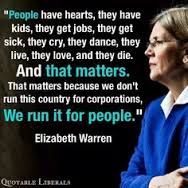 In his book Piketty proposes a "steeply progressive wealth tax," and a "beefed up inheritance tax."
I can't believe I missed Elizabeth Warren. I live 20 minutes from Harvard Square and would have happily traveled many times that distance to see her. I've haunted all of the book stores in Harvard Square since 1975. She is one of our finest political leaders. Her well written book, "A Fighting Chance" and this book tour, will provide a wonderful opportunity for America to see more of her brilliant passionate, and charming personality.
And, let's hope we can finally fire up a national debate about the vastly excessive concentration of wealth in American with bringing up the dreaded "c" and "s" words.
4:36 PM PT: Grims article contains a cool video of Warren talking agout this however the embed code does not work here. Does anyone know how to convert it to be DKOS compatible?
10:37 PM PT: Added pix, proof read, and added final paragraph and slightly beefed up second to last paragraph once seeing the rec count. Thanks readers.