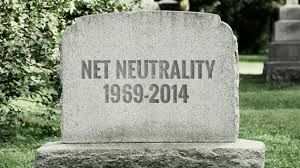 FCC votes to propose new 'net neutrality' rules that allows Internet service providers to charge content companies for faster and more reliable delivery of their traffic to users. Chairmen Tom Wheeler and his 2 fellow Democrats overruled the 2 Republicans in a puzzling reversal of what one might expect after President Obama promised to protect Internet Neutrality.

Critics worry the rules would create "fast lanes" for companies that pay up and mean slower traffic for others, although Wheeler has pledged to prevent "acts to divide the Internet between 'haves' and 'have nots.'"

More than 100 activists protested at the FCC on Thursday, with signs reading "Liberate the Internet" and "Keep the Internet Free" and three audience members were escorted out of the meeting room for standing and shouting protests.

Wheeler's proposal reaches the tentative conclusion that some pay-for-priority deals may be allowed, but asks whether the FCC should presume "some or all" such deals are illegal, according to an FCC official briefed on the proposal. It also asks whether the FCC should instead consider reclassification or other net neutrality proposals.

Consumer advocates preferred "internet neutrality" and want the FCC to reclassify the internet as a utility - something fiercely opposed by the broadband companies and the Republicans.
Yesterday, Senator Al Franken warned this was the day of doom, and it looks as if it has arrived. It would appear there is some hope the FCC can still try to reclassify interned as a utility, however, that will be a long and uphill battle in the courts and I do not know what chances such an effort will have.
Senator Franken's essay yesterday powerfully refutes any logic for this dreadful bill. I've attached three blockbuster passes to the second update.
The FCC is also expected to vote on the rules for auctioning low frequency airwaves to wireless carriers.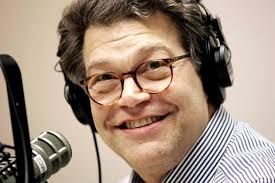 9:50 AM PT: Here is a quick editorial that sums up Senator Al Franken's view. He wrote an excellent piece opposing this legislation yesterday which I'll put up in the update in just a minute.
Franken and Other Senators Criticize FCC Proposal on Net Neutrality

"Consumers and innovators cannot afford to wander through this regulatory murk any longer. The time has come for the FCC to adopt Net Neutrality rules that provide clear, strong protections for the Open Internet and all Americans, once and for all," the senators wrote. "Sanctioning paid prioritization would allow discrimination and irrevocably change the Internet as we know it. Small businesses, content creators and Internet users must not be held hostage by an increasingly consolidated broadband industry."


While Wheeler maintains that his proposed regulations don't hinder smaller companies and start ups from accessing high-speed internet, Franken resolutely disagrees. "What he's really talking about is creating a fast lane where people can pay to have their content treated unequally," the senator said in an interview with TIME. "That's not net neutrality. That's pay for play. That's antithetical to net neutrality."

If Wheeler were serious about protecting net neutrality, there is one simple proposal that could put the ball back in the FCC's court when it comes to prevents broadband providers from unfairly dominating the internet space. In 2002 the FCC labeled the internet as an information service, which gives the agency very little power to regulate against business proposals changing how the internet is packaged and sold. By reclassifying the internet at a public service, the FCC could then strictly enforce net neutrality laws.
9:58 AM PT: Tomorrow Could Be the Beginning of the End for Net Neutrality. You Should Be Worried.
Tom Wheeler, the FCC's chairman, has a proposal that would undermine net neutrality, the principle that all Internet traffic must be treated equally. Net neutrality is embedded in the foundational architecture of the Internet, and it has served us well. Because of net neutrality, an email from my constituent in rural Minnesota gets to me as quickly as an email from my bank. Because of net neutrality, the website for the small neighborhood hardware store loads just as quickly as that of a major retail chain. Because of net neutrality, you were able to access this op-ed, even if your Internet provider doesn't like what I have to say. ...

But the FCC could change all of that by giving big Internet providers -- corporations like Comcast, Time Warner Cable, AT&T, and Verizon -- the power to pick and choose which traffic reaches consumers quickly--and which doesn't. The Chairman's plan would authorize pay-to-play arrangements. Here's how it would work: a big corporation would give the Internet providers extra money, and, in return, the Internet providers would give the corporations priority access on the Internet -- special treatment that wouldn't be available to those who can't afford to pay the gatekeeper. That's not net neutrality; it's greasing the bouncer.

There aren't many places left where every American can participate on an equal footing with deep-pocketed corporate interests. Our campaign finance laws are in shambles, giving uber-wealthy, often-anonymous groups free rein to amplify their voices over those of the general population. Our tax code is littered with special benefits for special interests. The rules of our civil justice system have been rewritten to insulate corporations from wrongdoing against workers and consumers. But the Internet remains an arena where the quality of one's products, the value of one's services, and the persuasiveness of one's ideas matter more than the depth of one's pockets. The FCC needs to keep it that way.

11:18 AM PT: Here's a bit of good news. Senator Elizabeth Warren has added her voice to Al Franken, who will have an ally in the Senate to oppose Tom Wheeler's proposal.

Matt Sludge of the Huffington Post write
Elizabeth Warren Blasts FCC Net Neutrality Plan: 'Just One More Way The Playing Field Is Tilted'
Sen. Elizabeth Warren (D-Mass.) blasted the Federal Communication Commission's recent proposal to let internet service providers charge for access to their customers, saying it would "gut" the principle of net neutrality.

"We don't know who is going to have the next big idea in this country, but we're pretty sure they're going to need to get online to do it," Warren wrote on her Facebook page Wednesday. "Reports that the FCC may gut net neutrality are disturbing, and would be just one more way the playing field is tilted for the rich and powerful who have already made it."

Last week the FCC announced that it was essentially backing down on plans to force big internet providers to treat everybody alike in their access to internet users. Under the FCC's new position, big data sources like Netflix could be forced to pay for access to customers of ISPs like Verizon.

Warren's voice is the latest to join a chorus of Democratic lawmakers like Sen. Al Franken (D-Minn.) who aren't happy with the FCC proposal, which represents a reversal from President Barack Obama's previous position on net neutrality. But her statement goes a bit further in tying the potential end of net neutrality to her trademark theme of an America rigged against the middle class and for big business.