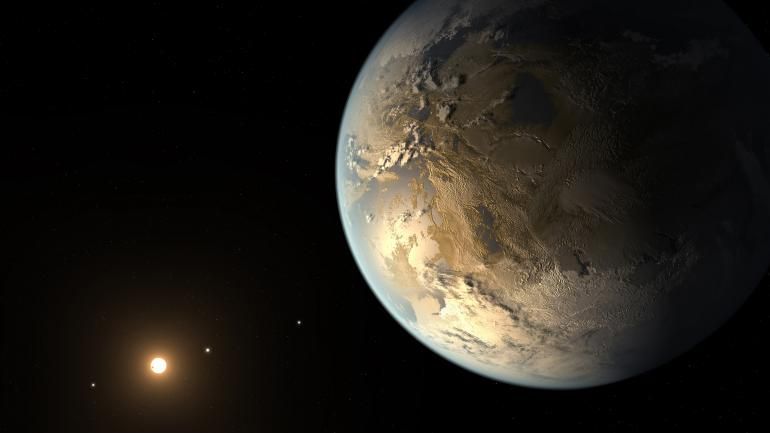 Kepler-186f, the first validated Earth-size planet to orbit a distant star in the habitable zone, a range of distance from a star where liquid water might pool on the planet's surface, is seen in a NASA artist's concept released April 17, 2014. NASA/Reuters
Kukil Bora of the Ib Times drops any qualifiers and reports today that Aliens Exist And Could Be Discovered Within 20 Years, SETI Researchers Say. Researchers from the Search of Extraterrestrial Intelligence Institute in California testified before a hearing of the U.S. House of Representatives' Committee on Science, Space, and Technology on Wednesday.

Astronomers and space enthusiasts have long been baffled by the question -- whether life exists beyond Earth. Now, if a group of astronomers are to be believed, it is only a matter of 20 years, and enough funding, before that question is answered.

Over the past 50 years, multiple attempts have been made to look for signs of alien life beyond Earth and several pieces of evidence have been found suggesting that the components and conditions necessary for life are common and "perhaps ubiquitous" in the Milky Way galaxy, ...




According to Shostak, searching for life elsewhere in the solar system or beyond can be done in three ways. While most efforts and funding to find alien life have so far focused on Mars and moons in the solar system, a second approach looks for signs of oxygen or methane -- gases that are mostly tied to life on Earth -- in the atmosphere of distant planets, Discovery News reported. Thirdly, astronomers hunt for technologically advanced aliens who might be sending radio or other signals out into space.
While I was writing this article another article became available, so it keeps expanding.
Dominique Mosbergenm of the <Huffington Post Aliens Are Almost Definitely Out There, SETI Astronomers Tell Congress.

According to ABC News, Dan Werthimer, director of the SETI Research Center at the University of California, Berkeley, told the House Committee on Science, Space and Technology Wednesday that the possibility of extraterrestrial microbial life is "close to 100 percent."

"In the last 50 years, evidence has steadily mounted that the components and conditions we believe necessary for life are common and perhaps ubiquitous in our galaxy," said Werthimer in his written testimony, adding: "The possibility that life has arisen elsewhere, and perhaps evolved intelligence, is plausible and warrants scientific inquiry."

"The chances of finding it I think are good and if that happens it will happen in the next 20 years depending on the financing," Shostak told the committee.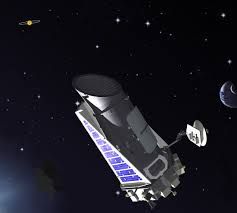 Kepler Space Telescope is looking for Exoplanets that could support alien life.
So our expert scientists are telling us it is only a matter of time before we discover other life in our universe. One way we may detect life could be with the The Kepler space telescope I reported last week. For example, one experiment is proposing that we try to detect chemicals in the atmosphere of exoplanets that might indicated microbes in an atmosphere based on the refraction of light from stars behind them. The IQ of these microbes may not be very high enough for stimulating conversation. (humor alert.)
Still wouldn't it be something?
10:31 AM PT: Thanks to Termite for stimulating the insight that while the distances of interstellar space are so vast that we may never visit other planets.
Just the knowledge that alien life exist will likely stimulate a major new renaissance on earth leading us to finally transcend many of our petty differences, address poverty, hunger, cultural diversity, and world peace with greater urgency and seriousness.