President Obama supports Senator Elizabeth Warren's student reform bill which could come up for a vote as early as next Wednesday writes Alexandra Jaffe, of The Hill, in Obama rallies behind student loan relief. In his weekly address, President Obama's weekly address: Supporting America's Students (full video and transcript) our President "outlined the myriad ways in which college prices and student loan debt have risen over the past three decades."

"…At a time when college has never been more important, it's also never been more expensive," Obama said.
As he pointed to Senator Elizabeth Warren's bill as a solution.
"The good news is that Senate Democrats are working on a bill that would help more young people save money. Just like you can refinance your mortgage at a lower interest rate, this bill would let you refinance your student loans. And we'd pay for it by closing loopholes that allow some millionaires to pay a lower tax rate than the middle class," he said.

"That's the choice that your representatives in Congress will make in the coming weeks – protect young people from crushing debt, or protect tax breaks for millionaires."

Warren's bill would allow graduates with existing federal loans to refinance them at lower interest rates.
Republicans oppose the Democratic plan to pay for this bill with a new tax on top earners, and apparently have enough vote in the Senate to filibuster the bill, however, Democrats believe it is worth putting them on record and firing up students by letting them know the Republican obstructionists are choosing to saddle students with a life time of burdensome debt in order to protect millionaires from paying their fair share.
Holy smokes, its almost as if Democrats suddenly have discovered the gift of political insight, and have developed "fire in our bellies." Senator Warren is a godsend to the Democratic Party.

Jaffe tells us the Congressional Budget Office says the bill would "increase federal spending by $51 billion from 2014 to 2024.
I thought her plan was to pay for this with the same mechanism we give to banks for expanding the money supply? Why do we let banks borrow as much money as they like, at the Federal discount rate, allowing them to make incredible profits, without insisting this be "paid for" in the federal budget, but we can not do the same for students? I have to go back and take a look at Senator Warren's plan and description, I've heard her say his before. Maybe she's "throttling back at bit" to get the President and other Democrats on board?
Jaffe reports President Obama is expected to "fully endorse" Warren's bill at the White House on Monday.


"And while Congress decides what it's going to do, I will keep doing whatever I can without Congress to help responsible young people pay off their loans – including new action I will take this week," Obama said.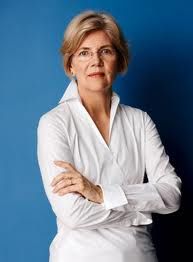 Sam Stein and Shahien Nasirpour of the Huffington Post wrote late last night Obama To Endorse Elizabeth Warren's Student Loan Proposal

The Obama administration initially was hesitant to fully embrace the bill because of disagreements over how to pay for it. But with mounting pressure from advocacy groups, and with a renewed political focus on issues confronting working families, the president has softened his opposition. Obama's endorsement would be the latest recognition to date of the ascendance of Warren-style populism within the Democratic Party.

Student groups and other organizations focusing on younger Americans enthusiastically support Warren's bill, under which new interest rates would range from 3.86 percent for loans taken out by borrowers when they were undergraduates to 6.41 percent for parents who took out loans for their children's college tuition, as well as for borrowers who took out loans to pay for graduate school.

Photo credit: Tim Pierce at Tim Pierce - Flicker

The financial industry, perhaps not surprisingly, is less enamored with the proposal. The bill would allow borrowers to refinance loans owned by the private sector into new loans made by the Education Department. Paying off loans early deprives lenders of future interest income, causing paper losses.

Republicans are expected to strongly oppose the bill because Democrats propose paying for the "loss of future federal revenue by increasing taxes on the wealthy." Again, why don't we just let students borrow at the same overnight rate that banks do?
Stein and Nasirpour say this is part of the "Senate Democrats' so-called "Fair Shot" agenda in advance of November's elections" designed to inspire out base. "Thirty-five other senators are co-sponsoring the measure."
Great job Senator Elizabeth Warren. Thank you for looking our for out students.

5:13 AM PT: Here's a video of Senator Warren holding Senate Hearings a few days ago on her student loan proposal. Banking Hearing on Student Loan Servicing
5:20 AM PT: LIndsey Holst of the WhiteHouse.gov site write Weekly Address: Supporting America's Students



In this week's address, President Obama underscored the importance of helping to lift the burden of crushing student loan debt faced by too many Americans and highlighted the efforts he's taken to ensure we uphold America's commitment to provide a quality education for all who are willing to work for it. While the President will continue to take action on his own, he urged Congress to do its part and commended Senate Democrats for working on a bill that would help more young people save money.

For Immediate Release June 07, 2014

Weekly Address: Supporting America's Students



WASHINGTON, DC -- In this week's address, President Obama underscored the importance of helping to lift the burden of crushing student loan debt faced by too many Americans and highlighted the efforts he's taken to ensure we uphold America's commitment to provide a quality education for all who are willing to work for it. While the President will continue to take action on his own, he urged Congress to do its part and commended Senate Democrats for working on a bill that would help more young people save money.


Remarks of President Barack Obama

Weekly Address

The White House

June 7, 2014

Hi, everybody. This is commencement season, a time for graduates and their families to celebrate one of the greatest achievements of a young person's life. But for many graduates, it also means feeling trapped by a whole lot of student loan debt. And we've got to do more to lift that burden.

See, in a 21st century economy, the surest pathway into the middle class is some form of higher education. The unemployment rate for workers with a bachelor's degree is just 3.3 percent – about half what it is for high school graduates. The typical graduate of a four-year college earns $15,000 more per year than someone with just a high school degree.

But at a time when college has never been more important, it's also never been more expensive.

That's why, since I took office, I've worked to make college more affordable. We reformed a student loan system that gave away billions of taxpayer dollars to big banks and invested that money where it makes a bigger bang – in helping more young people afford a higher education.

But over the past three decades, the average tuition at a public four-year college has more than tripled. The average undergraduate student who borrows for college now graduates owing almost $30,000. And I've heard from too many young people who are frustrated that they've done everything they were supposed to do – and now they're paying the price.

I've taken action on my own to offer millions of students the opportunity to cap their monthly student loan payments to 10% of their income. But Congress needs to do its part. The good news is that Senate Democrats are working on a bill that would help more young people save money. Just like you can refinance your mortgage at a lower interest rate, this bill would let you refinance your student loans. And we'd pay for it by closing loopholes that allow some millionaires to pay a lower tax rate than the middle class.

That's the choice that your representatives in Congress will make in the coming weeks – protect young people from crushing debt, or protect tax breaks for millionaires. And while Congress decides what it's going to do, I will keep doing whatever I can without Congress to help responsible young people pay off their loans – including new action I will take this week.

This country has always made a commitment to put a good education within the reach of all who are willing to work for it. That's what made us an economic superpower. That's what makes us special. And as long as I hold this office, I'll keep fighting to give more young people the chance to earn their own piece of the American