With a Democratic primary free-for-all including seven candidates all vying to replace Colleen Hanabusa (who abandoned her seat to primary progressive senator Brian Schatz) the race has devolved to Donna Mercado Kim and whichever Not-Kim candidate can prevent a split among the other candidates.
Last night KITV held a televised debate which may have tilted the race to Mark Takai.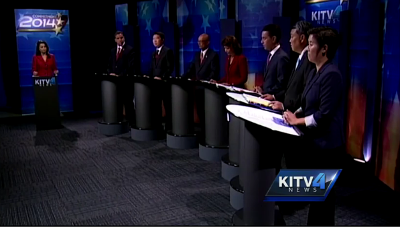 All 7 Democratic Candidates for HI-01
Unions and environmental organizations are frantic to get voters to coalesce around one candidate and have endorsed Mark Takai as the one to beat Donna Mercado Kim.
Kim's anti-environment, anti-union and anti-gay positions are bad news for residents of this usually progressive and deep blue state.
If the vote fractures, Kim will walk away with the primary and thus the General. (Although there is a strong movement to vote for TeaParty candidate Charles Djou if Kim wins the primary on the grounds that he'll be no worse and be easier to get rid of in 2016)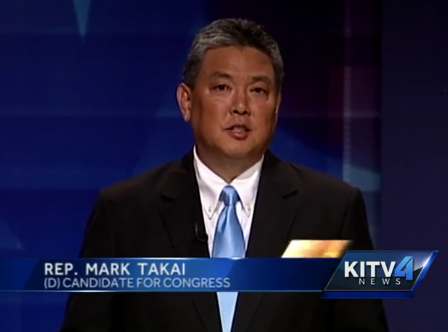 Mark Takai - HI-01 Democratic candidate
In answer to the question, "What will you do to help Hawaii residents bring down the high cost of living?"
Mark Takai replied
:
Takai@16:08 "I believe the faster we can wean ourselves off this addiction to fossil fuel and grow our own food the more money we'll have for roads, infrastructure, schools"
Donna Kim - Former Beauty Queen DINO
But
Donna Mercado Kim took her answer straight out of the GOP playbook
:
kim@19:59-20:15 "we also need to support small businesses - the backbone of America. We need to look at the regulations that have come down on our businesses that's what is causing a lot of the cost to the products they sell.
In other words remove those pesky environmental, labor and safety regulations on the factory farms and other large corporations which supply our small businesses.
Way to show your true colors, Kim.
12:30 PM PT: Mark Takai needs our help in a big last-minute TV ad push prior to the August 9 primary. Please donate now - Kim may still win unless we act.