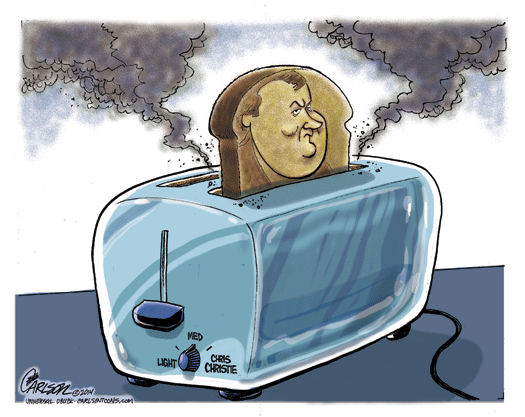 Dunn & Crutcher is cashing in the chips and soaking New Jersey tax payers in the opinion of the editorial board of the Star-Ledger who write, Editorial: Gov. Chris Christie's costly legal bills are mounting burden for N.J. taxpayers.

The law firm representing Chris Christie and his administration in connection with the George Washington Bridge scandal has submitted its latest invoice — for a cool $6.5 million. Added to related government legal costs that We the People will be shouldering, the total comes to $8.5 million. And the meter is still running. ...

The recent bills came from the law firm of Gibson Dunn & Crutcher for an internal investigation which (surprise!) absolved the governor of wrongdoing in last fall's incident, in which multiple lanes on the heavily trafficked bridge were inexplicably closed, causing massive gridlock.

I find it offensive that under the guise of legitimate legal bills that perhaps a state ought to pay for a Governor, Chris Christie and Dunn & Crutcher has rolled up millions in legal bills for a worthless PR sham that has to be the most embarrassing piece of crap pawned of for legal work that I've seen for months. (Humor alert.) Seriously, nearly every conclusion in the report has been shown by later testimony has been shown to be complete bullshit and the report then claims to "exonerate" Christie without even interviewing any of the key principles involved in these "alleged" misdeeds.
What is the legal value for the tax-payers of rushing a white-wash report? There was none! The report served as a diversionary public relations distraction to create smoke and mirrors to minimize the short-term political impact on Christie's poll numbers.
New Jersey ought to return this bill unpaid, and stamped with "no discernible legal value," also "defective service or product" found to be broken and so full of lies that even a lawyer would be embarrassed to have their name on it. Though I suppose if someone offered me $8.5 million dollars, and counting to write total bullshit, without any regard to facts, over a period of a few months, I'd think about it at least. But then some think I already do this for free just for the fun of it.
But, then I would at least have the decency to pretend I had brain cancer to explain defective thinking and then pretend I died, and then chance my name of go elsewhere. Because that's the kind of decency I have that Christie can't even aspire to. (Sarcasm alert! Hey I'm on a roll today! Maybe I'm getting back in the groove?)
I digress. Back to the Star-Ledger editors who note with dry cynicism (the best kind) that Governor Christie has bilked the taxpayers for his own personal advancement many times before, such as holding a special election just three weeks before the regularly scheduled election so he didn't have to share the ballot with Cory Booker which cost the tax payer and extra $12 million.

And then there are those town hall meetings — more than 120 so far — where the governor famously gets to insult teachers and call ex-Navy SEALS idiots. Billed as opportunities to interact with constituents, these gathering, often limited to a select audience, smell more to us like taxpayer-funded campaign rallies.

The Star-Ledger closes by suggesting for less money than Christie has racked up in legal fees before there have even been any indictments Christie could have used $7.5 million to restore "women's health initiatives such as mammograms and cancer screenings."
But that would require a leader who cared more about people than himself.
Politicians from the future should note that if their PR numbers are down than can just announce that they have hired to most expensive lawyers in down and given them a blank check to investigate any possible crimes they may be charged with in he future.
How much will Dunn & Crutcher spend on Christie's defense even before he is listed as an official target for any charges? Who knows. There doesn't appear to be any cap to it except for the professionalism and reserve of Randy Mastro and Chris Christie - two people who have proven already by these bills so far, do be totally devoid of any hint of these two characteristics.
7:55 AM PT: What I don't get is if Christie has no involvement at all in the Bridgegate scandal then why has he spent over $8 million dollars in "legal" bills for his defense for crimes he purportedly has nothing to do with, and has no indication that he will be indicted for anything of any connected to it.
If Christie who was there the whole time knows for sure he has had nothing to do with any crimes then why has be spent $8.5 million of tax payer money already producing bogus white wash reports that even other lawyer are saying are complete tripe and an embarrassment to the profession.
A profession I might add that one has to be pretty sleazy to embarrass. And I mean this in the nicest possible way!