Apparently it takes a lot more than 30 mile per hour winds, no parking and falling tree limbs to prevent SF Kossacks from converging at a predesignated area armed with food and drink.
We had a spectacular turnout!
The road warrior awards go to newlyweds LeftyLimblog and leftcoast that drove 65 miles from the Wine Country north of San Francisco (poor things...they live in the Wine Country...what a shame...) and Rusty Pipes and her two darling daughters that drove 60 miles from Santa Cruz which is south of San Jose.
The very cool AlphaGeek has posted his photos here.
AlphaGeek left this comment at our yahoo site:
We had a great time at today's meetup, and I was heartened by how many people showed up. We were also quite surprised by the veritable cornucopia of food at what I had expected to be a cookies-n-punch affair.
And the equally cool sean mykael has posted his photos here.
My photos below: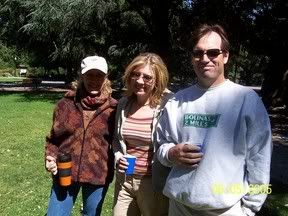 SallyCat
,
gina
from Yearly Kos and her husband, Rob

highacidity and her famous husband, ukiyo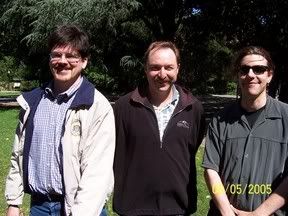 AlphaGeek, jonathan94002 and sean mykael
AnthonySF, ppluto?? and silence

doncamillo, EricS and I don't have permission to name this one

shanikka and her husband Derek

toastman, sdf and sean mykael

Rusty Pipes , highacidity, LeftyLimblog and leftcoast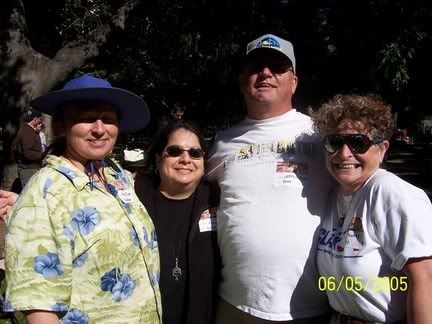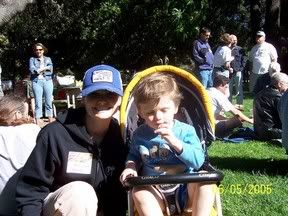 miss love and her son Nick (my daughter and grandson!)
For some reason I cannot remember to take a photo of myself so here's one I stole from Sean Mykael's album:
Toastman and me, Navajo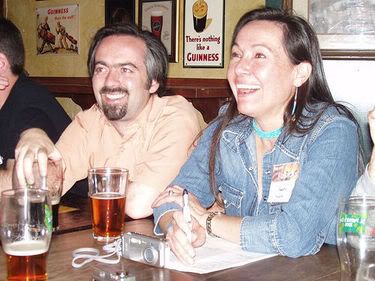 A special thanks to Toastman that made the real swell name tags!
The villain wind broke up the event early at 5:30 and we adjourned to a nearby pub for shelter.
(Helpful hint for virgin windstormers: check your ears with a Q-tip asap, you won't believe what you'll find.)
leftcoast, LeftyLimblog, SallyCat and Mr. Cat, York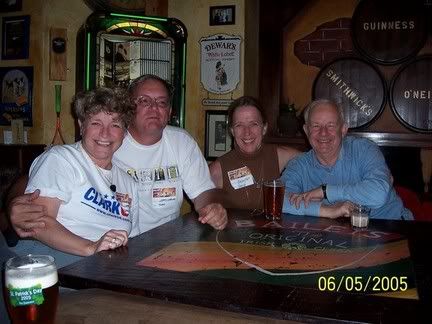 York, same mystery man from earlier, EricS and toastman

AnthonySF, doncamillo, sean mykael, highacidity and ukiyo
There were many people who wrote that they couldn't make it. Don't worry we plan to have one of these every 6 weeks. A new poll will be posted at the yahoo site regarding the next location.
So calling for MORE SFKossacks! Please join our San Francisco Bay Area Kossacks' Yahoo Group, be sure to enter your info in the database link and check the poll link for updates.
If I have incorrect information above please let me know so I can change it. There were also more in attendance than pictured above and unfortunately my elderly memory cannot recall names. Please post your names below.