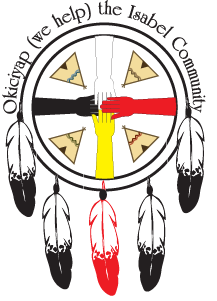 The newly created Okiciyap (we help) group is organizing to help Okiciyap (we help) the Isabel Community, which is a 501(c)(3) non-profit organization working to improve life on the Cheyenne River Reservation in Isabel, South Dakota. Projects include a Food Pantry, Youth Center, K-12 educational support, GED & Lakota as a 2nd language class support, and other lifelong learning opportunities for youth and adults.
More information is available at the Okiciyap website as well as in the Okiciyap diaries published thus far by navajo, betson08, Aji, Dr Erich Bloodaxe RN, and Spirit Dancer.
This diary will be used to plan the group's initial efforts as well as to fundraise, of course. Please read Spirit Dancer's message, and then take a look at the "needs" lists below.
Message from Spirit Dancer to the group:
I learned recently that the big hindrance to Okiciyap getting grants is computers. They need at least 2 laptops and a back-up hard drive. Georgia's dinosaur needs to be returned to her husband. I could use some help on this. Is anyone willing to contact computer companies, search for quality computer donations, maybe search craigslist in your area for a donation or talk to your local computer repair companies? Of course the immediate need is funds for the food pantry, so continuous diaries would help with that. After food and computers they are going to need school supplies soon, then warm blankets and clothes for winter. We are looking at farmaid for a grant to perhaps help next spring with a community garden. Work is being done. Okiciyap is all volunteer and just beginning. We need to help them lay a strong foundation. Thanks for all the support that you provide. The floor is yours.
Window Air Conditioners
Cindy: We are all sweatin'! 95 degrees or higher and no air conditioner at the pantry. We have a fan.

Update from Cindy: The pantry is set up for both 220 & 110 volts for a window. Size doesn't matter, Cindy's brother will make it fit. Thanks.

Added: The double-wide trailer is 40'x60' 24'x60'. The main room to cool is aprox. 24'x35'to40' open space 24'x35'. The kitchen is 24'x11'6".

Update from Cindy: The question posted by Broths about heating...Yes it is by a really old baseboard system that still works. cost an arm and a leg to turn on, but it does work. We are suppose to be getting a break on our heating by the energy company by installing a special meter for this. better be checkin on this in the near future. Winter is coming people!
2 Laptops, Printer, etc.
Cindy: On the 2 laptop computers (love you so much for doing this), we need them to be business ready with a decent amount of memory, and a cheap printer if that isn't asking too much. A lexmark model 4113-001 (this model appears to have been discontinued) printer that only needs 1 black ink cartridge, and they are cheaper in price than HP. We could buy ink and paper with our In-kind jar we keep at the pantry. We had $76 in it this month, the highest so far with lots of coins.

Update x2: We are adding a request for a printer/copier/fax to help with the GED program. Done! The all-in-one printer uses the following ink cartridges:
Canon PG-210XL black
Canon CL-211XL color
For now, they will have a much greater need for black ink.

Also any kind of kids learning software from k-8?

I applied to the GitRDone foundation yesterday. Won't know anything on that till Nov. All these grant places take up to a year to tell you yes or no.
Office Supplies
Update from Cindy:
staplers, staples, scotch tape, chalk, tacks, push pins, bulletin boards, pens, pencils, highlighters, pencil sharpeners, bandaids, a few first-aid kits...
Back-to-School Supplies
Cindy: School starts here for our kids the 3rd monday in august (August 20). We are going to start our back to school fundraiser for donations of new supplies for our youth. Hope to find new angels in this area also. Last year we were able to help 22 kids in k-12. We no longer have a school in Isabel (go figure), but we have two buses that haul our kids to other towns, one 48 miles and one 20 miles. One bus has 71 kids and one has 38! Some even go by car in another 28 mile direction...unbelievable. So we try to help these struggling parents in some way. [snip] Our parents are allowed to pick what they need as some can buy some but not all, and what is left over will be used at the after school program or if the child runs out and needs it. New and used backpacks are also needed. Please put the word out for our group.

[Spirit Dancer asked for a specific wish list]
Cindy: Wait a minute while I wipe the tears from my eyes....
A wish list? My hands are shaking...I guess I'm not so good at askin' for stuff. Get me rolling and I might get carried away, when it comes to our kids I wish:

for our approx. 50 middle school/high school students
1. 50 5-subject notebooks
2. 50 or more pencils (now have 50)
3. 50 or more pens (red, blue, black inks)
now have 24 red, 48 black
4. 25 scientific calculators
5. 50 velco or zipper binders to carry everything between classes
6. lots of 2-pocket folders (now have 70)
7. ? backpacks (adult-sized)
I talked with some kids to see if they had their backpacks from last year and surprise some have them from grade school! They need new ones...

for our approx. 90 k-6 students
1. ? (24) (8 lg) (16) mixed crayons pks (now have 2 boxes 8 Lg crayons)
2. ? scissors small and reg size mixed (now have 3 sm)
3. ? rulers (now have 20)
4. ? protractors (now have 10)
5. ? washable markers (now have 1 pkg of 16)
6. ? single subject notebooks (wide ruled)
7. ? pencils again (now have 82)
8. ? pencil top erasers (now have 75) or the big erasers
9. ? up to 30 12" pencil boxes
10. Glue stixs (now have 32) and regular glue
11. OMG! almost forgot the 2 pocket folders for all k-12, lots of them!
12. ? Backpacks (smaller for grade school)
Youth Library
Update from Cindy: The library question, when our school closed the city felt we didn't need one and closed it. After the school in Timber Lake took what they wanted (mind you, I hate to even say it cause they didn't ask us) they took 7 pick-up loads to the dump to burn. I remember the day we found out. We didn't have a building to store them in. We had to let them go. We would love to start a youth library with an adult one to follow later when we have more space.

Added: Quilt books from Quilt In A day series, Native beading books, craft books, young people k-8? activity books, Real novels, mystery, also books by Native authors.

List from Cindy: These are the authors of many books native:
1. Cynthia Leitich Smith (mostly childrens books) Jingle dancer etc.
2. Joseph Ele Joubert (translation) The first Council Fire
3. Carol Dana (poetry) When No One Was Looking
4. Alice Azure, Along Came A Spider
5. Joseph Bruchac (most any of his books)
6. Zitkala-Sa(sioux) Interpreted By Charles Eastman and Luther Standing Bear
7. Morning Dove (Colville) Coyote Stories
8. Pamela Greenhill Kaizen (dakota) Lakota and Dakota Animal Wisdom Stories

Hope this gets a start for our library.

Update from Cindy: I talked with my brother and he said it might be cheaper to just buy already made to put up bookshelves in cartons or boxes. When he isn't around and we can't find any body to build, at least I and maybe a couple other women can put them together and set them up. Great idea. I'm pretty good with a hammer and screwdriver! I love assembley required!! Did my own quilting table...14' long (pride!) The instructions said 'allow 6 hours assembly time', HA! Took me three days between kids and school and everything in between to do it. Did it, proud of it, still works, still as solid as the days I took to put it together...
Summer Activities
Cindy: We also wanted movie nites for them. The closest show hall is 65 miles away off the rez. We had a popcorn machine on one of our proposals we sent. We forgot to add a projecter to make the movies bigger on the wall. I know they have them for dvd players, jus haven't had time to price one. Don't know if they are cheaper than a big screen TV or not.

Update from Cindy: DVDs' Any that teaches different dancing of our people ie; fancy shawl, traditional mens and womens' jingle dress dancing, mens grass dance, mens fancy.

Other dvds' vhs' more towards educational.

Update from Cindy: Well you asked so I asked the kids today
Volleyball net
volleyballs
portable basketball goal (I thought 'jus ask for a Play Ground! Jes kiddin')
Wii game console with sports, super mario, toy story3...??
DVD VHS player as some have vhs movies yet!
They said if they had computers Jump Start is good for the younger ones.

Now have:
2 scrabble games
1 clue game
Arts & Crafts
Update from Cindy: Some of the kids wanted to know if modeling clay, acrylic paints, watercolors, popsicle stix, easels (whatever they are to hold up artwork as you work on them). Kids! Want what they want, hard to deny these little ones! That was one of their requests when the building was moved here. One watching over my shoulder just reminded me!

Updated x2: Now have 3 decorative edging scissors, a punch, glitter and spangles, bag of ribbons and lace, alphabet stencils, sidewalk chalk, small lace doileys: rounds and hearts, origami papers with some instructions, 2 wooden "critter" craft kits to assemble, 2 sets of 8-color watercolors
Sewing
Update from Cindy: Sewing Machines are always wanted and I can repair most. I own a Industrial Straight Stitch for my quilting and such but it is not portable, it weighs 600lbs. Threads, cone threads, needles, needle threaders, cloth cutting 8" scissors, 24"x6" quilting rulers, cutting mats 24"x18" or larger, buttons, zippers (all lengths), velcro?(hope its spelled rite),and I can teach the use of serger machines if you come across any as they(kids) can make their own clothes like a professional with a little practice.

Update: Now have "A Baby loc 'quilters dream' model sewing machine is yours.
And lord knows I have oodles of sewing notions. Mat, rotary cutter,
I'll send a package of rotary blades, too."
Clothing
Update from Cindy: My amy reminded me how hard it was to buy JEANS! We have used second hand for ever and most moms do. Gently used jeans. Gotta luv 'em.

Girls from size 6x to adult junior size 14 and Gloves, they seem to love hoody jackets to wear under coats, Sox, underwear, bras, sports bras, Tee shirts.

Boys jeans size 4 to 36x34, sox, underwear, teeshirts size youth sm to lg and adult lg to 3x?, Hoodys, gloves.

snow pants

snow boots (any size from child to adults)

Now have:
4 new t-shirts
6 jeans
5 hoodies
Kitchen
Update from Cindy: We haven't started our summer feedin' program cause our refridge is just not reliable (35 yrs old) plus too hot to cook. We also have to find some baking pans and pots, and we need more folding tables and folding chairs. These can be put away when not in use for more room.

refrigerator
pots and pans
folding tables and chairs
Winter Needs
Added by nomandates: At the moment, the group will be focusing on dealing with immediate needs to get through this summer. When winter arrives, though, new and gently used winter clothing and blankets will definitely be needed, so I'm adding this now for folks to keep an eye out for bargains.

In particular, Cindy has requested new and gently used snow boots and snow pants: "One of the moms at the meeting last nite asked if I would put snow boots and snow pants on the list? That was a really good sugestion. Our kids wait outside of the old school for the buses, some in cars some not, and I remember the ones with no snow boots or snowpants and wind chills upward of -10 to -20."
Additional Wishes
Cindy: We were wanting a kiln and all the ceramic essentials plus we were goin to teach a native beading class and also sewing plus leather working. We who went to school in the 70's took all these classes but our schools don't offer them. We also wanted to bring back our language classes that we had years ago. OH! THE DREAMS WE HAD! or have! sorry. Would be nice to teach them cooking too...

We have been trying to find something to run a Drawing on. We haven't come up with any thing of value yet.

I could go on and on. That is why we are so grateful for any help we get.
Food Pantry
Spirit Dancer: I thought perhaps you'd like to know how much it costs for them to make 1 trip to Pierre, SD to get food at The Feeding. It cost $200 in gas for 2 pickups and 1 horse trailer to drive 4 hours round trip. It cost $900 for the food for a total of $1100, this doesn't include expenses like water and electricity the for Okiciyap food pantry. So they need at least $1200 to $1300 for this to help them help others. Of course we aren't their only source of help but as we all know, money is hard to come by unless you are the 1%.
So, please give what you can.
Okiciyap is a 501(c)(3) non-profit organization, so your contribution is tax deductible.


Address for mailing checks or packages:
Cindy A Taylor

Okiciyap

P O Box 172

Isabel, SD 57633-0172
7:32 PM PT: Please continue to post ideas. Spirit Dancer is going to email a link to Cindy requesting that she look at the comments and let us know what they need.
If you send things from these lists, please post a comment in this diary, and I will update throughout the week.
We need volunteers to post diaries. Sign up thread is here: http://www.dailykos.com/...
Mon Jul 02, 2012 at 7:21 PM PT: Spirit Dancer has been forwarding our questions to Cindy, and I have now updated the diary to add the following categories: Youth Library, Arts & Crafts, Sewing.
Also added update re a/c window unit and began crossing off school supplies.
Wed Jul 04, 2012 at 6:51 PM PT: broths has donated an All-in-One Printer (printer/scanner/copier/fax), which will be shipped to Cindy tomorrow!