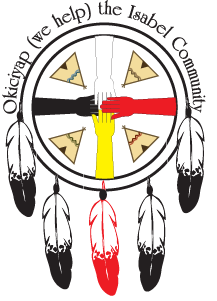 Today the Okiciyap (we help) group is focusing on the need for Tables and Chairs for the Okiciyap Food Pantry on the Cheyenne River Reservation in the Isabel, South Dakota area.
Okiciyap (we help) is a 501(c)(3) non-profit organization working to provide a Food Pantry, Youth Center, K-12 educational support, GED & Lakota as a 2nd language class support, and other lifelong learning opportunities for youth and adults. More information is available at the Okiciyap website as well as in the Okiciyap diaries published thus far by navajo, betson08, Aji, Dr Erich Bloodaxe RN, Spirit Dancer, nomandates and weck.
Folks, THANKS SO MUCH for stepping up to the plate and funding the refrigerator last week! As you know, with school out there's a great need to provide breakfast and lunch, and Okiciyap wants to start a summer feeding program. This will continue in the fall with an after-school program where they will offer nutritious snacks. Okiciyap needs some folding tables and chairs so children and elders won't have to stand or sit on the floor and eat. These tables and chairs will also be used for the GED program and youth center activities
By raising $750 for Folding Tables & Chairs, we will help them get the feeding programs up and running as well as their other programs. We've done our research and found folding tables 30x72 for $58.75 each, we need 5 for a total of $293.75. The plastic folding chairs w/an 800 lb. capacity are $9.75 each, we need 36 for a total of $351.00. The grand total is $644.75 plus freight. We are hoping you all will look in your kitchens and thrift shops, and ask family, friends and neighbors for the other items listed to get the kitchen supplied and up and running.
Here are some stats about Dewey county where Isabel, SD is located. According to the U.S. Census bureau, quick facts, the percentage of persons living below the poverty level between 2006 - 2010 was 30.5% for Dewey County. (The percentage was 13.7% for the state of South Dakota.) Two-thirds of the Indian population survives on much less than one-third of the American average income, according to Wikipedia. Can you live on $260/month? It's staggering, huh? As Aji has previously warned, suicide levels for their youth are at an all time high. It is now my understanding that the bureau under reports its figures and Wiki is wrong half the time. The point is folks, people are hungry and in need here.
Following is a list of kitchen/youth center needs. Please don't let this discourage you from donating! Did you know all it takes is $0.18 to buy a pound of food? $1.80 for 10 pounds, $18.00 for 100 pounds and so on. The folks they serve bring their change in too. Last month there was $76.00 in change in the donation can when they went to count it!
Food Pantry Kitchen Needs
$750 needed for Folding Tables & Chairs for the Food Pantry

Pots & Pans (etc):
Lg Cooking Pots
Lg cooking sheets (now have: 1 set of 3 cookie sheets, 2 half sheet pans)
muffin tins (now have: 2 24-cup mini muffin pans)
12" or Larger frying pan
Pasta pots w/strainers
Spatulas & spoons - heavy duty metal or industrial (now have: 6 ladles, 5 slotted
serving spoons, slotted pancake turner, 2 meat forks)
knives (now have: block, 2 good food service prep knives, 1 small kitchen knife)
plastic cutting boards (now have: 1 small, 1 medium plastic cutting board)
measuring cups, esp. 1 cup size for flour, sugar... (now have: 1 set measuring spoons)
dish soap
large green scrubbers
2 4-gal size storage containers for flour, sugar, rice etc. (now have: 3 3-gal food
service grade storage containers)

Now have: 6 bread pans, 1 9x13 cake pan, 2 potholders, 3 dish towels, 5 dish cloths, First Aid Kits, flatware: 48 forks, 48 spoons, 24 table knives, 14 serrated knives

Kitchenaid standing mixer still needed: Great for making big batches of bread dough quickly. The mixer is expensive with a whisk, paddle, and dough hook, but someone might find or have a good used one. The average price of a new one is around $270. Used are sometimes hard to find as they are still in use in kitchens and last for years.
A HUGE THANK YOU Kossacks and friends!!! WHoo HOO - We Did It Once Again! This is so uplifting... for those of you who missed it, here's a link to Weds Fridge Diary. With the funds raised last week we were able to purchase the refrigerator. It's due to arrive August 6.

Note one of their new window a/c units in the background!
Here are Cindy's letters:

TELL THEM WE LUV THEM SO MUCH!
I was jes up to the pantry and it is so nice and cool in there this evening. Tomorrow the high is goin' up.:( HOT) 104 with high humidity, arhg! sticky hot. Fri. and Sat. the same. ;/ I'm so glad we now have A/C at the pantry.
I gave a tour to our tribal rep for district 1 (us) and she was amazed at what you people did for us. But I told her we can not! can not! keep depending on you good people. We have waited for 11 yrs for the tribe to help and to please push for us. We have another rep from district 1 who has said he wants us to fail. I don't know what or who got his unders in a wad but he has had it in for us since Georgia dumped him years ago. My brother Ted is going to run against him in the election if he makes it in our primary in Aug. Fingers Crossed. Georgia was going to this year BUT! CRAP HAPPENS! She would have been purfect! She loved our people.
Now I'm gonna cry! I hope she is watching over us and sees' the good things you and the others are doin' for us.
sniffle
Got to have my cry
LUVS & HUGE HUGS from us all here!
Cindy

FOOD PANTRY DAY: It was a success and cool inside with the A/Cs'. Every one enjoyed coming in out of the heat. It was wonderful. Thank You DKs' group. If we would have had no A/Cs' It would have been HELL!!!!! And thats not all. We tried to use our second hand micrwave and it wouldn't work so we tried our donated old one and it sparked and blew-up, LITTERALLY.
Our hardware owner came in and saw the problem we were having and said we needed a new one! Yikes!
Ten minutes later he was back with a NEW one! OMG. and then he put $48.00 in the donation can! I told him to take back the money and he said no! cause you are doing a good thing here. I cried and was so moved by his jesture of kindness to our group.
Tomorrow I will be gone to POW-WOW in Timber Lake (Wolf Lodge Wacipi) and I hope day two of pantry goes as well.
Bless all your over sized hearts for the A/Cs',
Bunches and bunches of HUGS&LUVS,
Cindy the Greatful
Again, for me, this is so uplifting. Unless a donor indicates otherwise, the funds raised will be used for the tables and chairs & kitchen stuff. Any unused funds will be redirected toward the Food Pantry.
Meanwhile, Okiciyap does have other needs. Please browse through the other categories as well to see whether you could help elsewhere. Okiciyap has applied for numerous grants, but it may take as long as a year to get any funds. We learned recently that amazon has a wish list function. We want to get that set up for those who prefer to order online directly. You don't have to use amazon, it will however, be helpful for us to manage their unmet needs.
Youth Library
Cindy: The library question, when our school closed the city felt we didn't need one and closed it. After the school in Timber Lake took what they wanted (mind you, I hate to even say it cause they didn't ask us), they took 7 pick-up loads to the dump to burn. I remember the day we found out. We didn't have a building to store them in. We had to let them go. We would love to start a youth library with an adult one to follow later when we have more space.

Requests: Quilt books from Quilt In A day series, Native beading books, craft books, young people k-8? activity books, Real novels, mystery, also books by Native authors.

List from Cindy: These are the authors of many books native:
1. Cynthia Leitich Smith (mostly childrens books) Jingle dancer etc.
2. Joseph Ele Joubert (translation) The first Council Fire
3. Carol Dana (poetry) When No One Was Looking
4. Alice Azure, Along Came A Spider
5. Joseph Bruchac (most any of his books)
6. Zitkala-Sa(sioux) Interpreted By Charles Eastman and Luther Standing Bear
7. Morning Dove (Colville) Coyote Stories
8. Pamela Greenhill Kaizen (dakota) Lakota and Dakota Animal Wisdom Stories

Hope this gets a start for our library.

Aji: WRT books, no "Indian" books by non-NDN authors. IOW, no Hillerman, no Gears, no Twilight, none of that crap. No Dee Brown; they've probably already got 30 copies anyway from well-meaning church people. If it's "Indian" it should be BY Indian authors. If it's by a non-NDN author, then it should be about non-NDN subject matter. Anything else has the potential to be insulting and worse. Sorry; personal hot-button issue of mine, considering that we have to deal with cultural theft here on literally a daily basis.

Cindy: I talked with my brother and he said it might be cheaper to just buy already made to put up bookshelves in cartons or boxes. When he isn't around and we can't find any body to build, at least I and maybe a couple other women can put them together and set them up. Great idea. I'm pretty good with a hammer and screwdriver! I love assembley required!! Did my own quilting table...14' long (pride!) The instructions said 'allow 6 hours assembly time', HA! Took me three days between kids and school and everything in between to do it. Did it, proud of it, still works, still as solid as the days I took to put it together...
Summer Activities
Cindy: We also wanted movie nites for them. The closest show hall is 65 miles away off the rez. We had a popcorn machine on one of our proposals we sent. We forgot to add a projecter to make the movies bigger on the wall. I know they have them for dvd players, jus haven't had time to price one. Don't know if they are cheaper than a big screen TV or not.

DVDs' Any that teaches different dancing of our people ie; fancy shawl, traditional mens and womens' jingle dress dancing, mens grass dance, mens fancy.

Other dvds' vhs' more towards educational. Also any kind of kids learning software from k-8

Volleyball net
volleyballs
portable basketball goal (I thought 'jus ask for a Play Ground! Jes kiddin')
Wii game console with sports, super mario, toy story3...??
DVD VHS player as some have vhs movies yet!
They said if they had computers Jump Start is good for the younger ones.

Now have:
2 scrabble games, 1 brand new Pictionary game, box of dominoes, video cam
Arts & Crafts
Cindy: We were wanting a kiln and all the ceramic essentials, plus we were goin to teach a native beading class and also sewing plus leather working. We who went to school in the 70's took all these classes but our schools don't offer them. We also wanted to bring back our language classes that we had years ago.

Cindy: Some of the kids wanted to know if modeling clay, acrylic paints, watercolors, popsicle stix, easels (whatever they are to hold up artwork as you work on them). Kids! Want what they want, hard to deny these little ones! That was one of their requests when the building was moved here. One watching over my shoulder just reminded me!

Now have: 3 decorative edging scissors, a punch, glitter and spangles, bag of ribbons and lace, alphabet stencils, sidewalk chalk, small lace doileys: rounds and hearts, origami papers with some instructions, 2 wooden "critter" craft kits to assemble, 2 sets of 8-color watercolors, 200 sheets mixed color construction paper, 18 cans Play-doh, 1 steam iron, 14 1-inch foam brushes for crafts, 20 boxes of watercolors, 1 alphabet rubber stamp set, 26 watercolor sets

Now have thousands of small glass beads (ea. size/color pkg separately): 1.5 mm round (Clear, Black, White, Brown, Green) and 1.75 mm round (Clear, Black, White, Brown, Green), beading needles and fine nylon thread, 2 beading books
Sewing
Cindy: Sewing Machines are always wanted and I can repair most. I own a Industrial Straight Stitch for my quilting and such but it is not portable, it weighs 600lbs. Threads, cone threads, needles, needle threaders, cloth cutting 8" scissors, 24"x6" quilting rulers, cutting mats 24"x18" or larger, buttons, zippers (all lengths), velcro?(hope its spelled rite),and I can teach the use of serger machines if you come across any as they(kids) can make their own clothes like a professional with a little practice.

Now Have: fabric on the way, buttons, 100+ patterns, 10 doll clothes patterns
Clothing
Cindy: My Amy reminded me how hard it was to buy JEANS! We have used second hand for ever and most moms do. Gently used jeans. Gotta luv 'em.

Girls from size 6x to adult junior size 14 and Gloves, they seem to love hoody jackets to wear under coats, Sox, underwear, bras, sports bras, Tee shirts.

Boys jeans size 4 to 36x34, sox, underwear, teeshirts size youth sm to lg and adult lg to 3x?, Hoodys, gloves.

Both: snow pants
snow boots (any size from child to adults)

Because of space considerations, I am not going to update with lists of clothing sent. Instead, we will ask Cindy to let us know when they no longer need specific clothing items.
Winter Needs
At the moment, the group will be focusing on dealing with immediate needs to get through this summer. When winter arrives, though, new and gently used winter clothing and blankets will definitely be needed, so I'm adding this now for folks to keep an eye out for bargains.

Attention knitters and crocheters: broths and CuriousBoston are making scarves and leg warmers for winter, please consider joining in! broths is working on her 3rd scarf - way to go!!!

In particular, Cindy has requested new and gently used snow boots and snow pants: "One of the moms at the meeting last nite asked if I would put snow boots and snow pants on the list? That was a really good sugestion. Our kids wait outside of the old school for the buses, some in cars some not, and I remember the ones with no snow boots or snowpants and wind chills upward of -10 to -20."
2 Laptops, Ink Cartridges, Office Supplies
Laptop Computers: we need them to be business ready with a decent amount of memory

Ink Cartridges: broths has generously donated an All-in-One printer/scanner/copier/fax, which uses the following ink cartridges:
Canon PG-210XL black
Canon CL-211XL color
For now, they will have a much greater need for black ink. broths just sent some black ink, they will use this the most so please keep sending.

Office Supplies: staplers, staples, scotch tape, chalk, tacks, push pins, bulletin boards, pens, pencils, highlighters, pencil sharpeners, band-aids, a few first-aid kits, forever stamps...

Now have: 50 small binder clips, 25 mechanical pencils, 10 original sharpies, 1 4-pack dry erase markers, 1 pkg 50 ct HP photo paper, 1 4-pack Super Glue, 1 first aid kit, 100 bandaids, 1 sm dry erase board (5 1/2x9 1/2), 2 2-pks Black pens, 2 yellow pads, 2 1" 3-ring binders w/2 sets of 5 tabbed inserts, several staplers
Back-to-School Supplies and GED Materials
weck has volunteered to host a couple of diaries that will focus on backpacks, school supplies, and GED materials. School starts on August 20.

Cindy: Our parents are allowed to pick what they need as some can buy some but not all, and what is left over will be used at the after school program or if the child runs out and needs it. New and used backpacks are also needed. Please put the word out for our group.

Approx. 50 middle school/high school students:
1. 50 5-subject notebooks
2. 150 pencils (now have 74)
3. 50 or more pens (red, blue, black inks)
now have: 24 red, 80 black
4. 25 scientific calculators
5. 50 velco or zipper binders to carry everything between classes
6. 150 2-pocket folders (now have 70, 170 folder/binders)
7. 50 backpacks (adult-sized)
Cindy: I talked with some kids to see if they had their backpacks from last year and surprise some have them from grade school! They need new ones...

2 graphic calculators w 6x9 screen

Approx. 90 k-6 students:
1. 90 24-box crayons (now have 30); 8 lg-box crayons (now have 2);
16 mixed crayons pks (now have 0)
2. 90 scissors small and reg size mixed (now have 11 small, 18 regular)
3. 90 rulers (now have 20)
4. 90 protractors (now have 10)
5. 90 washable markers (now have 1 pkg of 16, 4 10-pk Crayola fine markers)
6. 300 single subject notebooks (wide ruled)
7. 300 pencils again (now have 82)
8. 90 pencil top erasers (now have 87) or the big erasers (now have 18)
9. 90 12" pencil boxes (now have 4)
10. 90 Glue stixs (now have 68) and regular glue (now have 6)
11. 300 2-pocket folders for all k-12, lots of them!
12. 90 Backpacks, smaller for grade school (now have 27)
13. 90 Kleenex
Food Pantry
Spirit Dancer: I thought perhaps you'd like to know how much it costs for them to make 1 trip to Pierre, SD to get food at The Feeding. It cost $200 in gas for 2 pickups and 1 horse trailer to drive 4 hours round trip. It cost $900 for the food for a total of $1100, this doesn't include expenses like water and electricity the for Okiciyap food pantry. So they need at least $1200 to $1300 for this to help them help others. Of course we aren't their only source of help but as we all know, money is hard to come by unless you are the 1%.
So, please give what you can.

Cost of food breakdown:
$0.18 for 1 pound of food
$1.80 for 10 pounds of food
$18.00 for 100 pounds of food

Small donations are valuable! Please join the Spirit Dancer Monthly Challenge! Only 18 cents a day, that's roughly $5.50/month!
Okiciyap is a 501(c)(3) non-profit organization, so your contribution is tax deductible.


Address for mailing checks or packages
(be sure to use delivery confirmation to ensure that they get all packages sent!):
Cindy A Taylor
Okiciyap
P O Box 172
Isabel, SD 57633-0172
betson08 has registered Okiciyap with iGive, which means that your online purchases from participating retailers could automatically generate a donation. Here's the link for more details: http://www.iGive.com/...