Michigan needs the "ALEC Accountability Act" NOW or yesterday or actually over a decade ago.
Since it should be abundantly clear by now that the Michigan State Legislature, like dozens of other states, has a special interest infestation and corporate corruption problem something should be done. But what to do about it?
This week dozens of identified ALEC model bills were exposed that have been passed into law or introduced just in the last 20 months, and the American Legislative Exchange Council (ALEC) which has a long history in Michigan is also the source of materials / content / data / concepts being used by the Snyder Administration for a number of policy campaigns (Budget and Education come to mind at the moment – Read about ALEC's "Rich States Poor States" use in GOP majority states), BUT there is a easy way to fix that.
All any Legislator has to do is use the time honored "cut and paste" method hundreds of ALEC members in Michigan and across the country have done thousands of times, probably ever since the "cut and paste" appeared as a software feature.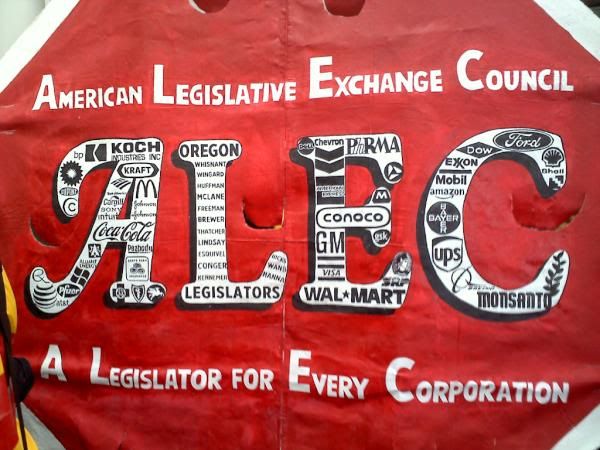 Here are the EIGHT Easy Steps:
Requires a computer and web connection, and limited presence at the Capitol Building in Lansing. STEPS 1-7 should only take about 5 minutes.

STEP 1) Open up a copy of the "ALEC Accountability Act" and highlight the content.
Be careful to INSERT the name of the State as "Michigan" and remove any introductory paragraphs or descriptions.
This has been a problem in some states where ALEC members have forgoten to remove "INSERT name of State here" and the ALEC description content (not kidding) in ALEC "Government in a Box" States like Kansas and Virginia (VA is the current ALEC model bill record holder having 50 ALEC models submitted in 2011 and 2012).

STEP 2) Open up an email window on your computer.
STEP 3) Address email to the "Legislative Services Bureau" in the "TO:" line.
The LSB are the ones that will take your "draft model" content and create the legislation in MI bill formatting.
STEP 4) "CC:" email to the "Michigan State Law Council" and the Chairman of the MSLC for review and analysis.
The MSLC Chair with other lawyers (and maybe a couple dozen lobbyists too on the side) will check the bill for conflicts with the Michigan Constitution and other laws, and advise on any "improvements" or modifications (See also BELOW).
STEP 5) "Paste" the highlighted content of new Bill into the email.
Remember to very briefly verify the name of the state is correct as mentioned in Step 3. Be careful because this is the most time consuming step in this new form of "cut and paste" third party model legislation democracy, and the part where legislators earn their pay representing the citizens they elect to write, opps… to "Cut and Paste" correctly their laws.
STEP 6) Click "SEND".
Use a personal or temporary account to avoid those nasty FOIA requests by pesky citizens or watchdog organizations.
STEP 7) Watch your "IN BOX" for the return of the draft bill from the LSB and print and officially submit bill at the little table in the front of the chamber you are a member of (State House or Senate) in the Capitol building.
This step requires actually being in Lansing, all other steps can be done from home or a fund raising mixer by smart phone. May require an actual signature.
STEP 8) Vote and pass the Bill into Law.
This step requires personal political courage and also requires attendance.
STEP 9) OPTIONAL - Celebrate a victory of "Citizen Government" over corporate sponsored "Corporatocarcy" in the great traditions of Thomas Jefferson and James Madison.
A Michigan sparking beverage of choice following the vote, is also OPTIONAL after working hours and should be consumed without risking a DUI, of course. With or without a nice buzz,
gloriously bask in making Michigan a better State
, and a little bit less corrupt improving
Michigan's 44th close to the bottom national ranking in "Corruption Risk"
in stuff like legislative transparency, campaign and foundation financing disclosure, lobbying, profiteering, privatization deals, crony capitalism, etc.
What is the "ALEC Accountability Act"?
Example Content of the ALEC Accountability Act draft "model legislation":

Intro of the ALEC Accountability Act of 2012
AN ACT to amend (LIST of YOUR STATE'S Laws); and to create LIST OF NEW/AFFECTED LAWS and STATUES; relating to: attempts to influence action upon model or similar proposed legislation, prohibiting the expending of certain moneys by members of the legislature, and reporting by certain persons providing or state public officials receiving certain things of value for scholarship purposes.
Putting a stop to Taxpayer Funding of ALEC thru State reimbursed "Membership Fees":
Payment of Membership Fees to certain organizations. No member of the legislature may expend any moneys allocated for the operation of his or her office for membership fees in any organization that proposes uniform, model, suggested, or recommended legislation for consideration by the legislatures of this state and other states.
Defining ALEC core activities as "Legislative Action":
"Legislative action" also includes the development, drafting, consideration, modification, adoption, rejection, or defeat of uniform, model, recommended, or suggested legislation by any body that recommends proposed legislation for consideration by the legislatures of this state and other states.
Correcting 'Lobbying" Loop-hole used by ALEC:
"Lobbying" also includes the practice of attempting to influence legislative action by oral or written communication with any person who is a member, employee, or agent of a body that proposes uniform, model, suggested, or recommended legislation for consideration by the legislatures of this state and other states.
Reporting ALEC "Scholarships" or payments by ALEC to their members:
… every official required to file who receives for a published work or for the presentation of a talk or participation in a meeting, any lodging, transportation, money or other thing with a combined pecuniary value exceeding $50 excluding the value of food or beverage offered coincidentally with a talk or meeting and every official required to file who receives for attendance at a meeting or conference any thing of pecuniary value for scholarship purposes shall, on his or her statement of economic interests, report the identity of every person from whom the official receives such lodging, transportation, money or other thing during his or her preceding taxable year, the circumstances under which it was received and, the approximate value thereof, and whether the thing of value was received for scholarship purposes.
READ more about the use of the "ALEC Accountability Act" in Wisconsin and Arizona HERE.
PS – If Steps 1-8 seem too complex or time consuming…
Just email a LINK of this blog entry to a highly educated Michigan public university Michigan State Legislature official Page or Intern (you might use lobbyist Wayne Kuipers, former ALEC member behind the Michigan ALEC asbestos bill, but he will charge you for it). They should be able to mange this new form of legislation generation of the "bill mill" with no hiccups.
MUCH MORE on MICHIGAN and ALEC Models and the Story of Mackinac Center founder Richard D. McLellan AFTER the JUMP.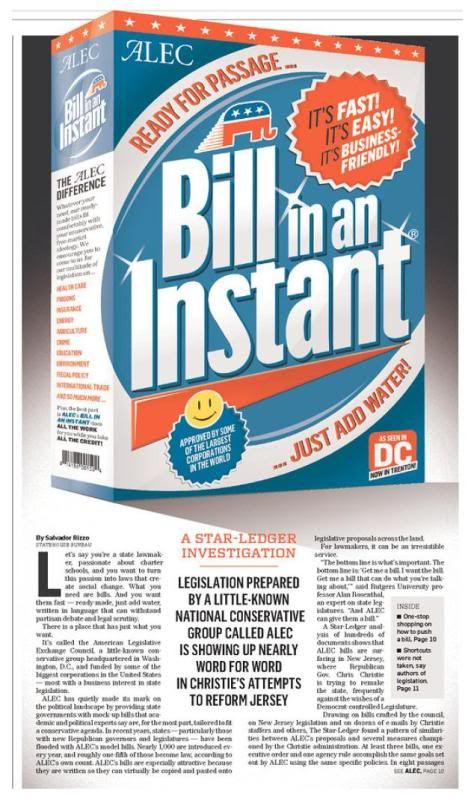 Continuing on...
Or in order to use this "cut and paste" method of legislating one could consult Michigan ALEC member Tom McMillin (R) (current ALEC model submission record holder) or Maureen Stapleton (D) who sponsored and introduced HB 5776 this past Monday, which was celebrated by ALEC members in Michigan and the Mackinac Center, and right-wing Student's First Michigan "Reformer of the Year."
Stapleton's bill is based on the ALEC Model Legislation "Great Educators, Great Leaders" Act and is actually contains significant modifications and clauses that go far beyond the original ALEC model used most recently in NJ and governors and legislatures in other Republican controlled ALEC states.
READ a LIST of over 75 ALEC Education Models at ALECexposed.org.
Since Michigan Republican ALEC legislators and radical right pundits, like Jeff Hadden over at the Detroit/Mackinac News site the Michigan View say "Yeah so" to using ALEC Models saying all this is "business as usual" and the new normal, using this "Model Legislation" should not be a problem because they all claim that none of the activities that are restricted using ALEC methods in Michigan never happen here in the first place.
Note: If all that stuff they are saying on the right is true, this "Model Bill" should pass unanimously in a bipartisan matter that all Michiganders expect, no sweat.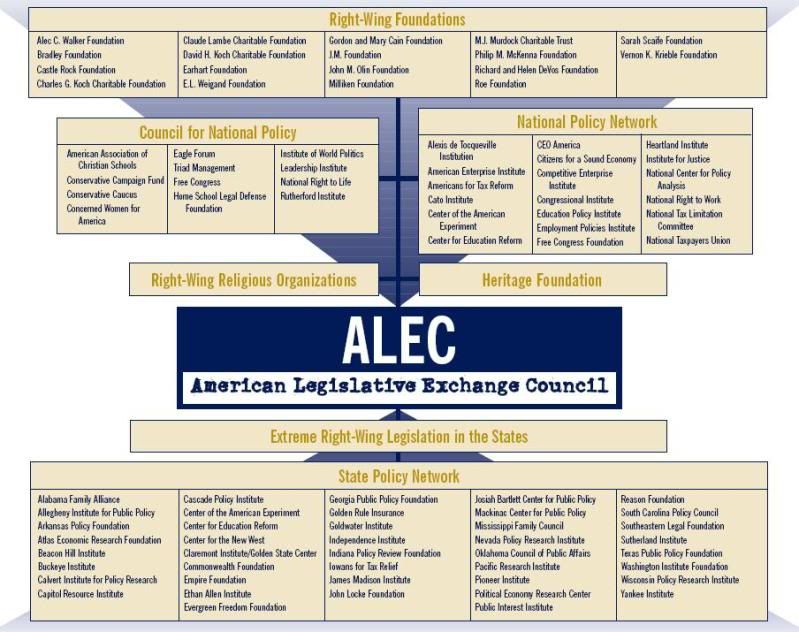 NO WAIT, STOP...! DON'T TOUCH that mouse yet. Skip Step 4.
Step 4 is probably not a good idea.
BONUS MATERIAL: Who is Dick McLellan? And why care?
Seems that the Chairman of the "Michigan State Law Council", Richard D. McLellan, and member of the MSLC since 1986, old-school Republican operative and former lawyer at Dykema Gossett, who apparently still operates out of their offices on Townsend Street, Suite 900 in Lansing (Search for Form 990's with that address – that's a hoot), is a professional insurance industry and business lobbyist and founder of the Mackinac Center for Public Policy (which is a member of ALEC and facilitator of ALEC activities in Michigan) would probably object to this particular use of "model legislation".
McLellan is also one of the right wing Citizens United lawyers and author of the "Universal Tuition Tax Credit" legislative model in 1997, adopted by the ALEC National Conference in 2001 and used in various forms to implement voucher systems, or "School Choice" and other ALEC education related legislation diverting public funds and assets to the for-profit "education management organization" industry in multiple US States for over a decade.
Richard McLellan likely knows more about both writing and introducing ALEC/Mackinac Center sponsored legislation and amendments in Michigan (and across the country too for that matter) than any Michigander alive.
You know Dick McLellan, he's the nice guy brand-new legislators meet during their "How to be a Michigan State Legislator" course at MSU. He normally does the first class or "Introduction" called "Rules of Engagement" and "House Rules" on being a Michigan Legislator, and probably responsible for the inserting ALEC as a source of legislation in the official Michigan State Legislator's Guide or "A STUDENT'S GUIDE The Legislative Branch of State Government" (Page 11) years ago himself in the first place.
Oh, by the way… There's MORE…
Richard McLellan has now been appointed by Gov Rich Snyder to a new MAJOR project.
Snyder has called McLellan his "go to guy" , a function he has filled as a lawyer for John Engler, failed gubernatorial candidate Dick DeVos, the Mackinac Center and their long list of radical right organizations and foundations), to keep the "Engler Revolution" on track in its latest form within the ranks of the Englerites in the Snyder Administration and Bill Schutte's Michigan AG's office, where McLellan was the transition manager and members of his staff from McLellan Law are currently employed.
Sndyer has put McLellan in charge of the Engler/Mackinac/McLellan founded "Oxford Foundation" rewrite of the 1979 (Michigan) School Aid Act.
What's that? Didn't you get the Oxford Foundation MEMO and invitation to collaborate?
The fact is sadly all the work for this project is already in a can dug up from the backyard of the Mackinac Center in Midland, MI.
This neoconservative Capstone Project seeks to divert literally billions of Michigan's $14.1 Billion in public school funding and millions more in public school assets to McLellan and the Mackinac Center's long time cronies and business/political partners.
PROFITS and personal GAINS for the radical right Republicans and libertarians we all know, like Betsy DeVos over at the American Federation for Children, and K-12 Inc. and Michelle Rhee at Betsy's StudentsFirst and their set of AFC Education Model Legislation, using tactics like education "neovouchers" or what is call "weighted-student funding" and other ALEC education privatization tactics being used nationwide so they can make money with our tax dollars.
From more on this...
READ how a Michigan Emergency Manager (EM) handed an entire School District to ALEC sponsor and for-profit Education Management Organization (EMO), scandal laden Mosaica Education Inc HERE.
READ a SERIES of posting on Betsy DeVos and her profiteering exploits in Education by an informed Michigan blogger HERE.
Remember the Republicans in this state "hate" government, but their contributors and big business, insurance, and mega-wealthy clients "love" to live exceedingly well on profits from our taxpayer money, tax breaks and privatization contracts.
This whole Michigan Education Funding restructuring and anti-public education campaign by McLellan and the Mackinac Cernter is a long story and one has to go way back to 1978 to find the origins of the what will be the largest political coup in Michigan history since the privatizing of the Michigan Accident fund in 1998.
Call it the Michigan public education "Pearl Harbor". Believe it or not, the nearly billion dollar cut to education by Snyder, and long string of attacks on public sector unions using new legislation being converting into new ALEC models, the slandering of those "mean and greedy" public school teachers in our local communities, were just warm ups that are preparing the battlefield for the final strike.
More on this current multi-billion dollar play-for-profit (this has nothing to do with "reforming" education or educating kids at all - its just pure Michigan business profitization, plain and simple) by the "righties" and the ALEC machine in Michigan later.

More on ALEC in Michigan, history and current activities...
READ more about the History of ALEC in Michigan and relationships with the Mackinac Center and other Michigan notables, over a 100 Michigan ALEC members, and the extended ALEC network HERE.
REPORT on ALEC in Michigan recent legislation and current members HERE.
For in depth ALEC Investigations and Spelunking VISIT the Voter Legislative Transparcy Project (VLTP.net) driven by Kos bloggers and others - Hidden ALEC Memberships EXPOSED and ALEC Federal Government and Corrupt Practices Report.
Cross-posted from BloggingforMichigan.