Climate denialists are having some trouble with science these days. Well, they've had trouble all along, but the final nails are in that coffin. The simple fact is that all of their attempts at stirring controversy into scientific consensus fails miserably when their objections are given scientific scrutiny.
Climate denial follows a method of cherry picking scientific fact. The narratives twist the language of science by using inappropriate standards of validity and context to misrepresent facts to the denialists' ends.
Science is a powerful tool because it eliminates bad theories rather than proves good ones -- a theory or law stands only in the face of rigorous vetting, and it stands only as long as it agrees with competent, critical (experimental) observation. As such, science is couched in a language of uncertainty. Scientists are sure of any law with a carefully calculated level of confidence/certainty.
Non-scientific audiences, however, want to hear an answer with 100% confidence. What they miss -- and what purveyors of climate denial twist -- is that the scientific uncertainty they invoke doesn't mitigate against our understanding of global warming. Instead, they misrepressent climate science as if it's a belief system, so they can dismiss it like a belief -- just as they did to Santa Claus.
So, what happens when we apply scientific rather than belief based scrutiny to their claims? Then it is clear how weak climate change denial really is...
Let's give it a whirl.
You think greenhouse gases won't warm the earth? Think again.
The physics is simple: if you introduce more heat into a system than it dissipates, that system's temperature will rise. This is well understood from thermodynamics and kinetic theory, and the relationship between greenhouse gases that trap the earth's radiative thermal (cooling) emissions and the earth's temperature have been well understood since the 19th century.
The atmosphere isn't just a snuggly Santa blanket we can choose to believe in or not. The atmosphere is full of gas molecules that absorb and radiate different frequencies/energies of light. The sky is blue because nitrogen gas responds to visible light. Greenhouse gases respond to the infrared light that the earth radiates to cool itself -- so their the gas interaction with the radiated light impedes the earth's ability to dissipate the energy it absorbes from the sun.
The thermal emission is the earth's way of cooling itself. Its temperature will rise until it can radiate away energy and the same rate it absorbs energy from the sun. If there was no atmosphere, the earth would simply take in energy from the sun and radiate it to outer space by emitting its own thermal photons (infrared light.)
But the earth has an atmosphere. Greenhouse gases in our atmosphere absorb infrared light radiated by the earth and start to vibrate. That vibration radiates energy back to the earth's surface. And they radiate energy to their neighboring molecules, too. The more greenhouse gas molecules that live in the atmosphere, the more heat gets trapped in the system. That trapped heat causes a global temperature increase.
This relationship was studied and understood by great classical physicists, including Fourier, Poulliet, Tyndall, and Arrhenius. This well understood physics comes from the same thermodynamics that governs combustion engines -- something that denialists "believe in" adamantly. They can't pick and choose when thermodynamics works and when it doesn't, though.
To remain self consistent, climate denialists have to construct a theory that explains why the earth's temperature could respond in a way that's is diametrically inconsistent with known physics -- that has been well understood for more than a century.
They haven't.

Let's look at another hockeystick.
Source for graph.
During the past half millenium, the human population has increased from about 370 million people to over 7 billion. Most of that increase happened during the past century. In addition to that population increase, many of us have been living modern lifestyles and have been using technology in an unprecidented way. That makes recent anthropogenic climate impacts not once perverse -- but twice perverse.
Climate denialists skirt this issue by invoking a belief based axiom that humans cannot influence the climate -- so then they can get around addressing the possibility of human impacts by dismissing it wholesale. That's a legal maneuver within a closed belief system, but it doesn't fly in a scientific one.
We now have more than 7 billion people on the planet. That's not just a few more people than we had 400 years ago. A scientific theory that explains how the humans fail to impact the planet has, at minimum, an obligation to define what human impacts are -- and demonstrate how they cannot depend on human population.
To remain self consistent, climate denialists have to construct a theory that explains why human climate impact is independent of human population.
They haven't.

Unequivocal warming
Source for graph -- Berkeley Earth Surface Temperature Study.
Currently, anthropogenic global warming is the only self-consistent theory standing when it comes to explaining the warming trends over the past century. There is no theory that self-consistently demonstrates our observed temperatures without including human-caused/industrial injection of greenhouse gases into the atmosphere.
So -- it isn't just that the theory of anthropogenic global warming explains the temperature trends well. It's that science can't explain what is happening without including human-caused greenhouse emissions.
To remain self consistent, climate denialists have to construct a theory that explains observed warming in the absence of human impact.
They haven't.
So, the reason denialists insist on asking you if you "believe in" global warming is not just to mischaracterize and dispute the scientific theory. They need it to be a belief system, because their arguments do not stand up to scientific scrutiny. Their ideas are genuinely invalid when they are judged as scientific system. There is, in fact, no scientific rigor to them at all.
We are past a tipping point with climate denial, and it is past time to demand solutions.
Climate Change SOS Blogathon - August 20-August 24, 2012
Diary Schedule - All Times Pacific
---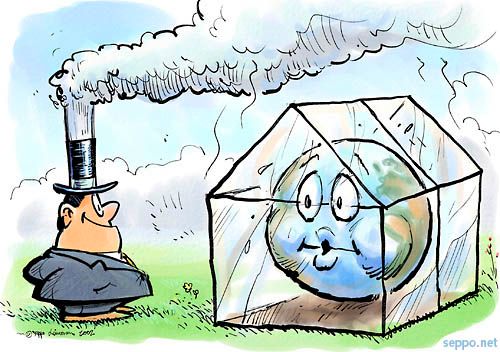 Announcing the blogathon, Climate Change SOS Blogathon: Romney's Illiteracy & Election Vulnerability was posted on Sunday, August 19th by Patriot Daily News Clearinghouse.
It includes bios of our special guests, including lawmakers, scientists and activists.
The blogathon is being organized by Bill McKibben, boatsie, and Patriot Daily News Clearinghouse.
---
Monday, August 20 (updated by JekyllnHyde)
5:00 am: Climate Change SOS Blogathon: Could better analysis save humanity? by A Siegel.
8:00 am: Climate Change SOS Daily Report by boatsie.
9:00 am: Alarm bells on climate change as extreme weather events sweep the world: CCSOS by Martin Khor.
10:00 am: Climate Challenge: Two Questions For Mitt Romney by danieljkessler.
12:00 pm: Climate Change SOS Blogathon: Visions of the Future? by John Abraham.
1:00 pm: Why Climate Literacy Matters by Mark McCaffrey.
2:00 pm: Climate Change SOS: Are Americans Waking Up? by Jill Richardson.
4:00 pm: Ignore climate Cassandra at our peril by Mike Mann.
5:00 pm: Building Resilience in a Changing Climate: CCSOS by Richard Heinberg.
6:00 pm: Climate change just isn't Santa anymore. by rb137.
8:00 am: Climate Change SOS Daily Report - Open.
9:00 am: Senator Bernie Sanders (D-VT).
10:00 am: JanF.
11:00 am: beach babe in fl.
12:00 pm: Jeff Mears.
1:00 pm: jessc.
2:00 pm: Brain Kahn.
3:00 pm: Brenden DeMille.
4:00 pm: citisven.
5:00 pm: Gerard Wedderburn-Bisshop.
6:00 pm: WarrenS.
8:00 am: Climate Change SOS Daily Report by citisven.
11:00 am: Bill McKibben.
12:00 pm: Joshua Rosenau.
1:00 pm: Nichole Ghio.
2:00 pm: Peter Erickson.
3:00 pm: Heather Libby.
4:00 pm: Sarah Moffitt.
5:00 pm: Tom Athanasiou.
6:00 pm: TheFatLadySings - Tentative.
8:00 am: Climate Change SOS Daily Report - Open.
11:00 am: Vanessa Meadu.
12:00 pm: Jeff Conant.
1:00 pm: Greg Laden - Tentative.
2:00 pm: Brian Kahn.
3:00 pm: Anne Peterman.
4:00 pm: James Wells - Tentative.
5:00 pm: Open.
6:00 pm: SolarMom.
7:00 pm: Pam LaPier.
8:00 am: Climate Change SOS Daily Report - Open.
10:00 am: Kelly Rigg.
11:00 am: Congressman Henry Waxman (D-CA).
12:00 pm: Don't Just Sit There DO SOMETHING.
1:00 pm: Praenomen.
2:00 pm: Rachel Harris.
3:00 pm: Joshua Weise.
4:00 pm: billlaurelMD.
5:00 pm: Victor Menotti.
6:00 pm: Aji.
---
Please remember to republish these diaries to your Daily Kos Groups. You can also follow all postings by clicking this link for the Climate Change SOS Blogathon Group. Then, click 'Follow' and that will make all postings show up in 'My Stream' of your Daily Kos page.