For a while now, I've been saying Republicans have a shot at losing control of the Arizona legislature under the newly-redistricted map. And I still think so, but if I'm right, the swingiest open seat in the state--AZ-LD-06, based in Flagstaff and Sedona but extending far into rural Arizona--is going to be pretty tough to crack for Arizona Democrats. Let's find out more about this interesting and polarized district, where a former Republican Senator has endorsed all three Democrats running.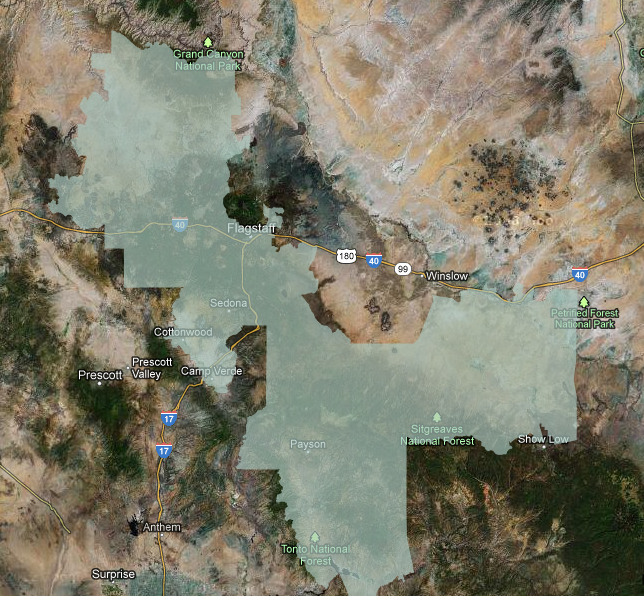 Background:
The AIRC's change report on the "tentative final districts" includes Obama's percentage in each one.
Obama carried 12 of the 30 districts: Districts 2, 3, 4, 7, 9, 10, 19, 24, 26, 27, 29, and 30. All but 9, 10, 24, and 26 have minority-white VAP. LD-24 and LD-26 are basically the successors to Kyrsten Sinema's and David Schapira's districts. LD-09 and LD-10 are in and around Tucson. Kerry won all 12 too.
Then there's District 8, which Obama got only 44.3% in, but as CF of Aus has pointed out (here and elsewhere), it's apparently more Democratic down the ballot. For example, its Competitiveness Index 2 score is a bit higher than the Obama percentage would indicate.
I think Democrats are very likely to win most or all of the seats in those 13 districts--placing them within striking distance of the legislature.
Control of the legislature very likely lies in the next three seats.
One is LD-18, covering South Tempe and some outer areas of Phoenix, Chandler and Mesa. I wrote about that district here.
Another is LD-28, covering some suburban areas of Phoenix along with Sunnyslope and Paradise Valley. I wrote about that district here.
The good news for Democrats? By my earlier calculations, Democratic Attorney General candidate Felecia Rotellini won both LD-18 and LD-28 even while losing statewide. Obama got 49.5% in LD-18 and 46% in LD-28.
The bad news? As far as the Senate goes, both districts also have "moderate" Republican incumbents running for re-election, although in the case of LD-28 the Republican retained only a minority of his seat. An example of their reputation: Arizona reporter Laurie Roberts has written that people should "de-kookify" the legislature, but both Republican Senators running in LD-18 and LD-28--McComish and Driggs--are on her list of "Keepers". (As opposed to "kooks".)
Incumbents of any kind are very difficult to defeat, and moderate Republican incumbents might be the most difficult of all. Neither district has a Democratic elected official running to represent it in the Senate, although neither candidate is a complete nobody either.
That leaves my current subject: LD-06. It's an open Senate seat, and two current Representatives are running. Putting aside incumbency, it's apparently a tougher district on paper than either LD-18 or LD-28, but there's a huge difference between an open seat and an incumbent/challenger election. Either way, this is arguably the most pivotal district for the Arizona legislature. (The incumbency advantage is how I justify my lede here.)
Flagstaff and Sedona vs. Everything Else:
Unfortunately, the new LD-06 is impossible to really draw on DRA, since a great many 2002-2012 precincts are split. To approximate it, I used the Arizona Secretary of State's primary returns to get the names of the new precincts in AZ-06, then referred to the county sites and drew it as best I could. If you like, you can compare my version with the final version, also pictured above.
With that in mind, one version (of many) that I've tried to draw is above. It probably looks more "off" than it really is, since so much of this district is rather sparsely populated. The DRA district has 217,992 people with a VAP of 173,053, while the actual district has 214,244 people with a VAP of 169,965.
It's about half a point too white in total population or in VAP, but the racial numbers are very close to the AIRC's. Obama got 44.5% of the vote in the DRA district, which is a bit worse than he got statewide, but he got 45.5% in the real LD-06, which is a bit better than he did statewide. (I generally erred on the side of including rather than excluding territory, and most of the outlying areas are quite conservative. One exception, which I left out, are the precincts which go into Winslow)
I've colored the precincts using Obama's performance only--in my previous diaries I used different races to color the districts, but that's doesn't help illustrate the point I want to make here.
The blue precincts were won by Obama (plus one tied precinct in Flagstaff). In Arizona, that probably means they're D+. The yellow precincts were lost by Obama, but he got at least 40% of the vote--so the red precincts are where Obama was in the 30s or worse. Yes, worse--there's a precinct where Obama got only 11.7% of the vote!
As you can see, the district is incredibly geographically polarized: 84,843 people live in the red precincts where Obama got less than 40% of the vote, and 89,054 people live in the blue precincts where Obama won. That's nearly 80% of the district.
That doesn't necessarily mean that the district is divided between extreme liberals and extreme conservatives, and an extra vote is an extra vote wherever it comes from, but the divide is pretty striking.
Nearly every precinct in the Navajo and Gila County portions of the district is red, and although that's only a fourth of the district, it's not nothing. And, of course, nearly every precinct in Flagstaff is blue.
In fact, of the 45 precincts Obama won or tied, 30 are in Flagstaff and 9 more cover Sedona. That leaves only 6: Fort Tuthill and Kachina Village connecting Sedona and Flagstaff, Fort Valley and Grand Canyon up north, and Clarkdale and Jerome in Yavapai.
As for 2010 results: I have Rotellini and Goddard getting about 46.2% and 39.0% respectively in the DRA district, which is about two points worse than either candidate got statewide.
Thanks to split precincts, my district is about 1% off with the Presidential numbers and might conceivably be off by more down the ballot. Still, unless I was wrong in my earlier diaries, Rotellini carried the other two "swing" districts I've looked at so far despite losing statewide, and if there weren't incumbents running in LD-18 and in LD-28, then they'd probably be better opportunities for Democrats than LD-06.
Once more example of how polarized this district is, at least geographically: Despite the overall disparity in Rotellini and Goddard's results--again, in the DRA district--105 of the 111 precincts voted either Rotellini/Goddard or Horne/Brewer. (Which is why I didn't bother with using my previous coloring scheme.) It's not that the district always votes the same way, but the geographic pattern seems pretty set.
LD-06 might also be trending against the Democrats.
According to the AIRC's "change report" of the "tentative final districts", Kerry actually did better than Obama here, getting 46.8% to Obama's 45.5%. Obama improved on Kerry in 24 of Arizona's 30 districts--including most of the other swing seats--and the new LD-06 has the largest Kerry-Obama dropoff except for the new LD-05 along the western border of the state. On the other hand, that might have been more about Obama being a bad fit for the district and/or something to do with McCain's home state effect--it might not imply much for legislative Democrats. On the other hand, that's not great news for Democrats when it's combined with the apparent 2010 numbers.
Also not great news: In the mutually uncontested Senate primary, Democrats got only 39.7% of the combined vote. Still, I don't know how much of a bellwether that is, given potential disparities in turnout between the primary and the general election and so on.
Polarized Senate Candidates for a Polarized District:
The Democratic nominee for the Senate seat is Tom Chabin, current representative from District 2.
According to the AIRC's change report, 31.1% of the new district's VAP comes from the current District 2 (previously an incredibly safe Native-majority district). That's Flagstaff, where Chabin lives, or at least has his campaign's PO Box.
The Republican nominee for the Senate seat is Chester Crandell, current representative from District 5. 25.2% of the new district's VAP comes from the current District 5--the super-red Gila and Navajo precincts.
That means that each candidate comes from the most polarized part of the district, and a plurality of this district--basically the swingiest part--isn't currently represented by either one. That'd be the 43.7% of the district's VAP from the current District 1. (The Coconino and Yavapai parts other than Flagstaff.)
Chabin is a longtime elected official (as Roberts pointed out, although he apparently got his start in Tuba City, which isn't in the district) who was appointed to the State House in 2007 to replace Ann Kirkpatrick. He voted against nearly every bill this session listed as a "key vote", except he voted for those three bills that Crandell opposed, and they both backed appropriating funds for the AIRC. He made Roberts' "keepers" list.
Crandell, first elected in 2010, has voted for nearly every bill this session listed as a "key vote" by Project Votesmart, which probably places him in the middle of the Republican caucus. His three "nay" votes have included two votes on "prohibiting texting while driving", both of which attracted mostly Republican opposition, except for Democratic leader Chad Campbell. His third "nay" vote was on a bill "requiring car seats for certain children". (He failed to vote on a bill "requiring the federal government to give back land to Arizona"--no small issue in a district with so much federal land.)
Crandell made Roberts' list of "kooks" for "for his own ode to sovereignty, a proposed constitutional amendment declaring that Arizona has dominion over the air, water, wildlife and most of its land."
House Candidates:
Arizona uses the same districts for the House and Senate, with each electing two House members and one Senate member. The other House member from the current District 5, Brenda Barton, is running for one of the the new LD-06 House seats. Her voting record is similar to Crandell's. Her tagline is '"An Independent Republican Conservative", with "independent" underlined.
The other Republican running for the House is Some Dude Bob Thorpe, who "resides in the Coconino National Forest near Flagstaff" (!) in an "award winning energy efficient home that was designed and built by Bob and his wife Donna."
I'm guessing that if one of these two makes it in, it'll be Barton.
Two Democrats are running on the inevitably-named "JOBS slate". One is Doug Ballard, of Parks, "Director of Planning and Development for the City of Chandler". Which is quite a commute since Chandler looks like it's about three hours away from Parks.
The other Democrat running is Angela LeFevre, a local activist (i.e., a somewhat more convincing Some Dude) and former board member with "Democrats of the Red Rocks". As CF of Aus pointed out, she's a former DNC delegate.
Interestingly, both Barton and LeFevre have opted out of Arizona's public campaign financing, and "are financing their campaigns through traditional methods". (I think that just means they can "accept contributions from political action committees or from private corporations".)
LeFevre has more than three times as much cash on hand as Barton, who had to move into the new district and who might not have as much of a fundraising base.
It's impossible not to notice that the two Democrats have considerably more professional-looking web pages than the two Republicans, especially Thorpe. Both made Roberts' list of "comers", so they're getting some small amount of attention.
An Unlikely Endorsement:
Tom O'Halleran, who was the Republican State Senator from the current District 1--which you might recall covers a plurality of the new LD-06--before getting primaried out in 2008, has endorsed Chabin, Ballard, and LeFevre:

Breaking with many in his party, former Arizona State Senator Tom O'Halleran (R-Sedona) endorsed Angela LeFevre, Doug Ballard and Rep. Tom Chabin (D-Flagstaff) in the Legislative District 6 races for Arizona House of Representatives and Senate.

Speaking to a crowd of about 50 people at a fundraiser in Cottonwood, O'Halleran said he would do "everything in his power" to see the trio's Republican opponents defeated.
As endorsements go, that's not bad--it's from an unlikely source in an important part of LD-06.
Conclusion:
Arizona's new LD-06 is probably the swingiest open Senate district in the state, and it's hard to imagine Arizona Democrats taking either chamber if they can't do well here. They seem to have a relatively strong pair of House candidates running, and I suspect at least one of Chabin, LeFevre, or Ballard will win this November. (Perhaps LeFevre, with her superior fundraising.) They also might benefit from the fact that two of the three Republican nominees are from the relatively small part of LD-06 that's currently in District 5, and from the endorsement of a moderate former Republican Senator who represented much of the most central part of the district. Cf of Aus has also pointed out that Democratic chances in LD-06 might benefit from Chabin's predecessor Ann Kirkpatrick running for the overlapping Congressional district up the ticket.
Unfortunately for state Democrats, the district seems to be considerably polarized. In particular, I have to assume that all of those red rural precincts will be able to elect at least one House member, and it strikes me as a pretty tough climb in a neutral general election as well. My guess is that all three swing districts stay Republican, at least in the Senate, giving Democrats a 17-13 minority or so.
But anything's possible, and Arizona Democrats have had a level of statewide success in recent memory.
Note: I keep finding more and more problems with my first diary on the Arizona legislature. Now, for example, I'm wondering if the AIRC's numbers include aggregated Corporation Commissioner results in both 2008 and 2010, which screws up the premise of the old diary--and my subsequent premise that I could calculate the 2010 averages by district--even more. My apologies, and I hope my newer diaries on the topic are more useful.