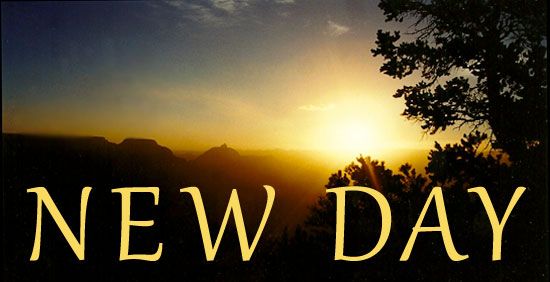 Every day is a new day and with that, a new opportunity.
EVERYONE is welcome and please join us each morning at 7:30 AM PACIFIC
to tell us what you're working on, share your show & tell, vent, whatever you want...
...this is an open thread. Nothing is off topic.
Wow. It's been hilarious listening to the sound bites from Republicans trying to cope with and explain how they lost the election. It's particularly funny hearing what they think the solution is. So many pundits are replying to them with "why didn't you say this before the election???"


Lol.

I thought you would enjoy this question since there are so many choices. So what's my favorite dumb thing a Republican has said since the election?

My favorite is new.

Bobby Jindal called on Republicans to "stop being the stupid party." And then he said a BUNCH of stupid stuff.

[snort]

LMAO.

What's the dumbest thing you've heard from a Republican since the election?




~~~

More Photos Below the fold of a mini-SFKossack event yesterday. It involved beer and food.
Latest Updates on Kossack Regional Meet-Up News Below the Fold
Thanks for recommending our series to promote Kossacks getting together?
You're part of the team by helping us that way.


Please check out the bulleted lists below to see
if there is a group near you to join.
:: COMMUNITY BUILDING UPDATES ::
Let's build communities!

Every region needs a meat-space community like SFKossacks.
We take care of each other in real life.
I urge YOU to take the lead and organize one in your region.
Please tell us about it if you do and we're here for advice.
~
THINK GLOBALLY, ACT LOCALLY


I had lunch with
slksfca
aka Silky yesterday

Here we are with our fish n chips and beer sampler. Now don't freak out. Calm down, ppl. You should be more concerned about the calories from fat in our deep fried heavenly plates.

W O W . . . we did it... [urp!]

It was a glorious 70 degree day in San Francisco. View of the Sutro Baths

Fun and relaxing day, this is Silky enjoying the ocean air
More photos in the comments!
~~~

Saturday, November 10th
Northern California Central Valley Kossacks Potluck Lunch
From Kestrel on tygypsy's event this past Saturday:

Here is a photo of the Central Valley Kossacks taken on Saturday at a Victory Party held at my house in Sacramento. I (Kestrel) was the one taking the photo so I'm not pictured.

We had a great time. It was a perfect fall day, crisp with a bit of nip in the air. Tygpsy brought sausages for the grill and an assortment of beverages, Norm brought a yummy broccoli-cauliflower-cheese casserole, gotmooned and cooper888 brought shrimp cocktail and caesar salad, and mrsgoo brought a homemade blackberry cobbler made from blackberries she picked near her home in the California Delta. Sallycat and Mr. Cat had to cancel at the last minute due to Sallycat catching the flu.

These Central Valley Kossacks enjoyed a fine afternoon of food and drink, sharing victory stories, talking about all the candidates we supported, comparing winning percentages, and laughing at how clueless the right-wing nut-jobs were after drinking their own Kool-aid for so long that they believed they were actually going to win. We drank toasts to Obama and to all our down-ballot Dem victors!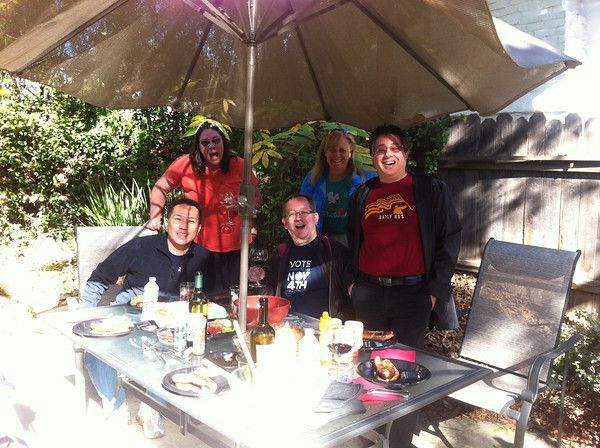 Standing: mrsgoo, tgypsy and norm Seated: gotmooned and cooper888
Awesome, thanks Central Valley Kossacks!
~~~

Sunday, November 11th
CenTex - Austin Area Kossacks MEET-UP
From papa monzano who had his Austin event yesterday:

AUSTIN! thanks Navajo!!
The austin meet-up was a great, if low-key affair. Teknohed, Mrs. Teknohed, myself and my girlfriend were in attendance, but everything starts somewhere, right? ended up running long, in fact.

We decided to make a plan for a monthly meet-up. We'll be focusing on state issues (given the very real changing demographic of texas and the GOTV timing opportunity of the next 3 elections) and framing liberal values for southern libraltarians.

Thanks for teh TODAY! graphics and shout out. Much appreciated!
I was so glad to read this comment. I've said it before and I'll say it again. I've had meet-ups with only one other Kossack before and they've been so worthwhile. It's good for us to connect no matter how small the group. And to quote papa monzano again, "
everything starts somewhere, right
?"
~~~

DailyKos readers who live and/or work in New England
(Connecticut, Maine, Massachusetts, New Hampshire, Rhode Island, and Vermont)
Sunday, November 11th
New England Kossacks MEET-UP Photo diary!
Clytemnestra held her event yesterday and provided a photo diary last night!
Here's just a few of all the photos she provided:

Netop's wife and betson08 who was there to represent Okiciyap, the food pantry program on the Cheyenne River reservation that has been adopted by Daily Kos.
Clytemnestra collected $100 for Okiciyap with only 8 attendees. She's provided a donation widget at her diary where other New England Kossacks can continue to donate until the end of December.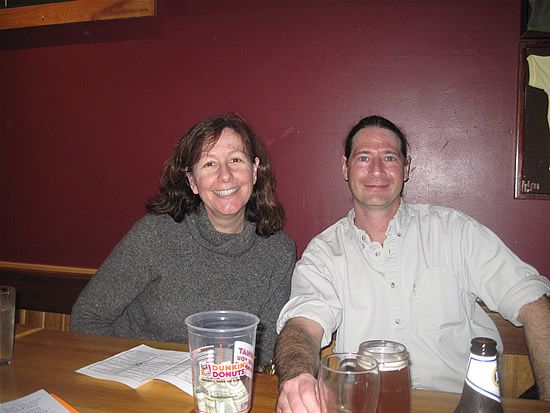 Knockbally and DeathDlr73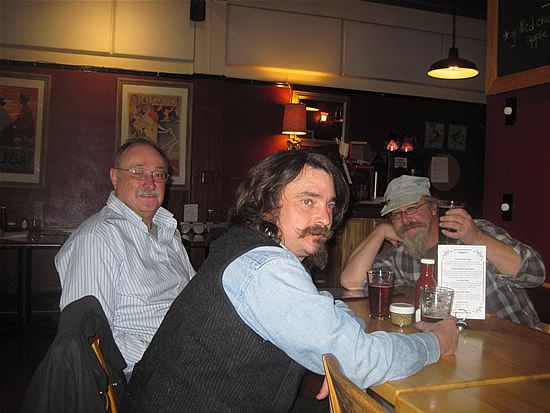 jack 1966, Netop and farmerchuck
Thank you Clytemnestra for organizing this event and thank you for the ongoing fund raising you're doing for Okiciyap.
~~~
>>>Instructions on
HOW TO FORM A NEW DAILY KOS GROUP
NEW GROUPS IN THE PROCESS OF ORGANIZING:


Send a Kosmail to the organizers and ask for an invitation to the group.

• Cleveland and Northeast Ohio Area: Kosmail: GenXangster

• Northern Indiana Area: Kosmail Tim Delaney

• Indianapolis Kossacks: Kosmail CityLightsLover

• Long Island: Kosmail grannycarol

• Northern Michigan: Kosmail JillS

• Nebraska: Kosmail Nebraska68847Dem

• Twin Cities Kossacks: Kosmail imonlylurking

• Westburbia Chicago Kossacks: Kosmail Majordomo

• New York Hudson Valley Kossacks: Kosmail boran2

• Pittsburgh Area Kossacks: Kosmail dweb8231 Current diary: Welcome to Pittsburgh Area Kossacks

Note to the above new leaders: Feel free to leave a comment any day reminding readers about your new group. Also, tell us about your progress in gathering members. Kosmail me when you've chosen a good name for your group and have created a the group. Then I'll move you to the NEW GROUPS LIST. When you've planned a date for your first event I'll make a banner for you to highlight your event in our diaries and your diaries.

~~~
These are the groups that have started since * NEW DAY * began. Please Kosmail navajo if you have started a group before that.
NEW GROUPS LIST:

• California Central Valley Kossacks - Organizer: tgypsy

• New England Kossacks - Organizers:
Clytemnestra for Lower New England (Conneticut, Massachusetts, Rhode Island)
GreenMountainBoy02 for Upper New England (Maine, New Hampshire, Vermont)

• Houston Area Kossacks - Organizer: Chrislove

• Kossacks in India - Organizer: chandu

• CenTex Kossacks - Organizer: papa monzano

• Central Ohio Kossacks - Organizer: VetGrl

• Kansas City Kossacks - Organizer: kj in missouri, Formed Oct 15, 2012

• Phoenix Kossacks - Organizer: arizonablue, Formed Oct 16, 2012

• Chicago Kossacks - Organizer: figbash, Formed: Oct 31, 2012, 23 members!

• Koscadia the Pacific Northwest coast from Northern California to Alaska
- Oganizer: Horace Boothroyd III based in Portland, OR, Formed Oct 17, 2012

• Boston Kossacks - Organizer: GreyHawk, Formed: Nov 7, 2012

• Motor City Kossacks South East Michigan (Detroit) Area - Organizer: peregrine kate, Formed: Nov 10, 2012

~~~
ESTABLISHED GROUPS LIST: (List will grow as we discover them)

• SFKossacks Founded by navajo, Formed: May 2, 2005, More than 80 members

• Maryland Kos Founded by timmyc, Formed: Feb 23, 2011, More than 54 members

• New York City Founded by Eddie C, More than 58 members

• Baja Arizona Kossacks Event Organizer: Azazello, 90 members

• Three Star Kossacks Tennessee, Founded by maryKK, Formed: Apr 8, 2011, 46 members

• Nashville KosKats Founded by ZenTrainer, Formed: Jan 30, 2012, 28 members

• Virginia Kos Founded by JamieG from Md, Formed: May 3, 2011, 85 members

• Kos Georgia Founded by pat208, Formed: Feb 13, 2011, 18 members

• Colorado COmmunity Founded by Leftcandid, Formed: Feb 13, 2011, 25 members

• New Mexico Kossaks Founded by claude, 13 members

• Philly Kos Founded by mconvente, Formed: Aug 29, 2011, 15 members
Currently organizing: Kosmail asterkitty to sign up

~~~
:: Events Currently on the Books for ALL Kossacks ::

Thursday, November 15th

Dave in Northridge in town again, Let's do Lunch!

TIME: 1:00 PM
LOCATION: Cafe Asia at the Asian Art Musuem
200 Larkin Street • San Francisco,
near Civic Center BART

Entrance to the cafe does not require paid admission to the museum. Please ask for a complimentary Cafe/Store pass at the admission desk.

RSVPs:
1. Dave from Northridge
2. navajo
3. dharmasyd
4. jpmassar (maybe)
5. Lorikeet
6. citisven
7. kimoconnor
8. mwk (maybe)
9. side pocket
10. sfbob
~~~

DATE: Friday, November 16th
Baja Arizona Kossacks MEET-UP
TIME: 6:00 PM for tapas and sangria
or A las seis pa' tapas, sangría y flamenco!
LOCATION: Casa Vicente
375 S. Stone Ave,
Tucson

ORGANIZER: Send Azazello a Kosmail to RSVP.

RSVPs:
1. Azazello
2. Mrs. Zello
3. Kid Zello ( photographer)
4. rasbobbo
5. theraindog
6. ItsaMathJoke
7. cosmic debris
8. sneakers563
9. DaNang65
10. LandruBek

11. whataboutbob
12. biscobosco
13. tytalus

Maybees:
Mrs. 563
Dorothy563 (age 2 mo.)
Empty Vessel
Northern Lights
manyamile


Current diary collecting RSVPs: Baja Arizona Kossacks - R.S.V.P.
~~~

DATE: Saturday, November 17th
Motor City Kossacks MEET-UP
TIME: 6:00 PM
LOCATION: TBD

ORGANIZER: Send peregrine kate a Kosmail to RSVP.

RSVPs:
1. peregrine kate
2. ProvokingMeaning
3. gregsullmich
4. Eclectablog
5. jennifree2bme
6. Unit Zero
7. mideedah
8. surelyujest
9. 2thanks
10. The Dave
11. MichiganChet

Maybees:
Neon Vincent & spouse
Brainwrap
DoReMI
Desi
fisheye

Current diary collecting RSVPs: Motor City Kossacks Update on Meet-up: Sat 11/17 6:00 PM (venue in/near Novi still TBD)
~~~

DATE: Saturday, November 17th
Central Ohio Kossacks MEET-UP
TIME: 2:00 PM
LOCATION: Champps Americana Worthington
161 E. Campus View Blvd.
Worthington

ORGANIZER: Send VetGrl a Kosmail to RSVP.

RSVPs:
1. VetGrl
2. lilypew
3. CayceP
4. Ohiodem1
5.

Maybees:
freeport beach PA
anim8sit's extremely cool mom

Current diary collecting RSVPs: Central Ohio Kossacks: MEETUP

~~~
DATE: Saturday, November 17th
Chicago Kossacks MEET-UP
TIME: 1:00 PM
LOCATION: Manny's Deli (Obama's favorite)
1141 S. Jefferson

ORGANIZER: Send figbash a Kosmail to RSVP.

RSVPs:
1. figbash
2. broths
3. bsmechanic
4. Tim DeLaney
5. sfbg
6. Chitown Kev
7. Railfan
8. HotsieHorsie
9. Millie Neon
10. BobboSphere

11. ElfOwl
12. Economanic
13. lilsky
14. discontent73
15. discontent73's friend

Maybees:
Mrs M
marzook and kos friend
Economanic's wife

Current diary collecting RSVPs: Chicago Kossacks Have Arrived
~~~



Saturday, December 1st
OREGON - Portland Area Kossacks MEET-UP

TIME: TBD
LOCATION: Sara R and winglion's home

ORGANIZER: Send Horace Boothroyd III a Kosmail to RSVP.

RSVPs:
1. Horace Boothroyd III
2. Sara R
3. Winglion
4. llbear
5. BlueJessamine
6. navajo
7. loggersbrat

Maybes:
freewayblogger
Lawrence Lewis

~~~

Saturday, December 8th

Daily Kos HQ Holiday Party with SFKossacks!

TIME: TBD
LOCATION: Daily Kos HQ in Berkeley

Attendees may bring a decoration to put on the HQ tree.

Potluck style.

ORGANIZER: Send navajo a Kosmail to RSVP.

RSVPs:
1. Markos Moulitsas and family
2. Susan Gardner and family
3. Will Rockafellow and family
4. Meteor Blades
5. Kaili Joy Gray
6. Faith Gardner
7. navajo
8. side pocket
9. Mrs. side pocket
10. lineatus
11. no way lack of brain
12. Brian82
13. norm
14. citisven
15. Deb (maybe)
16. Glen the Plumber
17. remembrance +TLO™
18. gotmooned
19. Cooper888
20. smileycreek
21. paradise50
22. dharmasyd
23. ceebee7

~~~

Sunday, December 9th
CenTex - Austin Area Kossacks MEET-UP

TIME: Afternoon, TBD
LOCATION: TBD

ORGANIZER: Send papa monzano a Kosmail to RSVP.

RSVPs:
1. papa monzano
2.
3.
4.
5.

Maybes:

Current Diary: Next CenTex Kossack Meeting Dec 9
~~~


DailyKos readers who live and/or work in New England
(Connecticut, Maine, Massachusetts, New Hampshire, Rhode Island, and Vermont)






Saturday, January 12th
New England Kossacks MEET-UP

TIME: 1:00 PM - 4:00 PM
LOCATION: Fire and Ice
One Providence Place
Providence, RI

ORGANIZER: Send Clytemnestra a Kosmail to RSVP.

RSVPs:
1. Clytemnestra
2. AnotherMassachusettsLiberal
3. Knockbally
4.
5.

Maybees:
1. aaraujo
2. gchaucer2
3. Phil S 33

Latest diary: New England Kossacks - January Meet Up
~~~
Send navajo a kosmail if you post a diary about an event so we can update our round-up.

Okay. Floor's open.
Tell us what you are doing on this NEW DAY?