Every day is a new day and with that, a new opportunity.
EVERYONE is welcome and please join us each morning at 7:30 AM PACIFIC
to tell us what you're working on, share your show & tell, vent, whatever you want...
...this is an open thread. Nothing is off topic.
Boujou!
In recognition of the fact that today is (allegedly) Labor Day, this week's edition focuses on the topic of American Indian labor, in multiple senses of that term. Or, in too many instances, the lack thereof — however bad employment numbers are in the rest of the nation, in too much of Indian Country, it's even worse.
Now, I know that there's a tendency to want to focus Labor Day discussions strictly around organized labor, but that's a very small part of the overall picture with regard to workers and work. And that's nowhere more true than in Indian Country. My task today is to deal with what is, and union participation is a vanishingly small part of the working life of most American Indians. There are many reasons for that, from the decline of labor's influence generally to the limitations imposed by tribal sovereignty to cultural influences to a host of other factors, and my task here is manifestly not to privilege dominant-culture worldviews of what the word "labor" means (or should mean) over traditional cultural interpretations — nor over what simply is, via circumstance.
That discussion, which is really just a series of background pieces on American Indian demographic data and economic indicators, including employment, appears in three pieces below the jump.
This week, only one story appears above it.
There's a reason for that: It's a story that's too important to give it short shrift. It, too, is about labor — the labor of indigenous women under circumstances most Americans can't even imagine.
It's the excerpt that I promised yesterday from what will be a much longer piece. And it seems appropriate to lead with it today, because it shows one result of a lack of employment and other prospects, of the sheer immensity of joblessness in Indian Country.
It's a story of forced labor.
FORCED LABOR AND SEXUAL SLAVERY: NATIVE WOMEN FORCED INTO HUMAN TRAFFICKING IN US/CANADA BOUNDARY WATERS
Yesterday, I wrote about the escalating rates of rape and other violence inflicted on Native women in and around the Fort Berthold Reservation in North Dakota — a deadly byproduct of the new colonial invasion of Indian land courtesy of the fracking companies drilling in the Bakken oil shale reserve. I noted then that I would be posting a companion piece here today, one that will be expanded into a full-length diary next Sunday, covering the story of the colonialist trafficking in the bodies and spirits of indigenous women in the shipping lanes separating the U.S. and Canada.
Of course, this one is also an old, old story, and even in its latest incarnation, it's been around for several years now. Unfortunately, it's been mostly women who have done the reporting of it so far. Which means, of course, that it's gotten virtually no attention in the mainstream.
Much as I loathe Bill Maher's casual racism and sexism, his new multimedia project, VICE, has the capacity to change that: A white man is reporting this story now, for an "edgy" media outlet founded and run by another, much more famous white man. The CBC has also now picked up the story. So I'm grabbing this opportunity.
For what?
To bring attention to the fact that our women, our girls — our sisters, our mothers, our daughters — are being sold into the sexual slavery of human trafficking. Right here. In the U.S. and Canada. In the boundary waters separating the two countries, just as they are in the filthy, gritty oilfield towns of the Northern Plains.
Indian women are being raped, beaten, forced into prostitution, and worse — on a daily basis, and in an organized way.
And it has to stop.
In 2011, University of Minnesota-Duluth Master's candidate Christine Stark co-wrote a paper for the Duluth Indian Women's Sexual Assault Coalition on Minnesota's indigenous women being forced into human trafficking [.pdf]. According to VICE reporter Dave Dean:
Through the process of researching and writing this report, Stark kept hearing stories of trafficking in the harbors and on the freighters of Duluth and Thunder Bay. The numerous stories and the gradual realization that this was an issue decades, perhaps centuries, in the making, compelled Stark to delve further into what exactly was taking place.
She found the women. Hundreds of them.

They called them "boat whores."
In an article written for the Minneapolis Star Tribune, Stark describes one disturbing anecdote of an Anishinaabe woman who had just left a shelter after being beaten by her pimp—who was a wealthy, white family man. He paid her bills, rent, and the essentials for her children, but on weekends, "brought up other white men from the cities for prostitution with Native women… he had her role play the racist 'Indian maiden and European colonizer' myth with him during sex."
I had to stop reading at that point. Just for a while.

When I picked up where I left off, i learned that the trade in sexual slavery is no longer confined to adult indigenous women; young Native girls and boys, and even babies, are reportedly being sold as sexual commodities to be "owned," however briefly, and used.

Kezia Picard, the director of policy and research for the Ontario Native Women's Association [ONWA], notes that her organization has long received anecdotal reports of such human trafficking.
"The reason that indigenous women and girls are sometimes trafficked has to do with all of these ongoing issues like poverty," she said. "Another one of the large risk factors for indigenous women and girls is the lack of housing ... women will sometimes engage in survival sex, not of their choice, in order to have somewhere to live."
Let's be clear: "Survival sex" is not consensual. Not in the slightest. It's the unspeakable lack of options that women have been forced throughout history to endure just to stay alive long enough to try to get out. But it's not a "choice" in any accepted sense of the the term that involves agency, autonomy, sovereignty. And it's not consent to the brutality inflicted on these women (to say nothing of the children, who by definition cannot consent).

And it has to stop.

Not one more woman.

Not one more girl.

Not one more child.


More "This Week In American Indian News" and Latest Updates on Kossack Regional Meet-Up News Below the Frybead Thingey
ECONOMIC INDICATORS FOR AMERICAN INDIANS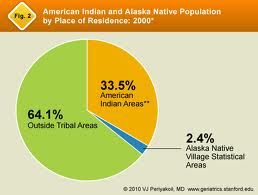 Generally speaking, economic indicators for American Indians tend to be far lower than for most other populations. This remains true even when factoring relatively wealthy tribal nations, such as the Mashantucket Pequot or many of the Oklahoma tribes, into the equation — which is itself an indicator of just how economically depressed certain tribes are.
Please note: Economic poverty does not equal cultural poverty. Some of our nations with the least financial resources have nonetheless maintained some of the richest cultural, linguistic, and spiritual traditions.
Indicators come from the latest updates to the U.S. Census, from 2010 and 2011:
5.1 million Americans are American Indian or Alaska Native in whole or in part, comprising 1.6% of the total population.

There are 566 federally recognized tribes in the U.S.

There are 324 reservations in the U.S., which are included in the larger total of 617 "American Indian or Alaska Native areas."

22% of American Indians or Alaska Natives lived in such designated "areas" in 2010.

Of American Indian or Alaska Native persons, 26.2% work in the arts, business, management, or science fields; 24.8% work in service occupations; 22.8% work in sales and "office occupations."

The median household income for American Indians and Alaska Natives is $35,192 — a level more than $15,000 per year lower than for the country as a whole, at $50,502.

27.6% of American Indians and Alaska Natives lack health insurance, compared to 15.1% of the country as a whole.



Indian Country Today Media Network has summarized the 2011 figures from the the Bureau of Labor Statistics:

While the national unemployment rate was 8.9%, for American Indians, it was 14.6% (or one in seven), surpassed only by the unemployment rate of African Americans, at 15.8%.

The percentage of American Indians who were a part of the national labor force was the lowest of any ethnic group, at 59.2%, a drop of 5.2% in just eight years (white Americans were second-highest, at 64.5%; Native Hawaiians were the highest, at 69.4%).

Percentage of ethnic population classified as "employed" was likewise lowest for American Indians, at 50.5% (59.9% for whites; 62.2% for Native Hawaiians).

Unemployment rates were 13.7% for American Indian women, and 15.4% for their male counterparts.
When compared to other ethnic groups and the overall population, American Indians continue to face greater challenges in rates of employment.
I have found no reliable data on American Indian rates of membership in labor unions; I suspect that it is negligible in most areas.

AMERICAN INDIANS BEAR DISPARATE IMPACT OF THE
GREAT RECESSION OF 2007-2009

As bad as the Great Recession (the period from 2007 to 2009 brought to you by one George W. Bush) was for the country as a whole, it has had deeper and more lasting negative effects on certain segments of the population. Predictably, one of those segments is American Indians.
While American Indians tend to concentrate in states with the nation's lowest unemployment rates since the start of the recession -- Alaska and the Northern Plains – these regions have among the highest rates of joblessness for American Indians.
Oh, the irony.

In my diary yesterday on violence against Native women in the Bakken oil shale reserve, I noted that North Dakota has both the lowest unemployment rate and the fastest-growing economy of any state in the nation. Unfortunately, those are benefits reserved to the outsiders who are colonizing reservation lands and lives at an alarming rate; the Indians who live there are on the receiving end of increasingly high rates of violence, including rape.

It gets worse:
According to a study from the Economic Policy Institute, a Washington D.C.-based think-tank, from the first half of 2007 to the first half of 2010, the national joblessness rate among American Indians unemployment rate more than doubled from 7.5 percent to 15.2 percent. By comparison, the jobless rate for whites rose from 4.1 percent to 9.1 percent over that period.

. . .

By the first half of 2010, the unemployment rate for Alaska Natives jumped 6.3 percentage points to 21.3 percent—the highest regional unemployment rate for American Indians.

Since the start of the recession, American Indians in the Midwest experienced the greatest increase in unemployment, growing by 10.3 percentage points to 19.3 percent.

By the first half of this year, slightly more than half -- 51.5 percent of American Indians nationally were working, down from 58.3 percent in the first half of 2007.

In the first half of this year, only 44 percent of American Indians in the Northern Plains were working, the worst employment rate for Native Americans regionally. The true numbers are likely to be even worse, EPI warns.
The bad news is echoed at the local level in a report published last year by the UCLA American Indian Studies center for the Los Angeles Urban Indian Roundtable [.pdf].

Authors Paul M. Ong and Jonathan D. Ong found:
The poverty rate is one of the most significant indicators of socioeconomic status, measuring the population without adequate income. For a family of four with two children the poverty income threshold was $22,811 in 2011. During this period, the rate for AIANs [American Indians/Alaska Natives] disproportionately increased far more than for the total population. The poverty rate rose by 7.8 percentage points (15.2% versus 23.0%) for AIANs between the two time periods, whereas it increased by only 1.6 percentage points (8.0% versus 9.6%) for NHWs [non-Hispanic whites] and 1.8 percentage points (15.4% versus 17.2%) overall for the total population During the latter period, nearly one in four AIANs was below the federal poverty level.

AIAN earnings and per capita income, both reported in constant dollars, fell more in absolute dollars and in relative terms, thus increasing the gap between AIANs and NHWs, as well as the rest of the population. Median AIAN earnings fell by 9.1% or nearly $2,600 between the two periods. By comparison, earnings fell by 5.3% or about $2,400 for NHWs and 3.8% or about $1,100 for the total working population. Per capita income fell 14% for AIANs between the two time periods, whereas it declined by only 3% for NHWs and 4% overall for the total population. In absolute dollars, per capita income fell by about $3,600 for AIANs, compared with a decline of more than $1,300 for NHWs and less than $1,100 for the total population.
As the authors note, what this means is that for a population already lagging behind other ethnic groups in economic indicators, it will be even harder to climb out of the deeper financial hole the recession has caused.

Oh, and one notable little fact about the report by the Ongs? It analyzes a population of urban Indians.

Which means that the heightened negative effects of the recession are not confined to American Indian populations living on reservations.


AT LEAST 15 TRIBAL NATIONS HAVE UNEMPLOYMENT RATES
OF MORE THAN 80 PERCENT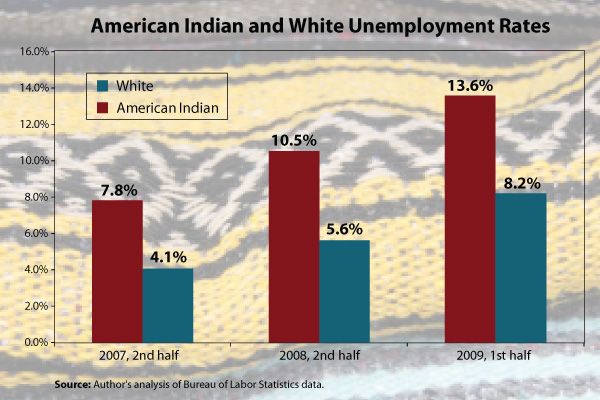 Yes, you read that correctly. Not employment rates; UNemployment rates. Greater than 80%.
Indian Country Today Media Network compiled these statistics based on the BIA's most recent American Indian Population and Labor Force Report — released in 2007, based on 2005 numbers. The BIA allegedly has an updated report in the works for the 2013 fiscal year. In light of Interior's refusal to release its updated Tribal Jobs Survey on grounds not fully explained, whether the new report will actually see the light of day remains an open question.
Without further ado, the 15 tribal nations and their rates of unemployment, from worst to . . . well, slightly less abysmal:
Sokaogon Chippewa community; 93%;

Pechanga Band of Luiseño Indians; 91%;

Oglala Sioux Tribe of Pine Ridge; 89%;

Cheyenne River Sioux Tribe; 88%;

Apache Tribe of Oklahoma; 87%;

Standing Rock Sioux Tribe; 86%;

Little Traverse Bay Band of Odawa; 86%;

Round Valley Indian Tribes; 86%;

Eastern Shoshone Tribe of Wind River; 86%;

Rosebud Sioux Tribe; 83%;

Walker River Paiute Tribe; 83%;

Winnebago Tribe; 82%;

Puyallup Tribe of Coastal Salish; 82%;

Bad River Band of Lake Superior Chippewa; 81%; and

Shoshone-Bannock Tribes of Fort Hall; 81%.
Interestingly, we've covered the situations of many of these tribes, both here in New Day and on the larger site for Native American Netroots. We've raised funds for propane fuel and heaters for Pine Ridge and Rosebud; we've donated to the Okiciyap food pantry (including the DK Quilt Guild's quilt auction) at Cheyenne River. I wrote about the environmental and other problems facing Wind River only last week. This spring, I covered the Bad River Band's battle with Gogebic Taconite, the mining conglomerate doing its best to destroy the tribe's watershed. And in one bright spot, I covered the Little Traverse Band of Odawa's decision to legalize marriage equality.
I doubt that it's an accident that tribal nations facing such ruinous rates of unemployment are likewise facing assaults on multiple fronts.


Chi miigwech.

:: COMMUNITY BUILDING UPDATES ::
Let's build communities!

Every region needs a meatspace community like SFKossacks.
We take care of each other in real life.
I urge YOU to take the lead and organize one in your region.
Please tell us about it if you do and we're here for advice.
•
THINK GLOBALLY, ACT LOCALLY
>>>Instructions on
HOW TO FORM A NEW DAILY KOS GROUP
NEW GROUPS IN THE PROCESS OF ORGANIZING:


Send a Kosmail to the organizers and ask for an invitation to the group.

• Northern Indiana Area: Kosmail Tim Delaney

• Long Island: Kosmail grannycarol

• Northern Michigan: Kosmail JillS

• Nebraska: Kosmail Nebraska68847Dem

• Westburbia Chicago Kossacks: Kosmail Majordomo

• New York Hudson Valley Kossacks: Kosmail boran2

• North Carolina Triangle Kossacks: Kosmail highacidity

• Caprock Kossacks (Panhandle/Caprock/Lubbock/Amarillo area) : Kosmail shesaid

• West Texas Kossacks (including Big Bend Region and El Paso) : Kosmail Yo Bubba

Note to the above new leaders: Feel free to leave a comment any day reminding readers about your new group. Also, tell us about your progress in gathering members. Kosmail me when you've chosen a good name for your group and have created a the group. Then I'll move you to the NEW GROUPS LIST. When you've planned a date for your first event I'll make a banner for you to highlight your event in our diaries and your diaries.
These are the groups that have started since * NEW DAY * began. Please Kosmail navajo if you have started a group before that.
NEW GROUPS LIST:

• California Central Valley Kossacks - Formed: Jul 29, 2012, Organizer: tgypsy

• New England Kossacks - Formed: Aug 6, 2012, Organizers:
Clytemnestra for Lower New England (Conneticut, Massachusetts, Rhode Island)
nhox42 for Upper New England (Maine, New Hampshire, Vermont)

• Houston Area Kossacks - Formed: Aug 7, 2012, Organizer: Chrislove

• Kossacks in India - Formed: Aug 14, 2012, Organizer: chandu

• CenTex Kossacks - Formed: Sep 9, 2012, Organizer: papa monzano

• Central Ohio Kossacks - Formed: Sep 26, 2012, Organizer: VetGrl

• Kansas City Kossacks - Formed Oct 15, 2012, Organizer: [Founder stepped down]

• Phoenix Kossacks - Formed Oct 16, 2012, Organizer: arizonablue

• Chicago Kossacks - Formed: Oct 31, 2012, Organizer: figbash

• Koscadia the Pacific Northwest coast from Northern California to Alaska
- Formed Oct 17, 2012, Oganizer: Horace Boothroyd III based in Portland, OR

• Boston Kossacks - Formed: Nov 7, 2012, Organizer: GreyHawk

• Motor City Kossacks South East Michigan (Detroit) Area - Formed: Nov 10, 2012, Organizer: peregrine kate

• Pittsburgh Area Kossacks - Formed: Nov 12, 2012, Organizer: dweb8231

• Salt Lake City Kossacks - Formed: Nov 17, 2012, Organizer: War on Error

• Twin Cities Kossacks - Formed: Nov 17, 2012, Organizer: imonlylurking

• Dallas Kossacks North Texas - Formed: Nov 21, 2012, Admins: Catte Nappe and dalfireplug. Please contact them to join the group. An Event Organizer needed.

• The Southern California Inland Empire Kossacks - Formed: Dec 3, 2012, Organizer: SoCaliana

• Los Angeles Kossacks - Formed: Dec 17, 2012, Organizer: Dave in Northridge

• Northeast Ohio Kossacks - Formed: Jan 16, 2013, Organizer: GenXangster

• Kansas & Missouri Kossacks - Formed: Jan 17, 2013, Organizer: tmservo433

• I-77 Carolina Kossacks who live from Columbia, SC to north of Winston-Salem, NC. - Formed: Jan 30, 2013, Organizers: gulfgal98 and eeff

• Indianapolis Kossacks - Formed: Feb 6, 2013, Organizer: CityLightsLover

• Southwest Ohio Kossacks - Formed: May 10, 2013, Organizer: Dr Erich Bloodaxe RN

• Northern Arizona Kossacks - Formed: Jul 5, 2013, Organizer: Sam Sara

• Mexican Kossacks - Formed: Apr 14, 2013, Organizer: roberb7
ESTABLISHED GROUPS LIST: (List will grow as we discover them)

• SFKossacks Founded by navajo, Formed: May 2, 2005

• Maryland Kos Founded by timmyc, Formed: Feb 23, 2011. Contact: JamieG from Md for a group invite.

• New York City Founded by Eddie C - Contact the group organizer for meet-up events: sidnora

• Baja Arizona Kossacks, Event Organizer: Azazello

• Three Star Kossacks Tennessee, Founded by maryKK, Formed: Apr 8, 2011

• Nashville KosKats, Founded by ZenTrainer Formed: Jan 30, 2012

• Virginia Kos Founded by JamieG from Md, Formed: May 3, 2011

• Kos Georgia Founded by pat208, Formed: Feb 13, 2011

• Colorado COmmunity Founded by Leftcandid, Formed: Feb 13, 2011

• New Mexico Kossaks Founded by claude

• Philly Kos Founded by mconvente Formed: Aug 29, 2011

• DKos Florida Founded by ThirstyGator, Formed: Feb 14, 2011, Currently organizing: Kosmail Vetwife to be included in next event.

• Oklahoma Roundup Founded by BigOkie, Formed: Feb 13, 2011, Currently organizing: Kosmail peacearena to be included.

• DKos Asheville Founded by davehouck, Formed: Feb 13, 2011 - Organizing Assist by: randallt
:: Events Currently on the Books for ALL Kossacks ::

Sunday, Sept 15th

Chicago Kossacks Meet-up at a Powwow!

TIME: 11:30 AM
LOCATION: Chicago's 60th Annual American Indian Center Powwow
Busse Woods Forest Preserve • Elk Grove Village

ORGANIZER: Send figbash a kosmail to attend.

RSVPs:
1. figbash
2. broths
3. Mr. broths
4. Satya1
5. Liberal Granny
6. Railfan
7. Expat Okie
8. LeftOfYou

Maybees:
peregrine kate
palantir
edwardssl
Millie Neon


Latest diary: Chicago Kossacks Go To A Powwow: Sunday, Sept 15 2013





DeKalb, Illinois Kossacks




Saturday, September 21st

DeKalb, Illinois Kossacks Dinner & a Show!

DINNER:
TIME: 6:00 PM
LOCATION: Rosita's Mexican Restaurant
642 East Lincoln Highway • DeKalb

SHOW:
TIME: 7:30 PM
LOCATION: The Stage Coach Players Theater
126 South 5th Street (2 blks. from dinner) • DeKalb

ORGANIZER: Send NormAl1792 a kosmail to attend.

RSVPs:
1. NormAl1792 (on stage as Henry II)
2. winifred3
3. luvsathoroughbred
4. Mr. luvs
5. Amber6541

Maybees:
1864 House
edwardssl
jwinIL14
JeffW
Calamity Jean


Latest diary: Northern IL Kossacks Dinner and a Show - Saturday, Sept. 21




Saturday, September 28th

Indianapolis Kossacks First Ever Meet-up

TIME: 2:00 PM
LOCATION: Shapiro's Deli
808 S Meridian • Downtown Indianapolis

ORGANIZER: Send CityLightsLover a kosmail to attend.

RSVPs:
1. CityLightsLover
2. annan
3. Mokuar
4. Alexandra Lynch

Maybees:

Latest diary: [Waiting for linked diary]

Saturday, October 19th

DKos Asheville Kossacks Meet-up

TIME: 1:00 PM
LOCATION: The Bywater
796 Riverside Dr. • Asheville

ORGANIZER: Send randallt a kosmail to attend.

RSVPs:
1. randallt
2. davehouck
3. Joieau
4. Gordon20024
5. gulfgal98
6. DawnN
7. Sandy on Signal
8. Mr Sandy on Signal
9. Munchkin
10. Alecia
11. Mr Alecia
12. cultjake
13. flwrightman

Maybees:
Otteray Scribe
Burns Lass
people power granny
One Pissed Off Liberal
Christian Dem in NC
SteelerGrrl
SteelerGuy
polecat
Audri
Phil S 33


Latest diary: DKos Asheville - Weekly Open Thread




Sunday, October 20th

MEGA Philly/NJ/NYC Kossacks Meet-up!

TIME: Noon
LOCATION: Stuff Yer Face
49 Easton Avenue • New Brunswick, NJ

ORGANIZER: Send mconvente a kosmail to attend.

RSVPs:
1. mconvente
2. belinda ridgewood
3. thankgodforairamerica
4. gchaucer2
5. sidnora
6. rubyr
7. mattc129
8. hayden
9. mallyroyal
10. Avilyn
11. blue jersey mom
12. ericlewis0

Maybees:
aravir and son
ask
Cinnamon
No Exit
andgarden
asterkitty
pfiore8
joanneleon
renzo capetti


Latest diary: Philly/NJ/NYC Mega Meetup! Initial Information & Interest Diary





Friday, October 25th

LAKossacks & SoCal Inland Empire See Lewis Black!

TIME: 9:00 PM
LOCATION: Agua Caliente Casino Resort & Spa
32-250 Bob Hope Dr. • Rancho Mirage

ORGANIZER: Send 714day a kosmail to attend.

RSVPs:
1. 714day
2. jakedog42
3. susans
4. Otoelbc

Maybees:
Shockwave
SoCaliana


Latest diary: L.A. Kossacks, Lewis Black Fans in So Cal

Friday, October 25th

Meet the Daily Kos Editorial Staff!

TIME: TBD in the PM
LOCATION: Daily Kos HQ
Address given privately to RSVP'ers • Berkeley

ORGANIZER: Send navajo a kosmail to attend.
You will need to bring Potluck. Stay tuned for assignments.

RSVPs:
1. Markos
2. Susan Gardner
3. Meteor Blades
4. Faith Gardner
5. Will Rockafellow
and many more staff... stay tuned
6. navajo
7. Lusty
8. side pocket
9. paradise50
10. smileycreek
11. citisven
12. norm
13. Lorikeet
14. kimoconnor
15. remembrance +TLO?
16. Glen the Plumber
17. madhaus
18. dharmasyd
19. ceebee7
20. lineatus
21. Dave in Northridge
22. linkage
23. LinSea
24. Shockwave

Maybees:
Cedwyn
LaughingPlanet


Saturday, November 2nd

SFKossacks BBQ in the Wine Country

TIME: TBD
LOCATION: Andrew McGuire's home in the Wine Country
Address to be given privately to RSVPs • Windsor

ORGANIZER: Send navajo a kosmail to attend.


Andrew McGuire is Executive Director of California One Care

RSVPs:
1. Andrew McGuire
2. navajo
3. Shockwave
4. Hunter
5. elfing
6. Hunter/elfling offspring
7. smileycreek
8. paradise50
9. dharmasyd
10. maggiejean
11. norm
12. Lusty
13. dksbook
14. Mr. dksbook

15. kimoconnor
16. jpmassar
17. side pocket
18. Mrs. side pocket
19. ceebee7
20. ceebee7's sister
21. leema (will carpool from Marin)
22. Meteor Blades

Maybees:
Glen The Plumber
remembrance
TLO™

Send navajo a kosmail if you post a diary about an event so we can update our round-up.

Okay. Floor's open.
Tell us what you are doing on this NEW DAY?