Every week Daily Kos diarists write dozens of environmentally related posts. Many don't get the readership they deserve. Helping improve the odds is the motivation behind the Green Diary Rescue. In the past seven years, there have been 241 of these spotlighting more than 13,674 eco-diaries. Below are categorized links and excerpts to 91 more that appeared in the past seven days. That makes for lots of good reading during the spare moments of your weekend. [Disclaimer: Inclusion of a diary in the rescue does not necessarily indicate my agreement with or endorsement of it.]
Green Diaries of the Week
The "Hummingbird" diaries get the thumbs-up this week. The climate-oriented series of diaries was initiated and coordinated by Patriot Daily News Clearinghouse and brought to life by 19 diarists who looked at an entire range of issues related to what Green Diary Rescue calls climate chaos. What made the series sing for me was the affirmative focus of so many diarists. Yes, we face a tough future as a consequence of our profligate use of fossil fuels. Not least because those who profit from this profligacy don't want to stop profiting. The transition is going to be difficult, our kids and grandkids and their kids and grandkids will bear the brunt of the change.
But I am confident that despite the hardships, despite the stubborn resistance to needed policy changes by some of the powers-that-be and to the needed life-style changes of those of us lucky to affluent, we will do what is needed to survive, to adapt and to thrive. I am confident because of the determined look on a little girl's face, the youngest registered Kossack, an activist already, TheLittleOne. Serious, determined and obviously unwilling to surrender to despair over what is arguably the biggest crisis humans have ever faced. If you only have time to read a single diary in this series, read hers: Make the World a Better Place.
••• •• •••

The Tesla in an earlier incarnation.
* New Day * — Did you know there were Electric Cars in 1904?
—by
paradise50
: "Did you know electric cars were made in Denver in 1904? Oliver Fritchle made them. He was born and raised in Ohio...moved to Denver then made his cars. At the time the majority of cars in the USA were electric...followed by steam engine cars. Gasoline engine cars were a distant third. [...] He invented regenerative braking which uses the force of breaking to make electricity for the batteries (like Prius cars do now...nothing new) and he invented the hybrid drive train...a technology that is now back in vogue in the new hybrid cars of today (again, nothing new). The bottom line is Fritchle's electric vehicles were every bit as good as the new modern vehicles (without GPS, sound systems and AC of course) in terms of distance they went on a single charge. The reason is the
new modern electric vehicles all use his inventions.
The truth is they use the innovations Fritchle created and used in his electric and hybrid cars more than a century ago with some upgrades of course. Cars today are much larger and have lots of electric gadgets."
••• •• •••
Below the fold are the rest of this week's rescued green diaries.

Trade, Migration & Miscellany
Hummingbirds: Está cabrón...inheriting bitter grapes of a betrayed climate—by catilinus: "Small towns in Mexico do as small towns the world over have always done, relying on word of mouth for much of their understanding of life and work in distant lands. Different geographical areas of the U.S. are judged by neighbors who've worked there in terms of work availibility, pay and associated risks. In the towns I personally know in Mexico farm labor work in the U.S. has now a very bad rep. People have seen the effects on their neighbors who've done it. Folks from many other towns in Mexico (and elsewhere) still migrate here to work in the fields, but their children and grandchildren won't. Climate change is aggravating an already too deadly and dangerous path to/in/and from the U.S. fields."
Hummingbirds: Native Villages Forced To Relocate Due To Climate Change Impacts—by Patriot Daily News Clearinghouse: "Most of 180 out of 200 coastal Alaska Native Villages are hurt by flooding and erosion. Thirty Native locales must relocate their entire villages due to climate change. However, few qualify for federal assistance, according to a 2003 government report. 'The key programs that construct projects to prevent and control flooding and erosion are administered by the [U.S. Army Corps of Engineers] and NRCS [Department of Agriculture's Natural Resources Conservation Service]. However, Alaska Native villages have difficulty qualifying for assistance under some of these programs—largely because of program requirements that the economic costs of the project not exceed its economic benefits.' That is, 'many of these villages are not developed to the extent that the value of their infrastructure is high enough to equal the cost of a proposed erosion or flood control project.'"
That little speck ... That is Earth—by jamess: "This image was taken by NASA's Cassini spacecraft, which is in orbit around Saturn. Note the bright spot in the bottom right corner of the picture. That little speck is Earth.. Kind of makes one think, doesn't it?"
Home is that little dot on the right.
Hummingbirds -Plant for the Planet
—by
John Crapper
: "Eighty young students from 13 schools attended the first Plant-for-the-Planet Academy on the west coast on May 24th 2013 in Seattle, Washington. Five brave students presented. The deputy mayor listened closely and commented it was the best climate presentation he had ever seen. Many students promised to make presentations at their schools. Others planned to write letters to the governor. On July 9, 2013, a team of new Climate Justice Ambassadors addressed Seattle's Energy and Environment Committee [...] Michael Foster was the person responsible for all this happening. Every day he accomplishes more. He's a hummingbird."
The global corporate power grab you hear nothing about because it's being decided in secret—by VL Baker: "While we are distracted with the possibility of another war and the global climate making the earth uninhabitable for future generations, we can be excused for not paying attention to ongoing secret negotiations for a global treaty which could have an effect on our everyday lives and negatively impact our environment even further. I'm talking about the Trans-Pacific Partnership (TPP) which the U.S. is currently negotiating with Australia, Brunei, Canada, Chile, Japan, Malaysia, Mexico, New Zealand, Peru, Singapore and Vietnam. The Sierra Club and a diverse coalition of allies are concerned about the lack of transparency in the TPP negotiations and what that secrecy means. They feel that the secret discussions taking place on the trade deal undermines not only our environmental goals, but also our hopes for working people, family farmers and the potential for sustainable development."
You'll eat chicken processed in China and you won't even know it—by VL Baker: "The U.S. Department of Agriculture has approved four plants in China to process chicken for export to the United States. 'As all outstanding issues have been resolved, [China] may proceed with certifying a list of poultry processing establishments as meeting [Food Safety and Inspection Service] requirements,' says a letter signed by Andreas Keller, director of international equivalence staff. The New York Times is saying that consumers will not be able to identity the origin of their chicken product."
the outsourcing of US domestic fisheries—by tharu1: "In my job as a research fishery biologist, I work closely with the Hawaii commercial fishing industry. This industry is dominated by pelagic longline vessels that target tuna and related species for both the U.S. and global markets. The vessels are all U.S. flagged and the captains are all U.S. citizens as the Jones Act dictates, but the crew is almost always outsourced to foreign labor-- which should violate the Jones Act."
Australia elects climate denier Prime Minister—by VL Baker: "Some extremely sad news coming from Australia: Australia's newly elected prime minister Tony Abbott is a climate change denier who's pledged to repeal the country's carbon tax and generally push the country to the far right. The election has major implications for the coal and mining industries, Australia's conservative Liberal-National coalition topped the ruling Labor party."
Australian Greens lose ground in Australian Federal Election—by BruceMcF.
Climate Chaos
By all means, do not offend the Climate Skeptics—by jamess: "The U.N. Intergovernmental Panel on Climate Change is going out of its way to keep its latest dire warnings as moderate as possible. Can't offend the skeptics with wild predictions of unproven computer models, can they? In one case, they discount the "outlier" number of "five feet" sea rise. In another case, they cling to the "outlier" number instead of the more likely "five degrees F" temperature rise (by century's end). Oh those crazy scientists, bending over backwards to make Climate Change 'more palatable' to the critics."

Some Shorelines from the Pliocene
—by
jamess
: "Well here's a little geo-history, which may repeat itself if we smile and nod, and let its warning go unheeded. In one of the Earth's ancient warming episodes sea levels rose by as much as 65 feet as one of Antarctica's large ice sheets melted, scientists say. Researchers from Imperial College London and colleagues studying mud samples to learn about ancient melting of the East Antarctic ice sheet found melting took place repeatedly between 5 million and 3 million years ago, during a geological period called Pliocene Epoch, and pushed up global sea levels. [...] 'The Pliocene Epoch had temperatures that were two or three degrees higher [2°C to 3°C ] than today and similar atmospheric carbon dioxide levels to today,' Tina Van De Flierdt of the college's Department of Earth Science and Engineering said.[...]"
Hummingbirds: Majuro declaration on climate change will determine every child's future—by Kelly Rigg: "Australia, New Zealand and the heads of state of 13 other Pacific states this week called for the phase-out of greenhouse gas pollution and acknowledged current efforts to tackle climate change are insufficient. The Majuro declaration for Climate Leadership is surprisingly strong considering these types of documents are usually intent on satisfying the least ambitious parties—Australia and New Zealand, in this case. But the text, adopted at the 44th Pacific Island Forum, appeals for urgent action, commits all signatories to be 'climate leaders' and calls for an energy revolution. [...] In essence, the agreement reframes the 'I won't move till you move first' stance we've come to expect at the United Nations climate negotiations, to one of 'I'm moving ahead and I invite you to move with me.' Given that many countries are doing more at home than what they are prepared to commit to in the context of the negotiations, this kind of approach could be a game changer."
Hummingbirds: How Climate Change is Plundering Florida's Treasures—by JaxDem: "Everglades National Park: This largest subtropical wilderness in the U.S. contain lands protected within the park which are the habitat of some rare and endangered species such as the manatee, American crocodile and Florida panther. The marshes with their grasses and exotic plants like the white water lily are home to more than 100 marsh species. Tree islands with their bay, willow and cypress provide a home to many mammals and wading and migratory bird rookeries. The humid environment is ideal for orchids, bromeliads and ferns of breathtaking beauty. Some 350 bird species have been identified in Everglades like the Snail Kite which survives solely on the apple snail; the Wood Stork, Tricolored Herons, Snowy and Great Egrets are the most endangered Already we have seen mangroves that line the Everglades migrating landward in response to coastal saltwater intrusion. Without a productive mangrove ecosystem saltwater will move inland and result in a loss of freshwater habitat. With average temperatures rising many bird species will lose their food sources. Migrations have been initiated earlier than normal which in turn impacts breeding habits. A Comprehensive Everglades Restoration Plan (CERP) was approved in 2000 to restore, protect and preserve the dying ecosystem. At a committee meeting in April, one of the partners in CERP and 'Hummingbird In Action,' Eric Bush of the U.S. Army Corps of Engineers said that CERP did not take climate change into account when it was created. He emphasized the importance of morphing the restoration plan into an 'adaptation plan' for climate change."
Hummingbirds: The Great Lakes, Our Water Wonderland, Face Grave Threats from Climate Change—by peregrine kate: "Those of us resident in the upper Midwest/Great Lakes region may well recall how strange and disruptive the weather was last year, during the winter and spring of 2012. We had moderate drought conditions throughout the state, following several years of below-normal precipitation. In the UP, an unusually warm and dry spring produced conditions suitable for a fire, and some lightning did the rest. In the southern part of the state last spring, the biggest effects were felt by the orchardists and those who love their Michigan fruit. In March, we had unseasonably warm temperatures, several days in the 80s. Naturally, the trees responded to the warmth by budding; just as naturally, those high temps didn't last, and the heavy frosts that followed killed off almost all the tree fruit crop across the state for the entire season. No cherries to speak of, especially not tart ones; no local peaches, pears, plums or apricots; few apples. For a state as heavily agricultural as Michigan—we're #1 in tart cherries, #3 in apples nationwide—this was a big blow. Most orchards lost 90% of their crops, with little if any insurance to help tide them over. Seventy-two (out of 83) counties were eventually declared disaster areas, which permitted the growers to apply for low-interest federal loans. Estimated loss to the growers started at $225 million; most years the apple crop production and marketing cycle alone adds as much as $900 million to the state's economy."
Bill McKibben: Hummingbirds: Fires Burning Across History—by Bill McKibben via boatsie: "Scientists expect the burned-over area to double in coming decades as the temperature keeps warming. But already it should be enough to make us take notice. "How glorious the shining after the short summer showers and after frosty nights when the morning sunbeams are pouring through the crystals on the grass and pine needles, and how ineffably spiritually fine is the morning-glow on the mountain-tops and the alpenglow of evening. Well may the Sierra be named, not the Snowy Range, but the Range of Light." May the flames of the Rim Fire help cast some Light on our predicament, so that we act as boldly as Muir in his time!"
IPCC5 is Designed to Fail: Erring Towards Climate Disaster—by FishOutofWater: "The United Nations' Intergovernmental Panel on Climate Change is rejecting the worst case calculations of the effects of climate change such as sea level rise, while embracing the best case calculations of the amount of warming that will be caused by human emissions of greenhouse gases. This is the same rosy scenario approach that Japanese regulators took when they approved the siting and design of the Fukushima Daiichi nuclear power plants. A New York Times review of the final draft IPCC5 report reveals that the U.N. is planning to taking the reckless approach of lowballing both the risk and consequences of climate change."
Fall Climate Change Preview—by Marcia G Yerman: "Air pollution has been identified as being globally responsible for 2.5 million deaths per year. Those most vulnerable to air pollution are babies, children, seniors, and those with pulmonary and heart disease. When air visibility is less than one mile, it becomes unhealthy to be outdoors. Air pollution is linked to poor birth results. It has been reported that air pollution from fracking is rising. Even Fox News had a story reporting that a Canadian study pegged an increase in burst appendixes to elevated amounts of ozone in the air. Cities are particularly hard hit. Based on particle pollution stats, Philadelphia is the 11th worst location in the nation."
Courageous Climate Scientist Beats the Hoaxers Again—by LeftOfYou: "Discovery is totally to the advantage of Dr. Mann and against the interests of the National Review and its minions. Because it is scientific work, Dr. Mann's work is an open book which has survived every challenge and investigation attacking it by the climate change denial community, including the National Review. Dr. Mann has nothing to hide. [...] Dr. Mann has been a poster boy for powerful right wing voices denying anthropogenic climate warming, which have attacked his scientific work, without success, from a number of directions. Now, Dr. Mann and his legal team have the chance to pry open the dark and murky recesses from which what passes for right wing thinking emerges. It won't be pretty."
Michael Mann Can Sue Right Wing Blogs For Calling Him "Jerry Sandusky of Climate Science"—by Heavy Mettle: "A judge has ruled last week that well-known climate scientist Michael Mann may proceed with his libel suit of two right-wing blogs who compared him to Penn State's convicted child molester Jerry Sandusky. The blogs referenced the manufactured email scandal 'Climategate' which rightwingers love to point to as evidence that climate change is a hoax. The case stems from two separate blog posts that ran in July of 2012. The first appeared on the web site OpenMarket.org and was then quoted approvingly at length in the online version of the conservative magazine National Review. In the post quoted on National Review, writer Rand Simberg calls Mann, 'the Jerry Sandusky of climate science, except that instead of molesting children, he has molested and tortured data in the service of politicized science.'"
Introduction to Agroecology: Is it Anthropogenic or Bovigenic Climate Change?—by FinchJ: "Current environmentalist dogma declares that cattle, other livestock species (including chickens [Gallus gallus domesticus]), and ruminants in general are incompatible with a healthy ecosystem. Environmentalists routinely announce that science proves that a severe reduction in the number of livestock is absolutely necessary if we are to avoid climate disaster. It is also widely dismissed in these circles that livestock can actually play an integral role in regeneration of landscapes. The conclusion is that livestock always negatively impact the environment and that we must eliminate our consumption of any products derived from them."
Food, Agriculture & Gardening

Saturday Morning Garden Blogging Vol. 9.30
—by
Frankenoid
: "We didn't get hit too hard here in central Denver — 3" or 4", perhaps, spread out over several days. The ground is now nicely saturated, and when the rain stops (forecast for sometime early next week), I'll be able to divide a couple of stands of iris and daylilies. But, as you've likely seen on the news, somewhat to the north, south, east and west, the rains have been much more severe. Boulder got a over 14" of rain, what's estimated as the equivalent of more than 9 or 10 feet of snow."
Monsanto Corn Varietal Has Farmers in Fear for Their Lives—by antifa: "Corn farmers in the lush fields surrounding Peoria are facing a terrifying new problem after Monsanto offered them a rush solution for a recent plague of rootworms. In a hurried effort to deal with the failure of its GMO corn to either produce the bumper crops promised or to kill the rootworms that have been the constant enemy of monocultured corn, Monsanto offered farmers in this region a genetic treatment for their crops guaranteed to solve both problems. That guarantee has turned into a living nightmare, as farmers have had to turn to homemade napalm and Molotov cocktails to protect their families from their own crops." [Do I have to tell you that this is satire?]
USDA plans to expand pilot program that leaves meat contaminated with fecal matter—by Laura Clawson: "Put down your ham sandwich before you read this one, folks. The US Department of Agriculture is hoping to expand a pilot program replacing half the USDA inspectors in meat plants with inspectors employed by the companies themselves, while speeding up production lines. The pilot program has been in place in five hog plants since the late 1990s and the results aren't comforting: ... three of these plants were among the 10 worst offenders in the country for health and safety violations, with serious lapses that included failing to remove fecal matter from meat, according to a report this spring by the USDA inspector general. The plant with the worst record by far was one of the five in the pilot program."
The Foodstamp Gourmet: Part 1: The planning—by Alexandra Lynch: "The first thing you have to do once you actually get food stamps is....No, it's NOT run to the store. You need to make a meal plan. And you need to take inventory of what you have. So head into the kitchen and take inventory of your cupboards and freezer. When I finally accepted we had to do this, I had a lot of random cans of things, most of the spices I use often, and various ingredients; I just didn't have all the ingredients to cook any one thing. Taking inventory let me know what I actually had on hand. True, it's not going to hurt any thing to have extra smoked sausage, but on the other hand, maybe you needed that space in the freezer for something else. Plus, you save money by not buying what you don't need. And one of my prime aggravations is getting halfway through a recipe and discovering I'm out of something. When you can't just 'run to the store for it' the poverty stings all the worse. I try to avoid those situations where I run on the pointy bits of being poor, whenever I can."
The Foodstamp Gourmet: Part 2: Shopping—by Alexandra Lynch.
The Foodstamp Gourmet: Part 3: Precooking—by Alexandra Lynch.
Macca's Meatless Monday: M.I.T. goes meatless; thank you guys!—by VL Baker: "Kudos to Iran for joining the Meatless Monday campaign! (yes, THAT Iran). For a second consecutive year the expert judges at the MIT Climate CoLab have chosen our submission for a rapid solution to reduce the worst effects of climate change by reducing meat consumption as their choice to receive a special judges commendation. As I wrote about here our entry this year built upon last years winning entry and will be presented at the MIT Crowds and Climate Conference in Boston this November. This is especially gratifying as this gives additional validation to our ongoing work to continue to reduce meat consumption as a means of reducing the most immediate effects of climate change."
The Daily Bucket--My Empire of Dirt—by 6412093: "Like most of the Bucket readers, I practically worship fertile soil for the yard. As a hippie, I also recycle. So I have a couple of compost heaps where my kitchen scraps, garden wastes, grass clippings, and most of my sticks and twigs go, to re-enter the cycle of life. Composting recycles your organic matter and adds beneficial organisms and nutrients to your soil. Now a real high-class professional compost heaper organizes their pile so that the heaps' interior reaches 150 degrees. That supposedly kills all the weed seeds in the pile. That requires diligent attention to the compost heap. For an alternative approach, please proceed below ..."

Gorgeous Farm Photo Diary
—by
Jill Richardson
: "Two years ago, I visited a friend's farm in New Hampshire and I had a bit of a "Charlotte's Web" experience. This weekend, I had to be out east for a conference, and it provided an opportunity to head back to New Hampshire for some farm fun."
U.S. food production continues its race to the bottom: approves sale of Smithfield to China
—by
VL Baker
: "In the latest evidence of U.S. food production tripping over its self on a race to the bottom. The U.S. has approved sale of the worlds largest pork producer, Smithfield, to Chinese interests; making the U.S. a CAFO (Confined Animal Feeding Operation) to the Chinese. There was some opposition including from Senator Debbie Stabenow (D-Mich.) who authored this opinion in Politico. I encourage you to read Stabenows entire piece, it's excellent."
How I Avoid Despair and Fury; Or Home Grown Homemade Fresh Tomato Soup—by Adelante: "So, I have Amish Paste, similar to romas but a bit of blue in their skin and damned near no seeds, maybe 10 per fruit, and hardly any juicy seed mucus in them. They are PASTE tomatoes. They also need about 3 feet CIRCLE plus 7 feet upward movement space, PLUS STRONG BRACING.. or they'll move into other vines and lean on them... that was the start of the tomato jungle tangle. Kids used to stand on each others' shoulders and look over my fence and FREAK. The jungle was about 8 feet by 6 feet, and I watered the tubs sitting on their doubled up Rion greenhouse shelves sitting on my granite chip back 'yard'... and wonder if it was going to 'go mobile' and go after them. No, it's about to get cut into pieces, loaded into my little rubbermade green wheelbarrow and get rolled out to the front and emptied by kindly YOUNGER STRONG male neighbors into the yard waste container we all chip in on during Spring though Fall."
Energy
2040 or Bust—by Michael T. Klare via TomDispatch: "What sort of fabulous new energy systems will the world possess in 2040? Which fuels will supply the bulk of our energy needs? And how will that change the global energy equation, international politics, and the planet's health? If the experts at the U.S. Department of Energy are right, the startling 'new' fuels of 2040 will be oil, coal, and natural gas—and we will find ourselves on a baking, painfully uncomfortable planet. It's true, of course, that any predictions about the fuel situation almost three decades from now aren't likely to be reliable. All sorts of unexpected upheavals and disasters in the years ahead make long-range predictions inherently difficult. This has not, however, deterred the Department of Energy from producing a comprehensive portrait of the world's future energy system. Known as the International Energy Outlook (IEO), the assessment incorporates detailed projections of future energy production and consumption. Although dense with statistical data and filled with technical jargon, the 2013 report provides a unique and disturbing picture of our planetary future."
Don't worry Japan Inc. has the "situation under control!"—by Keone Michaels: "Prime Minister Abe of Japan says the Fukushima disaster '(It) poses no problem whatsoever,' Abe said in Japanese, adding that the contamination was limited to a small area and had been 'completely blocked.' Radiation readings around tanks holding contaminated water at the crippled Fukushima nuclear plant have spiked by more than a fifth to their highest levels, Japan's nuclear regulator said, heightening concerns about the clean-up of the worst atomic disaster in almost three decades."
Kentucky's Coal Challenges - Public Health, Clean Water, and Clean Air—by Mary Anne Hitt: "First, some good news: In a victory for clean water and public health, late yesterday a Kentucky circuit court overruled a lax permit that allowed Louisville Gas and Electric (LG&E) to dump large amounts of mercury, arsenic and other pollutants into the Ohio River from its Trimble County Generating Station coal-fired plant. That good decision news comes along with a bad one: A Kentucky judge just ruled that a mountaintop removal coal mine in Knott County does 'not significantly affect the quality of the human environment.' We're hoping that doesn't continue a trend of pro-coal decisions on mountaintop removal coal mining: Right now a major pending decision is whether the Environmental Protection Agency rejects Kentucky's revision of clean water protections in the state."
Shell's air violation fine just another example of industry's lack of readiness*—by greendem: "Oil giant Royal Dutch Shell reportedly has paid more than $5 billion for offshore oil drilling operations in the Arctic Ocean and has accomplished little more than to demonstrate that industry isn't ready to explore in the harsh conditions of America's Arctic waters. The price tag went up this week as Shell was fined $1.1 million by the EPA for numerous violations of air pollution limits and other permit requirements that apply to its two drilling rigs, the Kulluk and the Discoverer. Those two names became familiar to many last summer when the rigs were commissioned to drill five wells in the Arctic Ocean floor but instead made news with mishap after mishap and, in the end, were stopped from drilling for oil at all because Shell's spill response equipment failed spectacularly in testing."
2013's Astounding Collapse of the U.S. Nuclear Power Industry: the New Normal—by nirsnet: "[O]ver the long term, natural gas isn't what the nuclear industry should be most worried about. Clean alternatives to nuclear power, especially solar and wind, are growing at a frenetic pace as costs plunge. A rooftop photovoltaic system is now being installed in the U.S. every four minutes, and that will become every 90 seconds by 2016. John Wellinghoff, the chairman of the Federal Energy Regulatory Commission, said in August 2013 that 'Solar is growing so fast it is going to overtake everything.' If a single drop of water on the pitcher's mound at Dodger Stadium is doubled every minute, Wellinghoff said, a person chained to the highest seat would be in danger of drowning in an hour. 'That's what is happening in solar. It could double every two years,' he said."
U.S. Taxpayer Dollars Funded India Coal Scam—by nicoleghio: "Last week, new details of a coal industry scam emerged when India's Comptroller and Auditor General denounced the Environment Ministry for showing favoritism toward Reliance Energy, a private company owned by Anil Ambani, one of the world's richest men. It just so happens the project that prompted this scorn was financed by none other than the US. Export Import (Ex-Im) Bank. That means that our hard-earned tax dollars are propping up a coal scam involving India's richest tycoons. Thankfully President Obama ended the Ex-Im Bank's coal spree with a ban on overseas coal-plant finance. But the harmful effects of past projects continue to haunt our Indian friends."
Renewables

Solar roof on southern German farm
Hummingbirds: Biking the Solar Roofs of Southern Germany, to See the Change You Wish to Be
—by
citisven
: "My mom and stepdad live in a small village between Lindau and Wangen in the Allgäu region of South Germany, not far from the Swiss and Austrian borders. [...] Please join me on a bike tour of these solar roofs below the orange cloud. I believe they are a fitting tribute to Hummingbird's spirit — to do what we can, against all odds and conventional wisdom. In this case, it is the grassroots activists and "environmental idiots" fighting for a clean energy revolution for over 30 years, shifting hearts and minds, little by little, all the way up to top levels of government, that have made what was thought to be deluded and impossible not too long ago into a common cause among all citizens, liberal or conservative. [...] Last year, German solar power producers set a new world record in solar energy production by pumping 14.7 terawatt hours (TWh) of electricity (4.5% of the total power production!) into the power grid during the first 6 months.
Germany's real renewable energy
Total renewable energy contributions – including wind, solar panels, bio-energies and hydropower – rose to 23 percent, a 9.3 percent increase from 2011. An estimated 377,000 people were employed in the renewables sector, compared to 182,000 in all of the country's other energy sectors combined. This summer, the grey-skied country broke its monthly solar power generation record once again, logging 5.1 TWh of electricity from solar power. The government announced that it will begin scaling back its feed-in tariff, meaning that Germany's solar grid has been brought up to a scale where "soft" costs associated with solar installation no longer need to be subsidized, and in fact, are starting to overtake fossil fuels on a level playing field."
A Big Win for Solar in California—by BaileyA: "Since AB 327 lifts the ceiling on percentage of California's energy generation that must come from renewable sources and brings stability and certainty to state's solar net metering program, it supports the objectives of solar advocacy groups. Net metering gives solar customers full retail credit for the excess energy they put back on the grid. AB 327 removes the suspension on net metering that would have gone into effect at the end of this year and paves the way for completely uncapped net metering."
Energy COOL: Triple Bottom Line Opportunity for the 99%?—by A Siegel: "Since diving into the deep end when it comes to energy issues, almost every day sees new fascinating concepts, approaches, and technologies. Fascinating … exciting … even hope inspiring at times. And, as well, as the passion builds, so many of these are truly Energy COOL. While most of these are technology, some are more about process and structuring along with philosophy ... Boston's CERO provides a microcosm example of a movement seems ready to sweep the nation ... CERO stands for "Cooperative Energy, Recycling & Organics." It is part of a growing wave of cooperative enterprises—worker owners for a business that won't have the issue of the CEO walking away with a salary 1000s of times greater than the average employee. And, it is a poster child example for what many have been touting for years: green jobs providing a form of environmental justice. Very simply, the CERO team plan to target making good from some basic American wastefulness: there is one-half pound of organic waste for every restaurant meal (on average) across this country. A 2005 study put this at about 50,000,000 pounds of food waste ... each and every day of the year."
Fracking
University of Tennessee "Frackademia" Program Put to Rest, For Now—by Steve Horn: "University of Tennessee-Knoxville's 'frackademia' program proposal - set to transform UT's Institute of Agriculture into a de facto fracking land leasing agency - has been put to rest for now, according to The Tennesseean. In short: the university's premiere leasing proposal for acreage didn't recieve a single bid. UT-Knoxville's proposed program - as revealed in a DeSmogBlog investigation - intended to research wells fracked on 8,600 acres of Cumberland Forest land owned by UT that sits on top of the Chattanooga Shale basin. UT-Knoxville would lease the acreage off to Big Oil under the nullified plan. The proposal called for an initial fee of $300,000 paid by companies interested in fracking, an additional $300,000 per year, 15-percent royalties on any gas sold and a minimum of $35 per acre paid to UT-Knoxville."
Breaking: Obama DOE Issues 1st Marcellus Shale Fracked Gas Export Permit—by Steve Horn: "The U.S. Department of Energy (DOE) has granted the first ever LNG export permit license to Dominion Resources, Inc. to export gas obtained from the controversial hydraulic fracturing ('fracking') process in the Marcellus Shale basin. It's the fourth ever export terminal approved by the DOE, with the three others along the Gulf Coast: Cheniere's Sabine Pass LNG, Freeport LNG (50-percent owned by ConocoPhillips) and Lake Charles Exports, LLC. Located in Lusby, Maryland, the Dominion Cove Point LNG terminal will be a key regional hub to take gas fracked from one of the most prolific shale basins in the world - the Marcellus - and ship it to global markets, with shale gas exports a key geopolitical bargaining chip with Russia, the biggest producer of conventional gas in the world."
Auditor General's Investigation of DEP Important for Pennsylvania's Water—by jessewhite : "Pennsylvania Auditor General Eugene Depasquale gave an interview to the Scranton Times-Tribune last week in which he was asked about the ongoing audit of the PA Department of Environmental Protection's handling of water quality issues related to Marcellus Shale drilling. His response to the question was 'The only thing I could say is, it's a good thing we're doing the audit.' Eugene Depasquale and I were both elected to the State House in 2006 and our offices were across the hall from one another in the Capitol for several years. I believe Eugene is an honest public servant and a good person, and I consider him a friend. I have no doubt that his audit of DEP will be objective and accurate, even though the Corbett administration has recently slashed budgets for investigators, limiting manpower and resources."
Finally! Exxon facing criminal charges for fracking pollution in Pennsylvania—by Horace Boothroyd III: "Pennsylvania Attorney General Kathleen Kane's decision to prosecute a major Marcellus Shale natural-gas driller for a 2010 wastewater spill has sent shock waves through the industry. But environmentalists Wednesday hailed the prosecution of the Exxon Mobil Corp. subsidiary as a departure from the soft treatment they say the industry has received from Pennsylvania regulators. Face it the financial penalties are a small fraction of the profit gleaned from ignoring environmental protections. But the prospect of losing ones freedom as if one were a common criminal is another aspect altogether."

Exxon charged with illegal dumping in Pennsylvania
—by
Jen Hayden
: "XTO Energy Inc., a division of Exxon, has been charged with five counts of unlawful conduct under the Clean Streams Law and three counts under the Solid Waste Management Act: Exxon Mobil Corp. (XOM), the world's largest energy company, was charged with illegally dumping more than 50,000 gallons (189,000 liters) of wastewater at a shale-gas drilling site in Pennsylvania. Exxon unit XTO Energy Inc. discharged the water from waste tanks at the Marquandt well site in Lycoming County in 2010, according to a statement on the website of Pennsylvania's attorney general. The pollution was found during an unannounced visit by the state's Department of Environmental Protection."
Keystone and Other Fossil Fuel Transportation
Obama's Keystone XL Trade-Off: Executive Order Expediting Everything Else—by Steve Horn: "Feeling the pressure from protest against the Keystone XL from groups such as the Tar Sands Action, Indigenous Environmental Network and others, Obama pulled a fast one: "wait and see" for XL's northern half – which many claimed as a victory – and expedited approval of everything else via executive order. Obama's Keystone XL southern half March 2012 memo reads like Big Oil talking points."
NH-Sen: Tell Your Senator To Support & Protect The Shaheen-Portman Energy Efficiency Bill—by poopdogcomedy: "After playing so much defense this past year, I know this may be hard to believe, but Congress actually has the opportunity to pass a bill that is good for our environment. Senator Jeanne Shaheen from New Hampshire has partnered with Senator Rob Portman to propose a bipartisan energy efficiency bill that would lower energy bills, reduce pollution, save taxpayer dollars, and create thousands of jobs. Who wouldn't want to support that? Here's the catch: some anti-environmental Senators may try to attach bad amendments to this good bill that would support the dirty Keystone XL tar sands pipeline or undermine the President's climate action plan. Don't let a good bill go bad. Tell Your Senators: Support the Shaheen-Portman energy efficiency bill and block any anti-environmental amendments."
Keystone XL truth coming from a billionaire
—by
VL Baker
: "Unexpected environmental activism coming from the one percent: Billionaire investor Tom Steyer said he is backing a four-part, $1 million advertising campaign aimed at convincing viewers the Keystone XL pipeline will hurt the economy and communities and should be blocked. See his first ad above.
'Foreign countries will get more access to more oil to make more products to sell back to us, undercutting our economy,' Steyer, founder of the hedge fund Farallon Capital Management LLC, says in the advertisement. 'Here's the truth: Keystone oil will travel through America not to America.'
"
Transportation

World's first solar electric bus and other electric news
—by
Jen Hayden
: "The Adelaide City Council has raised the standard in international sustainability with the introduction of the world's first solar-powered electric bus that is recharged using 100% solar energy. The bus named Tindo, the Kaurna Aboriginal word for 'sun' is the newest addition to the Adelaide City Council's Adelaide Connector Bus service, a free service for the people of Adelaide. For the current Connector Bus timetable and route, click here. Manufactured by New Zealand company Designline International, the bus doesn't have a combustion engine which makes it a very quiet, zero emissions vehicle. Other features of the vehicle include a regenerative braking system, saving up to 30% energy consumption."
Eco-Related DC & State Politics
Video: New $500,000 Ad Buy Hits Ken Cuccinelli on CONSOL Energy Scandal—by lowkell: "I just got off a media call with Mike Casey of NextGen Climate Action Committee Virginia (billionaire environmentalist Tom Steyer's group), announcing this new ad hitting Ken Cuccinelli on his massive CONSOL Energy conflict of interest. According to Casey, the ad will run in the Richmond, Roanoke, and Norfolk markets for the next 10 days starting tomorrow morning, with a total purchase of $500,000."
LA-Sen: Mary Landrieu (D) Wants to Shut Down Nation's Oil Supply Until Congress Funds Levee Project—by poopdogcomedy: "Sen. Mary Landrieu (D-La.) said Wednesday that Louisiana ought to shut down all of the oil rigs in the Gulf of Mexico until the House of Representatives agrees to fund a much-needed levee project in her state designed to protect against Katrina-type storms. 'If I could, I'd shut down every rig in the Gulf of Mexico until this United States Congress gives the people of Louisiana the money we need to keep ourselves from drowning, from flooding, and I'd turn the lights off in Washington, and in New York and in Maine,' Landrieu said on the Senate floor after Republicans on the House Transportation and Infrastructure Committee introduced a water infrastructure bill stripped of funding for the Morganza-to-the-Gulf levee project."
John Kerry takes a Stand against the Rising Seas—by jamess: "'The science is clear. It is irrefutable and it is alarming,' [Secretary of State John] Kerry told a climate conference in Majuro in the Marshall Islands in a video address from Washington. 'If we continue down our current path, the impacts of climate change will only get worse.' Kerry said without strong, immediate action, the world would experience threats to critical infrastructure, regional stability, public health, economic vitality, and the long-term viability of some states."
Coal People 'zine to Obama: You shoulda stayed in Africa—by Mike Stark: "The long-awaited emission rules governing coal-fired powerplants should arrive before the end of the month. I spent a few hours perusing the coal industry's trade press to get a sense of how they have been coping. Much of what I found was boilerplate 'war on coal' claptrap, but this editorial deserves its own pedestal. Enjoy: From the August, 2013 Coal People Magazine: Why is Barack Obama bypassing our nation's elected representatives in Congress on this important issue? Does he want to destroy even more jobs while saddling the average American family with higher electricity bills they cannot afford to pay? Or as Will Rogers might have said in his Oklahoma drawl, 'Mr. President, why didn't you just stay in Africa a spell longer. We were getting along pretty well before you came along.'"
HELP!! Coal based utility mangling democracy in Boulder Colorado—by AnneBB: "Boulder CO has had 3 elections to get loose from its coal-based utility and create its own system for rapid emissions reductions, low rates and high reliability. As we proceed and prevail, this model of action will change the way investor owned utilities do business because this action is replicable far and wide. And right now Xcel is pouring money into our town with a misleading ballot initiative to flop over our election of 2 years ago. Both our clean energy aims and our democracy are being molested by a hugely profitable corporate monopoly, so we need FUNDS to fight well for this November's election."
Senator Pavley's gutted fracking bill goes to Governor's desk—by Dan Bacher: "Senate Bill 4, a controversial bill sponsored by Senator Fran Pavley (D-Agoura Hills) that opponents say would clear a path to increased fracking, passed the California Legislature on Wednesday, September 11 and is now headed to Governor Jerry Brown's desk. The Assembly passed the bill by a vote of 53 to 18. The bill then moved to the Senate for concurrence and was approved by the Senate late yesterday. In response to massive opposition to her bill from a broad coalition of anti-fracking groups, Senator Pavley claimed her bill is 'an insurance policy' - and described the bill's passage as a 'stunning victory for the public and the environment that moves California a step closer to regulating hydraulic fracturing ("fracking"), acidizing and other unregulated oilfield practices.'"
OR-Sen: Jeff Merkley (D) Renews Fight Against The Monsanto Protection Act In New Spending Bill—by poopdogcomedy: "After playing so much defense this past year, I know this may be hard to believe, but Congress actually has the opportunity to pass a bill that is good for our environment. Senator Jeanne Shaheen from New Hampshire has partnered with Senator Rob Portman to propose a bipartisan energy efficiency bill that would lower energy bills, reduce pollution, save taxpayer dollars, and create thousands of jobs. Who wouldn't want to support that? Here's the catch: some anti-environmental Senators may try to attach bad amendments to this good bill that would support the dirty Keystone XL tar sands pipeline or undermine the President's climate action plan. Don't let a good bill go bad. Tell Your Senators: Support the Shaheen-Portman energy efficiency bill and block any anti-environmental amendments. "
The states that get the most natural disaster aid sent 47 climate-change deniers to Congress—by Meteor Blades: "Interestingly, many of the states that received the most federal recovery aid to cope with climate-linked extreme weather have federal legislators who are climate-science deniers. The 10 states that received the most federal recovery aid in FY 2011 and 2012 elected 47 climate-science deniers to the Senate and the House. Nearly two-thirds of the senators from these top 10 recipient states voted against granting federal emergency aid to New Jersey and New York after Superstorm Sandy."
Regulation
Today's Federal Register Green/Energy/Public Health/Labor Meta-Data of Note Summary—by LakeSuperior.
Today's Meta-data on Green/Energy Federal Register Notices—by LakeSuperior. ""
The Great Outdoors
Hummingbirds: It is so dry in the gentle wilderness—by rb137: "I've been a regular visitor to the Sierras in California for twenty years. It's hard to express what that means to me, but I'm drawn there and I feel like I belong. The Sierra lets me co-exist. I fell in love with my husband in the Sierra wilderness. I spent my honeymoon backpacking there. I've climbed and hiked and sat on my butt in those mountains, and my remains will someday rest there forever. That's what it means to me. The Sierra Nevada is in a precarious place right now -- a dangerous place. Years of persistent, increasing drought have dried it too much, a century of mismanagement leaves it full of dry foliage that would have naturally burned away in small fires every decade or two, and the climate has changed remarkably."

North Cascades Highway
—by
John Crapper
: "For the third year in a row my wife and I, along with another couple, traveled the North Cascades Highway to spend three nights in two chalets surrounded by farmland and open range. As always it was a fantastic time. The North Cascades Highway is part of The Cascade Loop described by National Geographic Traveler as "One of America's grandest, most spectacular drives." I couldn't agree more."
Hunters Versus Tree-Huggers: Why Don't They Like Each Other?—by blip1944: "Why do hunters and conservationists dislike each other? It wasn't always that way. In fact, the modern American conservation movement that appeared in the 1880's was started by hunters, chief among them our 26th President, Theodore Roosevelt. In the many books and articles that he authored about hunting and wilderness, Roosevelt tried to find a balance between conserving wilderness to protect animal habitat, while also allowing economic development of the frontier to move ahead. But the world has changed and so have the battle lines between hunters on the one hand and conservationists on the other. Or have they?"
☼ lake sun clouds bridge ☼—by blueyedace2
The Daily Bucket - Our First Yucca Bloom
—by
enhydra lutris
: "On Thursday, September 5, 2013 I noticed one Yucca had was blooming and, in fact, had a huge, complete bloom. When I mentioned this to my wife she said that it had been blooming for about a week. I cannot find any record in my notes or on Daily Kos of my reporting my first Yucca bloom, though I'm sure there is one on DK somewhere. I think this may be early, but, be that as it may."
Critters
The Daily Bucket: From Desert to Shining Sea.—by AZ Sphinx Moth: "I recently returned from a short road trip to San Diego to celebrate a 100th birthday in the family. Although the purpose of the trip wasn't for sight seeing, I managed to snap a few photos here and there. Traveling west on I-8, on the border of Imperial and San Diego counties, the landscape abruptly changes from flat desert sand into a steep mountain terrain with heaps of boulders. By the time we reached the In-Ko-Pah Gorge it was high noon and the temperature well over 100 degrees. The only critter I saw was the Mearns' Rock Lizard and the only bird I heard was the desert wren."
Mearns' Rock Lizard pretending to be part of the rock.
The Daily Bucket-big cats in the city or not your pootie
—by
FOYI
: "Bobcats love Hasenpfeffer. But they can't cook, so raw rabbit it is. And there are lots of rabbits in the alley behind my sister's house. So my sister went out to get the mail one recent evening around 7:30 PM. Still plenty light out and hot. Mind you this is a very suburban area just a mile or so off the
George Bush
Tollway in Carrollton, Texas. She was very surprised to see, right there on the sidewalk, a female bobcat and her 2 kittens. She ran back inside to get the camera. The adult ran across the street into a neighbors yard but the kittens stayed around, curious I imagine, as the young so often are."
Dawn Chorus: Migration—by lineatus: "Migration is pretty simple. Birds fly south for the winter, and north for the summer. First Robin of spring and all that. Right? [...] So, why migrate? It's a lot of work - think of the energy demands involved in flying from the Arctic to Australia or South Africa or Argentina. Nonstop flight over the Caribbean when you're a 9 gram warbler... or a Ruby-throated Hummingbird. A thousand miles over open water if you're a Peregrine. Ultramarathoners look like wusses by comparison. Seriously, why bother? Food. And sex.
Hummingbirds: They're going to make me lonesome when they go
—by
Susan Gardner
: "From World WWF:
Experts estimate there are as few as 3,200 tigers left in the wild, due to poaching, the loss of their habitat and depletion of the tiger's natural prey. Hunters, traders and poor local residents use the forest for subsistence, directly competing with the tiger. Some of the largest remaining areas where tigers occur are the mangrove forests of India. The projected rise in sea levels could cause these living spaces of the tiger to vanish altogether.
"
Hummingbirds: God Gave them Wings ... And Then Took Away the Sky—by boatsie: "Scientists convening at the 2010 Kuala Lampur 2nd International Firefly Symposium discussed the impact of urban sprawl, light pollution and habitat destruction on the world's 2000 species of lightning bugs. Fireflies, they say, are perhaps the 'canary in a coal mine' in determining an ecosystem's health. 'When you talk to old people about fireflies, it is always the same,' says Swiss researcher Stefan Ineichen. 'They saw so many when they were young and now they are lucky now if they see one.'"

The Daily Bucket: Slow Motion Invasion
—by
matching mole
: "Florida is known as a haven for introduced species. In fact, southern Florida is second only to the Hawaiian Islands (within the U.S.) in the extent of its non-native biota. The state is overrun with invading plants, reptiles, birds, frogs, fishes, and so on. One type of invasive that may not have occurred to you are invasive snails. Among the more impressive of the gastropods, invasive or otherwise, are the apple snails. Apple snails are members of the family Ampullariidae, a group of large freshwater snails that are widespread in the tropical regions of world. They are frequently kept in freshwater aquaria and many introductions are unwanted former aquarium animals. They are herbivores and are potentially capable of causing extensive damage to aquatic vegetation."
The Daily Bucket: the bubble snails are out....
—by
OceanDiver
: "....but just for a few days. I won't see them again til next year. It's a silent drama of individual risk and species survival in this quiet bay, especially in the face of new competition. Here's an empty shell, and a living Bubble Snail on my hand, attempting to withdraw into its shell as much as it can (I put it back after the photo). The shells are so delicate they usually crumble into sand before they wash up on the beach.How does such a lightly armored creature protect itself from predators? Fully-shelled snails withdraw and close off entry. Nudibranchs produce noxious toxins, taunting predators with bright colors and patterns. Bubble Snails have neither - instead, they live burrowed in or on the mud, browsing algae and benthic diatoms, out of sight."
2013 Backyard Science Yardbird Race Tally # 9—by bwren: "Welcome to the 2013 Daily Kos Backyard Science Yardbird Race! This is our 9th tally diary of the year, and is the official place to post your sightings, ask for help, and/or crow some if you wish. Here's what the race is all about: The Daily Kos Backyard Science Yardbird Race is a birding competition where, over the course of one year, participants strive to identify the most bird species—by sight and/or by sound—from the confines of their yards. Remember, anytime is a good time to join in, even if you're just a beginning birder. There may be some friendly bluster, but if you ask for ID help you'll get it, especially if you write up a good description or post a photo."
Oregon Kossacks: FARM DAY! (with baby goats)—by Oregon Gal: "Hey, wanna come visit the farm and have some fun with Goat Cheese, Fresh Bread, a Potluck and baby GOATS??????? All PNW, Portland, NW Oregon, Oregon Coast Kossacks, we're having a meet up at my farm, on Tuesday or Wednesday, September 24th or 25, whichever day most people say they can make it."
Man drives by animal rights rally, throws kitten from car—by Jen Hayden.
Water
Hummingbirds: The water cycle and the life cycle are one—by VL Baker: "Some 1.2 billion people—almost one fifth of the world—live in areas of physical water scarcity, while another 1.6 billion face what can be called economic water shortage. The situation is only expected to worsen as population growth, climate change, investment and management shortfalls, and inefficient use of existing resources restrict the amount of water available to people. It is estimated that by 2025 fully 1.8 billion people will live in countries or regions with absolute water scarcity, with almost half of the world living in conditions of water stress. Agriculture is the most water-intensive sector, currently accounting for more than 90 percent of consumptive use. Agricultural water withdrawal accounts for 44 percent of total water withdrawal among members of the Organisation for Economic Co-operation and Development (OECD), but this rises to more than 60 percent within the eight OECD countries that rely heavily on irrigated agriculture."

The Overpass Light Brigade joins Grandmother Mandamin of the fish clan at water ritual.
Water Is Life: Especially If You Walk The Walk
—by
noise of rain
: "It was pretty hectic, changing words out in real time, running to the van to get the next letters, and it didn't go without a hitch when the tail of the "R" wouldn't turn on and somehow PAY FOR WATER didn't seem an appropriate substitute for PRAY FOR WATER. And then, with a frustrated punch to the battery box, we were back in luck with PRAY. The little stagehand dramas of our funky alphabetic constraints are never seen from afar, and in spite of our struggles the view was stunning: Grandmother Mandamin and her sisters in a circle around the sacred fire, the large teepee gently lit and standing stable behind them, offering a focal point as the purple void of Lake Michigan whispered her way into the velvet night. We held our messages, and packed up the lights quickly. Hectic. We had only a few minutes before the fire canoes came across the lagoon, and the vans were waiting to take us back across the shoreline to the access road that reconnects the park to the mainland. We watched the impressive Indian Summer fireworks safely from the shoreline, thumping our chests like CPR and blossoming over the night sky. So much commotion! One of our Holders of the Light, Peg, came up to me in hushed tones, said to me that she was so honored to be in the company of a woman like Grandmother Mandamin. I suggested that she go tell the elder that, tell her that we all admired her tenacity and heart and that we were inspired by her walks down the St Lawrence Seaway, around the Great Lakes, exchanging waters, gathering waters, talking water as she went. I could see Peg talking to the Grandmother, and a beautiful thing happened: a blessing, a benediction, a gentle tickle of the breeze from a set of eagle feathers shaped an envelope of air around Peg, while at the same moment, as she told me afterwards, shivers went up and down her body."
Coalition opposes any tunnels funding in state water bond—by Dan Bacher: "Californians for Fair Water Policy, a statewide coalition of environmental, water conservation, fishing, farming, Native American and community organizations, on September 9 announced their opposition to any state water bond measure that includes any funding to mitigate damage caused by Governor Jerry Brown's Bay Delta Conservation Plan (BDCP) to build the peripheral tunnels."
Eco-Activism & Eco-Justice
NEW REPORT on CLIMATE DENIAL HISTORY: Coal & Oil-funded attacks on Science
—by cgibosn : "For the last quarter century, the climate science denial machine, its cogs oiled by fossil fuel money, has been attacking climate science, climate scientists and every official US report on climate change, along with State and local efforts – with the aim of undermining action on climate change. Our new report, Dealing in Doubt, sets out the history of these attacks going back to the early 90s. These are attacks based on anti-regulatory, so called "free market" ideology, not legitimate scientific debate, using a wide range of dirty tricks: from faked science, attacks on scientists, fake credentials, cherry-picking scientific conclusions: a campaign based on the old tobacco industry mantra: "doubt is our product.' We give special attention to perhaps today's poster child of the climate denial machine's free market think tanks, the Heartland Institute, which is about to launch a new version of its 'NIPCC' or 'climate change reconsidered' report next week in Chicago."
Hummingbirds: A Few Words Between Songs—by WarrenS: "Since January 1, 2010, I've been writing a letter to the editor every day on some aspect of climate change. I get published fairly frequently. All the letters, published or not, eventually show up at my blog. I try and divide my attention between major outlets (the NY Times has published me five times!) and smaller papers. These latter have fewer readers...but they're more likely to print letters (just think of how many people write letters to Time magazine every week!). Every so often I try for papers and magazines outside the United States, and it's always pleasant to find myself in print in Pakistan or the Philippines. The Climate Letter Project is a daily Practice of Conscience that's both a point of pride and a source of sorrow. It has exposed me to far more bad news per day than anyone should have to confront, and given me a ritual for confronting it. More on that later in this diary."
Eco-Philosophy & Essays
Naomi Klein v. Environmentalists?—by Historyofthe Future: "Did you read the interview of Naomi Klein, author of Shock Doctrine and collaborator with Bill McKibben in the 350.0rg protests against the Keystone XL Pipeline, in which she criticizes environmental groups for having a negative impact on efforts to reduce green house gas emissions? Klein faults alliances between environmental non-profits and corporations for defeating environmental progress. I think it's by building coalitions with people, not with corporations, that you are going to get those [win-win outcomes]. And what I see [in Green non-profits] is really a willingness to sacrifice the basic principles of solidarity, whether it is to that fence-line community in Richmond, Calif., or whether it's with that Indigenous community in Brazil that, you know, is forced off their territory because their forest has just become a carbon sink or an offset and they no longer have access to the forest that allowed them to live sustainably because it's policed. Because a conservation group has decided to trade it. So these sacrifices are made – there are a lot of losers in this model and there aren't any wins I can see."
Hummingbirds: From Generation to Generation—by remembrance: "When the shofar blasted its wake up call I was reminded, that although I am experiencing an internal transformation encouraging me to lower my carbon footprint and that of my family's, it is not enough. Many cultures and Judaism included, teach that we must care for our world; in fact, the laws of the Torah reflect a strong attachment to the Earth, and yet, instead of caring for it and tending it, we have managed to dominate it. While Rosh Hashanah is said to be the birthday of the world, it is clear that we have failed at being 'shomrei ha'adamah,' guardians of our Earth."
Hummingbirds: Revolution of Sweet Morning Dew—by swidnikk: "Climate change and the environment has long been a concern of mine, however, it wasn't until I slowed down that I began to understand the urgency. Forget recycling, electric cars, and over-population: George Monbiot declares escalating consumption our most serious problem and I whole heartedly agree. So, lets be critically honest about what those terawatts of energy powering our planet are used for. How long does my cell phone last? Do I need another pair of shoes? Shall I bike there? Does my child need more toys? Is it important to ship carbonated soft drinks across the globe? We're all in this together, so let us not be led astray into finger pointing at countries with rising emissions such as China or India and instead mindfully resolve to dissolve the carbon footprint of our imported goods."
Peace, Love, and Canoes!!!
—by
OldJackPine
: "If I knew this were my last day on earth, I'd gather my wife and kids, strap the canoes on my old truck and head off to our nearby river. If I knew I faced my last minutes on this earth, I'd give my wife a long sweet kiss, I'd look full into the faces of my kids and tell them that I loved them and that they make me proud and I'd have them set me adrift in my canoe. And in my final moments I'd queue up the Alison Krause playlist on my ipod, lie back along the gunnels of my canoe and watch a wild Wisconsin landscape drift by at the speed of a gentle current. And were I not blessed to be received into heaven and greeted by a chorus of angels, at least I'll have had its equivalent on earth. There are 2 canoes in my family, the Ferrari and my canoe. The Ferrari is high tech – and it's fast. It's a marvel of modern materials science, with every molecule engineered for speed and efficiency. Its superstructure is a weave of mysterious fibers that are as thin as spidersilk but with a tensile strength so massive that it defies description using the intermolecular forces known to science. The superstructure is embedded in a rigid polymer matrix that is hard as industrial diamonds. The alchemy of combining these materials enables the outer surface of the canoe to generate a minute force field such that the canoe never really comes in contact with the water but rather slips though on a levitating but very thin and friction-free cushion of magic. [...] Our other canoe, my canoe, is made of wood – authentic wood with all the original gravity still attached. I built it one steamy summer many years ago with my own twenty-one-year-old hands. I laid up the hull with 1/4 by 1 inch red cedar strips and the gunnels, thwarts, yoke, and seat pieces were made of native New England ash from a storm-toppled tree that I wrestled out of the woods. I milled the ash myself in between long pulls on icy cans of Coors light (cut me some slack – I was 21)."
Hummingbirds: Making more hummingbirds—by Dont Just Sit There DO SOMETHING: "I spend so much time and effort talking to people about climate change - I'm a science communicator by profession, and this is, at heart, a science literacy issue. And yet, writing this diary has me a bit flummoxed. I have, I guiltily admit, put it off almost until the last minute for mostly this reason. I've been asked -as all the blogathon participants have- to write about 'climate impacts and/or solutions that are meaningful to or influence your life in some way.' It's surprisingly difficult. [...] I've written before about the fact that my hometown, clocking in at just three feet above sea level, is almost certain to be underwater by 2100. I've also written about how I personally am motivated because for me, this is not so much as an environmental issue, but a justice issue, to the people who will inherit this Earth from us and wonder what the crap we were thinking. Who will suffer because of our inability to get it together in time to save for them something of what is good -and there is so much good, despite war and bad economic times- about the here and now. On this site, there are election year battle cries to go all in, to 'leave it all on the road.' If ever there were a time or an issue for which to do that, this is it."
Hummingbirds: Ashamnu: Our souls have transgressed with climate silence—by A Siegel: "Arev Yom Kippur ... The eve of the Day of Atonement. After the period of reflection and engagement with others between Rosh HaShanah and Yom Kippur, this is a moment to turn to internal considerations and the relationship between the individual and G-d. As part of the prayers for the Day of Atonement, the Vidui, the Al Cheyt or recital of sins, is perhaps the most important. (Modern Judaism being what it is, there are a myriad of translations and modern variations on the Vidui/Al Chet.) A key word: Ashamnu ... "we have sinned" is a recognition of individual and communal failures. The Al Cheyt is a recognition and statement about sins by ourselves (and our community). There is a silence that bears heavily on the heart at this time: the silence in our political leadership and among too many of us on the damage we are doing to the planetary system, the risks of climate change, and the urgent necessity for meaningful change to change our path toward something that enables sustainable prosperity for humanity."
Sustainability
Dr. Ellis, or: How I Learned to Stop Worrying and Love the Population Bomb—by David Michigan: "I just read the latest "contrarian" anti-environmentalist opinion piece on The New York Times Op-Ed page, and I feel that my head is about to explode. Here is Erle C. Ellis, professor of geography and environmental systems at the University of Maryland–Baltimore County, deniersplaining how the world works to all those fretful, lily-livered scientists out there: MANY scientists believe that by transforming the earth's natural landscapes, we are undermining the very life support systems that sustain us. (...) Disaster looms as humans exceed the earth's natural carrying capacity. Clearly, this could not be sustainable. This is nonsense. (...) These claims demonstrate a profound misunderstanding of the ecology of human systems. The conditions that sustain humanity are not natural and never have been. (...) My point is: indefinite exponential growth at any growth rate, no matter how small, isn't just unsustainable. It is literally impossible. Even with new super-technologies that violate every known law of physics, it just cannot be done."
Energy Upgrade Parties at the Sustainable Houses of Worship—by gmoke: "For the last few years, I've been publishing a weekly listing service on Energy (and Other) Events (http://hubevents.blogspot.com) that happen around Cambridge, MA in the colleges, universities, and the community. This week, I noticed that there is a lot of practical activity around energy and the churches. From now until Thanksgiving, there will be three energy upgrade parties at three different churches in three different neighborhoods of Boston and two 'sustainable house of worship' workshops, one in the suburbs and one in the city. The energy upgrade parties are organized by the Home Energy Efficiency Team or HEET (http://www.heetma.com/) which for years now has been teaching volunteers hands-on skills in lowering their energy bills and carbon emissions while making the building they're in more energy efficient."
Forests & Public Lands
Hummingbirds: The Yosemite Rim Fire.—by rb137: "So, how did the Sierra become such a pile of kindling? A lot has to do with how it was managed in the late 19th and early 20th centuries. It used to be that when there were fires, folks simply put them out. To be fair, that makes a certain amount of sense. Problem was, the fires were extinguished before they could burn away the foliage that nature would normally be remove. Farmers also deliberately protected grass an regrew it to graze cattle, which is still the case to some degree. Today, the Sierra is a crackling tinderbox that holds too much fuel for fires that are decent by nature's standards. Add to that the climbing average temperatures and ambivalent La Nina to El Nino neutral periods, and I swear you can start a fire just by sneezing."
Hummingbirds: Facing Down Climate Silence in our National Parks—by James Wells: "During the question and answer period at the end of the ranger program, an attendee asked if the glaciers are really going away. Ranger J gave a fact filled answer that yes, all of the glaciers at Glacier National Park are expected to vanish by 2030. In fact, she pointed out, only the largest glacier may survive past 2020, just seven years in the future. Ranger J chose not to bust out the now-old joke that we will need a new name for the park, which once sported 150 glaciers. She also chose not to mention climate change. It was there, if you listened carefully. The winters were milder, she said, and the summers longer and hotter. The phrase just screamed to be uttered, but no.The National Park Service has a very, very clear position on the reality of climate change. The materials that we held in our hands as we listened to the ranger's presentation were unambiguous, and the written description of climate change concerns was prominent in the handout."
Crowning Jewels of The Park - 1913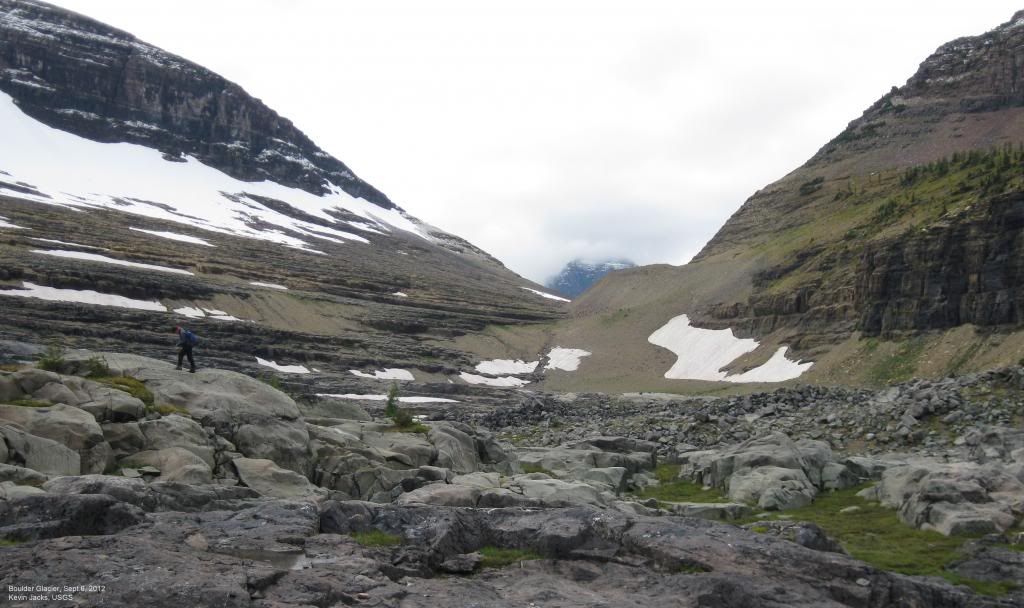 Leaving Us - 2012
Yes, that's the same spot as the picture above