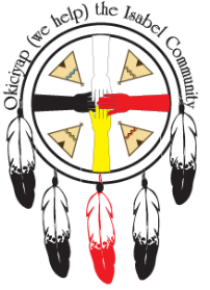 DONATE
by credit card
or PayPal
Okiciyap is a 501(c)(3)
non-profit organization
Donate by Check:
Okiciyap
PO Box 172
Isabel, SD 57633

Almost exactly four years ago, I read a newspaper article entitled "Chilled by Choice." It told of several different people who, for a variety of reasons, chose to go without heat. One was an engineer/landscape designer living in a stone house 7000 feet up in the Colorado mountains. She kept the pipes from freezing by letting the faucets drip,"15 to 30 drips a minute; any more than that causes an ice buildup and the dishes freeze in the sink." Another was a Manhattan woman whose upstate NY getaway, an old one-room schoolhouse, didn't have heat (although it had a wood-burning stove). She made regular winter trips there, and said that surviving the cold focused and clarified her mind.
I was in my home office at the time I read this. The room is heated, but it gets pretty chilly on cold days. I don't find cold rooms clarifying. I don't think well when I'm cold, and that puts me in a bad mood. So I shot off a letter to the writer, denouncing it all as "cold chic," although I admit that I wasn't being entirely fair. But I still hold to one of the things I said: I hoped the people in the article used some of what they saved on heating bills to contribute to others – the ill, elderly, families with babies - who can't afford to heat their homes properly - or at all.
I would have included Okiciyap, but I wasn't aware of it then. I'm aware of it now.
Okiciyap serves Isabel, SD and surrounding towns on the Cheyenne River Reservation. Among many other things, it provides heating assistance for those in need of it. It has been brutally cold in the Dakotas this winter, and there are many in need, especially the Lakota elders.
Running out of propane, many elders began to use electric stoves for heat. The results of that were enormous electric bills, often impossible to pay. Threatened with having the lights turned off, and out of heating assistance funds, the Tribe asked Okiciyap for help. Emily Penick, the director, persuaded the electric company to keep the lights on, then paid for propane deliveries to many of the homes - at a cost of $3000.
The winter is far from over. The need for heat won't end anytime soon. Faucets might be kept at a steady drip so dishes don't freeze in the sink, and many of the elders' minds are likely focused on one thing - surviving the cold. They have no choice. That's where Okiciyap - and we here at Daily Kos - can make a difference.
If you can help replenish Okiciyap's heating assistance fund, please donate any amount you can spare. So far, our contributions have put $1615 into the fund. Thank you to everyone!
If you can't donate money, think about sending hand-warming packs, blankets, and thermal shirts and pants of all sizes. Space heaters would also be welcomed.
Plastic for the windows, along with tape that can withstand the cold, will help keep out the bitter wind.
Recommending and sharing this diary will make more people aware of the situation and give them a chance to offer much-needed support. I'm sure they'll welcome that chance.
Going without heat is a choice the elders haven't made and shouldn't have to make.They're cold. Please do what you can to help keep them warm.
OKICIYAP BACKGROUND


Okiciyap (we help) is a 501(c)(3) non-profit organization, your donation should be tax deductible. Okiciyap, located on the Cheyenne River Reservation in South Dakota, is working to provide a food pantry, youth center, K-12 educational support, GED & Lakota as a 2nd language class support for youth and adults. The word Okiciyap is Lakota for "we help."

Okiciyap lost its founder, Georgia Little Shield in April 2012. Georgia was instrumental in the development of the 501(3)(c) status. In early 2012, she found a building, had it moved and set up to house the food pantry and youth center. Now, the Okiciyap Board is stepping forward to insure Georgia's plans for the Isabel community move forward.

Okiciyap is registered with iGive, which means that your online purchases from participating retailers could automatically generate a donation.

The Daily Kos Fundraising for Okiciyap group was formed to support the pantry. More information is available at the Okiciyap diaries published here at Daily Kos.

Donate Directly to Okiciyap by Check:
Okiciyap
PO Box 172
Isabel, SD 57633




Donate Stuff Directly to Okiciyap:
Okiciyap
506 N Madison Ave
Isabel SD 57633



Books mailed to a 501c charity qualify to use the lowest rate for mailing books/media, called "library media."


Inspiration for the header and footer banner graphics was taken from
the Daily Kos Quilt Guild's auction quilt for Okiciyap