President Barack Obama denounced the "alleged" comments by Donald Sterling, the owner of the Clippers basketball team, as being "incredibly offensive racist statements" and placed them in the context of "a continuing legacy of slavery and segregation that Americans must confront." reports Obama: Donald Sterling Comments 'Incredibly Offensive.'
"When ignorant folks want to advertise their ignorance, you don't really have to do anything, you just let them talk," Obama said when asked to respond to the reported comments from Los Angeles Clippers' owner Donald Sterling. ...

Obama cast the comments through a broader prism of racism in America, adding that "we constantly have to be on guard on racial attitudes that divide us rather than embracing our diversity as a strength."

"The United States continues to wrestle with the legacy of race and slavery and segregation, that's still there, the vestiges of discrimination, ....We've made enormous strides, but you're going to continue to see this percolate up every so often," he added. "And I think that we just have to be clear and steady in denouncing it, teaching our children differently, but also remaining hopeful that part of why statements like this stand out some much is because there has been this shift in how we view our ourselves."

We've had a surprisingly intense barrage of racial news in the last week. Cliven Bundy riveted our nation with his shocking and repugnant lectures on "the Negro." On Friday I reported Representative Paul Ryan has been called on the carpet by former chairmen of the Congressional Black Caucus Emanuel Cleaver who will host a consciousness and awareness raising session "in Paul Ryan's honor" in the House on Wednesday. Ryan offended many by quoting Charles Murray, who Cleaver says is well known for spouting "racist sewage" that Ryan has no excuse not to have known about given how many times he has done it.
I will post a link to this in an update and encourage all Democrats and progressive Americans to make ourselves aware of this upcoming event to help the Congressional Black Caucus make the most of this fortuitously timed event. Rep. Cleaver deserves high praise for the skill and courage with which he confronted Representative Paul Ryan's weasel-like exploitation of "dog-whistle" politics while acting innocent the whole time.
All of these developments build on Representative Nancy Pelosi's excellent press conference last week calling the Republicans to task for exploiting racist themes which received too little attention. I will also link the post I did on that last week in an update.
If any silver lining exists from these vile episodes perhaps America is finally ready to confront these ugly racist undertones we keep feeling and hearing churning just under the veneers of polite society. As human beings all of us seem all have some kinds of prejudices. Only by openly and honestly confronting them can we understand, and surmount their corrosive influence.
Despite so many angry, hurt, and shocked feelings assaulting so many this week, we may be in the process of making progress. What we are witnessing now is not an explosion of new racism, but a collective public exposure of it. Many people are shocked and stunned, but many (some - most?, please don't pin me down - I'm trying to make a gentle point here - others can speak for themselves) people of color and other minorities of a wide variety, have heard, felt, experienced, and known about attitudes like this for most of their/our lives -- actually let's be real - everyone has.
What is different in this last week is that, perhaps for one of the first time I can remember, we are all experiencing these events together, via extensive media exposure where we stand in collective judgement that is near universal in our stark rejection of the racists and their vile ugliness!
Is this not fairly amazing?
When I thought about Paul Ryan bracing himself for his "consciousness raising" session on this next Wednesday with the Congressional Black Caucus (I hope I'm not confused about this) and imagining Paul Ryan hoping for the whole week that he could slip in and out of the Wednesday session with no one noticing, I gritted my teeth, pledging myself to call attention to this. Then, when the two posts I wrote last week calling attention to Representative Cleaver only receiving about a dozen recs, I became angry, thinking thatt slippery Ryan might away with it again.
Then as each day has passed and I imagined him shitting bricks shouting "oh, God! why are these Cliven Bundy and Donald Sterling scandals happening now?" I'm starting to laugh more each day, with each and every outrageous infuriating offensive insult to our national psyche. Not because I do not wince with pain, or feel empathy for the hurt others feel, but rather because I've discovered another secret, and perhaps shameful place deep withing myself that anticipates Paul Ryan's Karmic Chickens coming home to roost. Each additional daily indignity now will add another lash to the balancing of the scales of justice of the bigots when their day comes.
Wouldn't it be great if this hot shot organizer Representative Emanuel Cleaver could arrange for Cliven Bundy, and Donald Sterling to join Representative Paul Ryan on Wednesday for a special panel discussion on what if feels like to learn one has been spouting "racist sewage" "without realizing it?"
Because, for the first time I can ever think of, we know the bad guys are going to get their due - a public "whuuping." Seeing how we are mostly all liberals here, none of us are likely to be the kind of people that would take pleasure in the misfortunes of others. In this particular case, I'm fairly sure, God, or the scientific humanist metaphorical equivalent in our minds, will make an exception, on account of how destructive and insidious these extremist racist Republicans have been.
Yes, folks, this might actually be good news, that we just haven't realized yet. Is this possible? Maybe someone needs to talk me down, as Rachel Maddow likes to say. This may actually be one of the very few times every liberal can smile without guilt at the public flogging of a bad person. So if someone asks, "is it wrong that I am smiling," you can say, "no, and go ahead and bring some popcorn too!" (Ask a Christie Watch fan.)
What's that odd expression that female comic delivers in a highly affected way during a disaster? "One day we are going to look back on this and just laugh!"
If this week represents our nation's turning point, where from this point forward, anyone, and everyone including these vile weasel-ass Republicans who use these thinly veiled dog-whistles like Paul Ryan did with his "inner city men" don't like to work because of their "culture of poverty" bullshit, are called on it, then yes, this will go down in history as a great week we may actually look back, be proud of, and laugh at.
In the future we may talk about this week as a "high water mark" in class rooms and churches to school children with a smile on Martin Luther King, Jr, Birthday, with a resolute smile of national accomplishment.
And, if I am correct in my understanding of that article about Representative Emanuel Cleaver's that Paul Ryan has agreed to attend the Congressional Black Caucus "awareness raising session" on Wednesday, and we can get CNN and the whole nation to link into it because of these Cliven Bundy, and Donald Sterling incidents. We may have to set up live blogging rounds to make the best of it.
Could it also be possible that these kinds of events have been ongoing for nearly forever, but it has only been in the last few weeks that for some reason the media elites have decided to make an issue of them? Whatever he cause, let's strike while the iron is hot. America, and all of us, have an opportunity to take some giant steps forward towards improved racial relations for all of us.
One small step for Paul Ryan, one gain leap for mankind!
Umm, I'm Noticing I wrote this on April 23 so does the reference to Wednesday mean three days from now or last week. I'm going to feel pretty stupid if I missed this after making such a big deal about it all week. Don't we have anyone here on the Congressional Black Caucus?
Former Con. Black Caucus Chair Cleaver blasts Paul Ryan for quoting Charles Murray's "racist sewage"
Kudos to former Congressional Black Caucus Chairmen Representative Emanuel Cleaver for calling Representative Paul Ryan to accountability for his "insensitive" remarks about the "inner city culture." Jessica Chasmar - The Washington Times writes Paul Ryan to meet with black lawmakers after 'inner cities' flap, next week with the Congressional Black Caucus for consciousness raising.

"The problem though is that he was quoting Charles Murray, who has been pouring racist sewage into open ears for a couple generations now," said Congressional Black Caucus Chair Rep. Emanuel Cleaver on MSNBC Wednesday. "He has been pushing his theories of the Bell Curve and white supremacy, and Ryan quoted him as one of the authorities."

The Wisconsin Republican said during a March appearance on "Bill Bennett's Morning in America" radio show that there is a "tailspin of culture, in our inner cities in particular, of men not working and just generations of men not even thinking about working or learning to value the culture of work," NBC News reported.
Later, Paul Ryan said he had been "inariculate" and that he had meant nothing racial.
Cleaver observes:

"The problem though is that he was quoting Charles Murray, who has been pouring racist sewage into open ears for a couple generations now," said Congressional Black Caucus Chair Rep. Emanuel Cleaver on MSNBC Wednesday. "He has been pushing his theories of the Bell Curve and white supremacy, and Ryan quoted him as one of the authorities."

Fmr. Congressional Black Caucus Chairman Blasts Paul Ryan for Racial 'Ignorance, by Noah Rothman reports that Paul Ryan(R-WI) has agreed to meet next week with with former Rep. Emanuel Cleaver (D-MO) with the Congressional Black Caucus when they will discuss poverty with Ryan in an attempt at racial consciousness raising.

.
Cleaver said that, while the meeting will be more "light than heat," he said that Ryan's comments on that program were even more problematic because he quoted economist and libertarian political scientist Charles Murray.

Cleaver said that Murray has been "pouring racist sewage into open ears for a couple generations now" and he has been "pushing his theories of the bell curve and white supremacy."

Cleaver added that Ryan's admission that he was unaware of the objections to Murray's theories suggests "ignorance" on Ryan's part. "If you know the least, you shouldn't speak the loudest," the Missouri representative added.

Cleaver went on to say that the term "inner city" is suggestive of race. "Chairman Ryan, I think, knows that," he added. "If not, I think we're going to have to create an atmosphere where he can learn things."

Representative Emanual Cleaver deserves much credit for showing us how to confront Republican bullshit head one and call them to account. The G.O.P. should be taught to expect the be held to higher standards of accountability that we in the Democratic Party have been willing to demand. Emanuel Cleaver's inspiring example provides an excellent example for us all to emulate.
10:40 AM PT: Thanks to Doctor Who for the link to this new tape: Exclusive Extended Donald Sterling Tape.
11:05 AM PT: I analyze the reaction to he Donald Sterling incident in my previous post

Donald Sterling apologizes for "alleged" racist comments, NBA investigates, furor (harsh language)
11:10 AM PT: Don Sterling Won't Get An NAACP Award After All
WASHINGTON -- The NAACP's Los Angeles chapter has apparently reconsidered plans to give Don Sterling an award in the wake of the Clippers owner's racist rant.

"He is not receiving a lifetime achievement award from the NAACP," Lorraine Miller, NAACP interim vice president, said Sunday on NBC's "Meet the Press."

Miller's comment came after host David Gregory had pressed Miller on the award. She first condemned Sterling's remarks, saying, "If you're silent about this, then you're accepting this, and people have got to say that this is not good and do something about it."

1:10 PM PT: http://www.dailykos.com/...
Nancy Pelosi calls out Republicans on race as a factor in delay on immigration reform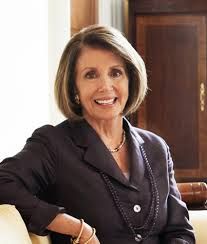 Nancy Pelosi once again breaks through the BS and gets to the core of the issue. Pelosi suggests Republicans not acting on immigration because of race

"I think race has something to do with the fact that they're not bringing up an immigration bill," Pelosi told reporters at her weekly press conference Thursday.

Referring to GOP members, Pelosi added, "I've heard them say to the Irish, 'If it was just you, this would be easy.'"

Pelosi was responding to a question about Attorney General Eric Holder's remarks at a civil rights event suggesting congressional Republicans treated him and President Obama differently than others who have held their positions. The Democratic Leader sidestepped whether she believed race was a factor in the GOP's posture, but said of congressional Republicans, "generally speaking they are disrespectful to the representatives of the President's administration, very disrespectful."

Perhaps, if we take the GOP on directly in their stalling we can fire up our base for he 2014 elections and give them a run for their money. The strategy of playing nice provide too much cover for them.
Update: Wesley Lowery has an even better article in the Washington Post Blog Pelosi: House GOP holding up immigration bill because of race

House Minority Leader Nancy Pelosi (D-Cali) told reporters:
"I think race has something to do with the fact that (the GOP House leadership) are not bringing up an immigration bill," Pelosi said Thursday morning, later adding: "I've heard them say to the Irish, 'if it were just you this would be easy.'"

Pelosi's comments came after she was asked by reporters at her weekly media briefing whether or not tense exchanges between President Obama, some of his top officials and Cabinet members, and House Republicans -- most recently between Attorney General Eric Holder and Rep. Louie Gohmert (R-Tex.) -- are in-part motivated by race.

​"I think, generally speaking, they are disrespectful of members of the president's administration," she said. "I think their disdain for anyone who disagrees with them is across the board. I don't want to go to the race piece, but I think it certainly applies to women. It's so self-evident that it applies to women."
Later asked the same question John Boehner got angry:

"There is no issue of race here," Boehner said, as his demeanor grew visibly bothered, and his tone turned angry.


"The frustration is that the American people have not been told the truth about what happened at the IRS, the American people have not been told the truth about what happened at Fast and Furious, the administration has not told the American people the truth about what happened at Benghazi." Bohner said.

"The administration refuses to tell us the truth!" an angry Boehner said before walking briskly off the podium.