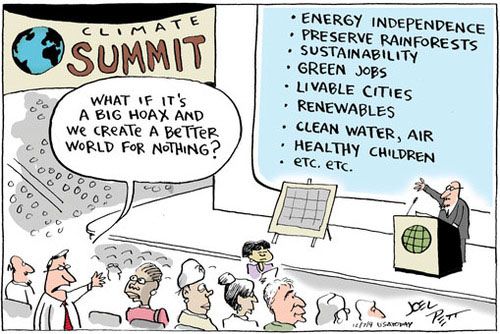 It's the final day of this week's extraordinary Climate Change SOS Blogathon. Over the course of the past week, we have heard from climate scientists and mothers; from legislators and activists; from pioneers in the fields of sustainable agriculture and food security; from marine biologists, economists, policy wonks and researchers. All are united in the same battle: to utilize innovative and strident methodologies to fight back against disinformation, detachment and delusion, and provide access to real information on the largest crisis to face our contemporary culture.

One of this week's goals was to bring the expertise gleaned from years of work and research in the field of climate change to bear on the growing climate crisis here in the United States. Another goal was to inform about the key issues which we must become fluent in to take on the huge task of engaging in the fight to bring the climate crisis front and center in all our endeavors. Yet another was to publish and collect real life stories about climate change and its impacts as they currently directly influence people's lives and the world around them. I believe we accomplished all these goals. And many more, which might not yet be measurable.

While the sheer volume of information presented over the past five days has indeed been daunting, the contributions of our guests and the members of the community here remain in the Climate Change SOS Blogathon group for ongoing reference. The hope is that conversations will continue in these postings over the next few days.

Without a doubt, what we have accomplished this week is to bring to the forefront the realization that we are all aware of the urgency of this situation. That we all want to work together and be counted, but we are a rudderless ship, searching for a leader, perhaps (as Polly Higgins suggests) a modern day Charles Grant, the influential British businessman who directed the East India Company and in the 1700s abolished the slave trade .

Whether we find this person in time is the huge question. But what is abundantly clear is that we have, each and every one of us, the willingness and the urgent need to engage in the fight for the future of life as we know it on this precious planet we call HOME.

Thank you to everyone who contributed to this extraordinary project.



Direct Action for Climate Justice: Confronting False Solutions to Climate Change(Anne Petermann)
Climate justice involves taking real and just action to address the root causes of the climate crisis, and transforming the system that is driving it. Direct action has a rich history of achieving the unthinkable, of changing "the impossible." It is defined as action to directly shut down the point of production. In the case of climate change, it would be action to shut down the point of destruction. With the climate crisis worsening exponentially with every passing day, shutting down the point of destruction is critical.
Climate Change SOS Blogathon: Sea Level Rise...Extreme History, Uncertain Future(gregladen)

What I find both interesting and scary about worst case scenarios for sea level rise is that they are not at all extreme when sea level rise is viewed in the Big Picture, across Deep Time, considering Big Geology. Think of it this way. If you spent all your life living in a small scale society, like those Foragers we imagined earlier on the Nullibar Plain in Australia, and someone told you that people were capable of getting into groups thousand strong and rioting, burning and destroying everything around them, or mobbing and trampling dozens of people to death by accident at a sports game, that sort of thing, you'd think the person telling you this was crazy. It is too extreme. All the pertinent variables are outside your range of experience. It can't happen. But it does happen, it is just something that happens rarely and must be seen to be believed. Sea level rise is like that. There were rather large islands out of sight of land that were certainly occupied by humans, that were eventually engulfed by the rising oceans. This is as unimaginable as it is indubitably true.
From Birmingham to Bamako: How Farmers Deal with Drought (Vanessa Meadu)

U.S. farmers have unprecedented access to climate tools, information and forecasts. These range from a general El Niño/La Niña seasonal outlook to more regional-specific tools such as AgroClimate, a suite of easy-to-use products for fruit, corn, and soy growers and ranchers in the Southeast. These tools can't prevent a drought, but with the click of the mouse or the swipe of a smartphone, they can tell farmers in almost real-time how changing conditions will affect their bottom line, several months ahead of the harvest.

Of course, access is one thing. Knowing how to use that information effectively is another entirely. Even in a data-rich environment such as Florida, farmers are still learning how to use these tools to make meaningful decisions that can improve their bottom line.

Thousands of miles away and worlds apart in Mali, farmers face a similar problem but use different methods to overcome it. Travel to the most remote parts of the country and you'll meet farmers such as 70-year-old Brehima Konaté, chief of Diouna, a village in Mali's Sahel region situated about 200 miles northeast of the capital, Bamako.
"We listen to the radio to hear rainfall related information and the right timing for planting, we also use traditional knowledge," Konaté says. "We learn how to apply fertilizers at the appropriate timing. We were told to change the way we used to apply them and that we needed to do it right."
Listening drive last night (GreenMother)

Last night was supernaturally quiet. Normally this time of year, the cicadas and the katydids and the frogs are so loud that you cannot step outside to talk on the phone. And sitting outside with your friends for a beer, results in everyone trying to talk over the cacophony. Insanely loud is the only way to describe it.

Because we did get some rain earlier this year, that discordant insect music was with us for a time. But it has ended too soon. Which explains something I saw yesterday while the sun was still up. I saw rows of birds gathering on the power-lines as if to migrate. Something you wouldn't normally see until late September.
I saw flocks of egrets in formation, their arrows forming in the sky, they are leaving.

Why?

Because the bugs have died. Last night was eerily quiet. There were some spots where insects were calling, but for the most part, it was silent. No birds, no or very few insects, and no or few amphibians.
Our Nation's Children, Calling on a President to Avert the Climate Crisis (juliaolson)
These life events shape a person's soul. These carbon numbers will shape all of our lives in the days and years to come. As many among us have written, the numbers are critical. To have our best chance at avoiding the worst climate catastrophes and to safeguard our oceans, we must aim to return to 350 ppm by 2100. Simply stated, we must do two things: 1) Reduce carbon dioxide emissions (i.e. fossil fuel emissions) by 6% annually beginning in 2013 and 2) Reforest and protect soils like crazy. Here's the kicker on reducing our emissions—if we wait, even another 8 years until 2020 to get serious, the annual reductions jump to 15% per year, giving us little chance for redemption.

Already, carbon math is shaping the lives of our nation's children. They have stories to tell, rights to uphold, futures to protect, and passionate dreams of a world transformed. I wish the Presidential candidates could meet my good friend Nelson Kanuk, a 17-year-old, Yup'ik Eskimo from Kipnuk, Alaska. Climate change means his winters are coming later and later and the flooding and storms threaten with greater force. The permafrost is melting causing erosion and soon his family will have to move their home or lose it to the river. His community is at risk of losing the food sources that the tundra, the ice and the oceans provide, not to mention their traditional way of life. A day with Nelson will melt your heart and make you want to fight for that ice.
Climate Change SOS: Climate Change and Congress (RepHenryWaxman)
Americans across the nation are starting to suffer the effects. From heat waves to drought, from epic floods to raging forest fires, from failed crops to rising seas and eroding coastlines, this is what climate change looks like.

If we want to give our children the same opportunities we've had, there is no other choice. We must respond to the challenge of climate change by reducing carbon pollution to slow further warming and by adapting to the warming that is already locked in.

Responding to climate change is not just a technical and economic challenge. It is also a political challenge.
Climate Changes SOS: Leadership, Partisanship, and Public Opinion (blue jersey mom)
New Jersey and PA used to be the far limits of their distribution, but they have now spread into the Hudson Valley. it is not clear that their spread is directly related to climate change, but Audubon Magazine reports that:
black vultures are exploiting urbanizing landscapes, thanks to an increase in food sources such as roadkill and, from all indications, a warmer environment provided by growing acres of asphalt and concrete. In fact, the same things that draw new human residents to a burgeoning area are high on a vulture'™s relocation wish list: Great roads. Warm climate. Lots of open space but still convenient to good shopping.
As a gardener, I can see climate change all around me. Annual plants such as dusty millers survived the winter. My collard greens lasted for two years until they bolted due to the unseasonably warm weather in March. The question I wanted to answer was: if I can see climate change in my own back yard, why is there so much resistance and even disbelief about global climate change?
---
If you are a registered member on Daily Kos, you can also follow all postings by clicking this link for the Climate Change SOS Blogathon Group. Then, click 'Follow' and that will make all postings show up in 'My Stream' of your Daily Kos page.
Climate Change SOS Blogathon - August 20-August 24, 2012
Diary Schedule - All Times Pacific
---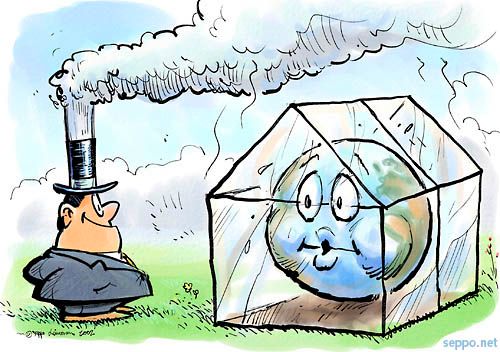 Announcing the blogathon, Climate Change SOS Blogathon: Romney's Illiteracy & Election Vulnerability was posted on Sunday, August 19th by Patriot Daily News Clearinghouse.
The diary has bios of our special guests, including lawmakers, scientists and activists.
The blogathon was organized by Bill McKibben, Boatsie, and Patriot Daily News Clearinghouse, with lot of help from JekyllNHyde, citizven and rb137.
---
Some of Today's Guests
Brad Johnson is the campaign manager for Forecast the Facts, an effort to mobilize Americans on behalf of scientific integrity on climate science among politicians, corporations, and the media. Previously, he was the Editor for ThinkProgress Green at the Center for American Progress Action Fund. Brad is a regular speaker and moderator at Netroots Nation, and has been blogging at Daily Kos as The Cunctator since 2003.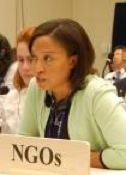 Rachel Harris is Advocacy Coordinator in charge of gender equality and women's rights in global governance and sustainable development for the Womens's Environment and Development Organization (WEDO). She heads a technical policy team at the UNFCCC (United Nations Framework Convention on Climate Change) and has led women's caucuses at the Convention on Biological Diversity, and the United Nations Convention on Combating Desertification.





Kelly Rigg is the Executive Director of the Global Campaign for Climate Action or GCCA, a global alliance of 300 organizations cooperating under the banner of the tcktcktck campaign. She has been leading international campaigns for nearly 30 years on climate, energy, oceans, Antarctica and other issues. She was a senior campaign director for Greenpeace International during 20 years with the organization. After leaving Greenpeace she went on to found the Varda Group consultancy providing campaign and strategic advice to a wide range of NGOs, and led the Deep Sea Conservation Coalition's campaign to protect the high seas from destructive bottom fishing.






Joshua Wiese is Project Director, Fresh Air & the Adopt a Negotiator project at Global Campaign for Climate Action, which organizes global campaigns to "prevent catastrophic climate change, adapt to climate impacts and make the transition to a more sustainable and just world." Joshua is based in San Francisco, where he spends most of his time thinking about how to use technology to make the world a better place.






Evan Leeson is a digital strategist and the technical lead for the Desmogblog project. A life-long activist, Evan has worked with organisation world-wide to provide strategic and technical solutions to communications challenges facing activist organisations such as Greenpeace, Climate Action Network, Public Services International, Rockefeller Family Fund and more. Evan grew up in Alberta and worked in the oil industry as a young man. He now lives and works on the west coast of British Columbia.
Rebecca Jones MD is a practicing dermatologist in Brattleboro Vermont, the Vermont State Director for Doctors for America, and a climate change activist and member of 350Vermont. She trained at Dartmouth Hitchcock Medical Center and UMASS medical school.
Friday, August 24
6:30 am: Climate Change SOS Daily Report - boatsie
7:00 am: Maggie Fox.
8:00 am: Sabrina Cowden.
9:00 am: Former Vice President Al Gore
10:00 am: Kelly Rigg.
11:00 am: Brad Johnson
12:00 pm: Dont Just Sit There DO SOMETHING.
1:00 pm: Praenomen.
2:00 pm: Rachel Harris.
2:30 pm: MaryAEnglish
3:00 pm: Joshua Wiese.
4:00 pm: billlaurelMD.
5:00 pm: Rebecca Jones, MD
6:00 pm: Aji.
7:00 pm: Victor Menotti.
7:30 pm: radical simplicity
8:00 pm: Evan Leeson
Yesterday's Posts: Thursday, August 23

6:30 am: Climate Change SOS: Drought, Water & Energy by Congressman Edward Markey (D-MA).
8:00 am: ClimateChange SOS: Thursday Report by boatsie.
8:00 am: Climate Change SOS: Climate Change and Congress by Representative Henry Waxman (D-CA).
9:00 am: Our Nation's Children, Calling on a President to Avert the Climate Crisis by Julia Olson.
10:00 am: Climate Changes SOS: Leadership, Partisanship, and Public Opinion by Blue Jersey Mom.
11:00 am: From Birmingham to Bamako: How Farmers Deal with Drought by Vanessa Meadu.
11:00 am: Climate Change SOS Blogathon: Sea Level Rise...Extreme History, Uncertain Future by Greg Laden.
12:00 pm: Direct Action for Climate Justice: Confronting False Solutions to Climate Change by Anne Petermann.
2:00 pm: Breaking the Poverty Trap in Ethiopia: Subsistence, Satellites, and Some Other Important Stuff* by Brian Kahn.
4:00 pm: Climate SOS: There Is No Daylight by James Wells.
4:30 pm: Former Vice President Al Gore Joins Our Climate Change SOS Blogathon! by Patriot Daily News Clearinghouse.
4:30 pm: Climate Change SOS Blogathon: Through No Fault of Their Own by Pam LaPier.
5:00 pm: Climate SOS! Witnessing the Outer Banks Drown & Drawing the Line at 20ft Sea Level Rise by FishOutofWater.
6:00 pm: What do we do when we see the deluge coming? Take two, updated by SolarMom.
8:30 pm: Climate SOS: Deniers, Rejecters and Skeptics, Oh My! by mightymouse.

Wednesday, August 22
8:00 am: Climate Change SOS Wednesday : What did you do once you knew? by boatsie.
8:00 am: Climate Change SOS Blogathon: Breaking Romney's eerie silence on climate change by Bill McKibben.
10:00 am: CCSOS: Take it from Yale: What we really need to communicate about climate change by Valkano.
10:00 am: Move Beyond Coal Now! The Global Anti-Coal Movement Is Here by Jguay (with Nichole Ghio).
10:00 am: Attacks on climate change education are attacks on our future by Joshua Rosenau.
11:00 am: Climate Change SOS: Which Side Are You On by Franz Matzner.
3:00 pm: Karl Burkart: The Solutions to Climate Change are within our Grasp - CCSOS by Karl Burkhart.
4:00 pm: Raspberries, Salmon, Hops: Personal loss and climate change by Sarah Moffitt.
5:00 pm: "Global Warming's Terrifying New Math:" CSOS by Tom Athanasiou.
6:00 pm: Climate Change SOS: Where Was the Gas? by TheFatLadySings.
8:00 am: Climate Change SOS Daily Report by boatsie.
10:00 am: Climate Change SOS: We Really Can't Afford to Wait by JanF.
11:00 am: Climate Change SOS...Solutions for a way forward by beach babe in fl.
12:00 pm: We are not just berries and fish by Jeff Mears.
1:00 pm: A Tiny Island in a Sea of Change by jessc.
2:00 pm: Climate Change SOS: Cities Key To Low Carbon Future by Peter Erickson.
3:00 pm: Breaking Up With Polluters To Save The Climate: CCSOS by bdemelle.
4:00 pm: Climate Change SOS: Soil is the Solution, or the most important environmental story I'll ever write by citisven.
5:00 pm: Climate Change SOS...It'™s time we face the truth by Gerard Wedderburn-Bisshop.
6:00 pm: Climate Change SOS: Five Recent Hits From The Climate Letter Project by WarrenS.
5:00 am: Climate Change SOS Blogathon: Could better analysis save humanity? by A Siegel.
8:00 am: Climate Change SOS Daily Report by boatsie.
9:00 am: Alarm bells on climate change as extreme weather events sweep the world: CCSOS by Martin Khor.
10:00 am: Climate Challenge: Two Questions For Mitt Romney by danieljkessler.
12:00 pm: Climate Change SOS Blogathon: Visions of the Future? by John Abraham.
1:00 pm: Why Climate Literacy Matters by Mark McCaffrey.
2:00 pm: Climate Change SOS: Are Americans Waking Up? by Jill Richardson.
4:00 pm: Ignore climate Cassandra at our peril by Mike Mann.
5:00 pm: Building Resilience in a Changing Climate: CCSOS by Richard Heinberg.
6:00 pm: Climate change just isn't Santa anymore. by rb137.
---
Please remember to republish these diaries to your Daily Kos Groups. You can also follow all postings by clicking this link for the Climate Change SOS Blogathon Group. Then, click 'Follow' and that will make all postings show up in 'My Stream' of your Daily Kos page.