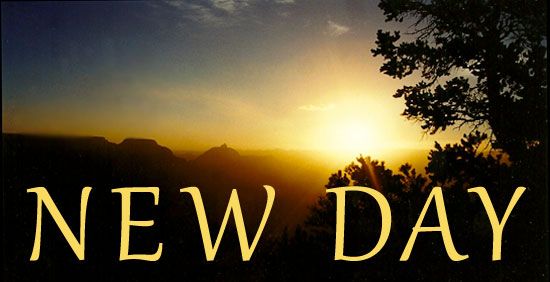 Every day is a new day and with that, a new opportunity.
EVERYONE is welcome and please join us each morning at 7:30 AM PACIFIC
to tell us what you're working on, share your show & tell, vent, whatever you want...
...this is an open thread. Nothing is off topic.
Except for a few smaller projects, such as a bow and arrows and some wooden bowls, I didn't really get started building stuff until I bought my own house. That was in part because whenever I did build something, my stepfather would give it the squint-eye, make a comment about needing to learn from my mistakes, and go back to work building something perfect himself. His extraordinary woodworking and metalworking skills were honed in a lifetime of building stuff and instructing secondary-school students to do the same in the school shops in the days when vocational education was still taught in most high schools. He was not as tough judging their work as he was mine.

So when I finally had my own house in which to build on a larger scale, I procrastinated. Because I knew he was going to have his say, and it would be critical. I finally got around to it though, and enjoyed it immensely. And, an added bonus, my stepfather kept any complaints to himself, even though I know he saw my errors the minute he walked into the room. I had to point them out to other people.

Here is a bookcase that I built in otherwise unusable space under the stairs going up to the house's second level. Everything is Japanese style. But I had to do with North American hardwoods: maple, red oak and black walnut. The handles are modern cast-iron duplicates of Japanese antiques. Behind the sliding doors in the photo on the right are additional movable bookshelves. The entire space is 42 inches deep, far too much for a bookcase. So, a secret space was created for storage. That space accessible via another sliding door behind the shelves that is unlatched by moving a concealed peg. Built-in furniture of this sort, with its exacting fit, is more difficult than stand-alone furniture.

In fact, this piece was built twice. Once in my shop, where it was dismantled upon completion, then reassembled under the stairs. I had to design carefully so that the pegs that hold the whole bookcase together would be as easy to hammer into place as they were in the shop. I didn't want to wind up like the clichéd guy who builds a boat in his garage and then can't get it up the stairs.




Below is a Japanese-style wall-to-wall bedroom closet. Again, the materials are maple and red oak. The floor of the closet is raised 12 inches above the floor to accommodate drawers beneath. The floor is removable to gain access to "secret" space behind the back of the drawers. The sliding doors with glass inserts are Japanese antiques dating from about 1900-1910. Except for the doors, everything has five coats of clear finish, sanded with a fine-grit sandpaper between coats.


This final photo shows the coming together of several joints. Some Japanese-style joints are visible and more perfectly fitted than I can make them. But some are internal and often very complex even though they will never be seen once the piece of furniture or box or whatever is finished. These internal, invisible joints are tightly fitted as well, which is why the doors and drawers in Japanese cabinetry built 300-400 years ago still work so well.


Some day soon, I hope to be again living in a space where I can build. My first project when that day comes will be a modern version of a Japanese tansu.



Have you built anything with your own hands?



Latest Updates on Kossack Regional Meet-Up News Below the Fold
:: COMMUNITY BUILDING UPDATES ::
Let's build communities!

Every region needs a meat-space community like SFKossacks.
We take care of each other in real life.
I urge YOU to take the lead and organize one in your region.
Please tell us about it if you do and we're here for advice.
~
THINK GLOBALLY, ACT LOCALLY

:: Current Diaries in Planning Mode ::
ALERT! HELLO DENVER!

Kossacks Leftcandid and greenchiledem will be at the Drinking Liberally event tonight! Please come and meet them!

7:00 PM
3 Dogs Tavern
3390 W 32nd Ave (Cross street: Julian)
Denver
ALERT!

BALTIMORE IS CURRENTLY ORGANIZING DEBATE WATCH PARTIES: See this diary, Next Baltimore Kossack meetup by sreeizzle2012.

To join Maryland Kos send sreeizzle2012 a Kosmail.


:: Regions Organizing! ::
NEW GROUPS IN THE PROCESS OF ORGANIZING:

Portland, Oregon Area: Kosmail: Horace Boothroyd III to be included in the group.

Cleveland and Northeast Ohio Area: Kosmail: GenXangster

~~~
These are the groups that have started since * NEW DAY * began. Please Kosmail navajo if you have started a group before that.
NEW GROUPS LIST:

• California Central Valley Kossacks - Organizer: tgypsy

• New England Kossacks - Organizer: Clytemnestra

• Houston Area Kossacks - Organizer: Chrislove

• Kossacks in India - Organizer: chandu

• CenTex Kossacks - Organizer: papa monzano
Current diary: Meet-up Planning Take 1

• Central Ohio Kossacks - Organizer: VetGrl

~~~
ESTABLISHED GROUPS LIST: (List will grow as we discover them)

• SFKossacks Founded by navajo, Formed: May 2, 2005, More than 80 members

• Maryland Kos Founded by timmyc, Formed: Feb 23, 2011, More than 54 members

• New York City Founded by Eddie C, More than 58 members

• Baja Arizona Kossacks Founded by buddabelly, Formed: Feb. 13. 2011, 90 members

• Three Star Kossacks Founded by maryKK, Formed: Apr 8, 2011, 46 members

• Nashville KosKats Founded by ZenTrainer, Formed: Jan 30, 2012, 28 members

• Virginia Kos Founded by JamieG from Md, Formed: May 3, 2011, 67 members

• Kos Georgia Founded by pat208, Formed: Feb 13, 2011, 18 members

~~~
:: Events Currently on the Books for ALL Kossacks ::
We are San Francisco Bay Area residents concerned about the fading away of the American Dream. Inspired by Van Jones's "Rebuild the Dream" campaign, we organize to bring people together to work toward getting our economy back on track and restore the American Dream.




Wednesday, October 10th

Save Our State Rally

MC: Cindy Chavez ~ Executive Director, Working Partnerships USA


Speakers: Ash Kalra ~ San José City Council, District 2
Shawn Bagley ~ Regional Director, CA Democratic Party
Jennifer Thomas ~ Vice President, San José Teachers' Association
Scott Myers-Lipton ~ Sociology Professor, SJSU
Craig Dunkerley ~ California Clean Money Campaign

TIME: 6:00pm to 7:30 PM
LOCATION: San José City Hall Plaza
200 E. Santa Clara Street
San José, California

ORGANIZER: Dream Menders - RSVP at: Dream Menders on Facebook or Eventbrite

Latest Diary: Dream Menders: Save Our State by Glen the Plumber
Join DKos Dream Menders Group founded by Glen the Plumber

~~~
Thursday, October 11th

SFKossacks watch the Vice Presidential Debate Party

TIME: 5:00 PM Pacific
LOCATION: Lusty's house
San Jose, Cambrian area (address will be given to RSVPs by Kosmail)

ORGANIZER: Lusty - Send a Kosmail to RSVP.

Potluck Style
RSVPs:
1. Lusty [Pizza]
2. madhaus
3. Glen the Plumber
4. remembrance and TLO™
5. Edrie [salad]
6.

~~~

DailyKos readers who live and/or work in New England
(Connecticut, Maine, Massachusetts, New Hampshire, Rhode Island, and Vermont)

Saturday, October 13th

New England Meet-Up

TIME: 1:00 - 4:00 PM
LOCATION: Margaritas Mexican Restaurant
775 Lafayette Road
Portsmouth, New Hampshire



ORGANIZERS: Common Sense Mainer and Bill in Portland Maine - Send Common Sense Mainer an email at cuckolds04103@gmail.com to RSVP. (He prefers his email listed.)

RSVPs:
1. Common Sense Mainer
2. Bill in Portland Maine
3. Clytemnestra
4. polisigh
5. Brillig
6. Mik
7. K1
8. K2
9. Simple
10. fennster
11. commonmass
12. GreenMountainBoy02
13. Sadiesue
14. rick deville
15. bouidi08
16. bjedward
17. mayim
18. Debbie in ME
19. Thestral
20. Ed Tracey
21. parsonbeach
22. Mr. parsonbeach
23. vacationland
24. sfbob
25. sfbob's friend


26. loreleiHi
27. cailin ard
28. Jim Wilson
29. Angela Quattrano
30. Angela's boyfriend
31. nhox42
32. Anothermassachusettsliberal
33. Jillian
34. knautical knots
35. Linda

Maybes:
1. kestrel9000
2. paulitics
3. moody loner
4. mommyp00ka
5. jarbyus
6. DamselleFly
7. BobBlueMass
8. radical simplicity
9. Not the Username I Wanted
10. lurker
11. annieli
12. DowneastDem
13. gracielove
14. Sobermom
15. Bogey Bill

Latest diary about this event: New England Kossacks Meet up.

~~~



Saturday, October 13th

Houston Area Meet-Up

TIME: 1:00 PM
LOCATION: La Mexicana Restaurant
1018 Fairview Street
Montrose



ORGANIZER: Chrislove - Send a Kosmail to RSVP.

RSVPs:
1. Chrislove
2. cosette
3. Delilah
4. disconnect the dots
5. GrannyOPhilly
6. GrannyOPhilly husband
7. jkojak67 (maybe)
8. krwheaton
9. Libby Shaw
10. miscanthus


11. Mosquito Pilot
12. nomandates
13. OrganizedCrime
14. PDiddie
15. PDiddie wife
16. suesue
17 Texdude50
18. Texdude50 partner
19. txscorp
20.


Latest diary on this event: Houston Area Kossacks: Meet-up scheduled for Saturday, October 13!

~~~
Saturday, October 13th

Baltimore to Washington Area Meet-Up

TIME: TBD
LOCATION: Union Station
Washington DC



ORGANIZER: JamieG from Md - Kosmail to RSVP

RSVPs:
1. JamieG from Md
2. JamieG from Md's husband
3. Diana in NoVa
4. VexingEyes
5. webgenie
6. JanetT in Md
7. JTinDC
8. sreeizzle2012
9. it really is that important
10. Trs
11. captainlaser
12. billlaurelMD
13. mollyd
14. JR
15. LeoDaLion
16. Hastur
17. ConfusedSkyes
18. cpinva
19. JG in MD
20. Chris Bowers
21. louisev


22. mimi
23. agrenadier
24. yellowdog
25. AnswerGuy
26. Malachite
27. randomfacts
28. IndieGuy
29. oxley

Maybes:
TheOtherMaven
Axmill
TeacherKen
Deep Harm
a gilas girl
restondem
shademar
Something the dog said
BDA in VA
tamandua


Latest diary on this event: Virginia Kos, Maryland Kos (and DC Kossacks too)
~~~
Friday, October 19th

SFKossack Red Carpet Rollout for Dave in Northridge

TIME: 1:00 PM
LOCATION: Yank Sing
Rincon Center, 101 Spear St., San Francisco



ORGANIZER: navajo - Send a Kosmail to RSVP.

RSVP LIST:
1. Dave in Northridge
2. navajo
3. Lorikeet
4. Steveningen
5. jpmassar
6. kimoconnor
7. norm
8. MrNavajo
9. remembrance
10. Glen the Plumber

11. Dharmasyd
12. boatsie
13. side pocket
14. FogCityJohn
15. Kamakhya
16. Frugal Granny
17. madhaus (maybe)
18. enhydra lutris
19. Shockwave (maybe)
20. Catilinus

~~~
Monday, October 22nd

DAILY KOS HQ: SFKossacks watch the final Presidential Debate Party

TIME: 5:00 PM Pacific
LOCATION: Daily Kos Office
Berkeley (address will be given to RSVPs by Kosmail)
5 min. walk from Ashby BART

Plan on street parking outside of the very limited parking in the office complex.

ORGANIZERS: Markos and navajo - Send a Kosmail to RSVP.

It's time to organize the food and drink for our Debate Watch party on the 22nd.

Markos is going to spring for pizza and the rest of us are going to bring side dishes, drinks and dessert.

My drink calculator says we need:
20 six packs of beer (-13 from volunteers = 7 packs are now needed)
30 bottles of wine (-25 from volunteers = 5 bottles are now needed)
8 six packs of water (boatsie's got this with Peligrino)
8 six packs of soft drinks (-6 from volunteers = 2 packs are now needed) We need Diet Coke!
2 six packs non-alcoholic beer (ceebee7)

We need more salads! No more appetizers, please.

From the volunteers:
navajo - Huge green salad
side pocket - Stuffed Mushrooms
kimoconnor - chips
shanikka - Spinach Artichoke dip, Spinach Salad
dksbook - Spinach Artichoke dip and bread
cooper888 - hand-cut salsa, chips
Lorikeet - Fruit
lineatus - Hummus
boatsie - carrots for hummus
[anonymous] - Guacamole & Huge Costco size bag of Chips
justiceputnam - Crostini, Bruschetta
edrie - Arugula, mandarin orange, tomato, onion, gorganzola & walnut salad
delilah 52 - Pasta Salad
Isara - Meat & Cheese tray

We need more desserts! Cookies and brownies, i.e. desserts that don't need a plate.

From the volunteers:
jpmassar - Brownies
mwk - dessert
Dharmasyd - Brownies
[anonymous] - Cookies
Maudlin - Homemade cupcakes

This is handled:
80 appetizer plates (mber)
80 sturdy paper plates (mber)
80 disposable forks (mber)
100 napkins (mber)
80 plastic cups for wine (mber)

~I'll be bringing a huge healthy green salad, 4 bottles of wine, (2 white, 2 red) and a large ice chest with ice for the cold bevs. -navajo

SFKossacks, Please volunteer in the comments and let me know what you're going to bring.

RSVP LIST:
1. Markos
2. Susan Gardner
3. Kaili Joy Gray
4. Faith Gardner
5. Will Rockafellow
6. Meteor Blades
7. navajo [Green Salad, 4 bottles of wine]
8. citisven* [1-6pk beer]
9. Glen the Plumber* [1 red wine, 1-6pk beer]
10. jotter* [6 wines]
11. kimoconnor* [2 white wines, chips]
12. jpmassar* [brownies]
13. norm*
14. precinct1233* [4 red wines]
15. Ebby* [Apple cider & such]
16. lineatus* [Hummus]
17. ceebee7* [2-6pks non-alcoholic beer]
18. Dharmasyd* [Brownies]
19. madhaus* [4-6pks sodas] offers ride from San Jose
20. [anonymous]* [1 white wine, 1 red wine, 1-6pk beer]
21. [anonymous]* [Guacamole & Chips, Cookies]
22. remembrance* (maybe)
23. paradise50* [6-6pks beer]
24. Jeff in CA*
25. Kamakhya*
26. side pocket* [2-6pks beer, Stuffed-Mushroom appetizer]
27. Mary Rickles*
28. mwk* [1 white wine, 1-6pk beer +dessert]
29. boatsie* [Peligrino & carrots] offers ride from NorthBay
30. shanikka* [SpinachArtichoke dip, Spinach Salad]
31. shanikka's DAH


32. mber* [+all disposable utensils]
33. Cathie* [2 wines]
34. The Awful Truth*
35. Lorikeet* [Fruit]
36. dksbook* [Spinach Artichoke dip and bread]
37. mr. dksbook*
38. The dksbook's SIL
39. Pluto* (maybe)
40. cooper888* [hand-cut salsa, chips]
41. GotMooned*
42. Raven Brooks*
43. Navi Ganancial*
44. melfoley * [1-6pk beer]
45. means are the ends*
46. Isara* [Meat & Cheese tray]
47. Isara's partner
48. AoT*
49. freewayblogger*
50. Shockwave*
51. Shockwave's guest
52. wiljago*
53. Fe Bongolan*
54. G2geek*
55. justiceputnam* [Crostini, Bruschetta]
56. Kygre* [2 wines]
57. delilah 52* [Pasta Salad]
58. jakedog42*
59. edrie* [Arugula/Mandarin Orange Salad]
60. iVote2004* (Maybe)
61. Maudlin [Cupcakes]
62. Maudlin's husband
63. BlueJessamine*
64. July4rocks*
65. Catilinus (Maybe)


*HQ Office address emailed or Kosmailed


Also, FYI, the entire San Mateo bridge will be closed from Friday the 19th at 10:00 p.m. to Monday the 22nd until 5:00 a.m. It should be open for your late afternoon commute to our party, but you never know. Just a heads-ups to check before.

NEW and IMPORTANT:

More on the logistics of this event.

The dinner will be served "cocktail-party style," meaning that many will be standing with plates and mingling. There will be no tables for sitting. But the various seating described below will be available for, well, those who must hold court during cocktail hour.

There will be limited seating for the debate, the office has about 30 assorted seats, another 15 or so will be able to sit on a diagonal stairway to view the big screen. I will make sure that those who cannot stand will have a seat. We are hoping that those who are able can sit on the floor in front of the couch seating area, that should be about another 15. If anyone has folding chairs or camp chairs they can bring please tell me in the comments or send me a Kosmail.

I could also use 3-4 card tables for the food staging areas. Let me know.

Thanks, SFKossacks, this is coming together nicely. You ROCK!

~~~
Saturday, November 10th
Northern California Central Valley Kossacks Potluck Lunch

TIME: Noon
LOCATION: Kestrel's home in Sacramento
There will also be a pre-meet up birding adventure at Yolo Bypass Wildlife Area.

ORGANIZERS: tgypsy and Kestrel - Send tygypsy a Kosmail to RSVP.

RSVPs:
1. tygypsy
2. Kestrel
3. Sally Cat
4. Mr. Cat
5. mrsgoo

Latest diary: CV Kossacks: Post-Election Meet Up
~~~

DailyKos readers who live and/or work in New England
(Connecticut, Maine, Massachusetts, New Hampshire, Rhode Island, and Vermont)




Sunday, November 11th
New England Kossacks MEET-UP

TIME: 1:30pm - 4:30pm
LOCATION: The People's Pub
24 Federal St
Greenfield, MA 01301
(413) 773-0333

ORGANIZER: Send Clytemnestra a Kosmail to RSVP.

We will be collecting donations for the Native American Netroots project Okiciyap at this Meet Up.

RSVPs:
1. Clytemnestra
2. Remembering Jello

Maybes:
1. annieli

Latest diary: New England Kossacks - November Meet Up
~~~
Send navajo a kosmail if you post a diary about an event so we can update our round-up.
Okay. Floor's open.
Tell us what you are doing on this NEW DAY?