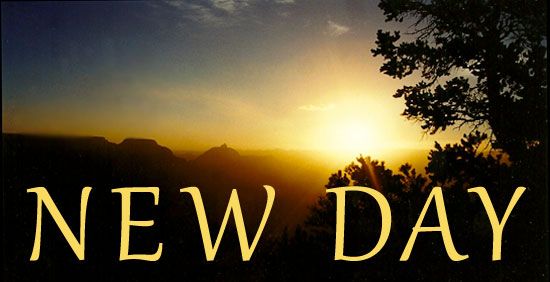 Every day is a new day and with that, a new opportunity.
EVERYONE is welcome and please join us each morning at 7:30 AM PACIFIC
to tell us what you're working on, share your show & tell, vent, whatever you want...
...this is an open thread. Nothing is off topic.
We all need a break from all the things we must do and the things we simply have no choice but to experience and endure. This can cause stress in our lives, which affects both our physiology and our consciousness, if we don't have ways to balance it out.

If we don't relax and unwind, we just burn out completely. Balance is key to staying healthy and being able to rejuvenate ourselves so we can keep on trucking.

I know I need both physical and psychological ways of getting back in balance myself.

I have a constitution that requires me to be consistently physically active or else I just don't have a way to release muscle and body tension. I also know my temperament requires I have ways to "change the channel" so I can find solace and calm.

For me it turns out to be actually kind of simple overall because I do several things that combine both of these needs together in the same activity.

I love the outdoors. I love to hike and walk and explore nature...I just must. We live in a home that is right next to big areas of open land. We've created pathways to and through these areas. Hiking is literally instantly accessible from our property:




Smileycreek and I love gardening. Over the years we've created a huge garden that keeps changing as sunlit areas give way to shade and the weather changes:

I also love working out at the gym and riding my bicycle. This is my road bike:

And this is my mountain bike:

I also like to learn and study. I love science, health and medicine. I love politics. I love studying about plants and the chemical properties they have (plants are the chemists of the world...really!).

I love connection. I love music.

So, these are just a few things I do to to balance myself.

What do you do to relax and rejuvenate yourself?




I'm listening.

~~~
Latest Updates on Kossack Regional Meet-Up News Below the Fold
:: COMMUNITY BUILDING UPDATES ::
Let's build communities!

Every region needs a meat-space community like SFKossacks.
We take care of each other in real life.
I urge YOU to take the lead and organize one in your region.
Please tell us about it if you do and we're here for advice.
~
THINK GLOBALLY, ACT LOCALLY

Please visit Chrisloves's excellent Top Comments PHOTO diary about his first meet-up with all the Houston Area Kossacks. Here's one teaser photo. There are a bunch more that identify many more Kossacks, go see. It's so nice to place names to faces. What a great event!

Great job, Chrislove. I see you want to plan another event soon. We're so glad! Go Chrislove! The Houston Area Kossacks R O C K !
>>>Instructions on
HOW TO FORM A NEW DAILY KOS GROUP
NEW GROUPS IN THE PROCESS OF ORGANIZING:


Send a Kosmail to the organizers and ask for an invitation to the group.

• Cleveland and Northeast Ohio Area: Kosmail: GenXangster

• Philly Area: Kosmail asterkitty

• Northern Indiana Area: Kosmail Tim Delaney

• Chicago Area: Kosmail figbash

• Long Island: Kosmail grannycarol

• Northern Michigan: Kosmail JillS

• South East Michigan (Detroit) Area: Kosmail peregrine kate

• Nebraska: Kosmail Nebraska68847Dem

• Twin Cities Kossacks: Kosmail imonlylurking

• Westburbia Chicago Kossacks: Kosmail Majordomo


Note to the above new leaders: Feel free to leave a comment any day reminding readers about your new group. Also, tell us about your progress in gathering members. Kosmail me when you've chosen a good name for your group and have created a the group. Then I'll move you to the NEW GROUPS LIST. When you've planned a date for your first event I'll make a banner for you to highlight your event in our diaries and your diaries.

~~~
These are the groups that have started since * NEW DAY * began. Please Kosmail navajo if you have started a group before that.
NEW GROUPS LIST:

• California Central Valley Kossacks - Organizer: tgypsy

• New England Kossacks - Organizers:
Clytemnestra for Lower New England (Conneticut, Massachusetts, Rhode Island)
GreenMountainBoy02 for Upper New England (Maine, New Hampshire, Vermont)

• Houston Area Kossacks - Organizer: Chrislove

• Kossacks in India - Organizer: chandu

• CenTex Kossacks - Organizer: papa monzano
Current diary: Meet-up Planning Take 1

• Central Ohio Kossacks - Organizer: VetGrl

• Kansas City Kossacks - Organizer: kj in missouri, Formed Oct 15, 2012

• Phoenix Kossacks - Organizer: arizonablue, Formed Oct 16, 2012
Current diary: Phoenix Kossacks - Check in!

• Koscadia for Portland, OR - Oganizer: Horace Boothroyd III, Formed Oct 17, 2012

~~~
ESTABLISHED GROUPS LIST: (List will grow as we discover them)

• SFKossacks Founded by navajo, Formed: May 2, 2005, More than 80 members

• Maryland Kos Founded by timmyc, Formed: Feb 23, 2011, More than 54 members

• New York City Founded by Eddie C, More than 58 members

• Baja Arizona Kossacks Event Organizer: Azazello, 90 members

• Three Star Kossacks Tennessee, Founded by maryKK, Formed: Apr 8, 2011, 46 members

• Nashville KosKats Founded by ZenTrainer, Formed: Jan 30, 2012, 28 members

• Virginia Kos Founded by JamieG from Md, Formed: May 3, 2011, 85 members

• Kos Georgia Founded by pat208, Formed: Feb 13, 2011, 18 members

• Colorado COmmunity Founded by Leftcandid, Formed: Feb 13, 2011, 25 members

• New Mexico Kossaks Founded by claude, 13 members

~~~
:: Events Currently on the Books for ALL Kossacks ::
Friday, October 19th

SFKossack Red Carpet Rollout for Dave in Northridge

TIME: 1:00 PM
LOCATION: Yank Sing
Rincon Center, 101 Spear St., San Francisco



ORGANIZER: navajo - Send a Kosmail to RSVP.

RSVP LIST:
1. Dave in Northridge
2. navajo
3. Lorikeet
4. Steveningen
5. jpmassar
6. kimoconnor
7. norm
8. MrNavajo
9. remembrance
10. Glen the Plumber

11. Dharmasyd
12. boatsie
13. side pocket
14. FogCityJohn
15. Kamakhya
16. Frugal Granny
17. madhaus (maybe)
18. enhydra lutris
19. Shockwave
20. Catilinus

~~~
Monday, October 22nd

DAILY KOS HQ: SFKossacks watch the final Presidential Debate Party

TIME: 5:00 PM Pacific
LOCATION: Daily Kos Office
Berkeley (address will be given to RSVPs by Kosmail)
5 min. walk from Ashby BART

Plan on street parking outside of the very limited parking in the office complex.

ORGANIZERS: Markos and navajo - Send a Kosmail to RSVP.

It's time to organize the food and drink for our Debate Watch party on the 22nd.

Markos is going to spring for pizza and the rest of us are going to bring side dishes, drinks and dessert.

My drink calculator says we need:
27 six packs of beer (-16 from volunteers = 11 packs are now needed)
34 bottles of wine (-32 from volunteers = 1 bottle now needed)
8 six packs of water (boatsie's got this with Peligrino + bottled)
8 six packs of soft drinks (-8 from volunteers = 0 packs are now needed) Feel to bring other beverages, tho.
2 six packs non-alcoholic beer (ceebee7)

From the volunteers:

~ APPETIZERS ~
side pocket - Stuffed Mushrooms
kimoconnor - chips
shanikka - Spinach Artichoke dip
dksbook - Spinach Artichoke dip and bread
cooper888 - hand-cut salsa, chips
Lorikeet - Fruit
lineatus - Hummus
boatsie - carrots for hummus
[anonymous] - Guacamole & Huge Costco size bag of Chips
justiceputnam - Crostini, Bruschetta
Isara - Meat & Cheese platter

We need more salads!

~ SALADS ~
navajo - Huge green salad
shanikka - Spinach Salad
dksbook - Large Green Salad
edrie - Arugula, mandarin orange, tomato, onion, gorganzola & walnut salad
delilah 52 - Pasta Salad

We need more desserts! Cookies and brownies, i.e. desserts that don't need a plate.

From the volunteers:
jpmassar - Brownies
mwk - dessert
Dharmasyd - Brownies
[anonymous] - Cookies
Maudlin - Homemade cupcakes
norm - some hand-held dessert

This is handled:
80 appetizer plates (mber)
80 sturdy paper plates (mber)
80 disposable forks (mber)
100 napkins (mber)
80 plastic cups for wine (mber)

~I'll be bringing a huge healthy green salad, 4 bottles of wine, (2 white, 2 red) and a large ice chest with ice for the cold bevs. -navajo

SFKossacks, Please volunteer in the comments and let me know what you're going to bring.

RSVP LIST:
1. Markos [PIZZA!]
2. Susan Gardner
3. Kaili Joy Gray
4. Faith Gardner
5. Will Rockafellow [PIZZA!]
6. Meteor Blades
7. navajo [Green Salad, 4 bottles of wine]
8. citisven* [1-6pk beer]
9. Glen the Plumber* [1 red wine, 1-6pk beer]
10. jotter* [6 wines]
11. kimoconnor* [2 white wines, chips]
12. jpmassar* [brownies]
13. norm* [dessert]
14. precinct1233* [4 red wines]
15. Ebby* [Apple cider & such]
16. lineatus* [Hummus]
17. ceebee7* [2-6pks non-alcoholic beer]
18. Dharmasyd* [2 white wines, +Brownies]
19. madhaus* [4-6pks sodas] (offers ride from San Jose)
20. [anonymous]
21. [anonymous]
22. remembrance*
23. paradise50* [6-6pks beer]
24. Jeff in CA*
25. Kamakhya* [2-6pks beer]
26. side pocket* [2-6pks beer, Stuffed-Mushroom appetizer]
27. Mary Rickles*
28. mwk* [1 white wine, 1-6pk beer +dessert]
29. boatsie* [Peligrino & carrots] (offers ride from NorthBay)
30. shanikka* [SpinachArtichoke dip, Spinach Salad]
31. shanikka's DAH
32. mber* [all disposable plates, cups & utensils]
33. Cathie* [2 wines]
34. The Awful Truth*
35. Lorikeet* [Fruit]

36. dksbook*
37. mr. dksbook*
38. The dksbook's SIL
39. Pluto*
40. cooper888* [hand-cut salsa, chips]
41. GotMooned*
42. Raven Brooks*
43. Navi Ganancial*
44. melfoley * [1-6pk beer]
45. means are the ends*
46. Isara* [Meat&Cheese Platter]
47. Isara's partner
48. AoT*
49. freewayblogger*
50. Shockwave*
51. Shockwave's guest
52. wiljago*
53. Fe Bongolan*
54. G2geek*
55. justiceputnam* [Crostini, Bruschetta]
56. Kygre* [2 wines]
57. delilah 52* [Pasta Salad]
58. jakedog42*
59. edrie* [Arugula/Mandarin Orange Salad]
60. iVote2004* (Maybe)
61. Maudlin* [Cupcakes]
62. Maudlin's husband
63. BlueJessamine*
64. July4rocks*
65. Catilinus
66. LinSea* [3 wines]
67. foolrex* [1 red wine]
68. EricS* [2-6pks Diet Coke, 1-6pk beer]
69. Susan G's guest
70. the educating gossip* [beer]
71. Mrs. side pocket
72. aha aha, Mrs. jotter


*HQ Office address emailed or Kosmailed


Also, FYI, the entire San Mateo bridge will be closed from Friday the 19th at 10:00 p.m. to Monday the 22nd until 5:00 a.m. It should be open for your late afternoon commute to our party, but you never know. Just a heads-ups to check before.

NEW and IMPORTANT:

More on the logistics of this event.

The dinner will be served "cocktail-party style," meaning that many will be standing with plates and mingling. There will be no tables for sitting. But the various seating described below will be available for, well, those who must hold court during cocktail hour.

There will be limited seating for the debate, the office has about 30 assorted seats, another 15 or so will be able to sit on a diagonal stairway to view the big screen. I will make sure that those who cannot stand will have a seat. We are hoping that those who are able, can sit on the floor in front of the couch seating area, that should be about another 20. If anyone has folding chairs or camp chairs they can bring please tell me in the comments or send me a Kosmail.

I could also use 3-4 card tables for the food staging areas. Let me know.


PORTABLE CHAIR LOG: navajo+2, side pocket+2, dharmasyd+1, LinSea+1, jakedog42+1, mwk+3, Will Rockafellow+10, Kamakhya+1

Thanks, SFKossacks, this is coming together nicely. You ROCK!

~~~
Saturday, November 10th
Northern California Central Valley Kossacks Potluck Lunch

TIME: Noon
LOCATION: Kestrel's home in Sacramento
There will also be a pre-meet up birding adventure at Yolo Bypass Wildlife Area.

ORGANIZERS: tgypsy and Kestrel - Send tygypsy a Kosmail to RSVP.

RSVPs:
1. tygypsy
2. Kestrel
3. Sally Cat
4. Mr. Cat
5. mrsgoo

Latest diary: CV Kossacks: Post-Election Meet Up
~~~

DailyKos readers who live and/or work in New England
(Connecticut, Maine, Massachusetts, New Hampshire, Rhode Island, and Vermont)




Sunday, November 11th
New England Kossacks MEET-UP

TIME: 1:30pm - 4:30pm
LOCATION: The People's Pint
24 Federal St
Greenfield, MA 01301
(413) 773-0333
THE PEOPLE'S PINT IS CASH ONLY, no credit or debit cards

If you live in/near Albany, Schenectady, or Troy NY, this meet up is only 2 hours away!

ORGANIZER: Send Clytemnestra a Kosmail to RSVP.

We will be collecting donations for the Native American Netroots project Okiciyap at this Meet Up.

RSVPs:
1. Clytemnestra (willing to car pool - Southern MA/Northern RI area)
2. Remembering Jello
3. jarbyus
4. farmerchuck
5. MinervainNH
6. dlcmassage
7. dlcmassage's partner
8. ActivistGuy
9. betson08 (Long time active supporter of Okiciyap and Pretty Bird Woman House)
10. GreenMountainBoy02
11. commonmass

Maybes:
1. annieli
2. DeathDlr73 (willing to carpool - upper central MA)
3. Phil s 33
4. Knockbally
5. mataliandy
6. davidseth (willing to carpool - Columbia County, NY)
7. 4Freedom

Latest diary: New England Kossacks - November Meet Up Please read diary for all details.
~~~
Send navajo a kosmail if you post a diary about an event so we can update our round-up.
Okay. Floor's open.
Tell us what you are doing on this NEW DAY?
>