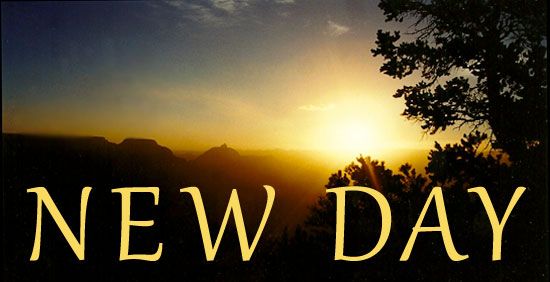 Every day is a new day and with that, a new opportunity.
EVERYONE is welcome and please join us each morning at 7:30 AM PACIFIC
to tell us what you're working on, share your show & tell, vent, whatever you want...
...this is an open thread. Nothing is off topic.
Maybe you were lucky enough to have a room of your own. Maybe you built a fort, or a treehouse, or found an abandoned house to play in. Where did you go to get away from the adults to play, to dream, to have your own space?

As the youngest of eight kids I never had a room of my own, and being an introvert I constantly craved a private place. Outdoors I found trees to climb and vacant lots to roam through and houses under construction to explore, but my best indoor hideout was behind the couch.

We had a long, curved sectional couch, behind which stood a night table with a lamp. I could squeeze myself through the small space between the couch and the wall into my little corner nook. I kept books on the shelf and squirreled away pilfered boxes of raisins. Sitting back there with a book I could gradually tune out the ever-present TV and other ubiquitous racket. Except when it became far more interesting not to tune them out.

Because sometimes the adults forgot I was nested back there. I learned many highly instructive things indeed, and my parents were sometimes taken aback by my knowledge of family secrets and scandals (of which there were many).

What was your childhood hideaway?




~~~
Latest Updates on Kossack Regional Meet-Up News Below the Fold
:: COMMUNITY BUILDING UPDATES ::
Let's build communities!

Every region needs a meat-space community like SFKossacks.
We take care of each other in real life.
I urge YOU to take the lead and organize one in your region.
Please tell us about it if you do and we're here for advice.
~
THINK GLOBALLY, ACT LOCALLY

>>>Instructions on
HOW TO FORM A NEW DAILY KOS GROUP
NEW GROUPS IN THE PROCESS OF ORGANIZING:


Send a Kosmail to the organizers and ask for an invitation to the group.

• Cleveland and Northeast Ohio Area: Kosmail: GenXangster

• Northern Indiana Area: Kosmail Tim Delaney

• Chicago Area: Kosmail figbash

• Long Island: Kosmail grannycarol

• Northern Michigan: Kosmail JillS

• South East Michigan (Detroit) Area: Kosmail peregrine kate

• Nebraska: Kosmail Nebraska68847Dem

• Twin Cities Kossacks: Kosmail imonlylurking

• Westburbia Chicago Kossacks: Kosmail Majordomo

• New York Hudson Valley Kossacks: Kosmail boran2


Note to the above new leaders: Feel free to leave a comment any day reminding readers about your new group. Also, tell us about your progress in gathering members. Kosmail me when you've chosen a good name for your group and have created a the group. Then I'll move you to the NEW GROUPS LIST. When you've planned a date for your first event I'll make a banner for you to highlight your event in our diaries and your diaries.

~~~
These are the groups that have started since * NEW DAY * began. Please Kosmail navajo if you have started a group before that.
NEW GROUPS LIST:

• California Central Valley Kossacks - Organizer: tgypsy

• New England Kossacks - Organizers:
Clytemnestra for Lower New England (Conneticut, Massachusetts, Rhode Island)
GreenMountainBoy02 for Upper New England (Maine, New Hampshire, Vermont)

• Houston Area Kossacks - Organizer: Chrislove

• Kossacks in India - Organizer: chandu

• CenTex Kossacks - Organizer: papa monzano
Current diary: Meet-up Planning Take 1

• Central Ohio Kossacks - Organizer: VetGrl

• Kansas City Kossacks - Organizer: kj in missouri, Formed Oct 15, 2012

• Phoenix Kossacks - Organizer: arizonablue, Formed Oct 16, 2012
Current diary: Phoenix Kossacks - Check in!

• Koscadia the Pacific Northwest coast from Northern California to Alaska
- Oganizer: Horace Boothroyd III based in Portland, OR, Formed Oct 17, 2012

~~~
ESTABLISHED GROUPS LIST: (List will grow as we discover them)

• SFKossacks Founded by navajo, Formed: May 2, 2005, More than 80 members

• Maryland Kos Founded by timmyc, Formed: Feb 23, 2011, More than 54 members

• New York City Founded by Eddie C, More than 58 members

• Baja Arizona Kossacks Event Organizer: Azazello, 90 members

• Three Star Kossacks Tennessee, Founded by maryKK, Formed: Apr 8, 2011, 46 members

• Nashville KosKats Founded by ZenTrainer, Formed: Jan 30, 2012, 28 members

• Virginia Kos Founded by JamieG from Md, Formed: May 3, 2011, 85 members

• Kos Georgia Founded by pat208, Formed: Feb 13, 2011, 18 members

• Colorado COmmunity Founded by Leftcandid, Formed: Feb 13, 2011, 25 members

• New Mexico Kossaks Founded by claude, 13 members

• Philly Kos Founded by mconvente, Formed: Aug 29, 2011, 15 members
Currently organizing: Kosmail asterkitty to sign up

~~~
:: Events Currently on the Books for ALL Kossacks ::
Saturday, November 10th
Northern California Central Valley Kossacks Potluck Lunch

TIME: Noon
LOCATION: Kestrel's home in Sacramento
There will also be a pre-meet up birding adventure at Yolo Bypass Wildlife Area.

ORGANIZERS: tgypsy and Kestrel - Send tygypsy a Kosmail to RSVP.

RSVPs:
1. tygypsy
2. Kestrel
3. Sally Cat
4. Mr. Cat
5. mrsgoo
6. cooper888
7. gotmooned

Latest diary: CV Kossacks: Post-Election Meet Up
~~~



Saturday, November 10th
Phoenix Area Kossacks MEET-UP

TIME: 1:00 PM
LOCATION: Los Olivos Mexican Food Restaurant
7328 2nd Street
Scottsdale, Arizona



ORGANIZER: Send arizonablue a Kosmail to RSVP.

RSVPs:
1. arizonablue
2. Mr.arizonablue
3. sparkysgal
4. blugrlnrdst
5. Azazello
6. Mrs. Azazello
7. Mr. Porterhouse
8. Mrs. Porterhouse
9. Kane in CA
10. Sun Tzu (maybe)
11. puzzled
12. gaardvack

13. Mrs. gaardvack
14. LibChicAZ
15. LibChicAZ bf (maybe)
16. AZ RedWingsFan
17. BluejayRN
18. Mr. BluejayRN (maybe)
19. philboy38
20. OpherGopher (maybe)
21. Bongobanger (maybe)
22. PSzymeczek (maybe)
23. Mr. PSzymeczek (maybe)
24.
25.


Latest diary: Phoenix Kossacks Nov. 10th Meetup

~~~

Saturday, November 10th

SFKossacks attend Bill McKibben's speech on Climate Change

TIME: 7:00 PM Pacific (Doors open at 6:00 PM, open seating)
LOCATION: Spangenberg Theater
Henry M. Gunn High School
780 Arastradero Rd
Palo Alto

Do the Math - 350.org - Tickets $10.00 - Buy your tickets here.

ORGANIZERS: Glen the Plumber and navajo - Send a Kosmail to RSVP.


RSVPs:
1. Glen the Plumber
2. remembrance
3. navajo
4. Meteor Blades
5.

6.
7.
8.
9.
10.

~~~
Saturday, November 10th
CONNECTICUT - New England Kossacks MEET-UP

TIME: 1:00 PM
LOCATION: Adam Mill restaurant
Manchester, CT (Central CT)

RSVPs:
1. Phil S 33
2. zeke7237
3. Roger Fox
4. World Citizen
5. GChaucer2
6. swampyankee
7. Actuary4Change

Maybes:
thankgodforairamerica
CTLiberal


ORGANIZER: Send Phil S 33 a Kosmail to RSVP.

Latest diary: Call for Connecticut Kossacks Meet-Up: Post-Election
~~~

DailyKos readers who live and/or work in New England
(Connecticut, Maine, Massachusetts, New Hampshire, Rhode Island, and Vermont)




Sunday, November 11th
New England Kossacks MEET-UP

TIME: 1:30pm - 4:30pm
LOCATION: The People's Pint
24 Federal St
Greenfield, MA 01301
(413) 773-0333
THE PEOPLE'S PINT IS CASH ONLY, no credit or debit cards

If you live in/near Albany, Schenectady, or Troy NY, this meet up is only 2 hours away!

ORGANIZER: Send Clytemnestra a Kosmail to RSVP.

We will be collecting donations for the Native American Netroots project Okiciyap at this Meet Up.

RSVPs:
1. Clytemnestra (willing to car pool - Southern MA/Northern RI area)
2. Remembering Jello
3. jarbyus
4. farmerchuck
5. MinervainNH
6. dlcmassage
7. dlcmassage's partner
8. ActivistGuy
9. betson08 (Long time active supporter of Okiciyap and Pretty Bird Woman House)
10. GreenMountainBoy02
11. commonmass
12. jack 1966
13. Knockbally (willing to carpool- North Shore MA)

Maybes:
1. annieli
2. DeathDlr73 (willing to carpool - upper central MA)
3. Phil s 33
4. Knockbally
5. mataliandy
6. davidseth (willing to carpool - Columbia County, NY)
7. 4Freedom
7. PatRiots

Latest diary: New England Kossacks - November Meet Up! Please read diary for all details.
~~~



DATE: Sunday, November 11th
Philly Kossacks MEET-UP
TIME: 2:30 PM
LOCATION: Reading Terminal Market
12th & Arch Streets
Philadelphia

WEAR ORANGE!

ORGANIZER: Send asterkitty a Kosmail to RSVP.

RSVPs:
1. ridemybike
2. mallyroyal
3. blue jersey mom
4. Cherry The Tart
5. Smoh
6. Adam B (maybe)
7. Mr K
8. mconvente
9. asterkitty
10. Cinnamon
11. janmtairy

12. jerseytrishinphilly
13. renzo capetti
14. Matthias
15. DavidMCastro (maybe)
16. mayim (maybe)
17. pholkhero (maybe)
18. Its Jess Me (maybe)
19. aravir (maybe)
20. emidesu (maybe)
21.
22.


Latest diary: First Philadelphia Meet-Up Diary with five photos and a slight conundrum

~~~


Coming Soon!
DATE: TBD
Chicago Kossacks MEET-UP
TIME: TBD
LOCATION: Manny's Deli (Obama's favorite)
1141 S. Jefferson

ORGANIZER: Send figbash a Kosmail to RSVP.

Current diary collecting RSVPs: Chicago Kossacks Have Arrived
~~~
Send navajo a kosmail if you post a diary about an event so we can update our round-up.
Okay. Floor's open.
Tell us what you are doing on this NEW DAY?