Blue colored coded Ebola virus exude from infected human cell turned into virus factory
(Disturbing Content Warning: This report contains many disturbing facts and concepts that many may not wish to know about.)
The World Health Organization reports 142 new cases of Ebola over the last few days, bringing the total suspected cases to 2,615 with 1,427 deaths. The W.H.O. forewarned us the numbers reported so far vastly under report the number of cases, admitting the magnitude of the outbreak has been "underestimated." We should brace ourselves for a series of spurts as the W.H.O. catches up.
Today, USA Today reports 'Underestimated' Ebola outbreak spreads and that Sierra Leone has joined Liberia in announcing those who hide Ebola patients, or anyone showing flu like symptoms, or identified by contact tracing or fail to cooperate with authorities in trying to contain it will be arrested

"Many families hide infected loved ones in their homes," the organization wrote in an assessment. "Others deny that a patient has Ebola and believe that care in an isolation ward — viewed as an incubator of the disease — will lead to infection and certain death. Most fear the stigma and social rejection that come to patients and families when a diagnosis of Ebola is confirmed." ...

One center with 20 beds opened its doors to 70 possibly infected people, likely coming from "shadow-zones" where people fearing authorities won't let doctors enter, the U.N. health agency said.

"This phenomenon strongly suggests the existence of an invisible caseload of patients who are not being detected by the surveillance system," the agency said. This has "never before been seen in an Ebola outbreak.

One of the dirty little "secrets" of epidemic control is that quarantines and cordons are not put in place for the benefit of the quarantined but as one of a series of "last resort" triage measures to cut the cordoned off areas from the rest of society that can quickly become savage and ethically distressing.
Two other major sources of revenue for Western African people are tourism, and mining which are also largely shut down. The government and UN food relief agencies are scrambling to bring food into these regions but face the constraint that few wish go into these regions, and they lack command, control and communications capacity that our world class military takes for granted. These are among the poorest 10 countries in the world, usually without electricity, running water, sewers, or even paved roads.
Wednesday I reported that Norimitsu Onishiaug of the New York Times writes an article entitled, Clashes Erupt as Liberia Imposes Quarantine to Curb Ebola, describing an outbreak of violence in Liberia's capital city of Monroiva. Residents of the West Point section, woke up this morning to discover they had been cordoned off by government national police forces in riot gear who erected barbed-wire barricades over night, because the poorest West Point areas is one of the "dumping ground" areas Liberia has been warehousing infected patients.
Soldiers opened fire as hundreds of angry young men tried to escape by storming the barricades. Others tried to escape the quarantined areas in canoes.

Many people in West Point were already seething at the government's attempt to open an Ebola center at a school in their neighborhood, complaining that suspected Ebola patients from other parts of the city were being brought there as well. Their neighborhood, they feared, was effectively being turned into a dumping ground for the disease.

On Saturday, hundreds of people stormed the school, carrying off supplies and provoking suspected Ebola patients to flee the facility, heightening concerns that the disease would spread through the city.

One teenager in the crowd, Shakie Kamara, 15, lay on the ground near the barricade, his right leg apparently wounded by a bullet from the melee. "Help me," pleaded Mr. Kamara, who was barefoot and wore a green Philadelphia Eagles T-shirt.

Lt. Col. Abraham Kromah, the national police's head of operations, said:

"This is messed up," he said, looking at the teenager while complaining about the surging crowd. "They injured one of my police officers. That's not cool. It's a group of criminals that did this. Look at this child. God in heaven help us."

I"m trying to load up a photo of this poor child apparently left in the street to die, I'm still researching his outcome, and also biting my tongue not to make some painful jabbing remark about shooting black children and leaving them to die in the street.
An aspect of the crisis is that the millions of people caught behind quarantine zones, and told not to eat "bush meat" or game meat, and not sell it have been deprived of their major source of food and major source of revenue. Our Tea Party friends like Bundy might point out to use that this is he kind of thing that can happen without the widespread ownership of guns - populations can be trapped without sufficient firepower to shoot their way out of quarantined areas, even the uninfected face possibilities of starvation. (Deeply dark and cynically poignant cynicism and gallows humor alert!)

The Ivory Coast announced late Friday it was closing land borders with neighboring Guinea and Liberia. Gabon, Senegal, South Africa and Cameroon had all earlier in the week imposed restrictions on some or all of the four countries with confirmed Ebola cases.

The country's new law, enacted to compel residents to cooperate with government officials, was passed on Friday and imposes prison terms of up to two years for violators, said lawmaker Ansumana Jaiah Kaikai.

The Ivory Coast announced late Friday it was closing land borders with neighboring Guinea and Liberia. Gabon, Senegal, South Africa and Cameroon had all earlier in the week imposed restrictions on some or all of the four countries with confirmed Ebola cases.
Sierra Leone majority leader Ibrahim Bundu said Sierra Leone had suffered "abandonment and isolation from those we viewed to be our biggest friends." He angrily warned Sierra Leone will review all of its international relationships and remember who its friends are. (Hello! Is anyone listening? Consider the comparative cost/benefit ratios, and "return on investment" of a division of emergency marine sent in on a humanitarian mission of compassion now compared with sending in soldiers to fight a war on angry "terrorists" five years from now?)
Pauline Bax, Silas Gbandia, and Elise Zoker of Business Week write that, Ebola Threatens to Hobble Three Countries, $13 Billion in GDP.
The outbreak has exposed the limitations of the countries' health-care systems, which range from a scarcity of doctors and thermometers to medical workers neglecting basic hygiene such as hand washing. The official death tally may underestimate the outbreak, the United Nations' health agency said in early August. The UN's food aid agency says it will need to feed 5 percent of the population of the three countries in the coming months, because food supply routes have been disrupted. (Five people have also died of Ebola in Nigeria, but its government has so far managed to avoid a wider outbreak.)

Airlines are suspending flights to the region, even though the UN health agency says air travel is an unlikely method of transmitting the virus. Nigeria's Arik Air suspended flights to Liberia and Sierra Leone after a Liberian man traveled by plane to Lagos, Nigeria's largest city, and collapsed at the airport, fatally infecting health-care workers and an aide who came to pick him up. British Airways (IAG:LN) and Kenya Air Lines have also halted flights to Liberia and Sierra Leone, and Gulf carrier Emirates scrapped flights to Guinea. Korean Air Lines on Aug. 14 canceled flights to Kenya's capital of Nairobi, a regional hub located thousands of miles away from West Africa.

The crisis is debilitating, says Lansana Gberie, a political analyst in Sierra Leone, "not just because international flights are canceled and movement of people is restricted because of the quarantine moves. There's also a disabling psychological atmosphere that isn't conducive to productivity."
We should brace ourselves for what will be an increasingly gruesome and shocking escalation in the level of desperate attempts to gain control of a terrifying epidemic as governments, and local populations stunned and unprepared for the easily predicted consequence of exponential growth wake up to inadequacy of their initial responses.
Unless some more effective interventions take place, which we see no sight of now, we should expect that in just over a month from now the number of cases and deaths will likely be at least double.
In other words, in the next 30 days or so, as many new people will become infected as the total of the epidemic has infected in total since it started somewhere around December of 2013. 1,400 deaths will become 2,800 then 5,600, 11,200, 24,400 etc. These are only simple approximation based on the most simple extrapolation, but much more likely than only thinking in terms of last months numbers which is what too many have done up to now. Exponential growth can be a ..... real pain in the neck like this.
If one does not do a simple exercise like this one might make an error in the multiple choice test "what is the most likely guess as to what the number deaths will be in December, four months from now 2,000 or 24,000?"
One report suggested patient zero is an 18 month old baby, which seems sort of odd to me. How would an 18 month old baby caught Ebola from a fruit bat, or infected game meat? Also notice this is inconsistent with our simple possible doubling time model, (1, 2, 4, 8, 16, 32, 64, 128, 256, 512, 1,024, 2,048,) So I think it is more likely this epidemic started about eleven months ago not 8. Although we know for sure the infections rates are going to take a big jump as it spread to densely populated urban center where people are mobile than when it was previously confined to rural remote villages.
Also, we should note that experts are now telling us that the extensive deforestation of this region may have increased the interactions of human populations with the reservoir host of fruit bats and perhaps other animals.
One cannot help regretting that neocon military planners seem incapable of calculating a relative benefit-cost ratio of sending in a division of U.S. marines to help Western Africans, versus sending the same division back into a new war in Iraq as measured against goals such as "Affinity and Respect for America," future American casualties in wars with Islamic populations over the next century. When the congressmen from Sierra Leone angrily announces they will remember who their friends out our ears should perk up.
And, in the back of our minds should we not wonder, "will it be better to send in a division of marines to teach (and for our benefit practice) bio-warfare technology applied to help civilians by setting up solar powered health tents, or send them in maybe five years later to fight an expanding and losing war against violent extremists? Just saying, the opposite of the neocon philosophy is not doing nothing, but doing this smarter and and with more compassion - in ways that turn out to be superior at achieving our national security goals.
Let me apologize or being a bit conceptually manipulative here. Yesterday I tried a plea that we do more for our brothers and sisters in Western Africa out of compassion. In my own version of leave no one behind, I appeal to those that wish to only maximize U.S. self interests which surprisingly enough ends up with the same suggestion - we should be doing much more to help out our fellow humans in Western Africa - if not out of compassion and wisdom, out of sheer selfishness. After about 30 or more "lower key" heads ups up" "jabs", I regret not being more aggressive in calling our community's attention to this epidemic.
Please let me express on behalf of our whole community our prayers and best wishes to those afflicted, their loved ones, and all the people of the world. I hope my cynical jabs to wake up the rest of the world to the fact we must do more immediately are not misinterpreted as a lack of concern and sensitivity to the great suffering - my goal is the opposite - to galvanize a much bigger response.

2:33 PM PT: Can anyone clue me into why I can't seem to load pictures from the Flickr Creative Commons into our Daily Kos photo archive? I'm trying to become "impeccable' in my photo copyrights to enhance Facebook and other places picking up my articles for wider distribution. One of my previous post received 12,000 shares which is like giving drugs to a junkie.
When I right-click on the target photo selecting "Save As" as I always do in Photobucket" what is saved on my hard disk is not the photo but an odd cartoon of a Fox snuggling with a globe which then will not load in either photobucket or Daily Kos Photo Archives?
3:00 PM PT: Here are some of my other recent reports on Ebola, MERS, PEDVs, and other viral outbreaks.
Death toll from Ebola in Western Africa reaches 1,229 with 2,240 known cases

Here's an quick update on the tragic Ebola epidemic in Western Africa from Alan Cowell, of The New York Times who writes, Ebola Death Toll in West Africa Tops 1,200. The World Health Organization ...

HoundDog
08/19/2014
7
8
-
Ebola epidemic is likely much larger than its reported 2,127 cases admits World Health Organization

Here is an alarming update to the heartbreaking news about the Ebola outbreak in Western Africa reported by Nick Cumming-Bruce of the New York Times , who writes Ebola Epidemic Most Likely Much ...

HoundDog
08/15/2014
155
104
-
"Cordon sanitaire" imposed for first time in over a century to quarantine area of Ebola outbreak

Donald G. McNeil of the New York Times reports the shocking news that three African governments have ...

HoundDog
08/14/2014
14
32
-
Another doctor infected with Ebola, Peace Corps withdraws volunteers from Western Africa

Ravages of the Ebola outbreaks continue to mount as the Peace Corps has withdrawn volunteers from Western Africa and another Doctor, this time an American with Samaritans Purse, have ...

HoundDog
07/30/2014
53
93
-
Dr. Sheik Umar Khan, Sierra Leone's top Ebola doctor, dies of EVD after caring for over 100 patients

Umaru Fofana and Adam Bailes bring us the sad news that Sierra Leones' top specialist in Ebola and viral hemorrhagic fever diseases, Dr. Sheik Umar Khan, died of Ebola after being exposed by one ...

HoundDog
07/29/2014
84
193
4
497 Chikungunya virus cases so far in 2014: What you need to know about our new tropical disease

G, Mish-Mish, Kashi, Yeti and I are just six days away from our drive from Massachusetts to Florida so I've been reading up on dreadful tropical diseases that are creeping up from the Mexico and ...

HoundDog
07/25/2014
49
61
2
Moon-like suit is supposed to keep Ebola virus out so why do health care workers keep catching it?

Health care worker in Kailahun, Sierra Leone wearing ...

HoundDog
07/24/2014
102
88
-
Dr. Sheik Umar Khan, Sierra Leone's top Ebola doctor, contracts virus after treating 100 patients

Dr. Sheik Umar Khan, Photocredit: Reuters

Hannah Goldberg of Time Magazine brings us the sad news that Sierra Leone's Chief Ebola Doctor Contracts ...

HoundDog
07/23/2014
53
134
-
12 Liberian health workers die of Ebola, others flee posts, 539 deaths out of 888 cases

Yesterday, the World Health Organization announced a new total death count of 538 out of 888 total cases of Ebola in Western Africa. This post provides brief paragraphs from, and links to, four ...

HoundDog
07/11/2014
84
134
3
Deadliest Ebola outbreak in history happening now - June 26 WHO update 367 deaths outs of 600 cases

This post is meant as a brief update of my post of Wednesday, June 25, ...

HoundDog
06/27/2014
59
44
2
Ebola "out of control, we have reached the limits of what we can do," says Doctors Without Borders

Dennis Lynch of the International Business Times reports Ebola Outbreak: Doctors Without Borders ...

HoundDog
06/25/2014
203
333
5
Ebola continues to spread in Western Africa, death toll at 337 with 528 cases

Sylvain Cherkaoui, Cosmos,

Courtesy of Doctors Without Borders

The World Health Organization announced the combined death toll from the Ebola outbreak in Guinea, Liberia, and Sierra ...

HoundDog
06/18/2014
7
32
1
West African Ebola death toll rises to 193 out of 291 cases, 34 new cases in Sierra Leone

After appearing to be under control with a declining number of new cases, the outbreak of the Ebola virus in Western Africa is spreading in a ...

HoundDog
06/02/2014
16
29
-
W.H.O. declares international health emergency as polio spreads at alarming rate

Dan Bilefsky and Rick Gladstone, of The New York Times , report Polio Spreading at Alarming Rates, World Health Organization Declares.

PARIS — Alarmed by the spread of polio to fragile ...

HoundDog
05/05/2014
30
34
-
350 cases of SARS-like MERS Coronavirus spreads to new countries from Saudi Arabia causes 100 deaths

Egyptian Muslim pilgrims wear masks to protect against MERS: Amr Nabil/AP Photo

Gillian Moheney from ABC News ...

HoundDog
04/28/2014
8
20
-
PEDv virus has killed 10% of U.S. pig population causing spike in prices

Meredith Davis and Theopolis Waters of the Chicago Tribune report that a Killer virus spreads unchecked through U.S. ...

HoundDog
04/27/2014
43
55
-
WHO reports Ebola outbreak spreading: 50 cases in Guinea's capital Conakry including 20 deaths

The United Nation's World Health Organization released new figures today for the death toll from Ebola spreading in Guinea, Mali, and Liberia today. These numbers may not look substantially higher ...

HoundDog
04/22/2014
32
37
-
Ebola outbreak is new strain 97% similar to Zaire strain, blamed for 135 deaths out of 197 cases

Reuters reports that the West African Ebola outbreak ...

HoundDog
04/18/2014
5
20
-
Ebola out in Guinea is a new strain, did not spread from previous outbreak, death toll rises to 120

The Ebola Virus in West Africa Is New Strain, Scientists Say, and the outbreak in Guinea that has killed more than ...

HoundDog
04/17/2014
6
32
-
West African Ebola death toll reaches 121, rate of new cases slows, progress on vaccine in mice

I have three articles for you tonight and for the first time since the outbreak started two bits of good news. Guineas reports that the number of new cases is falling, and our second articles ...

HoundDog
04/16/2014
9
31
-
Deadly MERS virus outbreak in Saudi Arabia kills 92 out of 228 confirmed cases

Ellen Knickmeyer and Ahmed Al Oman report that Saudi Arabia has confirmed a surge in cases of the virus that causes Middle East Respiratory Syndrome, (MERS), as ...

HoundDog
04/14/2014
10
31
-
Ebola outbreak is one of most challenging ever seen, death toll tops 100, will continue for months

Terri Rupar, of The Washington Post reports that Doctors of the World Health Organization announced today ...

HoundDog
04/08/2014
13
43
-
Ebola death toll rises to 95 with 151 suspected cases

My son just told me his girlfriend's sister is in Mali with Médecins Sans Frontières (MSF), Doctor's Without Borders, helping treat the afflicted and contain this epidemic and he and her family ...

HoundDog
04/08/2014
8
24
-
Preserving antibiotics for humans requires cutting back on their use in animal feed on farms

The LA Times Editorial Board has taken a strong stand on the excess use of antibiotics in animal feed and on farms, after the original reporting they did last week I covered ...

HoundDog
04/07/2014
22
36
1
'Panic' as Ebola virus spreads across West Africa, mob attacks medical center

Different images of the Ebola epidemic in Western Africa emerge depending on which reports you read. The death toll has risen to 90. The World Health Organization is downplaying concerns ...

HoundDog
04/06/2014
53
119
2
Ebola death toll climbs to 85 out of 137 cases, in Mali, Guinea, Liberia, and Sierra Leone

Two hours ago, Matt Smith, of CNN wrote Ebola toll tops ...

HoundDog
04/05/2014
10
37
-
A new independent outbreak of Ebola occurring in Libera, death toll escalates.

Hi Everyone. In order to get our discussion started earlier tonight I'm going to do things a little bit differently, and post a survey of five articles without my usual pix, to get discussion started,

HoundDog
04/03/2014
112
103
1
West Africa on high alert as ebola epidemic spreads in unusual pattern, Sauda Arabia cancels visas

Concern over Africa's largest outbreak of Ebola in seven years is moving up to a higher level as the death toll rises and the spread of the epidemic moves into an unusual pattern breaking out at ...

HoundDog
04/02/2014
151
93
-
African Ebola outbreak expanding in unusual pattern, 78 deaths out of 122 suspected cases

Linda Poon, of NPR, explains how ...

HoundDog
04/02/2014
39
67
-
Ebola now confirmed to have spread to Liberia and Sierra Leone from Guinea, at least 70 dead

Alphonso Toweh, of Reuters reports the latest update from Liberian health authorities confirm two cases of Ebola: WHO, and left 70 ...

HoundDog
03/31/2014
33
37
-
Senegal shuts border with Guinea to stop spread of Ebola, cases now in Libera and Sierra Leone
HoundDog
03/29/2014
59
67
1
8 cases of Ebola found in Guinea's capital of Conakry, bats confirmed as viral reservoir, 70 deaths

CBS News confirms that Ebola hits Guinea's capital Conakry, 8 infected Health officials in the West African nation of Guinea say they're now ...

HoundDog
03/28/2014
18
12
-
Bats discovered to be transmission vector in largest outbreak of Ebola in Africa in seven years 64

The BBC is reporting that scientists have finally discovered that bats are the hidden reservoir and transmission vector for spreading Ebola, as reported, in Guinea Ebola outbreak: Bat-...

HoundDog
03/27/2014
35
22
-
Africa's largest outbreak of Ebola in seven years now suspected of spreading to Liberia (updated)

Update: Bloomberg is now reporting that Africa's largest outbreak of Ebola in seven years is now thought have spread from Guinea to Liberia. The report below develops chronologically from this ...

HoundDog
03/24/2014
63
30
-
4:29 PM PT: By popular demand I am reproducing this recipe for tasty fruit bat soup I published back in March when fruit bats were discovered to be the reservoir species. Make sure to thoroughly cook your bats as because even though our bats here do not carry Ebola yet, to the best of our knowledge, they carry more pathologically deadly viruses than almost any other species.
So make sure you wear BLS-4 level protection during preparation and sterilize or burn all cooking materials, fabrics, and surfaces possibly contanmenated during preparation.
Proper cooking should destroy most of the deadly viruses they may carry, but does little for prions. However, the incidence of Creutzfeld-Jacobs is not really very high in the U.S. and I am not aware of any evidence it is carried by bats. But just to be safe, make sure your bats look healthy before preparation.
Enjoy, and please let me know how it turns out. Sadly, I'm allergic to bats so I have not been able to enjoy this dish. I had to go back all the way to an out of print 1941 source to find this.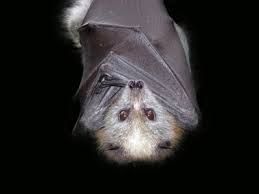 The BBC is reporting that scientists have finally discovered that bats are the hidden reservoir and transmission vector for spreading Ebola, as reported, in Guinea Ebola outbreak: Bat-eating banned to curb virus.

Guinea has banned the sale and consumption of bats to prevent the spread of the deadly Ebola virus, its health minister has said. ... Bats, a local delicacy, appeared to be the "main agents" for the Ebola outbreak in the south, Rene Lamah said.

Sixty-two people have now been killed by the virus in Guinea, with suspected cases reported in neighbouring Liberia and Sierra Leone. ... Ebola is spread by close contact. There is no known cure or vaccine. ... It kills between 25% and 90% of victims, depending on the strain of the virus, according to the World Health Organization (WHO).

People who eat the animals often boil them into a sort of spicy pepper soup, our correspondent says. The soup is sold in village stores where people gather to drink alcohol. ... Other ways of preparing the bats to eat include drying them over a fire.

The total number of deaths had reached 62 by Tuesday. Ebola is spread by contact with bodily fluids, or by touching an object recently touched by an infected person. The virus attacks the endothelial cells of the blood vessels. It takes 2 to 21 days from infection to come down with symptoms and people then can die withing days.
Two quarantine zones have been set up in southern Guinea to try to contain the outbreak. Mediecins Sans Fronieres, the World Health Organization, are providing assistance to local governments in trying to contain the epidemic.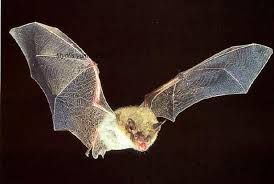 The discovery of the bat vector has solved a puzzle that has baffled science for decades because Ebola kills off it victims so quickly it disappears for long periods so we have never known where its reservoir was. While hosting the virus the bat shows no symptoms of the disease. Livescience reports, Bat Soup Blamed as Deadly Ebola Virus Spreads.

"We discovered the vector [infectious] agent of the Ebola virus is the bat," Remy Lamah, the country's health minister, told Bloomberg News. "We sent messages everywhere to announce the ban. People must even avoid consumption of rats and monkeys. They are very dangerous animals."

Bats are reported to be quite tasty when toasted over an open grill, or boiled down into a think and spicy soup with peppers. Mmm, mmm, good! I'm getting hungry. If it weren't for my big diet weigh in tomorrow I'd have some now. I'm down 7 pounds for the month, and don't want to go on a binge. Below the fold I offer one old American favorite bat soup recipe for the more adventuress Kossacks, although you may want to read the warning below first.





Though many animals can spread disease, bats have come under increased scientific scrutiny in recent years for their uncanny ability to host "zoonotic" viruses, that is, viruses that readily make the jump from one species to another.



"There seems to be something different about bats in terms of being able to host zoonotic infections," David Hayman, a wildlife epidemiologist at Colorado State University, told LiveScience in a 2013 interview.

The flying mammals are reservoirs for more than 60 viruses that can infect humans, and host more viruses per species than even rodents.

In addition to the Ebola virus, rabies, histoplasmosis, SARS, Nipah (which causes deadly brain fevers), Hendra (a lethal respiratory disease), Marburg, Lyssaviruses and other diseases can be spread by bats, according to the Center for Disease Control and Prevention (CDC).
One disappointing aspect of these articles is that scientist never explain to us why the custom of eating these tasty bat delicacies never spread to Europe, and the United States, leaving the reader with a puzzled empty feeling. But don't worry, to fill up that emptiness I found an American recipe for a delicious bat soup from an out of print soup. This might be your last chance to have it before it gets banned here too. Oddly, the author, and all of her descendents, as well as children, and publisher have all pasted on, but Ted Taylor and Fred Peters found an old copy in the New York Library which I've put below the fold. (Humor alert!)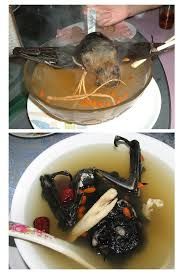 Here's a tasty recipe for Fruit Bat Soup from "The New York Times Natural Foods Cookbook" by Jean Hewitt (c) 1971. (Out of Print) Courtesy of Ted Taylor who says fruit bats are also known as Flying Foxes who are affectionate little creatures who make great pets, with the advantage that you can make a tasty soup with them when you done playing.
3 Fruit bats, well washed but neither skinned nor eviscerated,



Water



1 tb Finely sliced fresh ginger,



1 lg Onion, quartered,

The following is a genuine recipe from Micronesia. Fruit bats, or flying foxes, are furry, fruit and nectar eating bats about the size of small rabbits. The make very affectionate pets.

Sea salt to taste, Chopped scallions, Soy sauce and/or coconut cream.

1. Place the bats in a large kettle and add water to cover, the ginger, onion, and salt. Bring to the boil and cook for 40 minutes. Strain broth into a second kettle.

2. Take the bats, skin them and discard the skin. Remove meat from the bones and return meat, and any of the viscera you fancy, to the broth. Heat.

3. Serve liberally sprinkled with scallions and further seasoned with soy sauce and/or coconut cream.

Yield: 4 servings.

Mmmm, mmm! That looks like some mighty fine eating there. Unfortunately, I'm allergic to bats, but please write in and let me know how it tastes. Just remember to have your bats checked for Ebola virus, rabies, histoplasmosis, SARS, Nipah (which causes deadly brain fevers), Hendra (a lethal respiratory disease), Marburg, Lyssaviruses first. Enjoy!.